2021 North Africa Sustainable Fashion Webinar (Ramadan Fundraising Edition)
Date/Time
Date(s) - 04/07/2021 - 04/10/2021
9:00 am - 7:00 pm
Categories
Cost:
30 USD
Contact Person:

Email:
egypt@fashionrevolution.org
Website:
https://www.eventbrite.com/e/2021-north-africa-sustainable-fashion-webinar-ramadan-fundraising-edition-tickets-143096362071?aff=ebdssbonlinesearch
Phone:

Organization:


ONLINE!
This webinar duo is designed to introduce you to the sustainability issues in the fashion industry with a focus on Morocco and Egypt.
About this Event
#2021NorthAfricaSFW (Student Only)
#Education #Producer #Artisan #Incubator #Brand #Retail #Circularity
➤ First English-speaking Webinar from North Africa dedicated to Sustainable Fashion.
➤ A webinar designed for Undergraduate & Graduate Students worldwide.
➤ April 7th, Wednesday, 6-9pm & April 10th, Saturday, 1-4pm CET (GMT+1)
April 7th, Wednesday, 6-9pm & April 10th, Saturday, 1-4pm CET (GMT+1)
Due to its proximity to Europe, North Africa enjoys a very special position in the international fashion industry that is increasingly changing towards greater sustainability. Traditional craftsmanship and production techniques shape local production even today. Within that context, the webinars will focus in particular on the two countries Morocco and Egypt.
The North Africa Sustainable Fashion Webinar is designed to introduce you to the issue of sustainability in the fashion industry as well as to give you the opportunity to engage with our experts and to network. Among other things, the expert talks will cover what it means to found a sustainable fashion start-up, how craftsman- and artisanship are still integrated into today's production and design processes, and how circularity is applied to secure long-term sustainable operations.
The non-profit webinar is characterised by the fact that we have solely invited local speakers who can share their first-hand experiences with you and are familiar with the local culture. 100% of the proceeds of the webinar will be donated to support the local textile industry.
Organized by the Oriental Hybrid in collaboration with Morocco Fashion Future, Fashion Revolution Egypt, and Green Fashion Tours.
_______________________________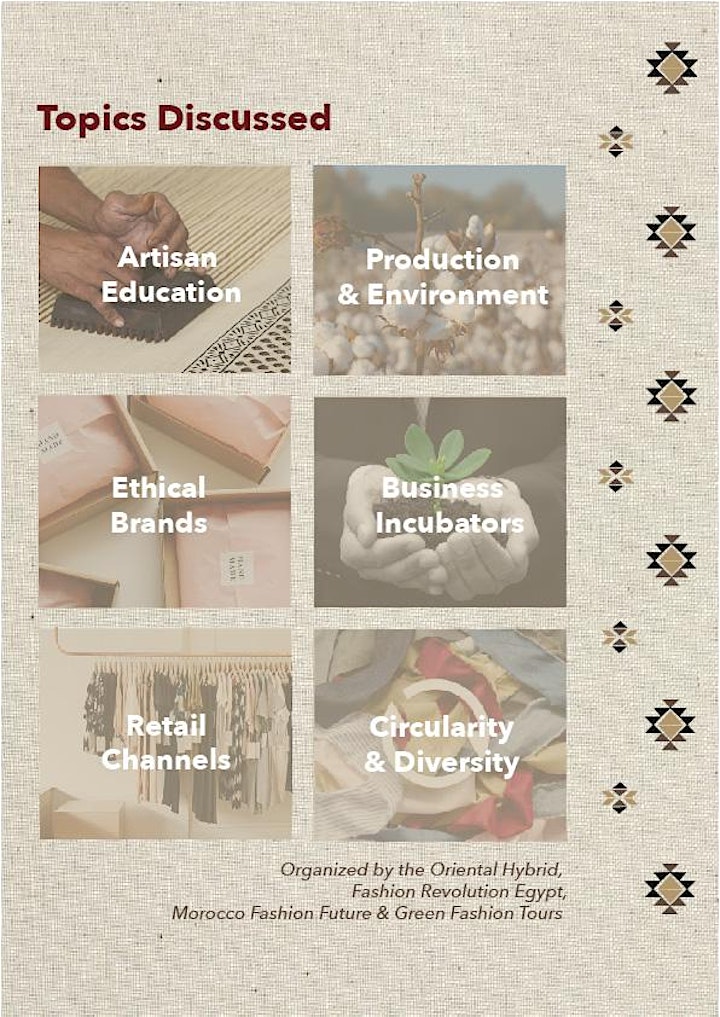 What You'll Learn
Competitive advantages of North Africa with regard to artisanship, diversity, and natural materials.
Current challenges for sustainable business and ethical fashion growth in relation to its history, social and economic infrastructures.
Leading examples of sustainable fashion changemakers, marketing campaigns, circularity, and CSR practices in the region.
Digital methods to support North African artisans remotely as a responsible consumer.
Realistic visions and authentic voices from the local experts on the future of fashion and sustainable development in North Africa.
Top 5 Reasons Why You Should Attend
No commercial profits and markups. This webinar duo is entirely dedicated to Ramadan fundraising for supporting the ethical community in North Africa in times of the global pandemic. Revenues will be entirely transparent covering webinar organizational costs and the rest will be donated to the NGOs. *We will donate to a total of 2 NGOs for every 50 tickets sold, 4 NGOs for every 100 tickets sold.*
No geological hindrance. This webinar duo is a pioneer program that virtually gathers both Moroccan and Egyptian sustainable fashion and supply chain experts for the first time to speak for the purpose of education.
No headaches for language barriers. Our webinar duo is completely held in English. It saves you time from having to master Egyptian Arabic, Moroccan Arabic, Amazigh languages, and French yourself.
No beating around the bush by a middleman. This webinar duo brings you directly to the discussion of core problems and shows you the best practices available in the region.
No heavy travel costs involved. This webinar duo gives you insights into the North Africa fashion and artisan scene without the need for transportation and accommodation expenses.
_______________________________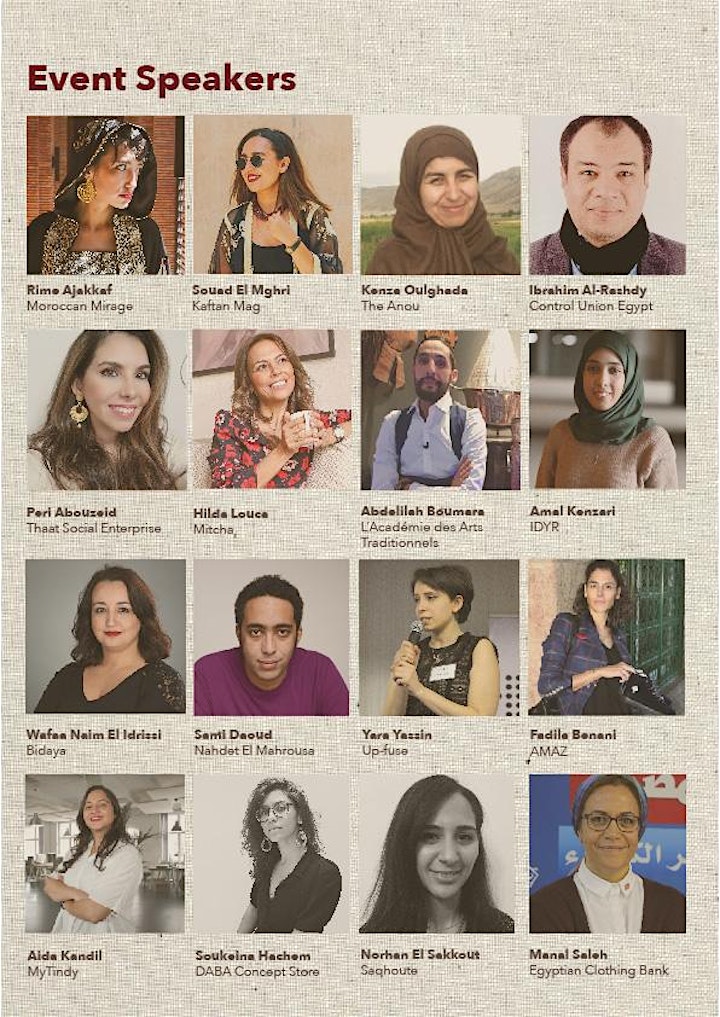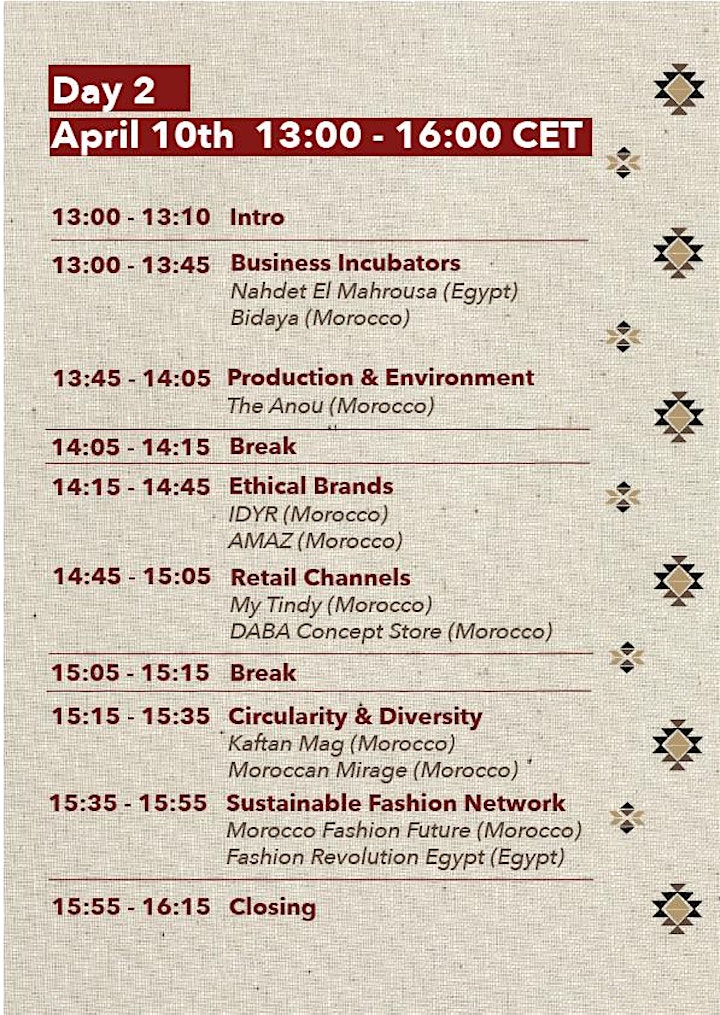 Guest Speakers
➤ PRODUCTION & ENVIRONMENT
Ibrahim Al-Rashdy – Certification Business Manager, Control Union Egypt (Egypt)
Ibrahim Al-Rashdy is the Senior Auditor for Sustainable Textile Auditing (GOTS & GRS) Standards for over 2 years and has been the Certification Business Manager at Control Union Egypt for more than 4 years.
Kenza Oulghada – Artisan Leader & Keynote Speaker, The Anou; Founder & Weaver, Cooperative Tithrite (Morocco)
Kenza Oulghada is a traditional weaver, Artisan Leader and Keynote Speaker for Anou, Morocco's only artisan owned and also artisan managed e-commerce platform. She also founded the Cooperative Tithrite, which supports women from her village in the Middle Atlas Mountains.
➤ ARTISAN EDUCATION
Peri Abou Zied – Founder, Thaat Social Enterprise (Egypt)
Peri Abou Zied is Founder of Thaat Social Enterprise & Innovative Consultancy, a handicrafts school and lab which has trained more than 3000 girls and women from different parts of Egypt and is the founder of the two lifestyle labels PAZ.Cairo and Almashgel.
Abdelilah Boumara – Leather Work Training and Research Laboratory Manager, L'Académie des Arts Traditionnels (Morocco)
Abdelilah Boumara is Head of the Leather Art Department of the Academy of Traditional Arts in Casablanca, as well as a designer specialising in leather goods and founder of the brands F&B Cherifien Leather and Boumara Casablanca.
➤ BUSINESS INCUBATOR
Sami Daoud – "Garage" Program Manager, Nahdet el Mahrousa (Egypt)
Sami Daoud is a Program Manager at Nahdet El Mahrousa, a social entrepreneurship platform, and has supported social enterprises at various stages in their development.
Wafaa Naim El Idrissi – Director, Bidaya (Morocco)
Wafaa Naim El Idrissi has 16 years of experience in non-profit organizations and worked as an independent consultant before joining Bidaya, a specialist for startups with a social or environmental impact.
➤ ETHICAL BRANDS
Yara Yassin – Co-Founder, Up-fuse (Egypt)
Yara Yassin is the Co-Founder of Up-fuse, a lifestyle brand that creates bags and accessory products made of upcycled plastic, while being socially and environmentally conscious.
Norhan El Sakkout – Founder & Creative Director, Saqhoute (Egypt)
Norhan El Sakkout is the Founder and Creative Director of Saqhoute, a slow women's ready-to-wear brand, offering ethically produced garments to the modern-day Egyptian woman.
Amal Kenzari – Co-Founder, IDYR (Morocco)
Amal Kenzari is the Founder of IDYR, a brand that offers handmade accessories made from recycled new fabric cuts, which are woven and assembled by hand, by a selection of exceptional craftsmen.
Fadila Bennani – Founder, AMAZ (Morocco)
Fadila Bennani is the Founder of AMAZ, a Moroccan ethical fashion brand of sneakers that are handcrafted, vegan, and co-conscious, launched in 2017.
➤ RETAIL CHANNELS
Hilda Louca – Founder & CEO, MITCHA (Egypt)
Hilda Louca is the Founder of MITCHA, an online slow fashion retail business in Egypt supporting local designers with the mission to showcase the country's top design talents in a well-curated digital platform of international standards.
Aida Kandil – Founder, MyTindy (Morocco)
Aida Kandil is the Founder of MyTindy, an online marketplace that helps Moroccan handcrafters to connect and sell to an international audience.
Soukeina Hachem – Co-Founder, DABA Concept Store (Morocco)
Soukeina Hachem is the Co-Founder of DABA, a Concept Pop-up Store in several locations, offering a wide choice of sustainable and handcrafted products Made in Morocco.
➤ CIRCULARITY & DIVERSITY
Manal Saleh – CEO, Egyptian Clothing Bank (Egypt)
Manal Saleh is the CEO of the Egyptian Clothing Bank, an NGO which upcycles, recycles, and sorts clothing donations to underprivileged communities in Egypt.
Souad El Mghari – Content Creator, Kaftan Mag (Morocco)
Souad El Mghari is the founder the fashion and lifestyle blog Kaftan Mag, digital entrepreneur, and a champion for creating content with a positive impact.
Rime Ajakkaf – Content Creator, Moroccan Mirage (Morocco)
Rime Ajakkaf is a stylist, fashion designer, and content creator who founded her own blog, Moroccan Mirage, dedicated to second-hand consumption and sustainable fashion. Currently, she is working on her own vintage shop and a sustainable brand.
➤ MODERATORS
Reiting Lee – Co-Founder, Morocco Fashion Future; Founder, the Oriental Hybrid
Reiting Lee is a creative digital marketer from Taiwan who has lived in 9 countries across 6 continents and found her endless inspirations while living in Fez and Rabat. Having studied from Environmental Design at Beijing Institute of Technology to Business Sustainability Management at the University of Cambridge, she is passionate about the impact sustainable fashion brings to society and she enjoys connecting resources for a meaningful purpose with a touch of aesthetics and humanity.
Rania Rafie – Country Coordinator, Fashion Revolution Egypt; Co-Founder, Up-fuse
Rania Rafie is the Country Coordinator of Fashion Revolution Egypt, and the Co-founder of Up-fuse. With a degree in Product Design from the German University of Cairo, she is interested in sustainable fashion, design, philosophy, and social entrepreneurship. She believes in the power of good and spreading positivity by trying to maintain a conscious lifestyle, practicing yoga, and spreading awareness.
_______________________________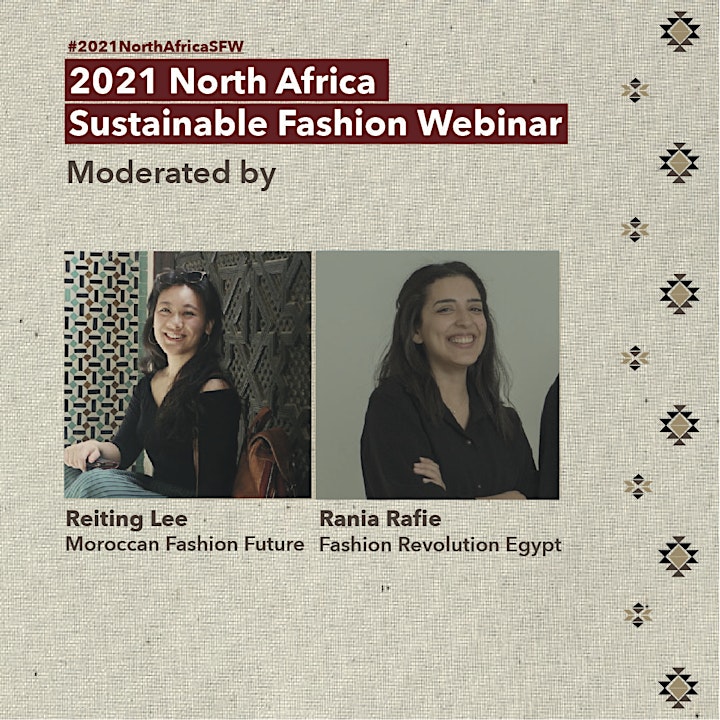 ORGANIZER & COLLABORATORS
the Oriental Hybrid is the first Social Media Marketing & E-PR agency combining native specialists with cross-market experiences in both the Chinese and Arabic-speaking professional environments. Aiming to promote CSR for businesses by dedicating up to 20% of the profits from each project to support living and education in the most needed regions.
Morocco Fashion Future is a Collaborative Platform built in February 2018 by a group of fashion professionals and enthusiasts living or traveling in Morocco that are determined to bring a change to the Moroccan fashion scene – a transparent and cooperative international fashion network with sustainability and humanity development in mind.
Fashion Revolution Egypt is part of the global Fashion Revolution movement, which is a movement calling for a transparent fashion industry that values people and planet over profit.
Green Fashion Tours is a Tour Agency in Berlin organizing interactive tours with city excursions and expert talk online courses on the topics of Sustainability, Circularity, and Innovation in Fashion. With its unique format, participants are given opportunities to interact directly with the changemakers in the industry.
_______________________________
Register Now
Registration Fee: 25€ for 2 days.
Each registration comes with access to the archived recording of the program for one year as well as the materials provided by the speakers after completion of the webinar.
All proceeds go to support the local textile industry and are donated to the following institutions: 1-2 in Morocco and 1-2 in Egypt. (The exact NGO names will be announced later for organizational reasons.)
More info available at:
https://www.theorientalhybrid.com/2021-north-africa-sustainable-fashion-webinar
For questions regarding this webinar, contact Program Coordinators:
Reiting theorientalhybrid@gmail.com (English, French)
Rania egypt@fashionrevolution.org (English, Arabic)
_______________________________
FAQ
When are the Webinars? The Webinars will be held on Wednesday 7th of April from 6-9pm CET and Saturday 10th of April from 1-4pm CET. (CET time is GMT+1)
What if I can attend only one day, have to leave the webinar early or I am late? That is not a problem. All participants will have access to the recorded session for one year. The link will be sent to you after the webinar, so you can catch up on the part you missed.
I am not familiar with the topic so far, can I still participate? Of course! The webinar is especially for interested students and those who are new to the topic. We will give a general introduction to the topic and cover all the important factors to give you an insight into sustainable fashion in North Africa.
How do I register? By purchasing a ticket via Eventbrite you are automatically registered for the webinar. We will take care of everything else. You can find the full information about webinar under the following link: https://www.theorientalhybrid.com/2021northafricasfw
Is there a deadline for registering for the webinar? There is no deadline for registration, but the contingent is limited as we can only accept a certain number of participants due to our platform capacity. Therefore it is better to register early on.
When will I receive the access data? We will send you the Zoom link by email at least one day before the respective webinar day.
Why do I have to pay for the event? The webinar is a charity event to raise money for Ramadan for institutions in North Africa to support the local sustainable fashion industry. Neither the coordinators nor the speakers are paid.
Where will the money be donated to? For every 50 tickets sold, we will donate to 1 selected NGO in Egypt and Morocco each. The organization names will be announced later due to organisational reasons.
Who can I contact if I have further questions? Please contact one of our coordinators: Reiting (theorientalhybrid@gmail.com) or Rania (egypt@fashionrevolution.org) by email or Instagram inbox message to @theorientalhybrid
Map Unavailable