60 Years of Independence: How free are all Somalis?
Date/Time
Date(s) - 07/13/2020 - 07/15/2020
8:00 am - 9:30 am
Categories
Cost:
Free USD
Contact Person:

Email:

Website:

Phone:

Organization:
Anti-Tribalism Movement

Somalia gained its independence on 1 July 1960. Over 60 years later we ask whether the promise of independence was realised for all Somalis
Has the Somali Social Contract been broken and beyond repair? What structural inequalities did Somalia inherit from her colonial past?
The Anti-Tribalism Movement would like to invite you to a special webinar to examine the state of marginalised rights and more on this 60th anniversary of Somali independence. The conference will take place over a period of three days (July 13th, 14th and 15th) exploring steps forward in social policy-making, economic justice and communal healing.
See our agendas for the three day's below. Day one and Day two will take place in Somali and Day 3 in English.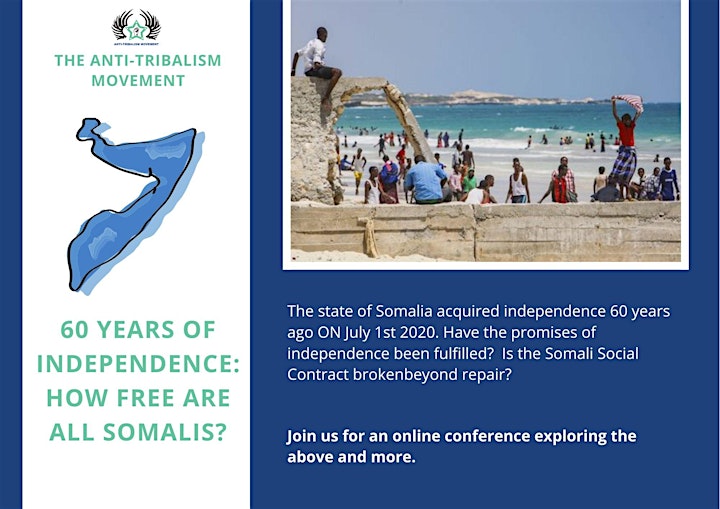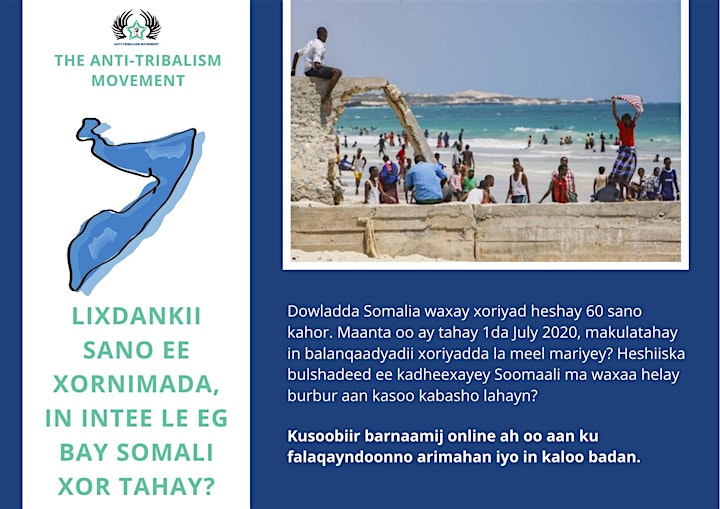 Day 1: Confirmed speakers
Chair, Adam Matan OBE (Anti-Tribalism Movement)
Samiya Lerew (Cosmopolitan Democratic Party)
Dr. Abdulrahman Abdullahi Baadiyow (Mogadishu University)
Dr. Yusuf Omar (SOAS University)
Dr. Abdi Kusow (Iowa State University)
Joining link: https://us02web.zoom.us/j/83494324805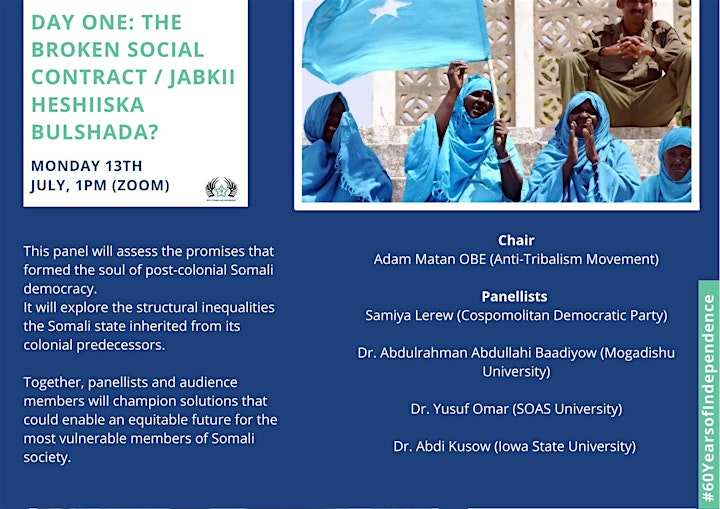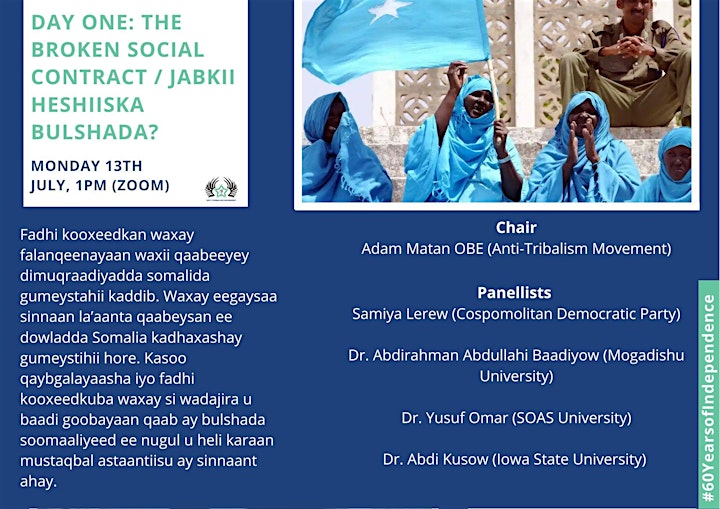 Day 2: Confirmed speakers
Chair, Abdirachid Fidow (Anti-Tribalism Movement)
Dr. Hodan Isse (University of Buffalo)
Dr. Maxamed Cumar Dalxa (Academic & veteran Somali MP)
Abdi Aynte (Former Minister of Planning of Somalia; Co-Founder Heritage Institute for Policy Studies)
Joining link: https://us02web.zoom.us/j/84748599422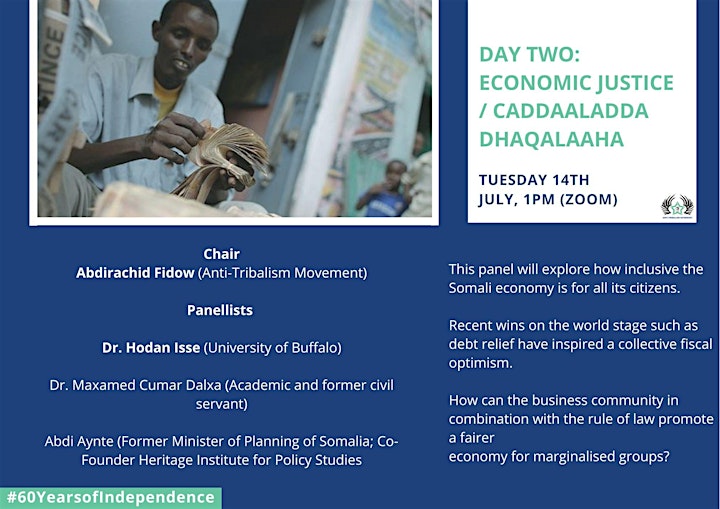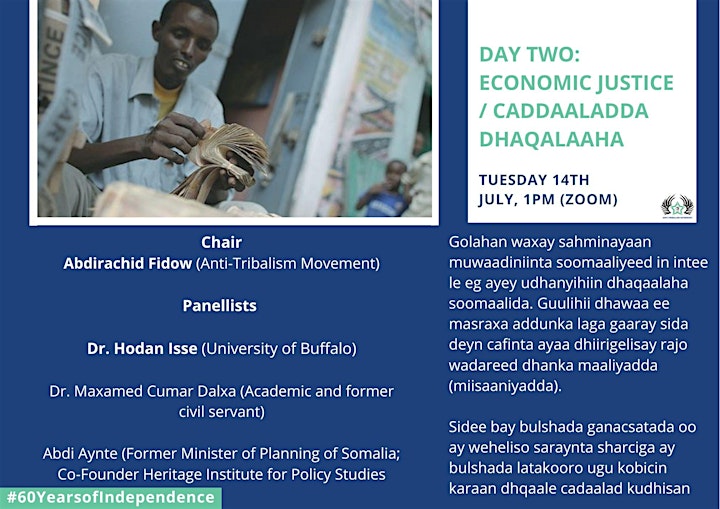 Day 3: Confirmed speakers
Chair, Bishara Mohamud (Anti-Tribalism Movement)
Dr. Idil Osman (Leicester University)
Abdisalaam Aato (Film-Maker and Producer)
Amira Adawe MPH (Director Beautiwell)
Joining link: https://us02web.zoom.us/j/83518093095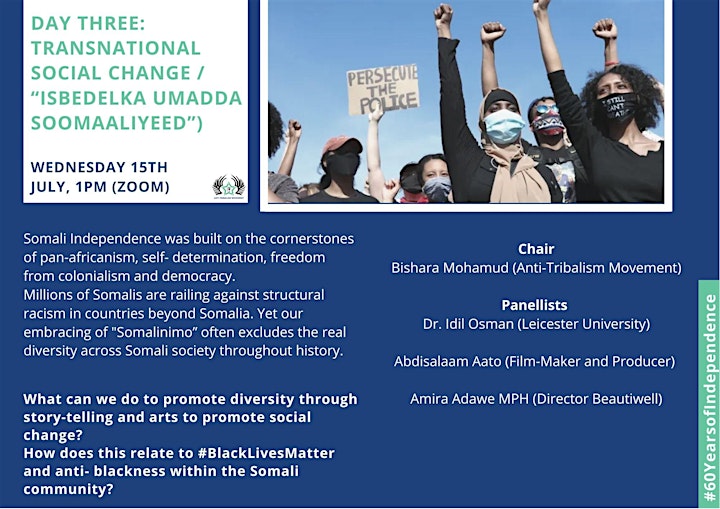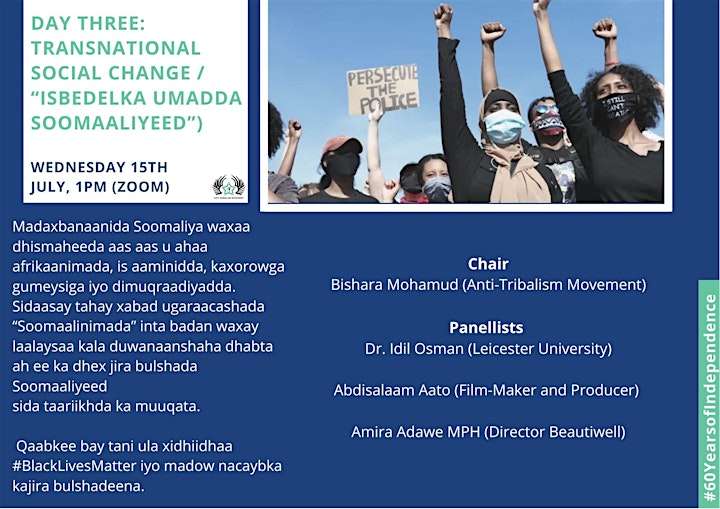 Map Unavailable