Arab Blockchain Week 2021
Date/Time
Date(s) - 06/12/2021 - 06/15/2021
All Day
Categories
Cost:
free USD
Contact Person:

Email:

Website:
https://www.eventbrite.com/e/arab-blockchain-week-2021-tickets-156333324181?aff=ebdssbonlinesearch
Phone:

Organization:
Arab Blockchain Week

Virtual Edition From Arab World To All The World
About this event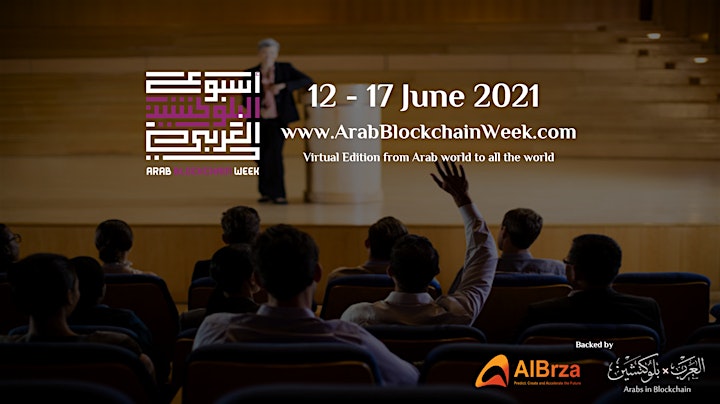 الأسبوع العربي للبلوكتشين هو مبادرة لا مركزية ينظمها المجتمع. لا يوجد مالك واحد ولكن مجموعة من المؤيدين يشاركون شغفهم بتكنولوجيا البلوكتشين والتعليم والأعمال وأهمية تمكين المجتمع العربي في البلوكتشين من أجل مستقبل أفضل. ندعو المشاريع والأفراد وأي شخص مهتم بالمناقشات المثمرة والتعليمية للانضمام إلينا تقريبًا في الفترة من 12 الى 17 يونيو.
يلتزم أسبوع بلوكتشين العربي بأن يكون حياديًا في مجال البلوكتشين ويركز على التعليم لدفع التبني الجماعي من خلال توفير معلومات مباشرة عن الصناعة.
Arab Blockchain Week is a decentralized community-organized initiative. There is no single owner but a group of supporters sharing their passion about blockchain technology, Education, Business and the importance of empowering the Arab community in blockchain for a better future . We invite projects, individuals and anyone interested in fruitful and educational discussions to join us virtually on the 12 – 17 June, 2021.
Arab Blockchain Week is committed to be blockchain agnostic and focus on education to push mass adoption by providing first-hand information about the industry.
Map Unavailable