Arabic Culture: The Art of Arab Dress
Date/Time
Date(s) - 05/20/2021
12:00 pm - 1:00 pm
Categories
Cost:
$0 to $15.80 USD
Contact Person:

Email:

Website:
https://www.eventbrite.com/e/arabic-culture-the-art-of-arab-dress-tickets-141341218389?aff=ebdssbonlinesearch&keep_tld=1
Phone:

Organization:
LEVEL

ONLINE
Thursday, May 20, 2021, from 12:00 pm to 1:00 pm CDT.
Join our 1h culture talk which will highlight the major differences of Arab clothes and explain the role of different garments.
About this Event
In partnership with The Zay Initiative, we have designed a new talk dedicated to the exploration of regional culture and heritage through learning about traditional women's clothing in the Arab world. Joining our efforts on a path to better cross-cultural understanding, respect and compassion to local cultures, we are happy to offer 1h-long talk, where Dr Reem El Mutwalli, founder, The Zay Initiative will give an introduction to Arab Dress showing key samples from across the region. She will discuss the tangible and intangible and the mission to sustain the legacy of Arab Heritage attire for future generations. Arab fashion is a statement, just like it is in the West, but garments have a stronger social and moral dimension, too. It is a great way to express cultural identity for each Arab nation and it is one of the greatest ways for foreigners to learn about the ethnic differences.
Join us as we dismantle some myths around women's traditional attire and learn about deeper cultural meanings and reasons each outfit hides! This is an introduction presentation which will highlight the major differences of clothes, explain the role of garments and answer questions like:
– What is the Arab women's traditional dress: abaya, hijab, jilbab and other elements of women fashion?
– Is wearing abaya compulsory in Arab culture?
– Why do women decide to wear traditional attire?
– What different styles, fabric and colours in contemporary Arab dresses mean: references to countries of origin, occasion, social class etc?
– What should we know to be respectful when it comes to cultural appropriation?
Speaker – Dr Reem El Mutwalli
Dr Reem Tariq El Mutwalli, is a published author, lead curator and public speaker. With over 30 years of experience, she is an expert consultant in Islamic art and architecture, interior design, historic dress and UAE heritage.
She is also the founder of the Zay Initiative. A non-profit UK registered initiative advancing the preservation of cultural heritage, through the collection, documentation and digital archiving of Arab historical attire and their stories. Our goal is to empower and sustain global cross cultural dialogue to inspire creative minds.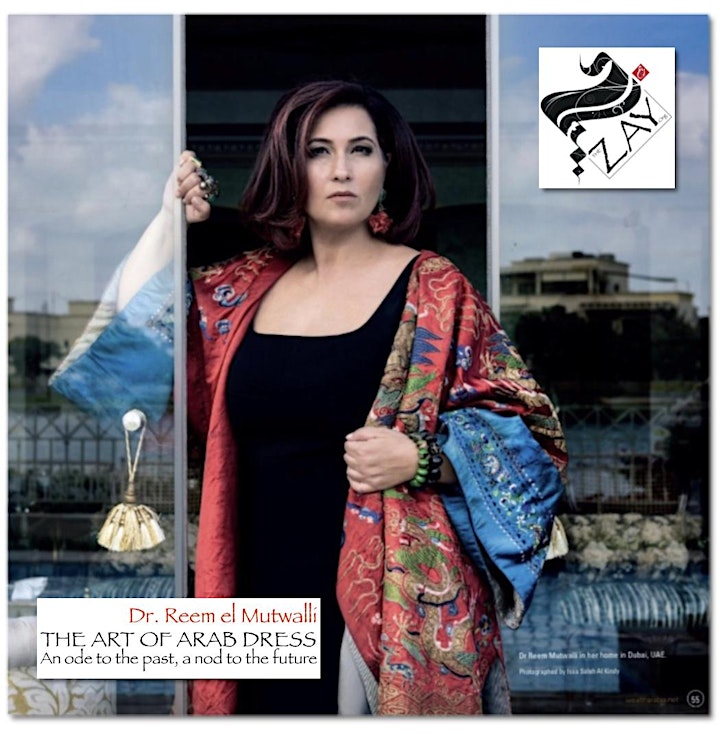 Event
We will have about 50mins talk. Following the presentation there will be time for a Q&A. It is a wonderful opportunity to ask anything that interests you and have a discussion with other participants. We also encourage you to explore our customer reviews on our website (different-level.com) or just contact us if you have any questions.
Before
All attendees will be sent joining instructions in advance of the event. Please check your junk/spam folder if you don't hear from us by 12h before the event. Also, please, note that if you unsubscribe from us (Different Level) before the event, we will not be able to share updates and event details with you.
The talk will be on Zoom, so if you join us on a mobile device (mobile phone or tablet) you will need to download the app (free) from the App Store / Google Play Store beforehand.
After
If the date/ time doesn't work for you, just drop us an email and we will make sure you receive a link to our video recording which can be rented and streamed on Vimeo. This is the link to recordings from our previous events: https://vimeo.com/differentlevel
We look forward to welcoming you online soon! Don't miss this unique opportunity to explore the subject from the comfort of your own home!
Refunds
Please, note that we issue refunds on tickets cancelled at least 24h prior to the event.
To register for this event, please click here  
Refund Policy
Refunds up to 1 day before event
Eventbrite's fee is nonrefundable.
Map Unavailable