Arabic in Translation Workshop: Wordplay & the Freedom of Constraints
Date/Time
Date(s) - 06/04/2021
7:00 am - 9:00 am
Categories
Cost:
Free USD
Contact Person:

Email:

Website:
https://www.eventbrite.com/e/arabic-in-translation-workshop-wordplay-the-freedom-of-constraints-tickets-155791130465?aff=ebdssbonlinesearch&keep_tld=1
Phone:

Organization:


ONLINE!
Arabic Stories and Poetry in Translation is a series of CHASE funded workshops held at Birkbeck and SOAS, University of London.
About this event
This is the continuation of the series of workshops, Arabic Poetry and Stories in Translation, after a long gap caused by Covid-19.
"Wordplay: The Paradoxical Freedom of Constraints" features Geert Jan van Gelder, Professor and translator of classical Arabic poetry and prose into Dutch and into English, including Classical Arabic Literature: A Library of Arabic Literature Anthology (2012). He will explore the Arabic traditions of literary games with acrostics, puns, and intricate prosody with Philip Terry, poet and translator and editor of The Penguin Book of Oulipo: Queneau, Perec, Calvino and the Adventure of Form(2020), who will demonstrate comparable Oulipian 'constraints' and methods of generating stories and poems.
The programme is divided into two parts, with this workshop taking place 3-5 pm (BST), and the public event held 6-7 pm (BST), through a separate booking. Geert Jan van Gelder and Philip Terry will be talking about various forms of wordplay in premodern Arabic literature, from the 9th to the 15th century, and compare these with exercices de styleas created by Raymond Queneau et al. Participants will be looking closely at both translators' work; and attempt some writing/translating themselves.
Knowledge of the Arabic language is preferable but not necessary. The workshops proposed are targeted at PhD students, other interested students, independent translators and scholars from different academic fields. The group sessions will provide the scope to be innovative about participation and collaboration for literary creativity.
The workshops are free to attend, but registration is required and spaces are limited. Material for the workshop will be sent ahead of the session.
Please note this workshop will be recorded and made available online.
More details available at: https://arabicstories.poetry.blog/
For queries, email the organizers at: arabictranslationworkshops@bbk.ac.uk
Geert Jan van Gelder FBA is a Dutch academic and the Laudian Professor of Arabic at the University of Oxford from 1998 to 2012. His research moves over a wide range of topics within Classical Arabic literature, especially belles-lettres. They include the Arabic tradition of literary criticism, poetics, rhetoric, and stylistics; the history of poetry and poetic genres; and the study of specific themes in poetry and literary prose. He was Lecturer in Arabic at the University of Groningen from 1975 to 1998, gaining a doctorate from the University of Leiden in 1982 and was appointed as a member of the Royal Netherlands Academy of Arts and Sciences in 1994. He moved to the University of Oxford in 1998 to take up the position of Laudian Professor of Arabic, becoming a Fellow of St John's College, Oxford. He became a Fellow of the British Academy in 2005. His publications include Beyond the Line: classical Arabic literary critics on the coherence and unity of the poem(Brill, 1982) and Close Relationships: incest and inbreeding in classical Arabic literature (Bloomsbury, 2005). He is the editor and translator of Classical Arabic Literature: A Library of Arabic Literature Anthology (2013).
Philip Terry was born in Belfast and is Professor at the Department of Literature Film and Theatre Studies (LiFTS), at the University of Essex. His interests include the theory and practice of creative writing, particularly the work of Oulipo, experimental translation, and hybrid forms of writing and poetry. He is editor of The Penguin Book of Oulipo (Penguin, 2020), writer of the poetry collections Oulipoems (Ahadada, 2007), Oulipoems 2 (Ahadada, 2009), and Shakespeare's Sonnets (Carcanet, 2010). His translations include a version of Dante's Inferno relocated to present-day Essex, Raymond Queneau's last published book of poetry, Elementary Morality (Carcanet, 2007) and Georges Perec's I Remember (Godine, 2014). Philip Terry's novel tapestry (Reality Street, 2013) was shortlisted for the 2013 Goldsmiths Prize.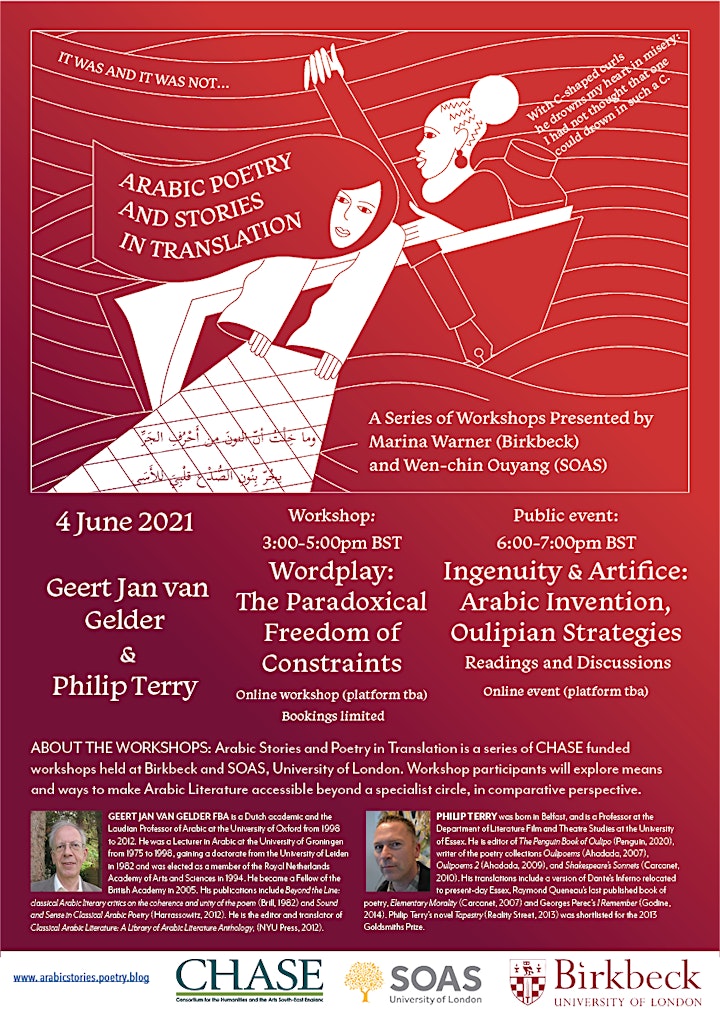 Map Unavailable