Beginner Arabic "Speech, Read, Write" (Games, Multimedia) | Ages 7-12
Date/Time
Date(s) - 02/15/2022 - 02/15/2023
All Day
Categories
Cost:
16 USD
Contact Person:
Salma Hkiri
Email:

Website:
https://www.eventbrite.com/e/beginner-arabic-speech-read-write-games-multimedia-ages-7-12-tickets-230214346307?aff=ebdssbonlinesearch&keep_tld=1
Phone:

Organization:


Arabic "Speech, Read, Write" (Games, Multimedia) | Ages 7-12 | Beginner 1 of 9 by Falooka.com
About this event
Three Ivy League schools and the United Nations have used our educational materials.
Follow us to get notifications‼️
Speak, read and write in Modern Standard Arabic CONTINUOUSLY. This is a play-n-learn for total beginners — using games 😃
Let's re-enact life with 🎲 games, 🎧audios, and 🖼️ visuals.
Method: Multisensory learning (off/on computer), repetition, and active recall
"Play Homework" —> Pictorial worksheets, games, one-line audios
✨ Simulations:
Practical real-life topics: "I'm hungry, I'm thirsty, where is… let's find!
✨ Grammar topics:
1. I, she, he, you (independent pronouns)
2. Phrase vs. sentence
3. Nouns vs. adjectives
4. Singular vs. plural
Class structure (can change sometimes):
🚩 Step 1. 30 minutes (Review the OLD)
How: White board, games, finger puppets
🚩 Step 2. 20 Minutes (Introduce the NEW)
a. ONE grammar theme per lesson
b. TPR —>> off screen visualizations
c. Circle words —>> on screen drawing
d. Trace and write Arabic letters
e. Read single letters and short words
🚩 Step 3. 10 Minutes (100% APPLY)
Students talk to one another in a 3D virtual classroom
Students use the words of the day.
Bring along a pencil and paper and let's go! 💪
Unsubscribe anytime. 😎 Although we'll miss you.
Everyone is welcome.👋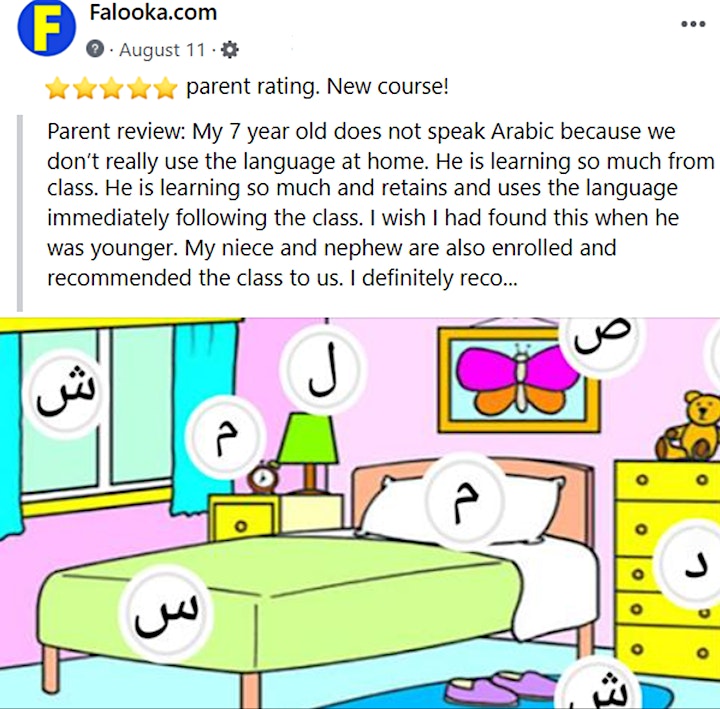 Visit our site at https://falooka.com
✨ Homework: 10 minutes/day or 30 minutes prior to class.
Play 🎧 one-line audios.
✨ Source: Falooka.com for Arabic educational 🎲 games & 🎧 one-line audios.
Map Unavailable