Book Launch of Coloniality and Racial (in)Justice in the University
Date/Time
Date(s) - 04/22/2022
12:00 pm - 2:00 pm
Categories
Cost:
FREE USD
Contact Person:

Email:

Website:
https://www.eventbrite.com/e/book-launch-of-coloniality-and-racial-injustice-in-the-university-tickets-301082494847?aff=ebdssbonlinesearch&keep_tld=1
Phone:

Organization:
RSAN (Racialized Students Academic Network)

Date and time
Fri, April 22, 2022
12:00 PM – 2:00 PM EDT
Price
FREE
Location
Book Launch of Coloniality and Racial (in)Justice in the University: Counting for Nothing edited by Dr. Sunera Thobani (U of T Press, 2022)
About this event
Book Launch of Coloniality and Racial (in)Justice in the University: Counting for Nothing
Edited by Dr. Sunera Thobani (University of Toronto Press, 2022)
Friday April 22nd, 2022
1-3 pm AST (9-11 am PST) via Zoom
With Sunera Thobani, annie ross, Delia Douglas, Carol Fadda, Dana Olwan, and Cicely Blain
Moderated and organized by Benita Bunjun and Raymond Sewell & RSAN
*The Zoom link will be sent to registrants the day of the event*
Biographies of Presenters:
Sunera Thobani is a professor in the Department of Asian Studies at UBC. Her scholarship focuses on critical race, post-colonial, and feminist theory; globalization, media, citizenship, and migration; South Asian women's, gender, and sexuality studies; and violence, Muslim women, and the War on Terror. Dr. Thobani has served as director of the Race, Autobiography, Gender, and Age Centre at UBC; the Ruth Wynn Woodward Endowed Chair of Women's Studies at SFU; and the President of the National Action Committee on the Status of Women.
annie ross is an Indigenous teacher and artist working within community inside the Canadian west. Dr. ross teaches at Simon Fraser University in the Department of Indigenous Studies. Daughter of a strong traditional Maya mother and auntie and WWII veteran storyteller father (Sydney Mines, Nova Scotia). Began education at home with plants, animals, art, Indigenous hand work, storytelling, and history in Compton, California, from parents dispossessed of their traditional lands. Developed and taught courses focusing on rights and title, environmental justice, and testimonio as a means to remedy from past political oppressions; Indigenous art histories, technologies/craft, weaving, poetry and poetics, and printmaking as part of a panoply, a canon, of what we mean when we say Indigenous Bioregionalisms
Delia D. Douglas holds a PhD in sociology from the University of California, Santa Cruz. Her scholarship is interdisciplinary and is attentive to the continuing significance of the legacies of enslavement, imperialism, and settler colonialism. Her research and teaching interests consider struggles for social justice with a focus on critical race and gender studies, Black diaspora studies, equity and higher education, and sports studies. She is the anti-racism practice lead for the Rady Faculty of Health Sciences at the University of Manitoba.
Carol W.N.Fadda is an associate professor of English at Syracuse University, where she teaches critical race and ethnic studies, transnational and diasporic studies, and Arab American literatures and cultures. A recipient of an NEH summer grant and a Future of Minority Studies Fellowship, her essays on gender, race, ethnicity, war trauma, and transnational citizenship in Arab and Arab American literary texts have appeared in a variety of journals and edited collections. She is the author of Contemporary Arab American Literature: Transnational Reconfigurations of Home and Belonging (NYU Press, 2014), which analyzes the ways in which depictions of Arab homelands in Arab American literary and cultural texts from the 1990s onward play a crucial role in reshaping cultural articulations on US citizenship and belonging. Her current book project is titled Carceral States and Dissident Citizenships: Narratives of Resistance in an Age of "Terror."She serves as the editor of the Critical Arab American Studies book series at Syracuse University Press.
Dana M. Olwan is an assistant professor of women's and gender studies at Syracuse University. Her research is located at the nexus of feminist theorizations of gendered and sexual violence and solidarities across settler borders and states. In support of her work, she has received a Future Minority Studies Fellowship, a Social Sciences and Humanities Research Council art/research grant, and a Palestinian American Research Council grant. Her work has appeared or is forthcoming in Signs: Journal of Women in Culture and Society, the Journal of Settler Colonial Studies, American Quarterly, and Feminist Formations. She is completing her first book manuscript, Traveling Discourses: Gendered Violence and Transnational Politics of the "Honor Crime."
Cicely Belle Blain is a Black/mixed, queer femme from London, UK now living on the lands of the Musqueam, Squamish and Tsleil-Waututh people. Their ancestry is a mix of Gambian (Wolof), Jamaican and English. At the heart of all their work, Cicely Belle harnesses their passion for justice, liberation and meaningful change via transformative education, always with laughter, and fearlessly in the face of systemic oppression.They are noted for founding Black Lives Matter Vancouver and subsequently being listed as one Vancouver's 50 most powerful people by Vancouver Magazine in 2018 and again in 2020, BC Business's 30 under 30 and one of Refinery29's Powerhouses.Cicely Belle is an instructor in Executive Leadership at Simon Fraser University, the Editorial Director of Ripple of Change Magazine and the author of Burning Sugar (Arsenal Pulp Press, 2020). They run Bakau Consulting, an anti-racist consulting company with thousands of clients across the world.
Biography of Moderators & Organizers:
Raymond Sewell is an L'nu poet, singer-songwriter, and an assistant professor in the Department of English. He has served as the Indigenous Student Advisor at Saint Mary's University. He is originally from Pabineau First Nation, a Mi'kmaq community near Bathurst, New Brunswick. He is the Founder/Inaugural Chair of the Atlantic Association of College & University Student Services (AACUSS) Indigenous Services Division. Raymond constantly promotes Indigenous excellence and intellectualism providing many public performances and lectures.
Benita Bunjun is an associate professor at Saint Mary's University in the Department of Social Justice and Community Studies, and Women and Gender Studies in Kjipuktuk, Mi'kma'ki (colonial Halifax, NS). Her research examines organizational and institutional power relations with a focus on colonial encounters within academic spaces. She currently coordinates The Racialized Students Academic Network and works with international students at various universities to promote their scholarship, rights, and well-being. Dr. Bunjun is the editor of Academic Well-Being of Racialized Students (2021 – Fernwood Publishing).
Racialized Students Academic Network (RSAN) is an independent autonomous network of/for Indigenous and Black students/alumni and students/alumni of colour at Saint Mary's University in Kjipuktuk, Mi'kmaq Territory. The Network is a gathering space to centre Indigenous, Black and critical race feminist scholarship, knowledge systems, methodologies and scholars – which are predominately marginalized and omitted in everyday classes, research, pedagogy and graduate supervision. Such a critical and rare academic space ensures that students further develop their own theoretical vision based on intersecting identities, histories, and struggles while promoting their overall academic well-being individually and collectively.
Supported by Acadia University Faculty Association, FUNSCAD: Faculty and Technician's Union of the Nova Scotia College of Art and Design University & Saint Mary's University Faculty Union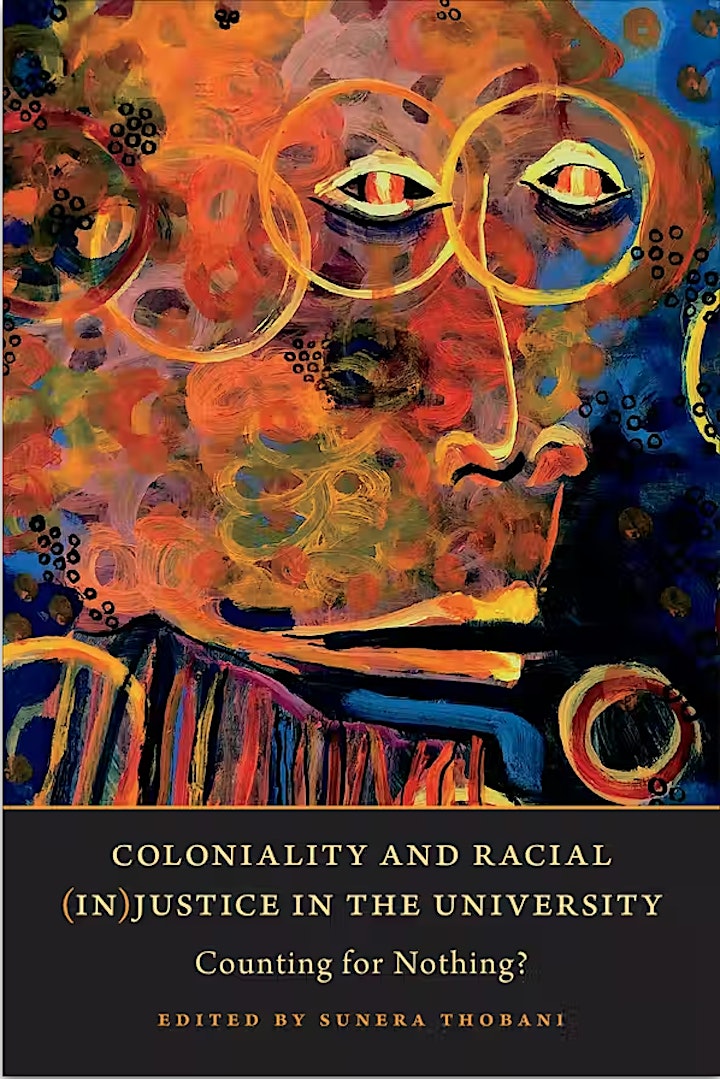 Map Unavailable