Bringing a New Audience to Arabic Literature, sponsored by SZBA
Date/Time
Date(s) - 09/08/2022
10:00 am - 11:15 am
Categories
Cost:
$10 USD
Contact Person:

Email:
info@literarytranslators.org
Website:
https://www.eventbrite.co.uk/e/bringing-a-new-audience-to-arabic-literature-sponsored-by-szba-tickets-379987451697?aff=ebdssbonlinesearch&keep_tld=1
Phone:

Organization:
SZBA

** This is an online event
About this event
Bringing a New Audience to Arabic Literature
In 2018, the Sheikh Zayed Book Award launched the translation grant to foster the translation, publication, and distribution of Arabic literature around the world. In this panel discussion, Sheikh Zayed Book Award-winning translators will discuss the process by which they were able to write and publish their books, gain attention from the audience, and how other translators may take advantage of these opportunities to expand Arabic stories and culture to new English-speaking audiences. This discussion will be moderated by one of the publishers of an award-winning book, who will share their own perspective. The discussion will be open to Q&A from the audience and a networking opportunity for translators and publishers to connect.
Attending the Panel
Remember that if you have already paid for an ALTA45 All-Access Registration, you can use the promo code sent to your email to sign up to attend this event at no additional charge. If you are interested in purchasing an ALTA45 Registration to access all our events this year, you can do so at this link.
ALTA members receive 20% off of all tickets and registration using the member promo code. If you need your code, please search your email for "ALTA member promo code" or write to info@literarytranslators.org.
To use your 20% off ALTA member promo code or the 100% off promo code you received when you registered for an all-access pass, click "Tickets" in the event you want to sign up for, then input the code at the top of the list of tickets where it says "Enter promo code" in blue (for reference, see the screenshot at the very bottom of this page). Be sure to click "Apply," and you'll see the price change.
This event will be captioned using Zoom's automatic transcription feature.
All participants in ALTA's 2022 programming agree to abide by and uphold ALTA's Terms and Conditions and Code of Conduct. Email info@literarytranslators.org with questions.
Sheikh Zayed Book Award Rights Guide
Click here to access the 2022 Rights Guide.
Connect with the Panelists and Attendees
As part of the event, we want to help facilitate networking and informational conversations between translators, writers, and publishers. Please answer a few questions in this brief Google form in order to help us connect you to the other attendees you most would like to meet.
Panelists
Michael Cooperson is an American author and translator. Cooperson studied at Harvard University and the American University of Cairo, and is currently a professor of Arabic language and literature at the University of California, Los Angeles. He has published two monographs on early Abbasid cultural history: 'Classical Arabic Biography' and 'Al-Ma'mun'. In addition to Impostures, he has translated Abdelfattah Kilito's 'L'Auteur et ses doubles (The Author and his Doubles)' and Ibn al-Jawzi's 'Manaqib al-Imam Ahmad ibn Hanbal (Virtues of the Imam Ahmad ibn Hanbal)'. His other interests include Maltese language and culture.
Sawad Hussain is a translator from Arabic. She is a judge for the Palestine Books Awards. She has run translation workshops under the auspices of Shadow Heroes, Africa Writes, Shubbak Festival, the Yiddish Book Center, the British Library, and the National Centre for Writing. She was the 2022 translator-in-residence at the British Centre for Literary Translation. Her upcoming translation What Have You Left Behind (Fitzcarraldo Editions) will be released in October 2022. She tweets @sawadhussain.
Chip Rossetti is the Editorial Director at the Library of Arabic Literature. Rosetti has a Ph.D. in Arabic literature (specializing in modern Iraqi fiction) at the University of Pennsylvania, and did his undergraduate degree in Greek and Latin at Harvard. Before his second career in academia, he worked for a number of years as an acquiring editor at US publishers such as Basic Books, Wiley, and Little, Brown. From 2005 to 2007, he was the senior editor at the American University in Cairo Press. His translations include Sonallah Ibrahim's Beirut, Beirut; Magdy El Shafee's graphic novel Metro; Ahmed Khaled Towfik's sci-fi novel Utopia; and Three Poems by Syrian poet Liwaa Yazji (with Samantha Kostmayer Sulaiman.) In 2010, he won a PEN America Translation Fund grant for his translation of Muhammad Makhzangi's short story collection Animals in our Days.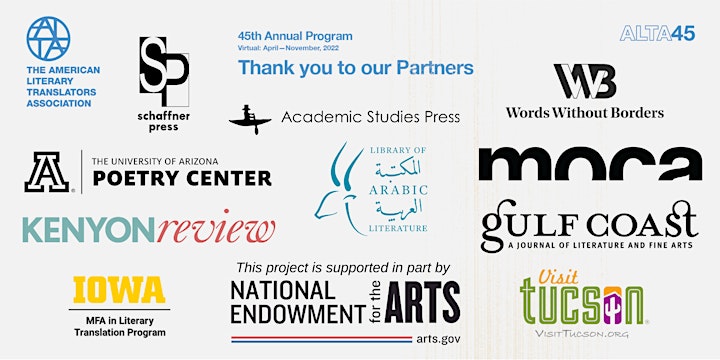 Put in your member promo code or all-access registration code after clicking "Tickets," as shown in this screenshot:

Map Unavailable