Daily Life in Ancient Egypt
Date/Time
Date(s) - 09/17/2021
7:00 pm - 8:00 pm
Categories
Cost:
9.99 USD
Contact Person:

Email:

Website:
https://www.eventbrite.com/e/daily-life-in-ancient-egypt-tickets-166805113585?aff=ebdssbonlinesearch
Phone:

Organization:
World Virtual Tours

LANGUAGE: ENGLISH
EVENT DETAILS
Live event from Egypt with a Local Egyptologist and licensed tour guide
Immersive Experience
Scenes from tombs and monuments, artifacts from museums
Agriculture, food and drinks, arts, music and dancing, and religious offerings
Live Q&A
Contents suitable for children
NOTE: If you get your ticket on Eventbrite, pay attention to the time because all start times there are Eastern European Time (EET). Use the https://www.thetimezoneconverter.com to easily convert it to local time.
EVENT DESCRIPTION
Are you interested in how the ancient Egyptians lived their daily lives when they were not busy building their famous and timeless monuments? These days we seem to be very interested in how people live their daily lives; just look at Facebook, Youtube and Instagram to see how people are spending every minute of their day. So why not have a look at what we know about daily life in Ancient Egypt? There may not have been blogs and blogs to record all details, but by looking at certain scenes in tombs and by the discovery of artifacts, Egyptologists have gotten to know quite a bit about how the ancient Egyptians used to spend their days, either with work, leisure or religion.
With this informative virtual tour we take you back in time to discover interesting facts about certain parts of daily life in Ancient Egypt. You'll learn more about agriculture, food and drinks, arts, music and dancing, and religious offerings.
Our Egyptologist tour guide uses colorful images of scenes inside tombs and of artifacts from museums to give you a good idea of the fascinating daily life in Ancient Egypt!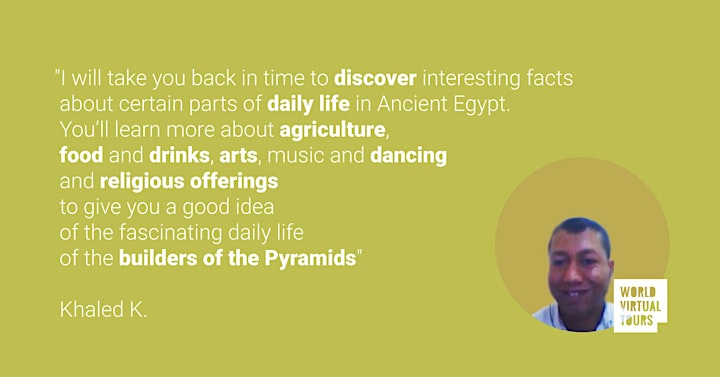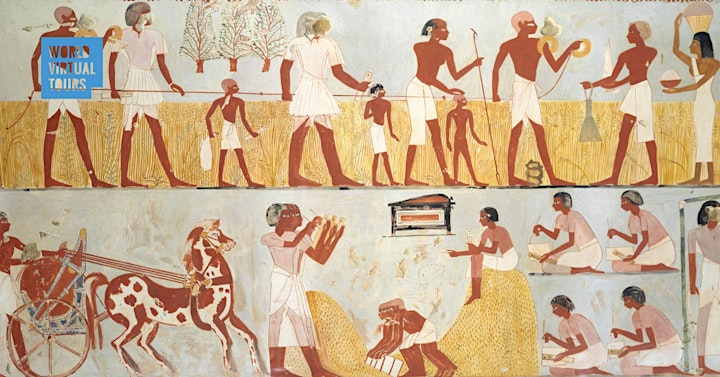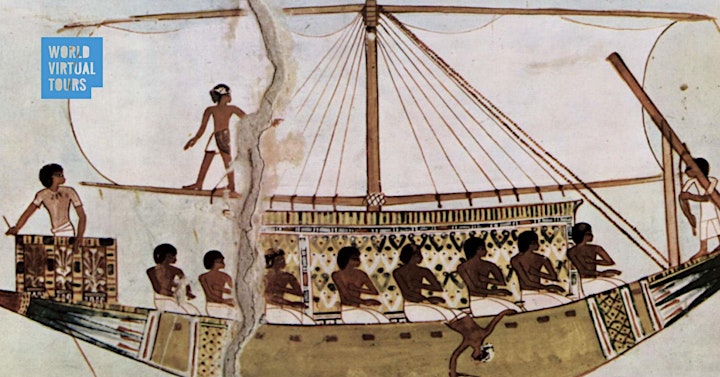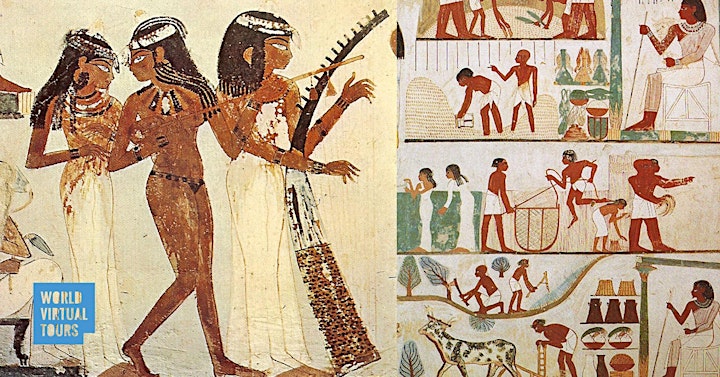 Map Unavailable