Dr. Rabab Abdulhadi keynote, Israeli Apartheid Week @ University of Toronto
Date/Time
Date(s) - 04/05/2021
5:00 pm - 6:30 pm
Categories
Cost:
Free USD
Contact Person:

Email:

Website:
https://www.eventbrite.com/e/dr-rabab-abdulhadi-keynote-israeli-apartheid-week-university-of-toronto-tickets-146173937181?aff=ebdssbonlinesearch&keep_tld=1
Phone:

Organization:
Students Against Israeli Apartheid

ONLINE
Monday, April 5, 2021, at 5:00 pm CDT.
Dr. Rabab Abdulhadi keynote, Anything but Random: Defeating Zionist & Corporatized Systemic Erasure of Palestine
About this Event
Dr. Rabab Abdulhadi keynote, Anything but Random: Defeating Zionist & Corporatized Systemic Erasure of Palestine
Monday, April 5th @ 6pm EST via Facebook Live
Arabic and Spanish interpretation available April 12
Contact: 3902bdspac@gmail.com
Hosted by UofT's Students Against Israeli Apartheid, the Canadian Union of Public Employees (CUPE) Local 3902 BDS Committee & CUPE Ontario.
We are honoured to host esteemed Palestinian feminist and activist intellectual, Dr. Rabab Abdulhadi for the IAW 2021 keynote address at the UofT. Anything but Random: Defeating Zionist & Corporatized Systemic Erasure of Palestine discusses the campaign for the right to education in Palestine, and for the academic and cultural boycott of Israeli apartheid. Dr. Abdulhadi's activism, feminist thought, and scholarly and community work have greatly contributed to the international Palestine solidarity movement and have helped to shape the BDS campaign. She has also been a tireless advocate for freedom of expression and democratic rights against attempts to silence and suppress Palestinian advocacy. These include resisting the efforts to dismantle the Arab and Muslim Ethnicities and Diasporas (AMED) Studies Program at San Francisco State University and to censor the debate on the academic boycott at the University of Toronto.
This event is dedicated to our recently departed dear comrade and frequent collaborator, Mary-Jo Nadeau. Dr. Nadeau played a vital role in establishing both the Coalition Against Israeli Apartheid and Faculty for Palestine, Canada. The event is a tribute to her unwavering contributions and support of BDS student organizing at UofT, which goes back to the beginning of the movement on our campus.
Abstract of Dr. Abdulhadi's talk:
On September 23, 2020, private tech giants Zoom, FaceBook and YouTube censored Whose Narratives? Gender, Justice & Resistance: A Conversation with Leila Khaled, a virtual open classroom at San Francisco State University (SFSU). In a most recent examples in an over-100-year failed Zionist campaign to erase Palestinian Indigenous presence on, and organic connection to their land, Zionists sought to moblize both right-wing and liberal intellectuals in their vilification of Palestinians and other narratives of resistance. To mobilize its white supremacist and Trump-era base, the right-wing of the Israel lobby industry deployed Cold-War and hyper-xenophobic claims of US and Israeli national security–arguments that had been rejuvinated in the post 9/11/2001 US invasions of Afghanistan and Iraq–as well as in Israel's brutal military campaign against the Palestinian Aqsa Intifada. Simultaneously, liberal Zionists crafted a strategy to enlist neoliberal and centrist intellectuals in the silencing of Palestine by making it palatable to equally proclaim a commitment to freedom of speech and academic freedom, and thus avoid being accused of racism, while retaining their alliances with their private corporate partners and wealthy Zionist donors, and thus satisfying their neo-liberal agenda. Though more sophisticated and harder to readily detect, liberal Zionist discourses replicated a Eurocentric colonial feminist and Orientalist mindset of civility, Enlightenment, and diversity, that simultaneously weaponize anti-Semitism to discredit scholarship, pedagogy and advocacy for justice in/for Palestine, and by extension any and all advocates for justice-centered knowledge production, as evident in the on-going campaign against California Ethnic Studies Model Curriculum. This has been the case with the Zionist/neoliberal campaign to gut and discredit the Arab and Muslim Ethnicities and Diasporas Studies and Teaching Palestine as a legitimate, essential and integral part of the curriculum. Inspired by The Spirit of '68 call to decolonize the curriculum and hold our institutions transparent and acccountable to the community, this presentation will historicize and contextualize Zionist and white supremacist campaigns to silence Palestine and criminalize Palestinian education that are neither isolated nor random but are systematically interconnected to privatization, corporatization, the undermining of shared governance, anti-democratic practices, and union busting.
Biography of Dr. Abdulhadi:
Dr. Rabab Abdulhadi is founding Director and Senior Scholar of Arab and Muslim Ethnicities and Diasporas Studies Program, Associate Professor of Ethnic Studies, and affiliated faculty in Sexualities Studies at San Francisco State University (SFSU). She is a public intellectual who is equally committed to the principle of the indivisibility of justice. She is a member of the founding Board of Advisors for the National Students for Justice in Palestine (NSJP). She co-founded the California Scholars for Academic Freedom; US Campaign for the Academic and Cultural Boycott of Israel; Feminists for Justice in/for Palestine; the U.S. Branch of the General Union of Palestine Students; the Union of Palestinian Women's Associations in North America; and the Palestine Solidarity Committee. She is active with the recently formed CSU Coalition to Disarm and Defund and UC/CSU Cops off Campus. She was the first Arab or Muslim to be elected to the Board of New York Civil Liberties Union. She served on the Board of the Brecht Forum (formerly the Marxist School); and co-chaired the Third World Coalition of the American Friends Service Committee, where she co-organized the 1992 campaign, "500 years of Colonialism, 500 Years of Resistance." She initiated and co-organized the 1985 national 26-city U.S. tour on "Israel and South Africa: The Apartheid Connection?" She co-organized and led several delegations to Palestine, including the Indigenous and Women of Color Feminist Delegation in 2011, the 2014 Academic and Labor Delegation; the U.S. Prisoner, Academic and Labor Solidarity Delegation in 2016, as well as the Teaching Palestine: Pedagogical Praxis and the Indivisibility of Justice delegation in March 2018 to Palestine, Andalucia and South Africa.
Dr. Abdulhadi is currently working on critical oral histories of Palestinian activism and editing a volume on Teaching Palestine, a project that challenges colonial narratives on Palestine, and calls for decolonizing of the curriculum and ending the erasure of Palestine through education. Since the onset of the COVID-19 pandemic, she initiated and co-organized major webinars on Black Lives and Black Freedom, Abolition and Reparations, and the memorializing of the Sabra and Shatila Massacre. These webinars have attracted thousands of viewers, leading to over 100,000 organic views of the AMED Facebook page. This includes the open classrooms on narratives of Palestine and Resistance that was recently censored by the university and the three tech giants Zoom, Facebook and YouTube. An international campaign has sprung up to oppose this censorship of academic freedom and silencing of Palestine.
Before joining SFSU, Dr. Abdulhadi served as the first Director of the Center for Arab American Studies at the University of Michigan-Dearborn. She is co-author of Mobilizing Democracy: Changing US Policy in the Middle East (2003/1991), and co-founding Editorial Board member of Islamophobia Studies Journal. She has published over 80 articles and book chapters in seven languages, in academic, print and social media outlets. Her academic articles have appeared in Feminist Studies; Women's Studies Quarterly; International Feminist Journal of Politics; Gender and Society; Radical History Review; Peace Review; Journal of Women's History, and WSQ: Women's Studies Quarterly. She is a contributor to Return to the Source; Freedom of Speech and Higher Education; The University and Social Justice; the Life and Courage of Shamima Shaikh; With Stones in Our Hands; This Bridge We Call Home; New World Coming; Shifting Borders; We Will Not Be Silenced; and Countering the Islamophobia Industry. As a journalist based at the United Nations Headquarters for 10 years, she wrote for The Guardian, Al-Fajr; Womanews; Palestine Focus; Voice of Palestinian Women; Christianity and Crisis; Falasteen Al-Thahwra; Al-Hadaf; and Al-Hurriyah. She continues her public engagement in Mondoweiss; Al-Shabaka; Jadaliyya; Al-Quds Al-Arabi; Al-Akhbar; Washington Report on Middle East Affairs; The Intercept; Counterpunch; TruthOut; Monthly Review; and Middle East Eye; as well as TV and radio stations such as Aljazeera; Press TV; Pacifica; and NPR affiliates.
Abdulhadi is the recipient of several scholarly awards, including Sterling Fellowship, New Century Scholarship, and, most recently, the Georgina Smith Award of the American Association of University Professors. Her community honors include the Alex Odeh Award by the American Arab Anti-Discrimination Committee, Lucius Walker Award by the Inter Faith Community Organizations/Pastors for Peace; and Courage awards by Al-Awda: The Palestinian Right of Return Coalition as well as the Silicon Valley chapter and the National Convention of American Muslims for Palestine. She was honored by the Arab Feminist Union, Palestine, and named as a San Francisco Bay Area Visionary by the National Women's Studies Association. She received teaching excellence awards from Yale University, American University in Cairo, and SFSU. She taught at 8 international sites, including New York University, Hunter College, and Birzeit University in Palestine.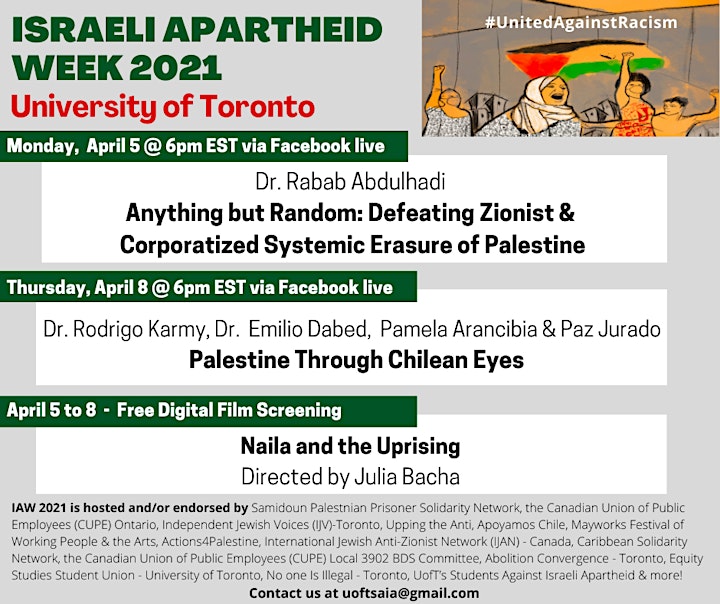 To register for this event, please click
here
Map Unavailable