Fatima Hajij
Date/Time
Date(s) - 01/28/2023 - 01/29/2023
10:00 pm - 2:00 am
Location
Audio SF
Categories
Cost:
USD
Contact Person:

Email:

Website:

Phone:

Organization: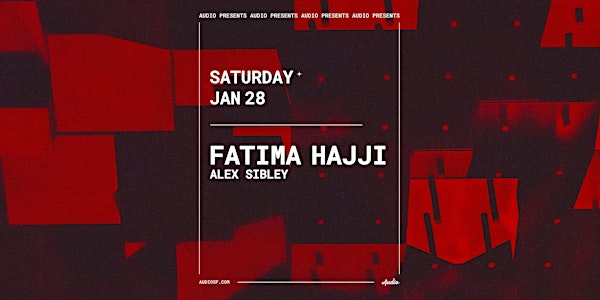 About this event
4 hours
Ages 21+
Mobile eTicket
Techno queen, Fatima Hajji hits Audio for the first time on January 28th.
For table reservations, please call/text 415-745-6823 or e-mail reservations@audiosf.com
If you were born with electricity and a real punch running through the veins, then you'd know it is impossible to let them just on the inside. You must allow all that flow escape to the outside.
Young DJ, composer and entrepreneur girl she runs her own platform, SILVER M her new label with some parties in nice places like Ibiza, Amsterdam or Barcelona.
Fátima, Spanish by birth but with Arab origins is a confessed lover of nature and animals, as well as striking colours… and of course, she's in steadfast love of a fireproof music genre like Techno. From its analogue and classical roots – she's specialist in bringing up her deep African origins- through more contemporary sounds, including Techno-house. She stands for freshness, audacity and ruthless grooves, ideal medicine for having fun.
Despite her youth, Fatima Hajji has led the dance music scene for nearly two decades now. Step by step she has managed wisely to establish herself as an artist, not only in Spain but also in the rest of Europe. To name some festivals (from a longer list) where she has performed: Awakenings,Verknipt, Solar, Decibel, Free Your Mind (The Netherlands); Tomorrowland (Belgium); Nature One, or Ikarus (Germany); Monegros, Aquasella, Medusa, Dreambeach, A summer Story, Weekendbeach, Electrobeach, Electrosonic, 4Every1 (Spain); Elektrobotik, Impact (France), Far Away (Peru), Dreambeach (Chile), Opera (Italy) … It is also impossible to ignore she has been on the decks of clubs like the legendary Tresor (Berlin), Lehmann, X Club or Harry Klein in Germany; Privilege or Eden in Ibiza; Florida 135, Fabrik, Razzmatazz, Row 14, Input, LAB or Industrial Copera in Spain; Spazio 900, Audiodrome, Dolcevita or Golden Gate in Italy; Spin San Diego in USA, Inox Club, BT59 or La Villa Rouge in France; Gashouder, Maassilo, Shelter, Paradiso, Thuishaven, Toffler, Basis, Factory 010 and Depot in The Netherlands. Vagabond and Mute Colombia, Crobar Argentina, La Feria Chile, Foro Normandie in Mexico, Closr in Beirut, Jenja Bali… Fátima has travelled to a big list of countries like: USA, Czech Republic, U.K., Belgium, Portugal, Hungary, Japan, Thailand, Slovenia, Ireland, Romania, Bulgaria, Croatia, Brazil, Colombia, Bosnia, Slovakia, Serbia, Sweden, UK, Perú, Brasil, Chile, Argentina, India, U.A.E., Lebanon, Tunisia, Qatar, Indonesia, Morocco, among others…
Support from Alex Sibley
21+