Live Arabic Music and Dance w/ Georges Lammam Ensemble
Date/Time
Date(s) - 04/30/2022
6:00 pm - 9:00 pm
Categories
Cost:
25 USD
Contact Person:

Email:

Website:
https://www.eventbrite.com/e/live-arabic-music-and-dance-w-georges-lammam-ensemble-tickets-305130492517?aff=ebdssbdestsearch
Phone:

Organization:
Desert Dream Dance Studio/Dangerous Beauties

Price
$ 25.00
Date and time
Sat, April 30, 2022
6:00 PM – 9:00 PM PDT
Location
MJA Vineyards — Westside Tasting Room & Cellar
328 Ingalls Street
Santa Cruz, CA 95060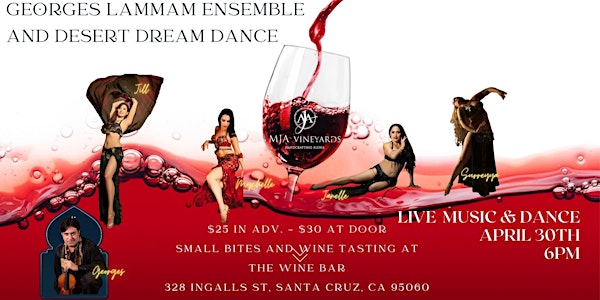 A special evening of Arabic and global music by the world-renowned Georges Lammam Ensemble and international, award-winning dancers.
About this event
Be whisked away by mesmerizing song, intoxicating dance and delectable libations – you are invited to a most extravagant evening of live music, and arguably some of the best wine you've ever tasted and performers you've ever seen!
More about the Players:
Georges Lammam
Georges Lammam was born in Beirut, Lebanon. He is a solo violinist exemplifying the Arab style of instrumental improvisation. His repertoire spans a wide range of Arabic music from classical to contemporary. Having performed with some of the most well-known singers and musicians of the Middle East, his reputation as a virtuoso with expertise in maqamat (eastern musical scales, ornimentation, tones and melodic phrasing) precedes him. Georges has toured and is celebrated internationally alongside artists like Eddie and Gabriel Navia, and is passionate activist in humanitarian causes in Greece, Syria, Iraq and Iran. His work has scored and can be heard in multiple documentaries.
Janelle Rodriguez
Janelle has been teaching dance in Santa Cruz for nearly 2 decades. She has owned Desert Dream Dance Studio in Santa Cruz since 2008, and founded the dance company and music ensemble, "Desert Dream Music and Dance Company" in 2002. Passionate about dance study, Janelle received her Salimpour School Teaching 1 certification (formerly Suhaila Salimpour Level 5) in 2020 and is currently working on her Performance 2 (formerly Jamila Salimpour Level 4) certificate. She also teaches barre and pilates. Her thriving studio, Desert Dream Dance, has survived and expanded during the pandemic. For more information about Janelle and her belly dance classes visit www.JanelleDance.com and
Surreyya Hada
An international dancer, singer and instructor, Surreyya Hada teaches belly dance, barre and pilates in Santa Cruz at Desert Dream Dance Studio. Surreyya received her AA and Dance Major and African and Contemporary Dance Certifications through the Izzy (Isadora Duncan) award-winning City College of San Francisco, and her BA in Dance/Kinesiology at Saint Mary's College of Moraga as a LEAP program awardee, where she is completing her MA in Dance. Surreyya teaches and dances throughout the bay area and has performed and taught internationally. She is a Master Trainer in Pilates, and has trained and certified many of the Bay Area's leading pilates instructors and dancers.
Jill Baker
A Santa Cruz County belly dancer who has been active in the community from San Francisco, CA to Madrid, Spain. Jill is a passionate dancer with a deep-rooted love for the art of dance. She began taking classes nearly 20 years ago. Now she continues her dance education at Desert Dream Dance Company – Studio here in Santa Cruz. You may catch Jill performing at a variety of venues from large stage competitions to intimate restaurant settings, festivals and cultural functions. Jill's student troupe, The Academy, can be seen at local events throughout the bay area. Jill is also a certified pilates instructor and teaches dance and pilates throughout the bay area.
Mychelle Crown
Mychelle Crown is a professional Bellydancer from Sacramento, CA. Mychelle is a multi-award winning dancer who performs classic Raqs Sharqi. She is owner of and a dance and pilates instructor at Thrive Movement Arts studio and director of The Crown Jewels Dance Company. Mychelle also produces events locally and can be seen dancing at festivals throughout Northern California. Learn more at mychellebellydance.com.
About MJA Vineyards:
The story of MJA Vineyards brings you on an adventure. The founder, Marin John Artukovich – the "MJA," comes from a long line of Croatian tradesmen and farmers, steeped in the culture of winemaking. Although he was the first generation of his family to be born in the US, Marin grew up with that same hard-working spirit that propelled his family forward. He worked alongside his father in their family business and spent his free time surfing and playing professional beach volleyball.
To no one's surprise, after years of hard work, Marin decided to retire and follow his passions to Hawaii, where he quickly fell in love with the people and the land. Always the entrepreneur, he found that he had a talent for growing Kona coffee, and for over 20 years, he has farmed the best Kona Coffee available. His beans were named by Forbes as America's best coffee in 2001, and they won the Gevalia Cup in 2002 and the Pacific Coast Coffee Association Coffee of the Year Award in 2004.
During the process of farming the land, and handcrafting from its bounty, the winemaker in him was awakened. In August 2007, Marin purchased vineyards in Napa and made his first barrel of MJA wine under the Serene Cellars label. In 2011, he purchased more land in the Santa Cruz Mountains, where a selection of our DaVine Cellars grapes are grown. His success at growing and producing a high-quality product transferred to MJA Vineyards, with many of his wines placing in competitions across the United States, such as the Los Angeles International Wine Competition, Monterey International Wine Competition, Finger Lakes Wine Competition, and many more. From Croatia to Hawaii, to Napa, to Santa Cruz – when you visit our tasting rooms or drink our wines, we swear you can taste the journey and feel the Aloha!
Map Unavailable