Music for Palestine Children's Relief Fund
Date/Time
Date(s) - 08/08/2021
3:00 pm - 6:00 pm
Categories
Cost:
25 USD
Contact Person:

Email:

Website:

Phone:

Organization:
Ali Baker

A music based fundraiser event for Palestine Children's Relief fund. Featuring Mirah, Luz Mendoza, Onry Ozzborn, Lisa Papineau and more!
About this event
THE EVENT
In May of 2021, 64 Palestinian children were killed by Israeli occupation forces in Gaza. 240 Palestinians were killed altogether in the latest round of attacks on Palestine. These were the worst attacks on Gaza since 2014. The parents and children of Gaza have been devastated with air and ground forces causing crippling anxiety, and lack of resources such a clean drinking water, nutrition, and medical aid.
The idea of this event is to raise money for the Palestine Children's Relief Fund and to create awareness about the devastation and horrors in Israeli occupied Palestine. It is to heal with music and spread the act of joy as resistance.
About The Relief Fund
Palestine Children Relief Fund is a non-profit organization that provides urgent humanitarian aid for Gaza's children.
"The Palestine Children's Relief Fund was established in 1992 by concerned humanitarians in the USA to bring injured and sick children for free medical care they could not get locally. The story of our founding is written up here. Since then, we have sent over 2,000 sick and injured children for free medical care, as well as sponsored hundreds of volunteer medical teams from all over the world to treat tens of thousands of sick and injured youths in local hospitals. PCRF also has built two pediatric cancer departments in Palestine and has several more major programs and projects taking place to help support the development of a sustainable health-care system there. We are a grassroots organization depending on the support of thousands of volunteers all over the world to help us achieve our humanitarian mission.Music is one of the best ways to bring folks together to celebrate life, and to inspire hope. These musicians are all so wonderful and bring joy each time they perform. The event will also feature some speakers that will share their knowledge and hearts, and help bring awareness to the situation that is happening in Palestine. " PCRF – Featured Performers:
Mirah, Luz-Elena Mendoza (of Y La Bamba), Onry Ozzborn, Lisa Papineau, Annie Ford and Friends, Morhaf Al Achkar, Michelle Shaffer and Jake Patefield.
About the Performers:
Mirah "Brooklyn-based Mirah Yom Tov Zeitlyn (b. 1974, Philadelphia) creates incorruptible independent pop music defined by her graceful songwriting and adventuresome recordings. Mirah has released over a dozen solo and collaborative recordings on K Records, Kill Rock Stars and various US domestic and foreign independent labels while touring the United States, Europe, Japan, Australia and New Zealand many times since 1998. In 2021, Mirah is set to reissue her sophomore album Advisory Committee, including landmark tracks "The Garden" and "Special Death."" -Mirah music-
Luz-Elena Mendoza (of Y La Bamba) "Portland's indie folk pop ensemble Y La Bamba is fronted by Mexican-American singer-songwriter Luz Elena Mendoza, who grew up sandwiched between jaunty rancheras, corridos, boleros and huapangos, a collage of traditional Mexican music her Michoacán parents listened to. Her purepecha blood is reflected in the band's musical experimentation, with a sound that repeats itself through her ancestral lineage. -Billboard-
Onry Ozzborn is a psychedelic rap/hip hop artist and producer from Seattle, Washington. He is a founding member of groups such as Grayskul, Dark Time Sunshine, and Oldominion, among others. He has collaborated with notable artists such as Aesop Rock, Sleep, Mr Lif, P.O.S. Slug, and Busdriver. Onry just released an album he co-collaborated on with Chicago based musician and producer, Zavala under the Name Dark Time Sunshine called 'LORE.'
Lisa Papineau is an musician and songwriter. She has released four solo albums, and is the songwriter and vocalist for Los Angeles band Big Sir. Papineau is a frequent collaborator of Japanese composer Jun Miyake and has also written songs for and recorded with other bands and solo artists, including Air, M83, Halo Orbit, ME & LP, Renaud-Gabriel Pion, Jam De Silva, Dinho Ouro Preto, Anubian Lights, Farflung, P.O.D. Omar Rodriguez Lopez, Scapegoat Wax, Scenario Rock, Arman Méliès, Mandrake, Sissy Bar and Crooked Cowboy and the Freshwater Indians.
Annie Ford and Rhea Melina–"Annie Ford grew up outside of a small town in rural Virginia in a log cabin. She began playing viola at age 11 and over the last 20+ years she honed her skills as a fiddler and learned accordion, banjo, piano, guitar and clarinet. Eager and willing to play every chance she got, she dabbled in the genres of classical, jazz, Irish, cajun, old-time, country blues, pirate punk and klezmer." -Annie Ford Music
Rhea Melina -Rhea Melina is a painter, a poet, a musician and owns her own business, Every Day Goddess Doula Services and Apothecary.
Morhaf Al Achkar– See Bio Below
"Michelle Shaffer is a singer/ songwriter/ poet with guitar skills.  Her guitar arrangements have been described as a framework for her voice.  Her playing is worldly and flavored by classical, Flamenco pop/rock and traditional finger styling.  She writes using nylon string, steel string and electric.  Her work is eclectic, with a feeling that speaks to the heart."
Jake Patefield – A sultry Chicago based singer and songwriter that you are sure to fall in love with!
About our Speakers:
Themba Lewis– General Secretary of the Asia Pacific Refugee Rights Network.
He has taught on refugee rights in Bulgaria and Egypt, provided legal representation for detained asylum seekers in the United Kingdom, and is a Registered Member of the Law Society of England and Wales. Previously, Themba served as a Field Team Leader at the US Refugee Admissions Program Resettlement Support Center, before joining the Rights in Exile Programme as co-director in August 2012.
Craig and Cindy Corrie– Parents of Rachel Corrie, a 23-year-old American peace activist from Olympia, Washington, who was crushed to death by an Israeli bulldozer on 16 March 2003, while undertaking nonviolent direct action to protect the home of a Palestinian family from demolition.
After Rachel's death in Gaza, her parents created 'The Rachel Corrie Foundation For Peace and Justice'.
"The Rachel Corrie Foundation for Peace and Justice continues the work that Rachel Corrie began and hoped to accomplish, and carries out that work with her vision, spirit, and creative energy in mind. We conduct and support programs that foster connections between people, that build understanding, respect, and appreciation for differences, and that promote cooperation within and between local and global communities. The foundation encourages and supports grassroots efforts in pursuit of human rights and social, economic, and environmental justice, which we view as prerequisites for world peace". RCFP-
Dr. Morhaf Achkar– Family physician and UW faculty at the Department of Family Medicine; musician and songwriter, and humanitarian activist.
Morhaf Al Achkar, MD, Ph.D. (1983-) was born in Aleppo-Syria and migrated to the United States in 2006 after finishing medical school. He also obtained a Ph.D. in Education from Indiana University. Currently, he is a practicing family physician and a faculty member at the University of Washington.
In 2016, Morhaf was diagnosed with stage 4 lung cancer. Since then, his research has focused on the experience of patients living with lung cancer. His writing is based on interviews he did with 39 patients who live, like him, with incurable cancers. He explores how these patients find meaning, cope, and build resilience.
Dr. Morhaf is a musician and activist that has written three books, 'Being Authentic; a Memoir', 'Roads to Meaning and Resilience with Cancer', 'A Love Attempt' and also created a fundraiser for the Palestine Children's Relief Fund with his music.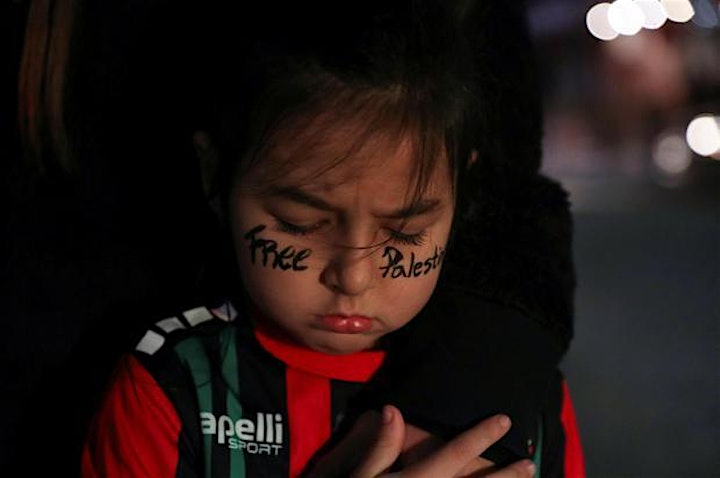 #FREE PALESTINE
Map Unavailable