NEW AMERICAN DREAM: Braver Than The one Before it
Date/Time
Date(s) - 05/26/2021
4:00 pm - 5:30 pm
Categories
Cost:
Free USD
Contact Person:

Email:

Website:
https://www.eventbrite.com/e/new-american-dream-braver-than-the-one-before-it-tickets-149375806057?aff=ebdssbonlinesearch
Phone:

Organization:
WNET

ONLINE
Wednesday, May 26, 2021, from 4:00 pm to 5:30 pm CDT.
A conversation with five major authors on what America means and can become for people long kept at its margins.
About this Event
Life, liberty, and the pursuit of happiness – are they still the pillars of the American Dream, or does systemic racism in the U.S. demand a more radical vision? Join us for a conversation with five major authors on what America means and can become for people long kept at its margins.
With Cathy Park Hong, Robert Jones, Jr., Laila Lalami, Valeria Luiselli, and Tommy Orange (Cheyenne and Arapaho). Moderated by Lisa Lucas. Opening performance by Sandra Lilia Velasquez.
NEW AMERICAN DREAM: Five Weeks of Virtual Town Halls On Disrupting Systemic Racism and Envisioning the Nation Beyond It (April 28-May 26). Each week, The WNET Group will examine systemic racism in relation to five pillars of contemporary society: voting rights, artificial intelligence and genetic data, journalism, antiracism, and cultural narratives. Our focus is on strategies and solidarity, with an understanding of history and eyes toward the future.
Presented by The WNET Group, America's flagship PBS station. Curated by Brian Tate.
Week 1: Democracy That Doesn't Flinch
Week 2: Revolutionary Design
Week 3: News That Needs Telling
Week 4: Turned Against the Tide
Week 5: Braver Than the One Before It
All events are FREE and open to the public. Streaming Wednesdays at 5:00 pm EST at youtube.com/ChasingTheDreamPBS. ALL REGISTERED ATTENDEES WILL RECEIVE THE LIVESTREAM LINK DIRECTLY. More information at thirteen.org/NewAmericanDream
Week 5: BRAVER THAN THE ONE BEFORE IT
Thanks to our partners:
AI Now Institute
Black Futures Lab
Brennan Center for Justice
Brooklyn Book Festival
The Center for Anti-Violence Education
Color of Change
Ms. Foundation for Women
NYU Office of Global Inclusion, Diversity, and Strategic Innovation
ABOUT THE PANELISTS
Cathy Park Hong's book of creative nonfiction, Minor Feelings: An Asian American Reckoning, won The National Book Critics Circle Award for best autobiographical book of 2020. She is also the author of the poetry collections Engine Empire, and Dance Dance Revolution, chosen by Adrienne Rich for the Barnard Women Poets Prize. Hong is the recipient of the Windham-Campbell Prize, the Guggenheim Fellowship, and an NEA Fellowship. She is the poetry editor of the New Republic and a full professor at Rutgers-Newark University.
New York Times-bestselling author Robert Jones, Jr., was born and raised in New York City. He received his BFA in creative writing with honors and MFA in fiction from Brooklyn College. He has written for numerous publications, including The New York Times, The Paris Review, Essence, OkayAfrica, The Feminist Wire, and The Grio. He is the creator of the social-justice social media community, Son of Baldwin. The Prophets is his debut novel.
Laila Lalami was born in Rabat and educated in Morocco, Great Britain, and the U.S. Her 2014 novel, The Moor's Account, won the American Book Award, the Arab-American Book Award, and was a finalist for the Pulitzer Prize in Fiction. Her recent bestselling novel, The Other Americans, was a finalist for the National Book Award in Fiction. She is a full professor at the University of California. Her latest book, Conditional Citizens: On Belonging in America, was longlisted for the Carnegie Medal for Excellence in Nonfiction.
Valeria Luiselli was born in Mexico City and grew up in South Korea, South Africa, and India. An acclaimed writer of both fiction and nonfiction, her works include the essay collection Sidewalks; Tell Me How It Ends: An Essay in Forty Questions; and her latest novel, Lost Children Archive. She is the recipient of a 2019 MacArthur Fellowship and the winner of two L.A. Times Book Prizes, the Carnegie Medal, and an American Book Award. Her work has been translated into more than 20 languages. She is a Writer in Residence at Bard College and lives in New York City.
Tommy Orange is an enrolled member of the Cheyenne and Arapaho Tribes of Oklahoma, and he was born and raised in Oakland, California. His debut novel, the national bestseller There There, won the PEN/Hemingway Award, the National Book Critics Circle John Leonard Prize, the Center for Fiction First Novel Prize, and the American Book Award, and was a finalist for the Pulitzer Prize. The audiobook for There There was a 2019 Audie Award finalist for Multi-Voiced Performance.
MODERATOR: A prominent leader with unparalleled passion, Lisa Lucas is an essential champion of literature. She was the youngest, first woman, and first person of color to be the executive director of the National Book Foundation. In 2020, she accepted a position to head Pantheon and Schocken Books as Senior Vice President. She is vocal about inclusivity in publishing, insisting that the word transcends boundaries to include everyone regardless of their racial, economic, or geographic background.
OPENING PERFORMANCE: Sandra Lilia Velasquez is a Mexican American songwriter, vocalist, and bandleader based in Brooklyn, NY. A multi-instrumentalist, she is known for her socially conscious bilingual lyrics and Latin rhythms across three musical projects: Pistolera, Moona Luna, and SLV. Originally from the border town of San Diego, CA, and raised by Mexican immigrant activists, Velasquez has dedicated her musical expression to empowering the Latinx community in the face of persistent racism and inequality.
The WNET Group is America's flagship PBS station: parent company of New York's THIRTEEN,WLIW21,WLIW-FM and operator of NJ PBS, the statewide public media network in New Jersey and its news division, NJ SPOTLIGHT NEWS. Through its new ALL ARTS multiplatform initiative, its broadcast channels, three cable services. The WNET Group produces and presents a wide range of acclaimed PBS series, including Nature, Great Performances, American Masters, PBS NewsHour Weekend, and the nightly interview program Amanpour and Company. In addition, The WNET Group produces numerous documentaries, children's programs, and local news and cultural offerings, as well as multi-platform initiatives addressing poverty and climate. Through THIRTEEN Passport, WLIW Passport, and NJ PBS Passport, station members can stream new and archival programming anytime, anywhere.
Chasing the Dream is a multi-platform public media initiative from The WNET Group in New York, telling the human stories of poverty, jobs, justice, and economic opportunity in America. It aims to provide a deeper understanding of both economic and structural inequality, what has happened to the age-old dream of striving for a better life, and what is working to bring people out of poverty. Since 2014, Chasing the Dream has produced more than 500 on-air and online reports across public media, including documentaries in collaboration with FRONTLINE and WORLD Channel, news reports on PBS NewsHour and NewsHour Weekend, in-depth interviews on Amanpour and Company, and regional reporting on MetroFocus, NJTV News, and PBS member stations across the country. Funding for Chasing the Dream is provided by The JPB Foundation. Learn more at www.pbs.org/chasingthedream. Join the conversation on Twitter, Facebook, and Instagram.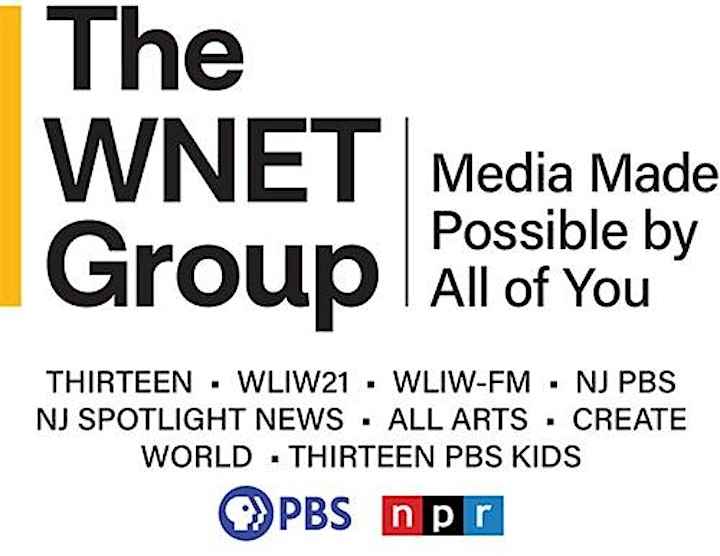 To register for this event, please click
here
Map Unavailable