Perspectives on Emotionally Focused Therapy in Middle Eastern Cultures
Date/Time
Date(s) - 05/19/2021
12:30 pm - 3:00 pm
Categories
Cost:
30-45 USD
Contact Person:

Email:

Website:
https://www.eventbrite.com/e/perspectives-on-emotionally-focused-therapy-in-middle-eastern-cultures-tickets-151426381383?aff=ebdssbonlinesearch
Phone:

Organization:
Kathryn de Bruin Family Therapy & Training

Join us for an online panel discussion: Perspectives on Emotionally Focused Therapy in Middle Eastern Cultures.
About this event
EVENT DETAILS
WEDNESDAY, MAY 19th (Sign up closes: May 17th)
9:30am – 12pm PACIFIC STANDARD TIME
Cost is $45 | Developing Country/Student Cost $30
NO CEU's available
Any and ALL proceeds (after paying the panelists) will be going to service projects in South Africa.
NOTE: We will be recording this event, and will make the recording available for purchase later. Sign up and pay here on Eventbrite, to enroll and receive a copy of the recording.
___
PANEL GUESTS
Senem Zeytinoglu (Turkey)
Located in İstanbul, Turkey, Dr. Senem Zeytinoğlu-Saydam, LMFT, is an AAMFT approved supervisor and EFT trainer. She is the co-founder of Turkish EFT Association and its current president. She is an assistant professor at Özyeğin University Department of Psychology. Aside from her faculty position, she holds a private practice where she sees individuals, couples and families and provides clinical supervision to graduate students. She serves on the board of International Family Therapy Association and she presents nationally and internationally.
Mona Cheraghi (Iran)
Mona Cheraghi received the Ph.D. degree in clinical psychology in 2015 and specialized in couple therapy. In 2016, she joined the department of counseling, Shahid Beheshti University, as an assistant professor. Her current research interests include family relations cultural psychology, and culturally sensitive treatments. She teaches family therapy, psychotherapy theories, behavioral sciences, attitudes, and clinical practice to undergraduate, and postgraduate students. She has published several scientific papers and has appeared as an expert on numerous TV and radio programs.
Tal Padeh (Israel)
Tal has a Ph.D. in Psychology from Bar Ilan university. Registered psychologist in the psychologists registry since 2003, and specialist psychologist since 2012. Lecturer in various counseling courses at David Yellin academic college of education, Jerusalem. Private clinical counselor (adults, adolescent and couples). EFT individual supervision with Aviva Rizel. Helper in Core Skills advanced training, with George Faller & Elana Katz. Co-organizer of peer group supervision in EFT couple's therapy.
Eman Attia (Egypt)
Eman Onsy is EGYCEFT Director and Co-founder and the chair of Family and Couples Section of Egyptian Association for Group Therapies (EAGT). She got her Masters degree in counseling psychology from the American University in Cairo (AUC) in 2013. Since 2013, Onsy practices couples counseling from the Emotional Focused Couples Therapy approach (EFT). In the past few years, Onsy has been able to build a network for EFT in Egypt and supported EAGT family and couples section to grow. She has helped to bring ICEEFT (EFT diploma) training to Egypt and has supported having Egyptian EFT candidates who finished externship and core skills.
Dalia Sheiha (Dubai)
Dalia Sheiha is an Egyptian certified EFT Therapist and Supervisor-in-Training living and practicing Marriage and Family Therapy in Dubai, United Arab Emirates. Dalia is passionate about helping individuals, couples and families overcome their emotional problems, behavioral issues and relationship crisis. Since Dubai is a melting pot with more than two hundred different nationalities, Dalia fortunately gets to work with clients from all over the world. She is bilingual and works in both English and Arabic.
Dalia Sileem-Naguib
Dalia Sileem-Naguib is an Egyptian-American Licensed Marriage and Family Therapist and an EFT Certified Supervisor Candidate and therapist in Northern California. She is a Certified Eating Disorder Specialist. Dalia presented workshops in CA and Egypt on different topics, such as Eating Disorder and EFT. Dalia is the Director and Co-founder of the Egyptian Community for EFT. Supervises clinicians in Group Supervision and Individually in Egypt. She has a full-time Private Practice in San Jose, CA where she sees Individuals, Couples, and families.
Jila Behnad
Jila is an Iranian American Licensed Marriage and Family Therapist, and certified EFT Therapist and Supervisor. Jila is adjunct Faculty at Palo Alto University where she teaches EFT. She is the CEO and Founder of Raha Foundation and director of the Iranian EFT Community.
Elana Katz
LCSW, LMFT, senior faculty at the Ackerman Institute for the Family, is a certified EFT Trainer, a founding board member of NYCEFT and their Director of Strategic Planning, and a co-facilitator of the ICEEFT Diversity Committee. She presents nationally and internationally, including core EFT trainings in Israel.
https://www.ackerman.org/faculty/elana-katz-lcsw-lmft/
Moderated by Derek Olson
Dr. Derek Olson is the Managing Partner of Global Consulting & Training at The Ubuntu Group. He holds a PhD in Leadership Studies: Cross-Cultural Organizational and Leadership Development from the University of San Diego's (USD) School of Leadership and Education Sciences. In addition to his organizational consulting work, he researchers and lectures at USD's School of Business on topics of organizational behavior, organizational development, and leading across cultures. Together he and his wife serve others through The Oak Stone Project that seeks to create spaces that create.
Moderated by Kathryn de Bruin
Kathryn de Bruin is a Marriage and Family Therapist, Certified EFT Trainer and Supervisor. She has a full time private practice in San Diego, CA where she works with children and families. Kathryn teaches Play Therapy at the University of California San Diego, in the Play Therapy Program, and at Bethel University. With a heart for her homeland South Africa, Katheryn started www.eftsouthafrica.com. She travels back frequently to provide trainings. As an AAMFT supervisor, Kathryn enjoys providing supervision in person and online. Supervisees have described her as warm, perceptive and skilled. With her strong work ethic, it is important to Kathryn to be accessible and responsive to those who work with her.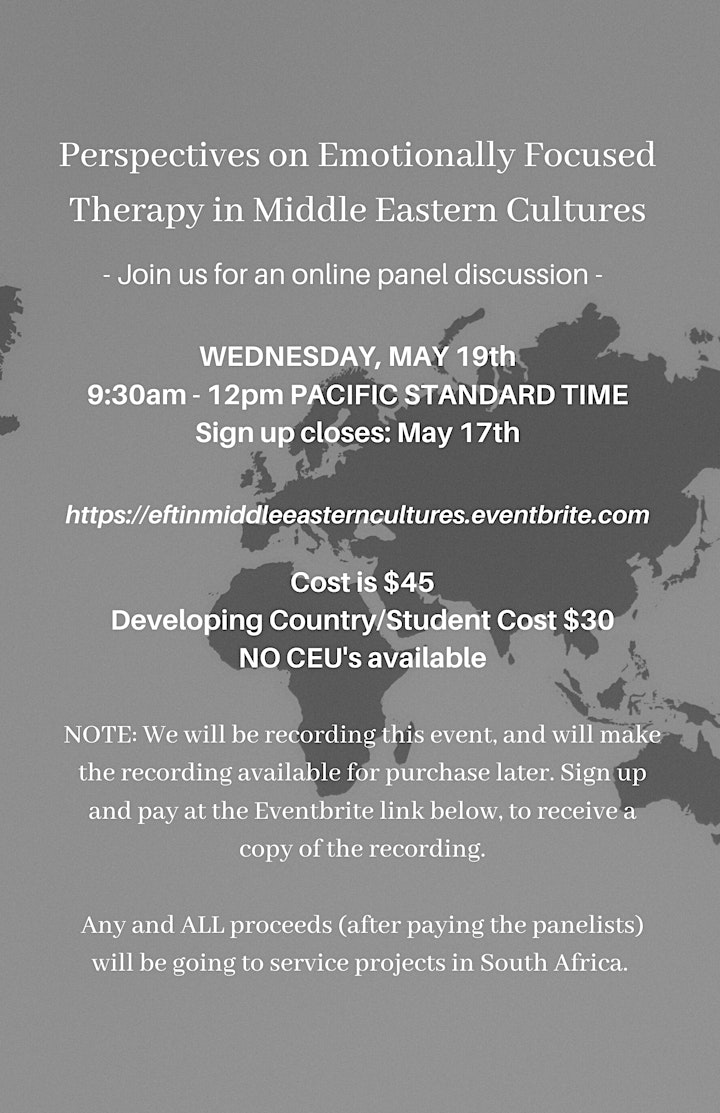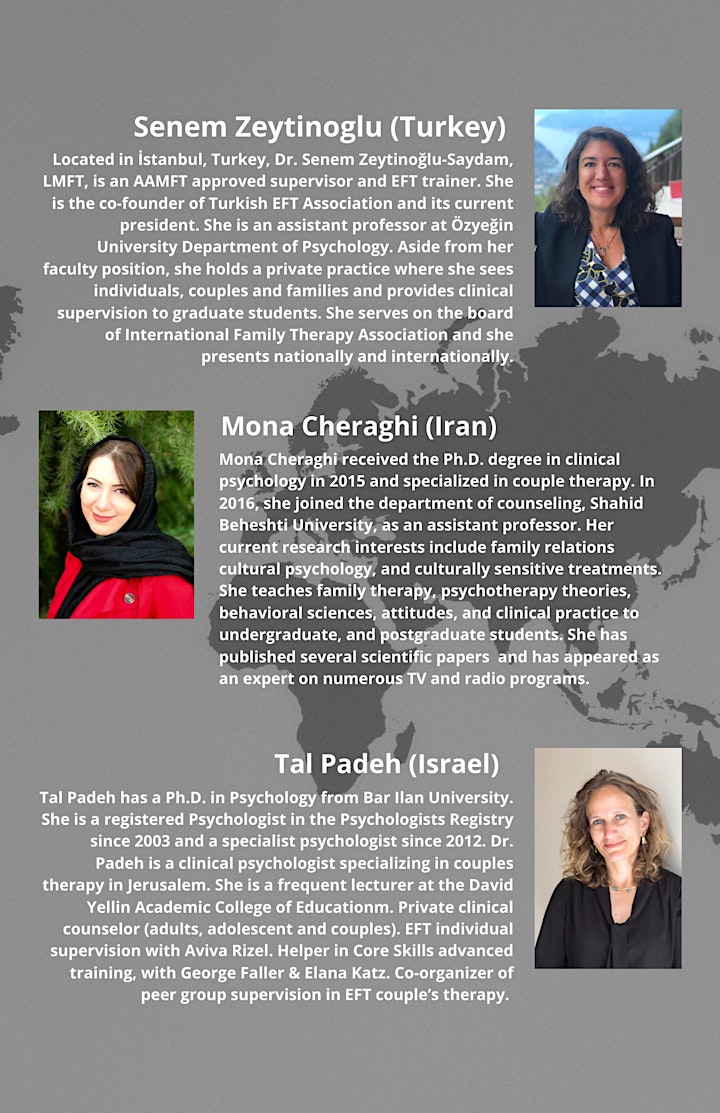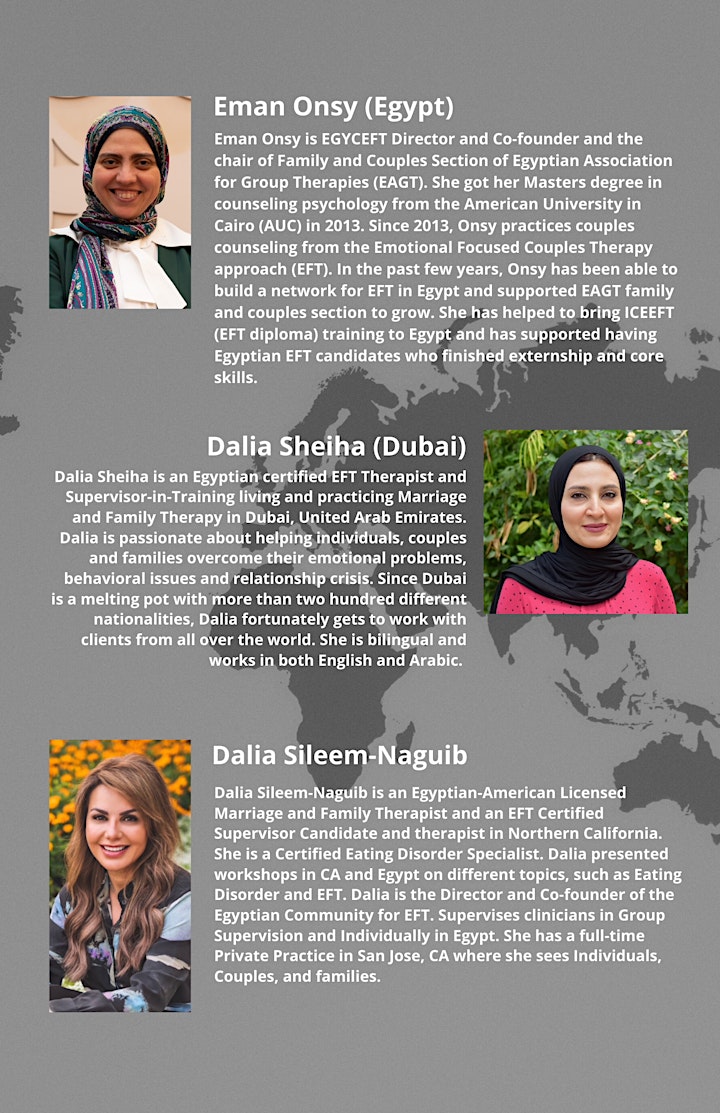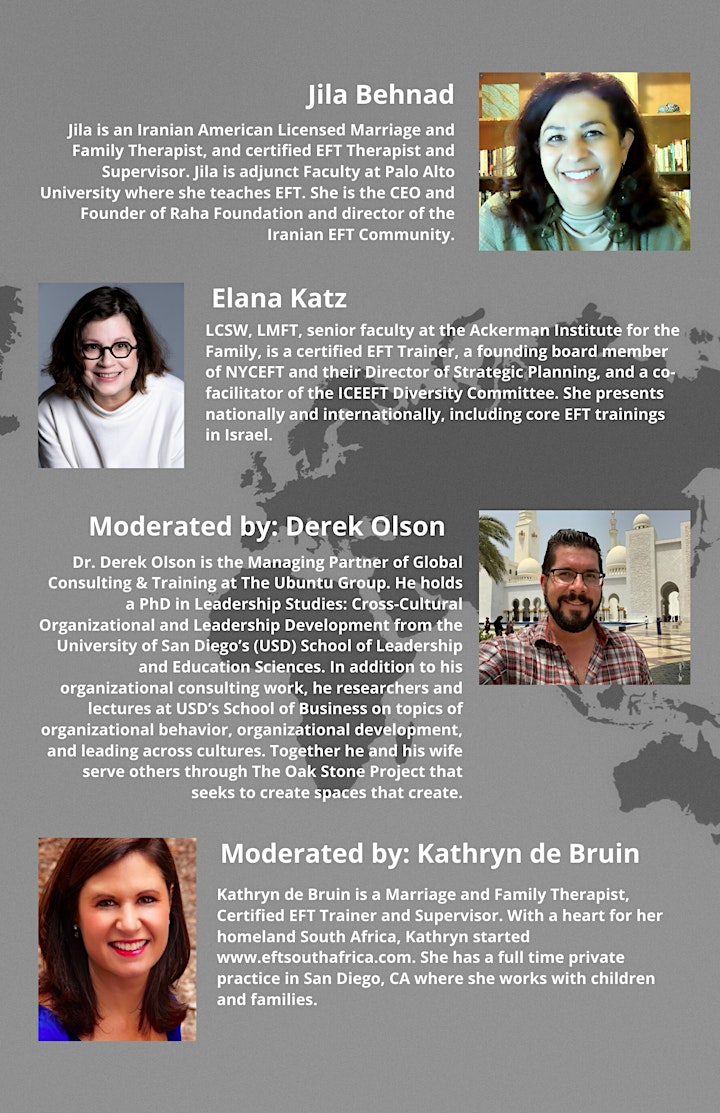 Map Unavailable