Places of Mind: The Life of Edward Said with Timothy Brennan - TICKET ONLY
Date/Time
Date(s) - 03/23/2021
12:00 pm - 1:00 pm
Categories
Cost:
5.55 USD
Contact Person:

Email:

Website:
https://www.eventbrite.com/e/places-of-mind-the-life-of-edward-said-with-timothy-brennan-ticket-only-tickets-142143405753?aff=ebdssbonlinesearch&keep_tld=1
Phone:

Organization:
by Blackwell's, Oxford

ONLINE
Join Timothy Brennan online as he talks about Places of Mind: A Life of Edward Said.
About this Event
Described as 'one of the leading thinkers of the age', Edward Said's fascination is both era-defining and timeless. In Places of Mind, Said – pioneer of post-colonial studies, a tireless champion for his native Palestine, and an erudite literary critic – emerges as a self-doubting, tender, and eloquent advocate of literature's dramatic effects on politics and civic life. As a former student of Said's at Columbia, Timothy Brennan has had unparalleled access to his subject as well as the authorisation of his Estate, making this book the definitive portrait of Said, his work, and his legacy.
Places of Mind charts the intertwined routes of Said's intellectual development, revealing him as a study in opposites: a cajoler and strategist, a New York intellectual with a foot in Beirut, an orchestra impresario in Weimar and Ramallah, a raconteur on national television, a Palestinian negotiator at the State Department, and an actor in films in which he played himself. Brennan traces the Arab influences of Said's thinking along with his tutelage under Lebanese statesmen, off-beat modernist auteurs, and New York literati, as Said grew into a scholar whose influential writings changed the face of university life forever. With both intimidating brilliance and charm, Said turned these resources into a groundbreaking counter-tradition of radical humanism, set against the backdrop of techno-scientific dominance and religious war.
This is the first biography of Edward Said, digging into primary sources rather than rehearsing well-known biographical facts. Drawing on Said's ground-breaking body of work, the testimonies of family, friends, students, and antagonists alike, and aided by FBI files, unpublished writing, and Said's drafts of novels and personal letters, Places of Mind captures Said's intellectual breadth and influence in an unprecedented and intimate portrait of one of the great minds of the twentieth century.
Timothy Brennan is the author of several books, including At Home in the World: Cosmopolitanism Now and Salman Rushdie and the Third World: Myths of the Nation. His writing has appeared in The Nation, The Times Literary Supplement, and other outlets. He teaches in the humanities at the University of Minnesota and has received fellowships from the Fulbright foundation, the American Council of Learned Societies. and the National Endowment for the Humanities.
Tickets are priced at £4. For a ticket to include a copy of Places of Mind: The Life of Edward Said for £25, please click here.
Shipping is included to the UK only.
You will be sent a link to join this online event when ticket sales end at 5.30pm on the day. Please note you must log into Zoom before clicking the joining link and use the same email address to book your tickets as you use for your Zoom login.
Like this? View our full online events programme here.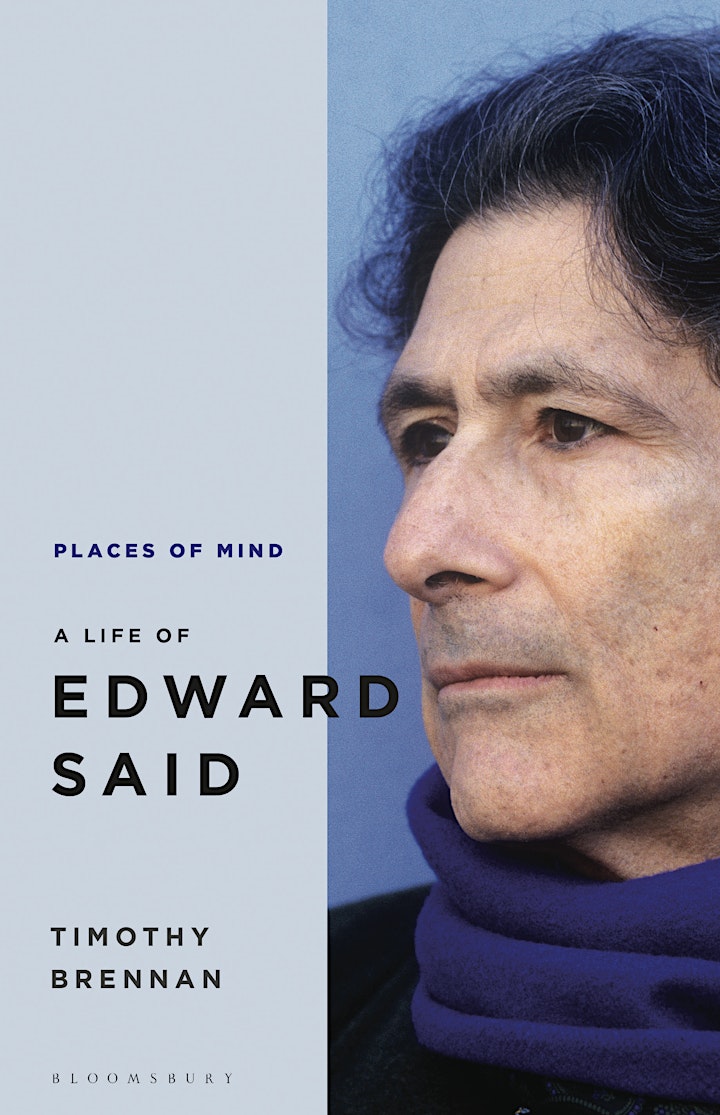 Map Unavailable