Public Event - Ingenuity & Artifice: Arabic Invention, Oulipian Strategies
Date/Time
Date(s) - 06/04/2021
12:00 pm - 1:00 pm
Categories
Cost:
Free USD
Contact Person:

Email:

Website:
https://www.eventbrite.com/e/public-event-ingenuity-artifice-arabic-invention-oulipian-strategies-tickets-155795924805?aff=ebdssbonlinesearch&keep_tld=1
Phone:

Organization:
Marina Warner (Birkbeck) And Wen-Chin Ouyang (SOAS)

ONLINE
Friday, June 4, 2021, from 12:00 pm to 1:00 pm CDT.
Readings and conversation, open to all. This is the second part of a CHASE-funded workshop held at Birkbeck and SOAS, University of London.
About this event
This public event in the series of Arabic Poetry and Stories in Translation is titled "Ingenuity & Artifice: Arabic Invention, Oulipian Strategies".
Geert Jan van Gelder and Philip Terry will be talking about various forms of wordplay in premodern Arabic literature, from the 9th to the 15th century, and compare these with exercices de style as created by Raymond Queneau et al.
Geert Jan van Gelder, Professor and translator of classical Arabic poetry and prose into Dutch and into English will read from and explore the Arabic traditions of literary games with acrostics, puns, and intricate prosody. Philip Terry will demonstrate comparable Oulipian 'constraints', reading from texts that both typify Oulipian methods, and that have had particular importance for him in his own writing.
The programme is divided into two parts, with the workshop taking place 3-5 pm (BST), through a separate booking and this public event held 6-7 pm (BST).
More details available at: https://arabicstories.poetry.blog/
For queries, email the organizers at: arabictranslationworkshops@bbk.ac.uk
Geert Jan van Gelder FBA is a Dutch academic and the Laudian Professor of Arabic at the University of Oxford from 1998 to 2012. His research moves over a wide range of topics within Classical Arabic literature, especially belles-lettres. They include the Arabic tradition of literary criticism, poetics, rhetoric, and stylistics; the history of poetry and poetic genres; and the study of specific themes in poetry and literary prose. He was Lecturer in Arabic at the University of Groningen from 1975 to 1998, gaining a doctorate from the University of Leiden in 1982 and was appointed as a member of the Royal Netherlands Academy of Arts and Sciences in 1994. He moved to the University of Oxford in 1998 to take up the position of Laudian Professor of Arabic, becoming a Fellow of St John's College, Oxford. He became a Fellow of the British Academy in 2005. His publications include Beyond the Line: classical Arabic literary critics on the coherence and unity of the poem (Brill, 1982) and Close Relationships: incest and inbreeding in classical Arabic literature (Bloomsbury, 2005). He is the editor and translator of Classical Arabic Literature: A Library of Arabic Literature Anthology (2013).
Philip Terry was born in Belfast and is Professor at the Department of Literature Film and Theatre Studies (LiFTS), at the University of Essex. His interests include the theory and practice of creative writing, particularly the work of Oulipo, experimental translation, and hybrid forms of writing and poetry. He is editor of The Penguin Book of Oulipo (Penguin, 2020), writer of the poetry collections Oulipoems (Ahadada, 2007), Oulipoems 2 (Ahadada, 2009), and Shakespeare's Sonnets (Carcanet, 2010). His translations include a version of Dante's Inferno relocated to present-day Essex, Raymond Queneau's last published book of poetry, Elementary Morality (Carcanet, 2007) and Georges Perec's I Remember (Godine, 2014). Philip Terry's novel tapestry (Reality Street, 2013) was shortlisted for the 2013 Goldsmiths Prize.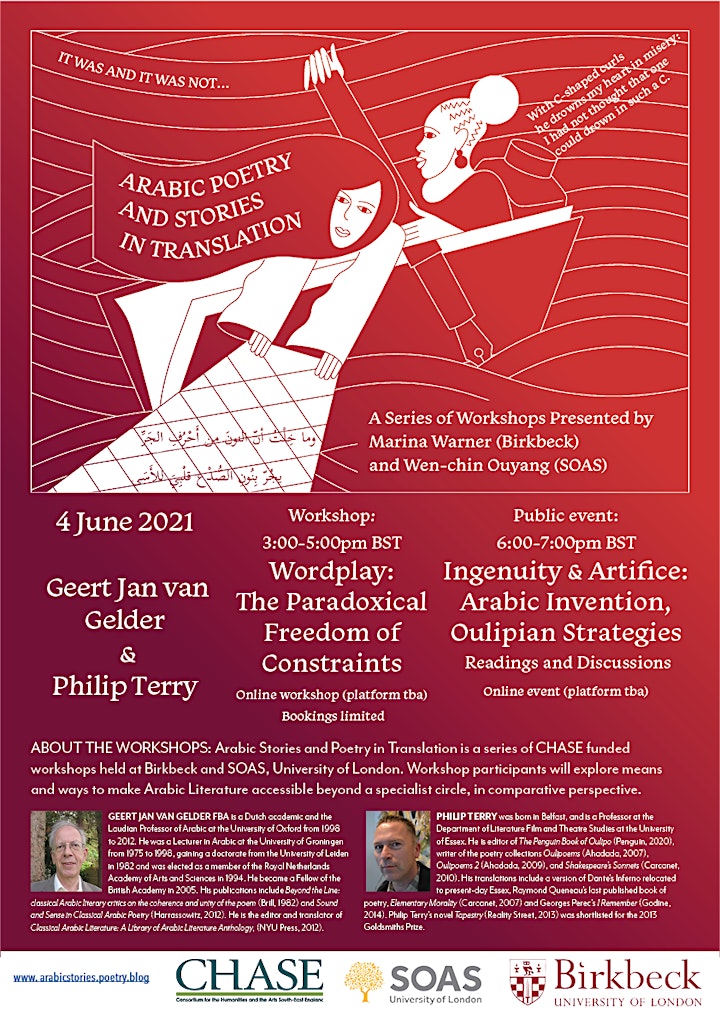 See above, Philip Terry reading from his recent publication TURNS (zimZalla, 2020) alongside poet and artists Sophie Herxheimer, from November 2020.
To register for this event, please click
here
Map Unavailable