Stories Of Ancient Egypt - Adventure and Magic
Date/Time
Date(s) - 08/14/2021
10:00 am - 11:30 am
Categories
Cost:
Free USD
Contact Person:

Email:

Website:
https://www.eventbrite.com/e/stories-of-ancient-egypt-adventure-and-magic-tickets-162202751797?aff=ebdssbonlinesearch&keep_tld=1
Phone:

Organization:
Kevin Groves - Storyteller

ONLINE
Saturday, August 13, 2021, from 10:00 am to 11:30 am CDT.
Free Fringe 2021 Online – Stories Of Ancient Egypt
About this event
Ancient Egypt, full of myths, legends and tales of magic and adventure. Join Kevin as he tells three of the most popular stories of adventure in Egyptian literature – live. We will hear the tale of a prince seeking his fortune under an assumed identity against the fate the gods have set, one where sailor shipwrecked encounters the strange inhabitant of the island, and finally, a tale of the magic sought to imbue the Great Pyramid with protection to last eternity.
This is a Free Fringe 2021 online event please do enjoy as many of the other events as possible! The show app can be found here: https://freefringe.org.uk/
There is no cost for this performance, and no obligation to pay, however if you enjoyed yourself and feel like throwing a tip or donation towards the Free Fringe and/or myself then here are our tip jars:
https://Paypal.me/freefringe
https://paypal.me/kevinstoryteller
Due to the nature of this performance's content it would be suitable for children over age of 14.
—
Hi, I'm Kev, when I was a kid I found a book on ancient Egyptian stories in the school library. That book changed my life. They still resonate even now, so come and join me as i share stories of the gods, magic and adventure that inspires my life – and perhaps will do the same for you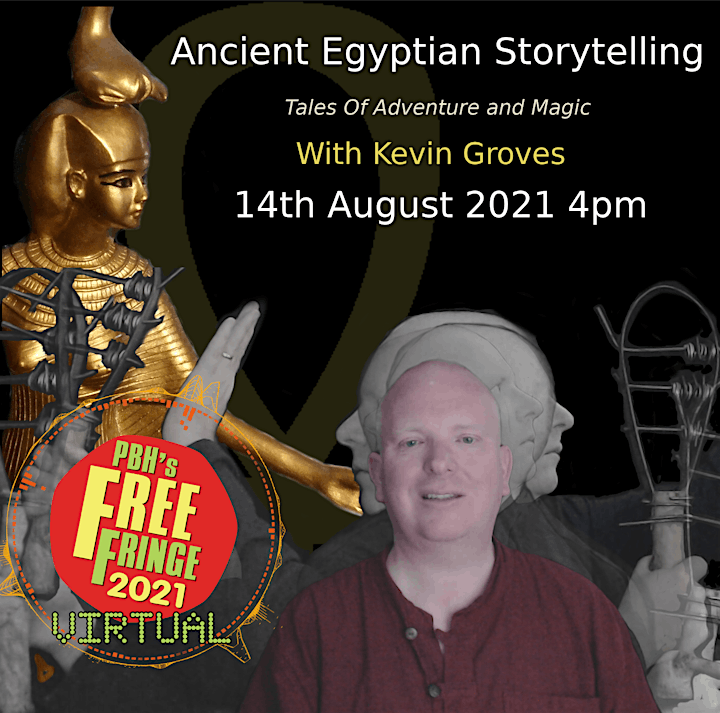 To register for this event, please click
here
Map Unavailable