Summer Course: Kids Drumming and Nasheed Course (ONLINE)
Date/Time
Date(s) - 08/02/2022 - 08/11/2022
12:00 pm - 2:00 pm
Categories
Cost:
$39-$64.52 USD
Contact Person:

Email:
pearlsofislamdrummingschool@gmail.com
Website:
https://www.eventbrite.co.uk/e/summer-course-kids-drumming-and-nasheed-course-online-tickets-372032036837?aff=ebdssbonlinesearch
Phone:

Organization:
Pearls of Islam


Children Summer Drumming and Nasheed Classes (IN PERSON)
Dates:
2nd, 3rd, and 4th August
9th, 10th, and 11th August
Open to Boys and Girls. Open to beginners to intermediate
Location: Online
Time:
5:00pm to 6:00pm (BST) : Drumming Circle ( 7 to 13 years old)
6:00pm to 7:00pm (BST): Singing Circe ( 7 to 13 years old)
Cost:
You can choose to join us in the first week, the second week or both.
£30 (3 days a week)
£50 ( 6 days in two weeks)
15% Sibling Discount – "SIBLING654"
25% Pearls of Islam Student Discount*- "STUDENT654"
*This only applies to attendees who have completed a Pearls of Islam course in the past two years.
Students will need to have a drum for the drumming circle. If you need any help or advise regarding where to purchase a drum, please send us a message
Really excited to announce our summer courses for children! Two weeks of fun, singing, and drumming, all in the comfort of your own home..
Taught and led by Sakinah Lenoir. Sakinah has been playing with her group Pearls of Islam for over 15 years and has 10 years in teaching drumming and nasheeds. She has taken numerous classes and courses in djembe drumming and is currently studying the darbouka. This course has been specifically designed to share the unique drumming style of playing by Pearls of Islam and their influences incorporating technique and style from the daff, djembe, and darbouka tradition
Course ONE: Let's play the drum- Drumming Class
You will learn 3-4 different rhythms that can be played along to various different nasheeds ( English and Arabic)
Day 1: A brief introduction to the history of the drum, benefit and tradition, learn basic strokes and how to hold the drum
Day 2: Learn to play along to Madinah Song and some of the Dawud Wharnsby Ali Songs
Day 3: Learn a rhythm that you can play to Qasida Burdah and Ya Noori
Day 4: Learn how to play along to songs such as Ya Imam Rusuli, Ya Hanaana, Qamarun, and more
Day 5: A chance to revise and go over all the rhythms you have learned so far in preparation for your performance
Day 6: Sharing/Performance: Invite your friends and family to watch you play some of the beats and songs that you've learnt in the course
If there is enough interest we would also be open to putting together a girls drumming and nasheed class ( 13 and above). Please email if interested.
Course TWO: Sing the Salawat: Nasheed Class
Learn to sing some of the most popular nasheeds. Both in Arabic and EnglishDay 1: A brief introduction to the history and intention of nasheeds, vocal warm-up exercises, and learn to sing the Madinah Song ( Tala al badru Alayna)
Day 2: Qasidah Burdah
Day 3: Singing with confidence, singing with love: A review of Madinah Song and Qasidah Burdah
Day 4: Beat of My Heart
Day 5: YOU choose the song: ( we sing a song selected and chosen by your team)
Day 6: Sharing/Performance: Invite your friends and family to tune in to watch you and your team sing some of the songs you've learnt
Please note these course will only go ahead with a minimum of 6 students
Any questions: pearlsofislamdrummingschool@gmail.com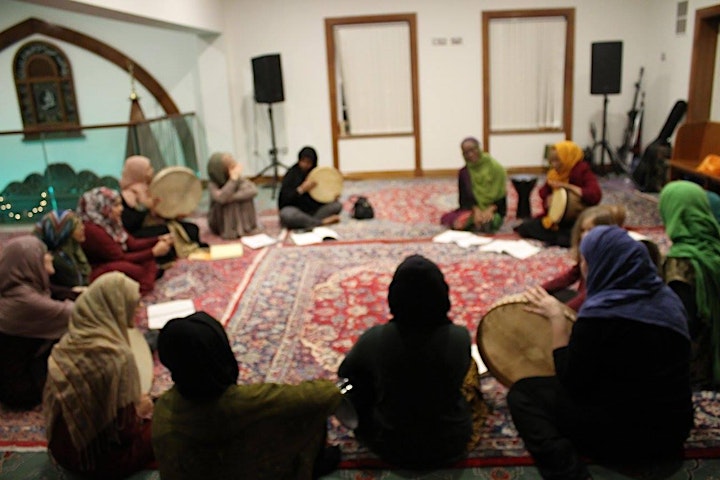 Refund policy
Contact the organizer to request a refund.
Eventbrite's fee is nonrefundable
To register for this event please, click here!
Map Unavailable