The Night Journey - The Virtues of Al Quds - Part 2
Date/Time
Date(s) - 03/07/2021
8:00 am - 10:00 am
Categories
Cost:
0-5 Pounds USD
Contact Person:

Email:

Website:
https://www.eventbrite.co.uk/e/the-night-journey-the-virtues-of-al-quds-part-2-tickets-142984678021?aff=ebdssbonlinesearch
Phone:

Organization:
Islamic Help

Online Event
About this Event
Al Isra' wal Mi'raj is one of the most significant events in human history. However, many of us only know the simple story of the Prophet's (pbuh) night journey, whereby he was transported from Masjid al Haram (Makkah) to Masjid al Aqsa (Jerusalem), and then his ascension to the heavens in one night. However, there were many significant stops along this journey and every interaction he (pbuh) had during this this night was filled with wonders, miracles and important lessons for us to reflect on.
With the anniversary of Al Isra' wal Mi'raj being on the 12th March (27th Rajab), don't miss out
learning about the virtues and lessons from Prophet Muhammad's (pbuh) Night Journey and Ascension. Register for free now!
Brief outline of topics covered:
1. Al-Isra': From the Ka'bah to Al Aqsa
2. Al-Mi'raj: From Al-Aqsa through the Skies
3. Gift of Salah
4. Conversation with Prophet Musa (as)
5. Returning Home
The Teacher:
This webinar will be delivered by Ustadh Abu Muhammad. He has a passion for teaching students key Islamic concepts that can be easily applied to their spiritual and practical development. His powerful and passionate style of teaching combined with his ability to break-down and effectively explain areas of interest, make him the perfect teacher for this subject.
Ustadh has been blessed to have studied under Scholars from the widest spectrum of backgrounds including Saudi Arabia, Nigeria, Sudan, Pakistan and Egypt. He has run halaqas, marriage counselling, personal development programmes, taught duroos, delivered lectures and khutbahs across the U.K. and Europe.
We strongly recommend that you are prepared to take notes during the webinar.
REGISTRATION & WEBINAR ACCESS:
We strongly recommend that you are prepared to take notes during the webinar.
** ACCESS TO THE LIVE WEBINAR IS FIRST COME – FIRST SERVED! EVEN IF YOU HAVE REGISTERED ON EVENTBRITE, IF YOU ARE LATE TO THE WEBINAR YOU MAY NOT GET ACCESS. THIS IS THE SAME POLICY FOR ANYONE WHO HAS BOOKED A FREE TICKET OR A SPONSORED TICKET. **
REGISTRATION & WEBINAR ACCESS:
1. Please ensure you complete all the fields accurately, a unique registration link will be sent to you via e-mail once you have completed this. Look out for an e-mail from ISLAMIC HELP – WEBINAR LINK. (Please also check your junk folder)
2. We will try to send you an SMS reminder about the webinar.
3. Only one person can use your unique webinar link, if you share it with someone else and they access the webinar using the same link, you will be logged out!
4. Spaces are limited, if you want to attend this webinar please make sure you sign up now, don't leave it until the last minute. Registration is first come – first served, this means if you log in late to the webinar you risk missing out.
5. This webinar is part of The Virtues of Al Quds series, you will be automatically registered for both parts of this series.
6. You can access the webinar using an up-to-date mobile device like an iPhone or Android phone but we recommend you use a laptop or computer for the best viewing experience, however this isn't essential, 40% of our viewers use a mobile device.
FUNDRAISING: During the webinar we will have a very short fundraising appeal. Islamic Help is a humanitarian aid charity and the fundraising will go towards supporting our work around the world.
PLEASE SHARE THIS POSTER WITH YOUR CONTACTS!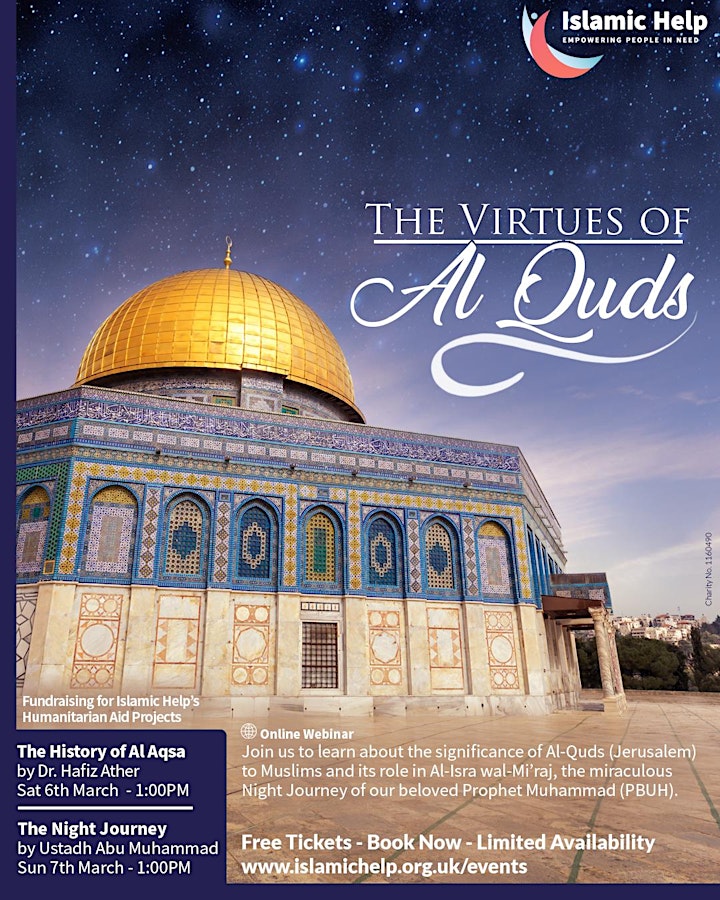 Map Unavailable