Tropitaal Desi Latino Soundclash: Anjali, The Incredible Kid, Mansaf Mama
Date/Time
Date(s) - 08/13/2022
9:00 pm
Location
Goodfoot Pub & Lounge
Categories
Cost:
12 USD
Contact Person:

Email:
Anju@bust.com
Website:
https://www.eventbrite.co.uk/e/tropitaal-desi-latino-soundclash-anjali-the-incredible-kid-mansaf-mama-tickets-384163462257?aff=ebdssbdestsearch&keep_tld=1
Phone:

Organization:
DJ Anjali & The Incredible Kid

PORTLAND, OR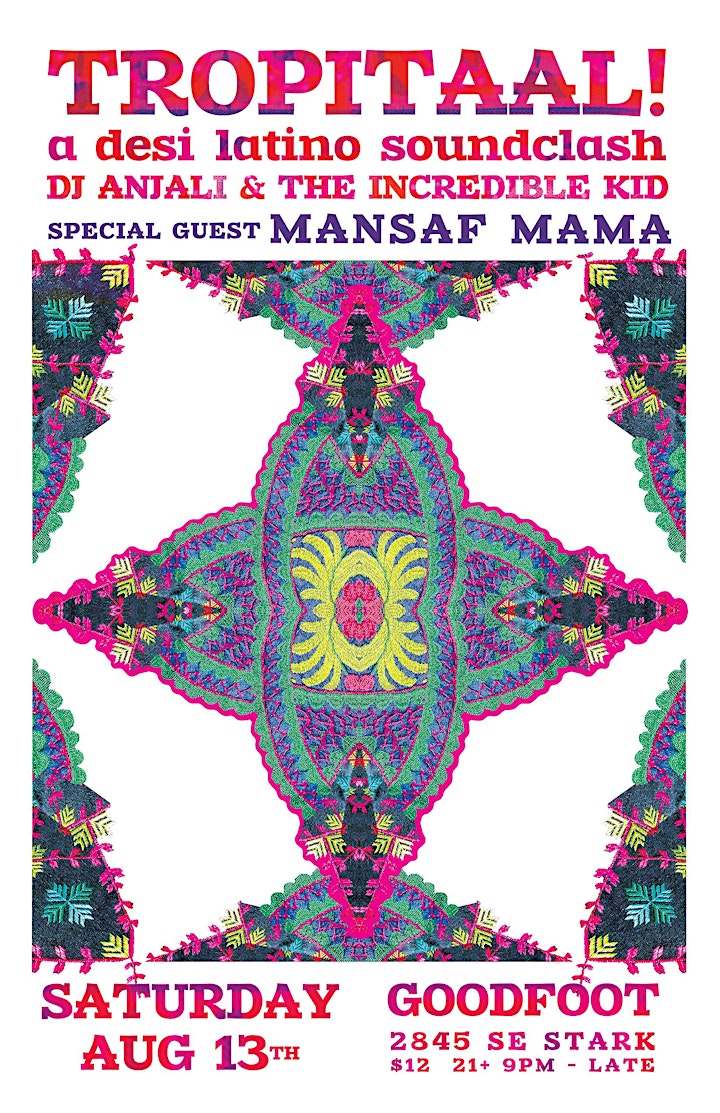 A Desi Latino Soundclash where the hottest club sounds from India and Latin America go head to head in an all-night dance-off.
About this event
DJ Anjali and The Incredible Kid present Tropitaal, their Desi-Latino Soundclash at the Goodfoot.
Featuring special guest Mansaf MamaTropitaal: Desi-Latino Soundclash
Saturday, August 13th, 2022
GOODFOOT
2845 SE Stark St.
Portland, OR
9pm – 2 am
$12 advance and at the door
21 and over only
Take the sultry vibe of the Latin American Tropics, combine with the rhythm of India ("Taal") and stir into TROPITAAL! A Desi Latino Soundclash where the hottest club sounds from India and Latin America go head to head in an all-night dance-off of epic proportions. Resident DJs Anjali & The Incredible Kid combine their deep passions and deep crates from across the spectrum of Latin, Caribbean & South Asian vibes. (Bhangra, Future Filmi, Reggaeton, Moombahton, Electro Cumbia, 3Ball, Latin Trap, Dancehall, Dembow, Desi Bass & more.)
Anjali and The Kid were recently interviewed on OPB https://www.opb.org/article/2022/02/06/opbs-guest-dj-dj-anjali-and-the-incredible-kid/
"One of Portland's favorite dance nights is making its return. Hosted by stalwart DJs Anjali and the Incredible Kid, Tropitaal mixes club music from India and South America—everything from urban desi to trap and reggaeton." – Willamette Week 8/11/2021
"For seven years now, DJ Anjali & The Kid have been commandeering the Tropitaal Desi-Latino Soundclash to the delight of knowing Portland audiences." -Portland Mercury 5/16/2020
MANSAF MAMA
Mansaf Mama is a Seattle-raised, Oakland-based selector of classic & contemporary beats from across SWANA and diaspora. Not one to stay inside the box, her mixes feature popular global dance beats including regatón, dembow, afrobeat & bhangra. Find her on Instagram and SoundCloud as @djmansafmama, and on her upcoming radio show Kan Ya Ma Kan for Moonglow Radio.
DJ ANJALI & THE INCREDIBLE KID
www.anjaliandthekid.com
"After 18 years as a duo, DJ Anjali & the Incredible Kid are a Portland institution. Their long-standing Andaz party has become legendary for its lovingly crafted mix of Bollywood, urban desi and Indian dance pop of all kinds Their newer Tropitaal night, which adds everything from reggaeton to trap into the duo's regular rotation is regularly a rager." -Willamette Week 1/9/19
"DJ Anjali & The Kid have been a staple of Portland, Oregon's club scene for almost two decades, creating spaces for DJs and dancers to enjoy an international mélange of music ranging from bhangra to reggaeton." -Remezcla 12/26/18
"Whether it's the Desi-Latino Soundclash: Tropitaal, the Bhangra Bollywood dance party: ANDAZ, or her annual NYE rager, Anjali is the premier Portland dance DJ." Eleven PDX 4/8/19
DJ Anjali and The Incredible Kid have spent more than 20 years igniting dance floors with cutting edge music not limited by borders or language. They host the longest-running Bhangra and Bollywood party in the world (Andaz est. 2002), co-founded the Pacific Northwest's first Global Bass dance party (Atlas 2003-2013) hosted Chor Bazaar on XRAY.FM for seven years and have continued to host Kabhi Khushi Kabhie Kush on KBOO.FM since 2006. In 2013 Anjali and The Kid initiated TROPITAAL! A Desi Latino Soundclash, which they host monthly at The Goodfoot.
Few DJs can be said to have changed the sound of their city but that is exactly what DJ Anjali and The Incredible Kid have accomplished since they first introduced Portland, Oregon nightclub audiences to the many varied sounds of Global Bass at a raucous New Year's Eve debut in 2000. They are most known for incinerating dance floors with the heavy dance floor artillery of South Asia, but the duo scour the globe for any hard-hitting music that combines local music traditions with window-rattling production.In addition to hosting their own club nights, Anjali and The Kid regularly perform at festivals. They have appeared at Sasquatch! Music Festival, Decibel, What The Festival?!, MusicfestNW, Vancouver International Bhangra Celebration, Beloved, Matatu (Oakland), Photosynthesis, Soul'd Out, Portland International Film Festival, Indian Summer Festival (Vancouver, B.C.), Kaleidoscope and Vancouver Queer Film Festival to name a few. They have guested at the legendary Basement Bhangra (NYC) numerous times as well as Non Stop Bhangra (SF), iBomba (NYC) and Bhangrateque (Chicago.)
After making a name for themselves in their hometown's raucous house party circuit, DJ Anjali & The Incredible Kid introduced the Portland, Oregon nightclub scene to the sounds of Bhangra, Bollywood and Global Bass on New Year's Eve 2000. A series of residencies followed, beginning with a night at the legendary Blackbird, and the duo began hosting their ANDAZ dance parties in July of 2002. The party's focus on hardcore Panjabi Bhangra and the latest electronic confections from the Bollywood film industry continue to pack the dance floor after 19 years. While ANDAZ was still in the bloom of youth, Anjali and The Kid founded the revolutionary dance night ATLAS (with co-host/DJ E3) at Holocene in November of 2003 to introduce Portland to Global Bass sounds such as: Balkan Beats, Reggaeton, Funk Carioca, 3Ball Guarachero, Digital Cumbia, Urban Desi, French and Arabic Hip-Hop, Rai N B, Reggada, Dembow, Dubstep, Kuduro, Merengue Urbano and a host of other local and diasporic future musics. ATLAS was a vital party in Portland nightlife and the Global Bass scene internationally for more than nine years.
They have supported artists as diverse as A Tribe Called Red, Bomba Estéreo, Tigerstyle, Balkan Bump, Major Lazer, Skrillex, Flying Lotus, Saini Surinder, Digable Planets, Balkan Beat Box, Delhi 2 Dublin, Sleigh Bells, Glitch Mob, Dengue Fever, Blockhead, Uproot Andy, Hindi Zahra, Toy Selectah, Quantic, Opiuo, Bonobo, Gold Panda, Maga Bo, Poirier, Plastician, Kultur Shock, Ghostland Observatory, State of Bengal, Karsh Kale, DJ Rekha, DJ Spooky, CeU, Antibalas, Nickodemus & Joro-Boro.
"After 18 years as a duo, DJ Anjali & the Incredible Kid are a Portland institution. It's difficult to think of a local dance night with a more lovingly crafted mix of Bollywood, urban desi and Indian dance pop." Willamette Week 9/19/18
"the legendary DJ Anjali" Portland Mercury 1/24/18
"One of Portland's most revered record-spinning duos" The Portland Mercury 12/31/17
"The West Coast's king and queen of bhangra/global bass/Bollywood dance parties, DJ Anjali and the Incredible Kid." The Portland Mercury 8/17/16
"For more than 15 years, DJ Anjali and the Incredible Kid have been an inimitable force in the Portland dance scene." The Portland Mercury 6/22/16
"Anjali and The Incredible Kid, Portland's resident top Bollywood and bhangra deejays." The Portland Tribune 3/12/15
"DJ Anjali & the Incredible Kid have been Portland's leading world music DJs since the turn of the millennium." Willamette Week 12/31/14
"Portland's finest purveyors of Bollywood, bhangra and global bass music." Vortex Music Magazine 10/12/14
"Known for bringing cutting-edge music to virgin ears, they are guaranteed to throw you a good time" Eleven PDX Magazine December 2013
"Maybe the Portland area's most well-known deejays." The Portland Tribune 1/26/12