Virtual cooking class with Chef Hassan Ziadi
Date/Time
Date(s) - 05/17/2021
6:00 pm - 7:30 pm
Categories
Cost:
40 USD
Contact Person:
Amber Greelis
Email:
amber@nemerfieger.com
Website:
https://www.eventbrite.com/e/virtual-cooking-class-with-chef-hassan-ziadi-tickets-149747961183
Phone:

Organization:
Event Brite

Come and cook virtually, with Chef Hassan and Raja Ziadi, the owners and Chefs at Moroccan Flavors.
About this Event
Spend an evening with Chef Hassan and Raja Ziadi, the owners and Chefs at Moroccan Flavors. Learn more here. Feel like you're traveling the globe, while preparing and tasting exciting flavors, all from the comfort of your own kitchen. Class participants will prepare Kofta Tagine, Marinated red peppers and Orange salad. Skill level : Intermediate. Perfect for two people.
Class Price Includes:
`A 90 minutes virtual cooking class, via zoom.
Small class size that is limited to 10 participants.
Explore another part of the world, without leaving your kitchen
Hands On Cooking Practice. Learn real, repeatable cooking techniques that you can apply right away at home!
Prepare Kofta Tagine, Marinated peppers and Oranges with rose water and cinnamon, during the class.
Finish the class with a homemade meal that serves 4-6 people.
A zoom link will be sent out 24 hours prior to class.
Groceries:
Ground meat 1 lb
Garlic crushed 5 cloves.
Salt
Pepper
Cumin 2 T.
Parsley chopped 1 bunch.
Olive oil 1 C.
Onion 1/2
Large tomatoes 3
Turmeric 1 T.
Paprika 1 1/2T.
Salt
Pepper
Ginger powder 1 T.
Water 3 C.
Red peppers 4
White vinegar 1/4 C.
Honey 2 T.
Oranges 4
Cinnamon 1 t.
Baguette
Rose Water (Can be purchased at online or any local store that sells Mediterranean foods. Oasis within Midtown Global Market has it, as well as Whole Foods, Cub Foods and Lund's/Byerly's.
Have Ready:
Cutting board
Knife
Shredder/grater
Fry pan/ skillet
3 Mixing bowls
Tongs
Chef Bio:
Hassan Ziadi, owner of Moroccan Flavors is known for his culinary creations and caring smile. Most people do not know he is a world-class chef who has been honored with prestigious culinary awards. His humility and kindness shine through in his incredible customer service, which includes making sure customers find the items that suit their taste. He enjoys interacting with people who discover the restaurant during their visits to the Midtown Global Market in Minneapolis.
As a young kid in Morocco, Hassan Ziadi craved adventure. With the encouragement of his father, he chose to forego sitting in a classroom to explore the world through food. Hassan remembers vacationing as a young child, observing the exemplary service patrons received, and aspired to one day help create the smiles he saw on people's faces. At the age of seventeen, he left home for culinary school and embarked on a career that brought him around the world. He has lived and worked as a chef in Morocco, Washington DC, France, Qatar, Spain, Switzerland, Germany, and eventually Minneapolis.
Hassan's passion for cooking is responsible for more than just professional success, for it was in a restaurant kitchen that Hassan met his wife, Raja. Together they own and operate Moroccan Flavors.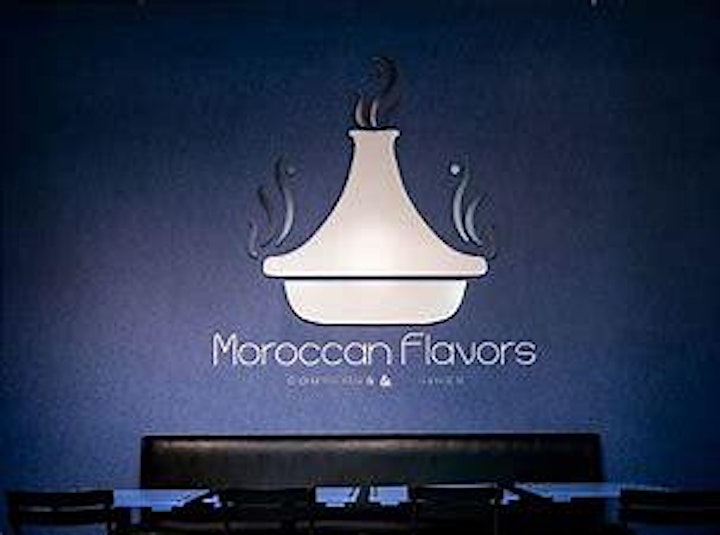 Map Unavailable