Virtual Ramadan Iftar With Trinity United Methodist Church
Date/Time
Date(s) - 04/30/2021
8:30 pm - 9:45 pm
Categories
Cost:
Free USD
Contact Person:

Email:

Website:
https://www.eventbrite.com/e/virtual-ramadan-iftar-with-trinity-united-methodist-church-tickets-148644789567?aff=ebdssbonlinesearch
Phone:

Organization:
Dialogue Institute Kansas City

"Dialogue Institute of Kansas City cordially invites you to Virtual Ramadan Iftar 2021. We will have speakers from Australia, Virginia, Texa
About this Event
"Dialogue Institute of Kansas City cordially invites you to Virtual Ramadan Iftar 2021.
We will have speakers from Australia, Virginia, Texas, California, Ohio, and more.
We will also visit Muslim families in France, Belgium, Costa Rica, Germany, Turkmenistan, South Africa, Tanzania, Uganda, the Netherlands, the U.K., the U.S., and many more!
Our virtual gathering will be on April 30th, between 7 30-8 45 pm and can watched live via the following link. Share the flyer and the following link with your network to promote this event. Please also invite other groups/ congregations you like.
You will find the Virtual Ramadan Iftar schedule in the flyer below.
RSVP by simply replying to this e-mail.
You can go to our YouTube page at shorturl.at/kyCFg and click "LIVE" at the time of the event.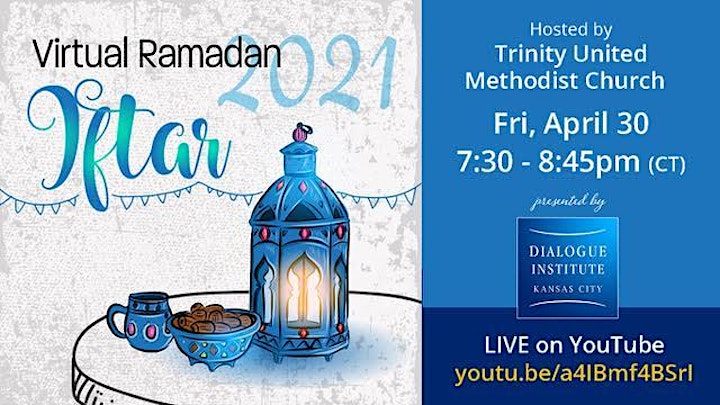 Date And Time
Fri, April 30, 2021
8:30 PM – 9:45 PM EDT
Location
Organizer of Virtual Ramadan Iftar With Trinity United Methodist Church
Kansas City Branch of Dialogue Institute of the Southwest aims to promote mutual understanding, respect and cooperation among people of diverse faiths and cultures in Greater Kansas City Area, Wichita and Lawrence by creating opportunities for direct communication and meaningful shared experiences.
Dialogue Institute grew out of the need to address the question, "How can citizens of the world live in peace and harmony?" The Institute was established in 2002 as a 501(c)(3) non-profit organization. Many participants of the Institute's activities are inspired by the discourse and pioneering dialogue initiatives of the Turkish Muslim scholar, writer and educator Fethullah Gulen.
Mission
The mission of the organization is to promote mutual understanding, respect and cooperation among people of diverse faiths and cultures by creating opportunities for direct communication and meaningful shared experiences.
Vision
Dialogue Institute envisions a society where every person views and treats each other with dignity, people come around shared values to promote the common good of their communities as well as the world as a whole.
Comments about Dialogue Institute:
"At a time when sarcasm and belittlement, even as much as overt violence, seem poised to destroy local, national and international conversations, the Dialog Institute of the Southwest has brought people together across all sorts of ideological, religious and cultural differences where people have talked seriously, and yet without shouting or insult. My experiences with the Dialog Institute have challenged me to deepen my own faith and my own commitment to the nurture of a truly civic (and thus civil) community".
Ed Stevenson, Former pastor of Shawnee Park Christian Church
"Love can only come about if relationships are built; and friendships and understanding a knowledge then leads to an awareness, respect and appreciation for others; and I want to applaud the work of the Dialog Institute of the Southwest, because I know it has a wonderful mission."
Peggy J. Dunn, Mayor of Leawood, KS
"Interfaith dialog is important because it works. There's no substitute for experience when trying to understand our differences, but more significantly the common ground where we all stand."
Representative Jason R.Holsman, Missouri District 45
"There's a loving power that guides all of us, and that loving power has a solution for every problem that we face, and that is faith, if you have faith you have a solution that you can go out and look for it".
 Councilman Jim Glover, District 4, Kansas city MO
"You do learn in life, and by sharing life. I think in this way.. and this IS the way.. that the interfaith and intercultural dialog can really play or has to play a role in building the kind of peace and harmony that we all need".
Fr Thomas Michel, Woodstock Theological Center, Georgetown University
"We can talk about differences of the clothes that we wear, the color of our skin, and religious beliefs that we have; but I'm hoping for a time and I believe we can achieve this, that when our differences will soon make no difference".
Frank Denning, JOCO Sheriff
"As world citizen do we have a choice of not learning to have a dialog, learning to get along and accept each others' cultures? I think, the Dialogue Institute of the Southwest is examplery of what must happen nationally and throughout the world and we are all the part of that thought process".
Tom Moxley, Kansas Representative District 68
"When we talk to each other we see that we have more things in common than differences; I appreciate everybody's willingness to engage in dialog; and I am confident that as we continue to engage in conversations and learn more about each other and our religions, the department of justice sometime hopefully in my lifetime will not need to make this a priority". 
Beth Phillips, US Attorney, Western District of Missouri
"We solute the leaders and supporters of the Dialog Institute of the Southwest; and pledge to work with you toward the vision of a community and a world living together as brothers and sisters".
Marvin Szneler, Executive Director, JCRB American Jewish Committee
Map Unavailable