Arab America Foundation Announces 40 Under 40 Awardees--Class of 2022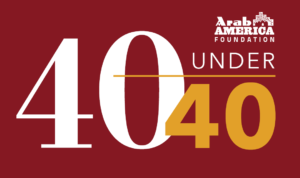 For Immediate Release
Washington DC (September 14, 2022): The Arab America Foundation announced today the awardees of their 40 Under 40 initiative–Class of 2022. Forty Arab Americans from a variety of fields and disciplines were announced. Nine judges from throughout the country reviewed the applicants.
The awardees are Sara A. Abdel, Dr. Mariam Aboukar, Eman Ali-Ahmed, Shareefa Albanna, Omar Aljawfi, Saif Alsenad, Hussein Anani, Machhadie Assi, Dr. Ali Y. Bazzi, Dr. Hala Borno, Iman Boukadoum, Qamar Enayah, Dr. Ramy Abou Ghayda, Rola Hamade, Mayor Abdullah Hammoud, Ryan Hamze, Mosadek Hobrara, Hesham Hussain, Michael Ibrahim, Amer Jandali, Maha Kashani, Ali W. Latif, Rasha Abdel Latif, Samraa Luqman, Dena Mekawi, Megan Moslimani, Muhammad Baqir Muhyedeen, Alicia Naser, Rima Nasser, Janeen Obeid, Yahay Obeid, Tareq A. Ramadan, Adam Rouhana, Taharah Saad, Akram Said, Afaf J. Saleh, Omar Sedky, Filastine Srour, Hassan El-Tayyab, and Dr. Salma Waly.
40 Under 40 is a celebration of accomplished young Arab Americans. The program spotlights Arab American professionals in all fields and business sectors, including education, law, public service/politics, non-profit, business leaders, entrepreneurs, engineers, medical professionals, artists, entertainers, writers, and media representatives. These young professionals have great achievements both in the workplace and in their communities. 
"We're so excited about 40 highly accomplished Arab Americans under the age of 40. They are the empowering force who are making significant progress in the Arab American community and the community at large," said Warren David, co-founder of the Arab America Foundation and president of Arab America. "We are truly honored to recognize them here and in person at our upcoming National Summit on Nov. 4-6."
All awardees are under the age of 40, excel in their industry, and are engaged in promoting their heritage and culture to empower their communities and make a difference. The competition is open annually to all professionals who live and/or work in the United States and are of Arab descent. 
The Arab America Foundation and its board are grateful for the leadership of the initiative's coordinators, Nabelah Ghareeb and Samar Sakakini, as well as the prestigious panel of judges.
The 40 Under 40 awardees for the class of 2022 will be honored at the CONNECT Arab America: Empowerment Summit from November 4-6, 2022, in Falls Church, VA.
About the Arab America Foundation
The Arab America Foundation (AAF) is a non-profit (501c3) educational and cultural organization. The mission of AAF is to promote the Arab heritage, empower and educate others about the Arab identity, connect Arab Americans, and build coalitions with diverse organizations across the U.S.
For more information about the 40 Under 40 initiative click here.
For more information about the Arab America Foundation, click here.
For media inquiries, contact Claire Boyle here.
The 40 Under 40 Awardees, Class of 2022
Sara A. Abdel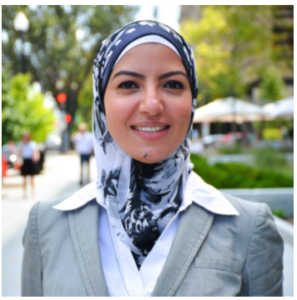 Sara Abdel is an experienced MBA in public administration and public policy with a demonstrated history of academic and industry awards in international development, business consultancy, and the non-profit and humanitarian sectors. She started in the for-profit sector with Microsoft, Cisco, and OnAir Switzerland as a Senior Project Manager from 2005-2013 in the MENA region and the USA. Sara shifted her career to advancing gender equality, women's rights, services, and combating gender stereotypes, discrimination, and violence. Sara conducts training as a gender studies trainer. Sara managed the development of advocacy programs on congressional policy-making issues, including 'Defending our Democracy', and 'Advocacy Corp,' Interfaith Public Policy and Advocacy programs on Capitol Hill, where she offered recommendations to improve many public policy issues. From building capacities for Nadia Murad and her Organization Nadia's Initiative, Sara founded two national organizations: Thrivers on the Move & Thrivers Philanthropies, to empower immigrants, minorities, and the underserved.
Dr. Mariam Aboukar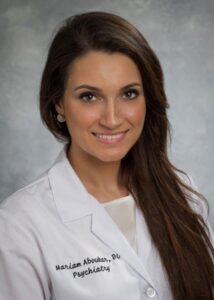 Dr. Mariam Aboukar serves as a community advocate for refugees, human trafficking survivors, marginalized community members, minority groups, victims of domestic violence, those with serious mental illness, and youth members identified as high risk to prevent targeted violence. She often collaborates with law enforcement, the government, and other community members. She is passionate about her career in psychiatry, working to reduce the stigma regarding mental health within the Arab and general communities. She travels abroad to assist health organizations and refugees. Mariam also seeks to broaden her global mental health efforts to youth through completing her fellowship in Child & Adolescent Psychiatry at Harvard Medical School.
Eman Ali-Ahmed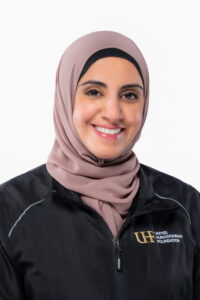 Eman Ali-Ahmed Ed.S. has been a passionate public school educator and school administrator for two decades.   She is not only actively involved in her school and community. Still, She is a founder who has helped establish a non-profit organization and is currently the executive director of the United Humanitarian Foundation or UHF Relief.  This charity nonprofit helps promote education, sustainability, development and humanitarian assistance, aid, and relief to those in need. As an educator, she was recognized by the Michigan Department of Education as a Proud Michigan Educator. This initiative aims to acknowledge, elevate, and celebrate the work of great educators in the State of Michigan. Mrs. Ahmed is a social justice advocate, especially regarding education, local environmental issues, and promoting peace in the world. Eman Ali- Ahmed also sits on multiple non-profit boards to help uplift her Arab American and the local community.
Shareefa Albanna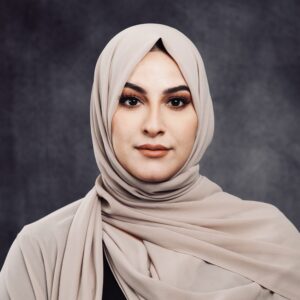 Shareefa Albanna is a serial entrepreneur and economic development consultant. Shareefa was born in Buffalo, NY and lived in Dearborn, MI for over 17 years She has been appointed to her current role as Startup Ventures Success Manager by The State University of New York and The University at Buffalo, Business & Entrepreneurial Partnerships. Shareefa has undergraduate degrees in Business, including a BA in Business Leadership. Additionally, she has studied Entrepreneurial Leadership and Strategic Leadership. She is pursuing her Ph.D./MBA in Organizational Leadership and Industrial/Organizational Psychology. In addition to being a proud mother, she is a proud Yemeni-American Humanitarian. Shareefa has advocated for economically disadvantaged women and children nationally and globally. She has supported initiatives across Africa and the Middle East since 2011. Her efforts include sponsoring orphans in Africa, Syria, and Yemen, supporting the construction of temporary schools for refugees, contributing to building mosques in the US, Niger, and Yemen, supporting orphanage welfare annually, and funding entrepreneurial empowerment initiatives in Egypt, Niger, and Yemen. Her work has been widely recognized by Muslim and non-Muslim communities across the USA. She is an award-winning businesswoman and economic empowerment advocate with an extensive portfolio of work. She plans to develop a program of awarding startup venture microloans to aspiring entrepreneurs from economically distressed regions across the globe.
Omar Aljawfi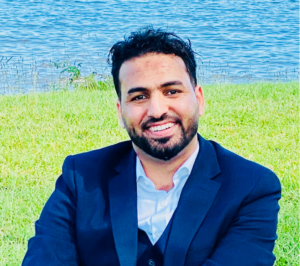 Omar earned his Ph.D. in Computational & Data-Enabled Science & Engineering from Jackson State University. His concentration is in Data Science and Education. He works part-time as a program and events Director at the Washington Center for Yemeni studies. At the professional level, Informatics and Data analyst and Data scientist at Medstar Health Research Institute. Omar previously had the opportunity to intern at the US Department of Education, where I worked in the National Center for Education Research.
Saif Alsenad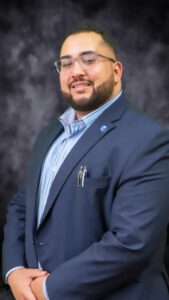 Saif Alsenad is an Arab American who was a Henry Ford College Alumnus enrolled in the Criminal Justice and Law Enforcement program, where he earned his Associate's Degree. He then went to Madonna University and obtained a bachelor's degree in Science (Major Criminal Justice Administration). Mr. Alsenad was a Court Officer for the 18th District Court, Judge Cicirelli's courtroom. Saif then got hired by the Inkster Police Department and was later promoted to the position of Crime Scene Evidence Technician. With the position of an Evidence Technician, he collected and preserved evidence from multiple crime scenes. Alsenad was assigned to the Detective Bureau, Criminal Investigation Division. Mr. Alsenad assisted Michigan State Police and other law enforcement organizations in many criminal investigations within the city. When not at work, Saif would distribute food, deliver medical supplies, and volunteer inside and outside the community. From linking various community members seeking help to coordinating food bank distributions. Alsenad was appointed by Mayor Wimberly to serve as his Executive Director/Assistant. In this role, he conducts many administrative tasks, including department staff meetings, handling the mayor's schedule, and acting as a liaison. Alsenad is the gatekeeper to the office.
Hussein Anani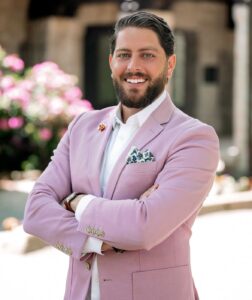 Hussein Anani is a Lebanese American who was born and raised in Dearborn, MI. He graduated in 2012 from Wayne State University with a Bachelor of Science in Business Administration and Management with a focus in International Business along with a Minor in Theatre. At the age of 31, he was elected as President of DrazCanna, Inc. (fka Sibling Group Holdings, Inc.) shortly after formally accepting the President role at Dynamic Glazing Systems, Inc., a Detroit-based Glazing Contractor. When his life doesn't involve the conundrum of dichotomy between his professional and personal lives, he's constantly challenging the status quo in his respective fields.  He aims to be an asset to the communities he's a part of and hopes to have a positive impact on all the people and endeavors he's been humbled to experience.
Machhadie Assi (Micho Assi)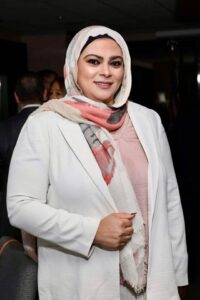 Micho was born and raised in Lebanon and immigrated to the US at 18, where she pursued her education and began her career in the government and non-profit sectors. With a decade of community outreach, program management, and strategic communications experience within Arab America and immigrants and underrepresented communities and working with small to large-scale NGOs & projects, Micho has developed a strong presence within the Arab American community. Her work is spurred on by her values, which always center on inclusion and equity. To that end, Micho is also a dedicated bridge builder between Arab-Americans and other communities. Assi works as a victim advocate at the  Michigan Attorney general & previously worked at the Washtenaw public defender's office. She is also a community & political organizer who has worked on local and national campaigns. She is recognized by the Washington Center as the "Voice for the voiceless" and has appeared on numerous media platforms, including LA Times magazine, TRT world, Al Jazeera & more. Overall, Micho views community service and engagement as integral to her immigrant story. She is a difference maker and an inspiration to many Arab-American women who know her.
Dr. Ali Y. Bazzi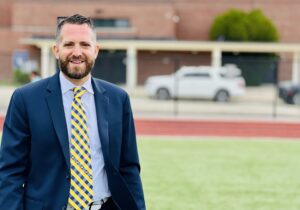 Dr. Ali Y Bazzi currently serves as the President and Superintendent of Schools at Hamadeh Educational Services (HES). Dr. Bazzi lives in Michigan with a country of origin in Bint Jbeil, Lebanon. Dr. Bazzi spent the past ten years focusing his studies on exploring the negotiations and contestations that arise in public education. Dr. Bazzi has worked and published literature on Arab American identity and school culture. In 2015 & 2017, Dr. Bazzi was a finalist for the MAPSA Administrator of the Year, handed out to the top performing administrators. Some of the notable awards that HES schools received: #1 Top Performing School by Mackinaw Center for Public Policy (2016), #1 Safest School in the State of Michigan (Niche.com 2016), Bronze Medal – U.S. World News for Best Performing High School (2016), and Silver Medal-U.S. World News for Best Performing High School (2017).
Dr. Hala Borno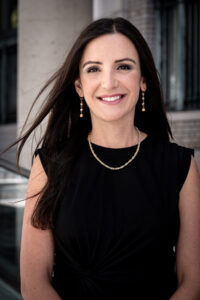 Dr. Hala Borno is a practicing medical oncologist Chief Executive Officer and Founder of Trial Library. Trial Library is a venture-backed, public benefit company committed to advancing equity in access to cancer precision medicine through the promotion of inclusive clinical trials. Trial Library partners with study sponsors to achieve recruitment targets with a focus on diversity. She is currently an Assistant Professor of Medicine at the University of California, San Francisco, with a research program focused on health equity. Dr. Borno's research has been featured in peer-reviewed journals such as JAMA Oncology, Cancer, and Nature. Her work has been covered by national news outlets such as NPR, Washington Post, CBS News, Bloomberg News, and STAT News.
Iman Boukadoum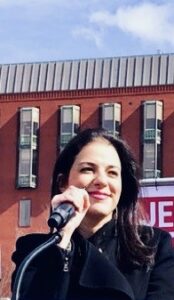 Iman Boukadoum is an Algerian American civil rights lawyer. She has represented the most marginalized Arabs in the US and beyond: including those suffering from homelessness, poverty, and violence from intimate partner abuse. She has dedicated her advocacy for over a decade to humanizing Arabs when expansive national security laws have made it challenging to speak out. Ms. Boukadoum was invited to testify as an expert in front of the US Congress, in 2021, at a historic hearing after the January 6th insurrection on the Capitol, making her one of the few Arab women leading the racial justice cause against xenophobia and White supremacy. She also successfully worked to reverse the Muslim Ban within the first 100 days of the Biden Administration and successfully represented dozens of Arabs, pro bono, fleeing war, including several high-profile clients.
Qamar Enayah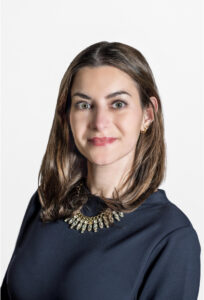 Qamar Lina Enayah is an Oakland County Assistant Prosecuting Attorney. She handles a felony docket which includes prosecution of some of the most serious crimes in Oakland County. Before that, Ms. Enayah was a Judicial Clerk for the Honorable Joseph J. Farah in Genesee County. Ms. Enayah is a longtime resident of Grand Blanc, MI. She is a first-generation Arab-American with strong ties to the Arab-American community. She supports criminal justice reform as well as juvenile justice reform. With the leadership of Prosecutor Karen McDonald, she's had many opportunities to participate actively in criminal justice reform.
Dr. Ramy Abou Ghayda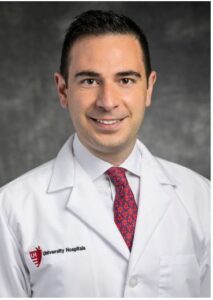 Dr. Ramy Abou Ghayda is originally from Lebanon; he is a fellowship-trained urologist specializing in Male Infertility and Men's Health. He is also a Harvard School of Public Health graduate with work experience at Brigham and Women's Hospital, the University of Illinois at Chicago, and St. Elizabeth Medical Center. He was at the frontline of the COVID clinical response and research and understands how trust, power, authority, and science can intersect to shape healthcare policy. He is currently an Assistant Professor of Urology at the Urology Institute, University Hospitals, Case Western Reserve University, Cleveland, Ohio. Additionally, he is the Chief Medical Officer at GiveLegacy, a digital Fertility clinic startup based out of Boston. Dr. Ramy oversees clinical affairs and telehealth offerings and assesses the viability of new male fertility products. His extensive knowledge and background in higher education provide him with innovative viewpoints on various issues, from research to medical education, epidemiology, public health and policy, and fertility.
Rola Hamade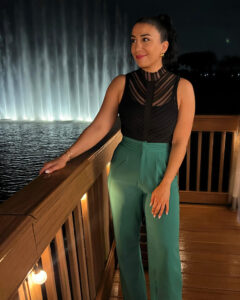 Rola Hamade is Lebanese, and she was born in Dearborn, MI but grew up in Boca Raton, FL. Rola works as a Project Manager at Apple on the Retail People team and focuses primarily on strategic planning and operations. She has led global cross-functional projects in employee experience, well-being, strategic planning, change management, organizational development, flexible work, and employee safety. Before project management, Rola directly managed teams of 200+ people. She is a Ph.D. candidate at the University of Texas at Tyler. Hamade is in the Human Resource Development program, and her research is focused on employee mental well-being and leadership support. Hamade has a master's degree in business administration focusing on health administration. Her bachelor's degree is in psychology. From a young age, Rola has always been passionate about mental health and understanding individuals from unique backgrounds. Hamade's career has allowed her to work on projects that support the well-being of employees worldwide.
Mayor Abdullah Hammoud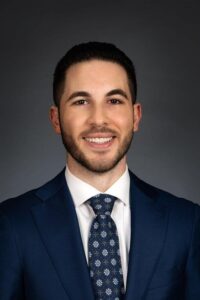 Mayor Abdullah H. Hammoud has been an unwavering advocate for his hometown of Dearborn, Michigan, for over a decade. As the city's seventh mayor, Hammoud believes in co-governing side by side with the public to model the ideal of multiethnic democracy. In three terms as a State Representative, Hammoud drove decision-making to create a more equitable and sustainable Dearborn. His deep roots in environmental advocacy date back to his election as the youngest member of the Michigan League of Conservation Voters in 2014, where he fought to protect Michigan's land, air, and water. An epidemiologist by training, Hammoud has also served as a state and national health expert advising major health care systems. He is a three-time graduate of the University of Michigan, holding MBA, MPH, and Bachelor of Science degrees. A proud son of Lebanese immigrant parents, Hammoud attended Dearborn Public Schools. He and his wife, Dr. Fatima Beydoun, are excited to raise their family in Dearborn and advocate for families across the city.
Ryan Hamze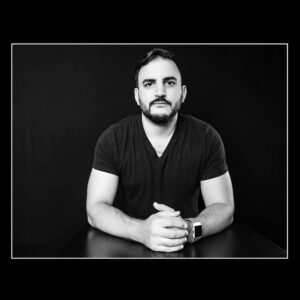 Ryan Hamze is a Kansas-based Lebanese American who is proud of his Arab heritage. He is currently a CRM NAFTA Project Manager at CNH Industrial (Global Agriculture and Construction Vehicle Manufacturer), and is also a business owner at Aabey LLC which is a startup that bridges Technology and Hydroponics. In his professional life, Ryan is an IIoT & Cloud 3.0 advocate, who specializes in Industry 4.0 strategical innovations and has a Masters degree in Information Technology Management from WGU.
Ryan has many accomplishments, including being named Wichita Business Journal's 2022 Innovation Award Honoree for his Modular Hydroponic IoT Farm design (which addresses global food scarcity using a rapid deployment process to famine-stricken regions). Ryan also volunteers with a lot of organizations such as CAUX-IofC, and is a WGU Alumni Ambassador, blogger, mentor, activist, writer, Social Media consultant, and a Software Developer. Furthermore, he is an inducted member of several academic and professional honor societies, like the Order of the Sword & Shield (Omicron Sigma Sigma), Golden Key International Honour Society, and The National Society of Leadership and Success. Hamze considers himself a "Certification Junkie" and has earned the PMP-PMI, Six Sigma Lean Green Belt certification, Certified Ethics Associate CEA-IT, and a multitude of other Cybersecurity and Leadership certs. In his free time, he enjoys fishing, Muay Thai, and cross-country Motorcycle rides.
He lives by the motto "Dare to Dream Out Loud", and hopes in his lifetime to positively impact communities with a Global Hunger Index above 35 GHI.
Mosadek Hobrara
Former Presidential Candidate in Libya's 2021 election cycle, Mosadek Hobrara holds a Master of Science in Negotiation and Conflict Resolution from Columbia University. Additionally, he holds a Bachelor of Arts in Political Science and Law from Tripoli University (Libya). Mosadek is the former Executive Director of the Libyan American Alliance (LAA) and the founder of Ex-Globe, an international consulting and leadership development provider. In various capacities, Mosadek has served as a policy advisor to many International Development agencies supporting development projects in Libya, Yemen, and Syria. Earlier in his career, Mosadek served as a project manager at the Center for Humanitarian Dialogue (HD), a Swiss NGO supporting peace talks in Libya. During and after the Arab Spring, Mosadek participated intensively as an activist championing human rights issues and transitional justice. Mosadek is an avid swimmer, casual abstract painter, jazz enthusiast, and self-proclaimed foodie.
Hesham Hussain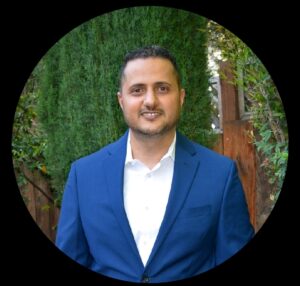 Hesham Hussain is a principal program manager at one of the unicorn startup companies in the eCommerce space. He leads a team of program managers in the engineering organization developing e-commerce platforms for large enterprise companies. Before working in technology, Hesham held positions in Energy and Power companies in sales and program management. Hesham is an active community member and has participated in many initiatives and non-profit organizations to help advocate for education and other causes.
Michael Ibrahim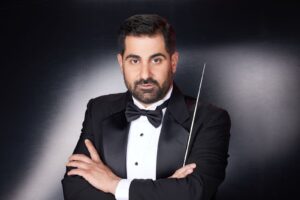 Michael Ibrahim is a metro Detroit native. A son of Syrian immigrants, he studied Arab and Western music leading him to work with renowned musicians such as Nadeem Dlaikan and Simon Shaheen. He has degrees from Eastern Michigan University and Wayne State University. Having performed in venues across the globe, Ibrahim is highly sought-after for his educational efforts and ability to fuse Western and Arab music, creating awareness of a culture that is too often misunderstood. Ibrahim founded the National Arab Orchestra, where he serves as music director, leading its programming and outreach initiatives. He hopes to instill a wider appreciation for Arab music and its heritage through performances and educational efforts.
Amer Jandali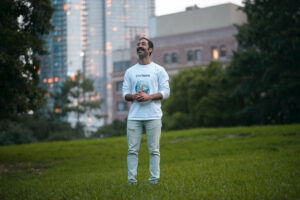 Amer Jandali is a Syrian-American DJ turned environmental entrepreneur. He is the founder of a Social Design Studio called Future Meets Present, which is dedicated to promoting a vision of a positive climate future. He has built an annual sustainability-focused event called the Marketplace of the Future that serves as the Official Vision Partner for Climate Week NYC. He has been featured on the front page of his hometown newspaper, The Las Cruces Sun News, and is an award-winning nightclub DJ.
Maha Kashani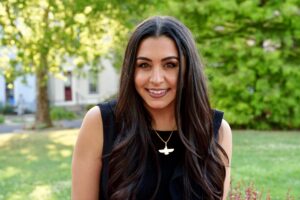 Maha Kashani is a Senior Regional Sales Manager at IGS Energy and is responsible for IGS's largest and most sophisticated customer segment, focusing on custom-tailored energy solutions. Maha believes in the importance of civic engagement and stays active in her community. She is currently a Board Member and Past President of the Dayton Arab American Forum, Vice Chairperson of the Better Business Bureau's Board of Directors, a member of the Dayton Children's Hospital Women's Board, and serves on the Board of Directors of the Community Blood Center and Day Air Credit Union as well as the Dayton Daily News Community Advisory Board. Staying true to her Iraqi roots, Maha is driven by a desire to make a positive impact in her community. She resides in Dayton, Ohio, with her husband Matthew and daughters Lana & Lara.
Ali W. Latif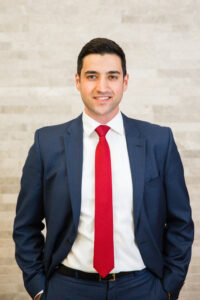 Ali Latif is a Palestinian-American attorney licensed in New York and Ohio.  He practices business litigation, environmental litigation, and immigration law at Shumaker, Loop & Kendrick, LLP.  Clients benefit from his personalized approach to representation and the fact that he is trilingual in English, Arabic, and Spanish.  Ali previously ran his own law firm where he zealously represented marginalized individuals in immigration, business, and domestic law.  Ali also volunteered hundreds of hours at the Legal Aid Society of Columbus, where he provided free legal services to low-income clients and was recognized for his hard work with the 2019 LASC/CBA/CBF New Attorney Pro Bono Award.  In addition, he served as a legal extern in the office of former Columbus, Ohio, Mayor Michael B. Coleman.
Rasha Abdel Latif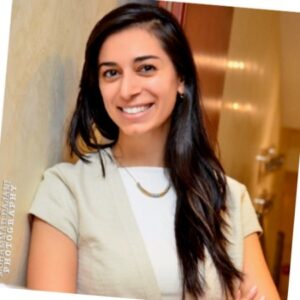 Rasha is an Arab-American born and raised in Jordan, with Palestinian roots and a passion for global citizenship. Rasha has nearly seventeen years of experience working in the Middle East and North Africa (MENA) region with local and international organizations and activists to amplify citizen voices, to increase participation in decision-making processes, to advocate for human rights, and to create innovative solutions to social problems. Throughout her career, Rasha led and coordinated many local and national human rights campaigns and initiatives. Additionally, her work has consisted of managing programs and initiatives on social accountability, governance, transparency, anti-corruption, defending civic space, and various awareness-raising campaigns. Rasha is a catalyst for change and is driven by making a difference by advocating for human rights issues and safe environments for women, youth, human rights activists, and marginalized communities. Rasha is based in Washington DC, since 2019, she is the Director of MENA and Civil Society Strengthening at PartnersGlobal, and in 2022 she was elected to join the Board of Directors of Amnesty International -USA. Rasha holds a master's degree in Business Administration from the University of Leicester in the United Kingdom, a Bachelor's Degree in Business Management from the University of Jordan, and a Community Organizing Certificate from the Harvard Kennedy School.
Samraa Luqman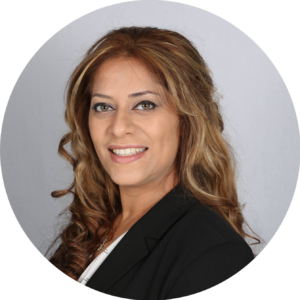 Samraa is the daughter of a US Army Major, the late Dr. Wijdan Ali Luqman, and one of the first Yemeni American woman activists, Samira Alasbahi. My life has been rooted in advocacy for oppressed or marginalized communities and families. From working as a federal civilian employee for over ten years to working in public schools for more than five years, my career has also been based on service to the community. As a Yemeni woman, I have strived to shatter stereotypes and glass ceilings. I have become a trailblazer in my own right showing that Arab American women can lead and organize people from all walks of life around issues that matter to people.
Dena Mekawi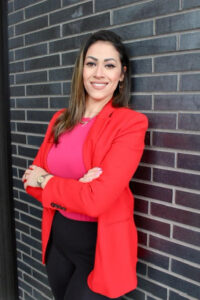 Dena Mekawi is a first-generation Egyptian Muslim American living in New York. She ran for Miss Arab USA in 2013, realizing the lack of authentic representation. Dena then went on to work for Oprah Magazine, where she used self-expression in fashion and editorial to celebrate her individuality. Ms.Mekawi had struggled with her identity and self-esteem issues that stemmed from the misrepresentation of media that she consumed. She now uses her experience of self-discovery as an Arab American to work collectively, creating space for cultural diversity and access to resources that enable those to push their career forward. Dena has been chosen as a representative of the United Nations NGO, DGC, which compliments her work as a Social Entrepreneur. Dena Mekawi curates creative communication strategies & partnerships to engage brands, advertisers, and entrepreneurs to implement social impact into their business model with a creative approach through her company, Style & Resilience- also known as Mekawi Impact. Ms. Mekawi has advised several United Nations Agencies, forging private sector partnerships. Dena was chosen to moderate and develop peace strategies for International Day Of Peace 2016 alongside notable Goodwill ambassadors DiCaprio, Stevie Wonder and former Secretary General of the United Nations, Ban Ki-Moon. Ms. Mekawi was also personally recognized by Michael Douglas. Mekawi Impact provides access for businesses and entrepreneurs with social impact tools for underrepresented communities.  Dena also is the business development manager and advisor for an incubator program at the college of Staten Island, where she curates corporate partnerships for the program- allocating grants for entrepreneurs of color & Arab entrepreneurs. She mentors various cohort companies & facilitates partnerships that enable better resources for the community.
Megan Moslimani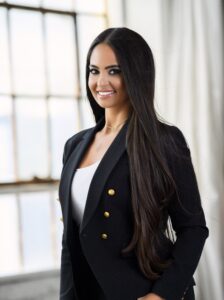 Megan Moslimani is Lebanese and lives in Michigan. This year she left her role as Director of Marijuana Ventures and Entrepreneurship, for the City of Detroit. While there, she launched the City's first Social Equity program, Homegrown Detroit, to give those most affected by the war on drugs an opportunity in the billion-dollar marijuana industry. She decided to enter the entrepreneurial space, after dedicating the last 12 years of her legal career to public service. She is launching a luxury medical spa in her hometown of Dearborn, MI, with her childhood best friend Nurse Practitioner Biane Bazzy. The House of Drip & Wellness will open Fall 2022. It is a boutique med spa offering services that emphasize personal health and wellness developed and implemented by medical professionals. The spa will offer services that can be used in a holistic approach to wellness including IV drip therapy, reflexology, aesthetics, groundbreaking skincare, skin treatments and so much more!
Muhammad Baqir Muhyedeen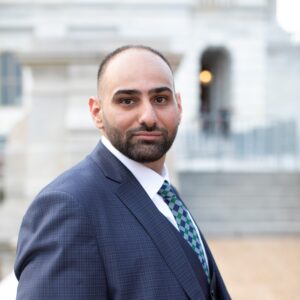 Muhammad Baqir Muhyedeen is the Senior Manager of Public Policy and Strategy at the Muslim Public Affairs Council, where he manages MPAC's Youth Leadership Institute, including its anchor Congressional Leadership Development Program. Muhammad Baqir is also a contributor to the Atlantic Council's MENASource blog as an expert in Iraqi Affairs. Residing in Washington, D.C., with his wife Lauren and son Musa, Muhammad Baqir hails from the American Arab community in Dearborn, MI. Before moving to Washington, D.C., Muhammad Baqir completed a master's of public policy at Michigan State University and a bachelor of business administration in finance at Eastern Michigan University.
Alicia Naser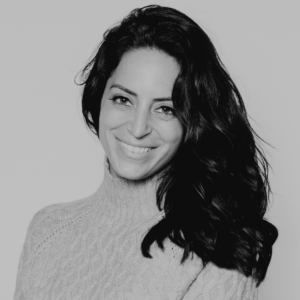 Alicia Naser is a Ph.D. Candidate, Board Certified & Licensed Behavior Analyst, writer, consultant, and expert media contributor. Alicia is currently in the final year of her Doctoral degree in Applied Behavior Analysis through The Chicago School of Professional Psychology. Her research efforts combine areas of neuroscience with behavioral psychology to better understand the brain-behavior relationships. Specifically, contributing to the scientific understanding of the effects adverse childhood experiences have on human development, and using these research findings to inform public health behavior. Alicia has spent a decade studying, researching, and changing behavior in clinical settings such as the Johns Hopkins Hospital Neurobehavioral Unit, and the University of Nebraska Medical Center. In her private practice, Alicia helps others live more satisfying & fulfilling lives by teaching them how to transform ineffective thoughts & behaviors into value-based choices. Most importantly, her clinical and research efforts aim to ameliorate the repercussions of trauma, PTSD, and anxiety for victims of trauma, mainly, those subjected to war in the Middle East.
Rima Nasser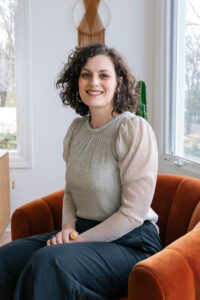 Rima Nasser is the owner and principal interior designer of TEW Design Studio in Raleigh, NC. She leads her business and personal life believing that "great things never come from comfort zones." She has a BA from George Mason University in Arts and Culture and an MA in Interior Design from Florence Design Academy in Florence, Italy. Rima founded TEW on the principle that design should be fun, exciting, and daring. She leads a team of diverse women with a unique cultural insight from her experiences domestically and abroad. As a Palestinian, Rima's family moved to the U.S. when she was 15 and settled in Richmond. She grew up enjoying architecture from around the world. Rima lives in Raleigh with her husband, two children, and her family dog Carl.
Janeen Obeid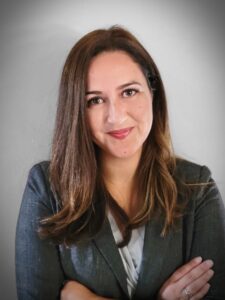 Janeen A. Obeid is a 32-year-old licensed Palestinian Professional Engineer based in Southern California. Growing up, Janeen was always told: "The one thing they can never take away from you is your education." This sentiment deeply resonated with Janeen, as her activism with the Palestinian cause since she was a child demonstrated how true that could be. Prioritizing her education, Janeen graduated from high school in the top 1% of the country, securing her spot at UC Berkeley's prestigious College of Engineering. Over the last ten years of her career, Janeen has worked as a Construction Manager on the iconic, multi-billion dollar, alternative-delivery projects throughout Southern California, including the Long Beach International Gateway, CA High-Speed Rail, and LGB Phase II Terminal Improvements. Although a female engineer in a male-dominated industry, Janeen is one of the youngest to become an AVP within her company. In addition to her projects, Janeen continues to work to increase the diversity in her field by serving the following organizations/causes: AAAEA – CA (President, IT Officer, & Secretary), WTS-LA Transportation YOU Committee, CMAA SC CODE Committee, and MECA.
Yahay Obeid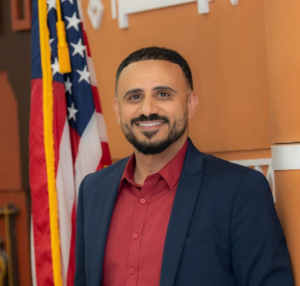 Yahay Obeid was born in Yemen, migrated to the United States at eight, and now lives in the Little Yemen section of the Bronx. Currently, he works for the Federal Aviation Administration (FAA), starting his FAA career as an air traffic controller at John F. Kennedy (JFK) International Airport in 2008. He received his Bachelor of Science in airline management from the Vaughn College of Aeronautics in 2005 and his private pilot license in 2003. He was an adjunct professor at Vaughn College from 2009 to 2012. He previously worked for the Transportation Security Administration at LaGuardia Airport and Orlando International Airport from 2005 to 2008 and for Swissport International Ltd. at JFK from 2004 to 2006. Mr. Obeid co-founded the Arab American Aviation Professionals (AAAP), an organization created to encourage young Arab Americans to join the aviation industry. First appointed to Community Board 11 in 2016 by Borough President Ruben Diaz, Jr., he is the board's vice-chair. Mr. Obeid sits on numerous other boards, including the Bronx Muslim Center, Morris Park Community Association, and Neighborhood Initiative Development Corp (NIDC). Mr. Obeid coordinated with Google and a journalist to put Little Yemen on the map, an area between Van Nest and Morris Park. On December 11th, 2021, along with six other members of the Yemeni American community, he created an organization called the Alliance of Yemeni American Businesses (AYAB). AYAB's mission is to engage, educate, and empower Yemeni American-owned small businesses in New York CITY. AYAB hosted the first Yemeni American Business Expo in the summer at Lehman College in the Bronx, with over 55 vendors in participating. On June 23rd, 2022, Mr. Obeid was elected to be the Chair of Community Board 11 in the Bronx, becoming only the second Arab American to become a chairperson of an NYC Community Board.
Dr. Tareq A. Ramadan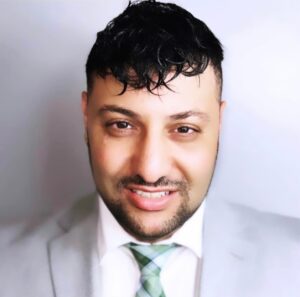 Dr. Tareq A. Ramadan is a proud Michigander and Jordanian-American anthropologist, numismatist, writer, designer, entrepreneur, immigration, educational, and cultural competency consultant, and interdisciplinary adjunct professor of Anthropology and Near Eastern Studies at Wayne State University in Detroit and at Henry Ford College in Dearborn. Over the past fifteen years, he has taught courses in Arab history, civilization, culture, and society, and has worked with an array of government, civil rights, and academic institutions including Brown University, the ACLU, the Department of State, the Department of Homeland Security, and the Office of the Director of National Intelligence. Tareq also regularly works with immigration attorneys across the country, as an expert witness on the Arab World, to help defend against deportations. He also landed a $380,850 federal grant to rehabilitate the former home of Malcolm X, while serving as project manager for the local non-profit organization Project We Hope, Dream & Believe.
Adam Rouhana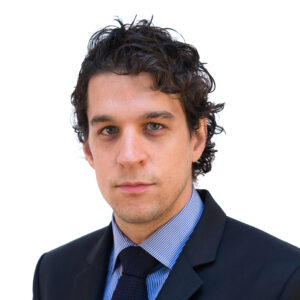 Adam Rouhana is a Palestinian-American entrepreneur and photographer based in Oxford. He is currently a Sousou Graduate Fellow at Oxford University's Blavatnik School of Government. Before Oxford, he served as CFO of Data for Black Lives, a movement of activists, organizers, and scientists committed to the mission of using data to create concrete and measurable change in the lives of Black people. In 2016, Adam founded the Diyalo Foundation, a nonprofit promoting sustainable economic development in Nepal by providing access to free high-quality primary education, and served as its CEO for three years. He is now the Chairman of Diyalo's Board of Directors. Before Diyalo, Adam served as COO of TarDisk, a hardware-technology startup incubated in the Harvard Innovation Lab. Adam has a B.Sc. in Brain and Cognitive Science from the University of Rochester and an M.B.A. from INSEAD.
Taharah Saad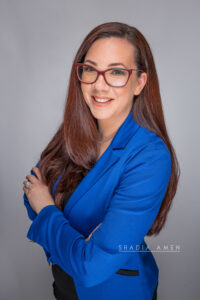 Taharah is DEI Head — Ford Next LLC and is serving her third term as President of Arab American Women's Business Council. She is knowledgeable in women's empowerment initiatives and workforce and professional development and is an expert in a holistic approach to DEI. She is married with two kids.
Akram Said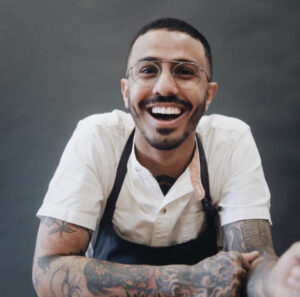 Akram Said is a trained chef, husband, and father to twins based out of New York City. You can find him exploring his Yemeni roots through food on Instagram. Thanks to a push from Akram's mother (God have mercy on her soul), he enrolled in one of the oldest and most prestigious culinary schools in the world, Le Cordon Bleu. Shortly after completing my studies, he interned and worked in some of New York's top restaurants. He was proud to be cooking what the industry deemed as fine dining – mostly European cuisine. But he always felt a bit out of place. And up until recently, Akram didn't feel connected to Yemeni cuisine. Fast forward to September 2021 – Akram flew to Yemen to bury his mother who lost her life to Covid-19. It was during this trip that Akram was able to spend time with the people and land his mother loved most. Not only did he begin his journey to healing from such a devastating loss, but this trip gave him clarity on his purpose and vision: learning and preserving Yemeni cuisine. And most importantly, it keeps Akram connected to his mom.
Afaf J. Saleh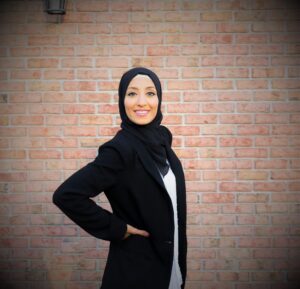 Afaf J Saleh is Senior Project Manager at a consulting company, providing strategic solutions to small and large companies. She grew up in Hamtramck, Michigan, and graduated from Lawrence Technological University with a Bachelor of Science in Mechanical Engineering. Afaf is a Mechanical Engineer who has designed, developed, and launched vehicles RAM, Wrangler, Jeep Grand Wagoneer, and Challenger. Her passion for encouraging others through her own actions has led to great adventures. Afaf's personal goals include taking pictures with her two sons of waterfalls and lighthouses in all 50 states. Another personal goal of hers is to open a facility to help educate diverse children at a young age about engineering and science. One of Afaf's professional goals is to open her own consulting firm. Afaf is also on the board of the nonprofit Promise Relief Organization, a relief aid organization mainly dedicated to helping women and children. A few of her hobbies include photography, flying airplanes, skydiving, and being a great plant mom.
Omar Sedky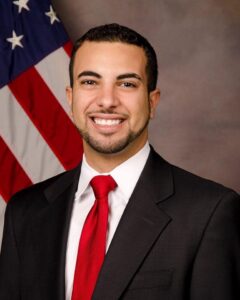 Omar Sedky, born in Cairo, Egypt, immigrated to the US at the age of 4. He currently works as a Global Project Manager on the Law Enforcement Outreach team at Meta. Throughout his career, he focuses on international security cooperation in the MENA region. Additionally, he serves as an adjunct professor at Kean University and Ocean County College. At Ocean, his students are from the Egyptian Ain Shams University as part of a partnership that aims to provide Egyptians access to US-accredited education at reduced costs. He lives in Washington, D.C., with his wife, Arezo, and two cats, Fattoush and Tadeek. Their cats are named after foods as they are foodies. Outside of food, his interests are automotive, traveling to new places, live music, and strategy games.
Filastine Srour
Filastine Srour was born in the Bronx to Palestinian immigrants and raised between there and, among other places, Kalandia Refugee Camp in the West Bank, Palestine. She joined the New York Police Department (NYPD) as a Police Cadet at 18 while completing her bachelor's in Criminology and a Master's in Forensic Psychology from John Jay college. Her studies and experience as the Police Cadets finally culminated in her becoming an NYPD officer at 21. Filastine spent most of her career on patrol in the Bronx and was most recently assigned to the Detective Bureau Bronx as a Zone Commander. She is the first Arab woman to reach the rank of Captain in the NYPD and the highest ranking Arab woman in the NYPD. She also serves as the Vice President of the Middle Eastern and Turkish Society, which works to foster better relations between the NYPD and the Arab and Turkish Communities.
Hassan El-Tayyab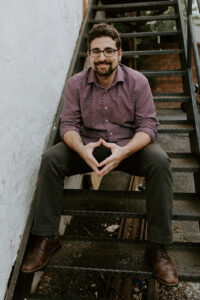 Hassan El-Tayyab is an author, songwriter, peace activist, and FCNL's legislative director for Middle East policy. His passion for foreign affairs is rooted in his desire to make life better for people in the Middle East, including his extended family in Jordan. He is convinced that advancing a more peaceful and diplomacy-based foreign policy in the Middle East is critical for the family he loves and for peace and stability worldwide. Prior to joining FCNL in August 2019, he was co-director of the national advocacy group Just Foreign Policy, where he led their lobbying work to advance a more progressive foreign policy in the Middle East and Latin America. He played a major role in the successful passage of the War Powers Resolution to end U.S. military participation in the Saudi-led coalition's war and blockade on Yemen. His writings and commentaries have been featured in numerous news outlets, including CNN, BBC World News, Politico, The Hill, Al Jazeera, The Huffington Post, The Intercept, and more.
Dr. Salma Waly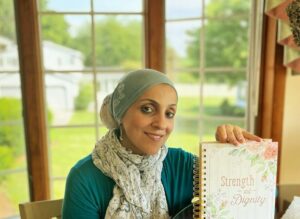 Dr. Salma Waly is the founder and CEO of Universal Narratives, an educational consulting company. She also hosts the Universal Narratives Podcast, where she interviews global educators on various issues. She is a professor of education, an expert pedagogical coach, teacher-trainer, curriculum developer, educational leader, and author. Her work is published in several peer-reviewed journals and academic books. Her research focuses on teacher identity, education at times of socio-political change, and creating equitable learning and teaching spaces for all students. She is a proud Arab American professional who continuously works with other leaders to serve her community and inspire young women and men. She recently published her first children's book, Maryam the New Yorker, featuring immigrant and multiracial characters and highlighting the beauty of Arab culture. She lives with her husband and two daughters in the World's Borough, Queens, in New York City.
Compiled by Arab America
Check out Arab America's blog here!