Arab America Foundation Announces Speakers and Performers for Third Annual CONNECT Arab America: Empowerment Summit November 4-6, 2022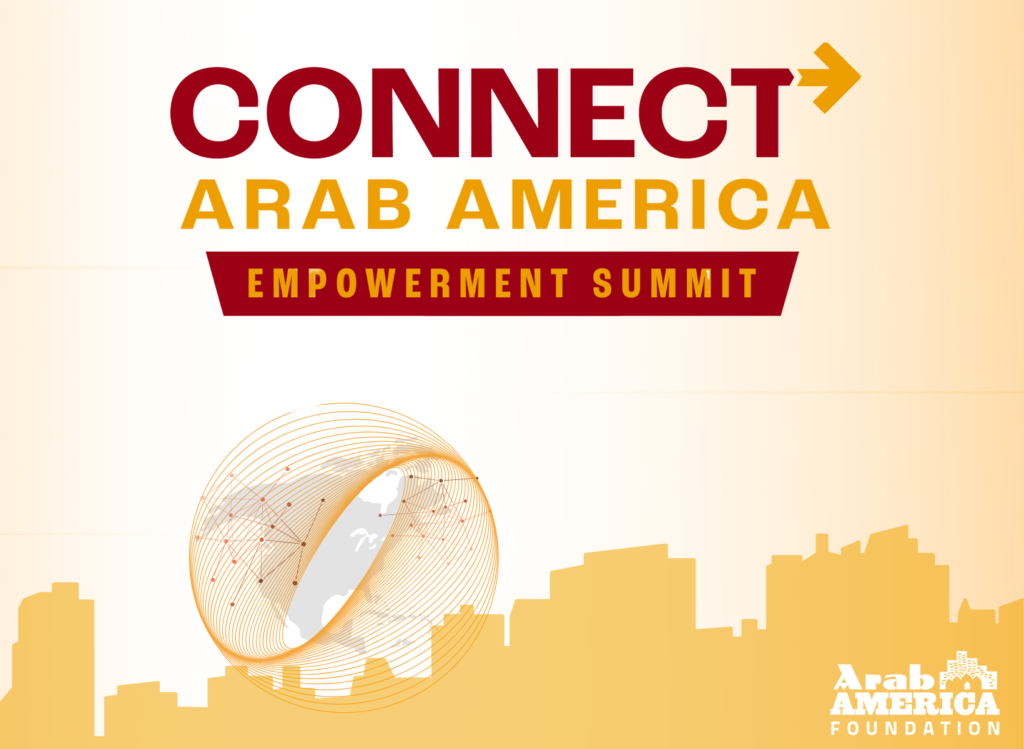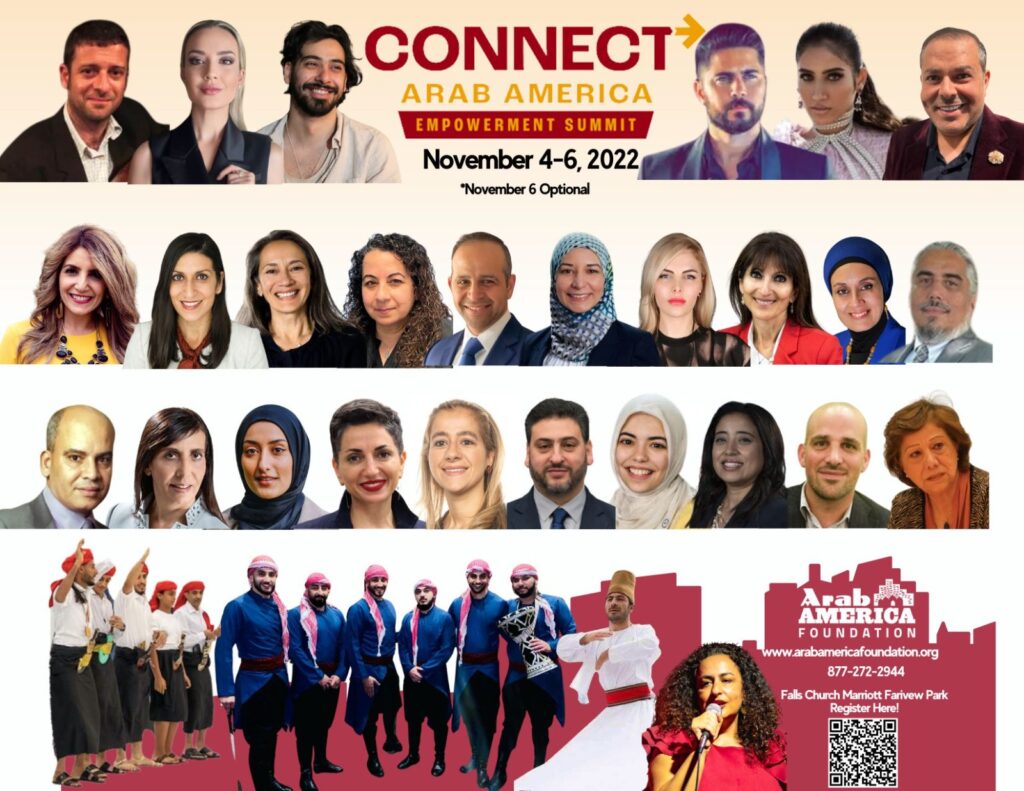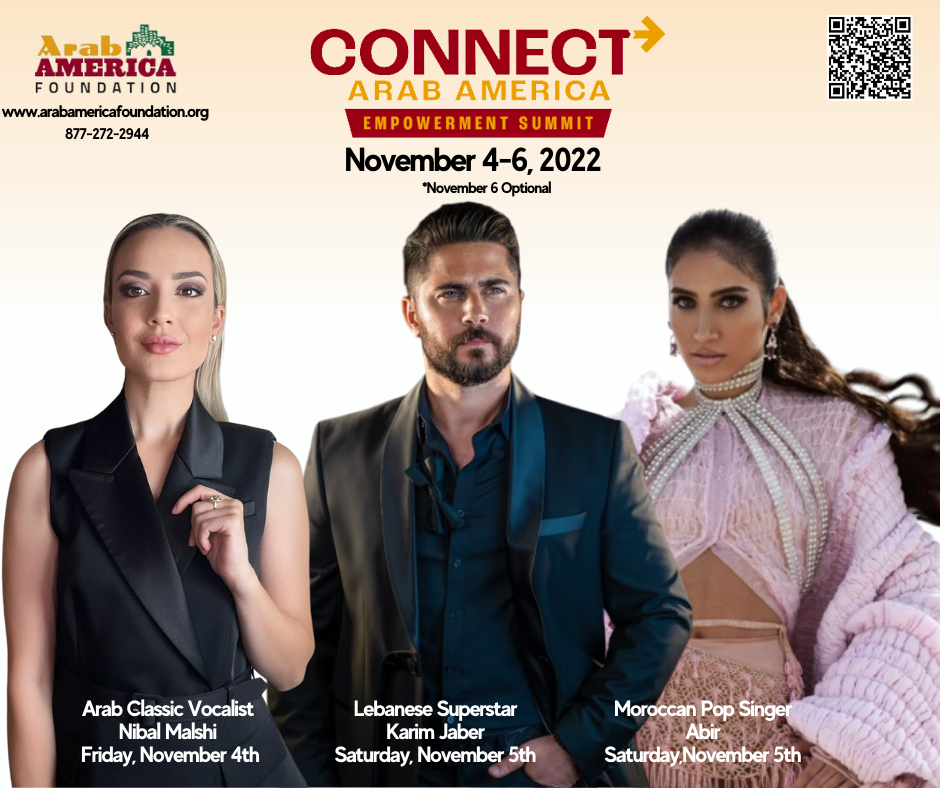 FOR IMMEDIATE RELEASE
(WASHINGTON, D.C., September 28, 2022) The Arab America Foundation is excited to announce its speakers for the CONNECT Arab America: Empowerment Summit on November 4, 5 (6 is optional) at the Falls Church Marriott Fairview Park, Falls Church, VA.
The event features an exciting array of speakers in public service, women's activism, identity, community advocacy, engagement, and leadership. Moreover, participants will have many networking opportunities and will celebrate Arab heritage through music, entertainment, cuisine, and cultural and informational exhibits.
"This year, our program includes discourse on Arab identity, women, leadership, and public service coupled with literature, music, dance, and spoken cultural performances," said Warren David, president of Arab America and co-founder of Arab America Foundation. He went on to say, "Connecting with each other is so important on a professional and social level–amplifying our voice within our community and to the community at large."
The Arab America Foundation (AAF) is a non-profit (501c3) educational and cultural organization. The mission of AAF is to promote the Arab heritage, empower and educate others about the Arab identity, connect Arab Americans, and build coalitions with diverse organizations across the U.S.
Meet the Speakers to Date (more to be announced):
Brenda Abdelall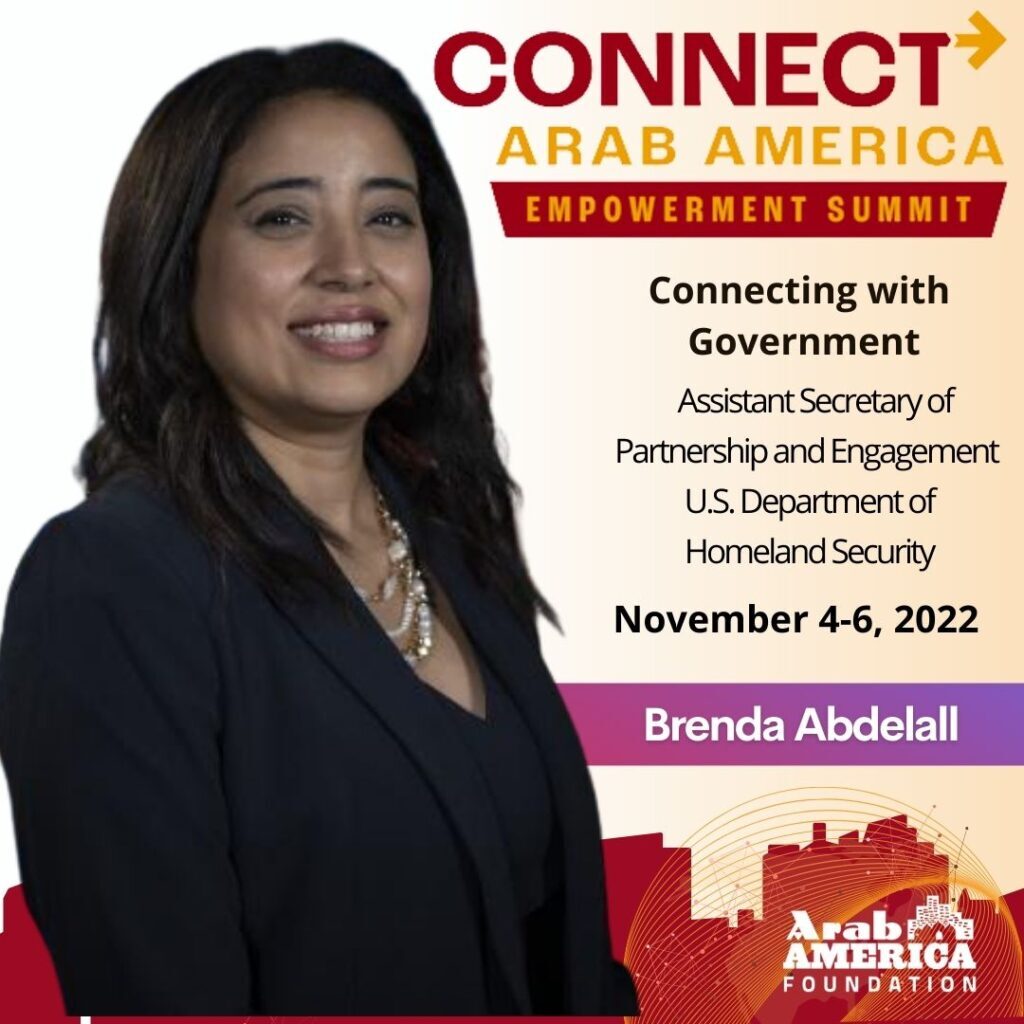 Brenda F. Abdelall was appointed as Assistant Secretary of Partnership and Engagement at the U.S. Department of Homeland Security on August 1, 2022. In this role, she serves as the Secretary's primary advisor on external engagements and the impact of the Department's policies, regulations, processes, and actions on state, local, tribal, and territorial (SLTT) officials, non-governmental organizations, the private sector, and the academic community. She also serves as the Co-Chair for the Department's Council to Combat Gender-based Violence. She is a widely respected and recognized public policy expert, focusing on civil rights and national security. Ms. Abdelall joined DHS on January 21, 2021, in the DHS Office for Civil Rights and Civil Liberties as Chief of Staff before joining the Office of Partnership and Engagement in March 2022. Before her appointment, she served in many leadership positions, including on the Virginia Committee to the U.S. Commission on Civil Rights and on the advisory board for several organizations. She was director of a national nonprofit organization, Muslim Advocates, leading a portfolio representing over 1,500 charities nationwide on domestic policy, national security, and civil rights matters.
Dr. Lina AbiRafeh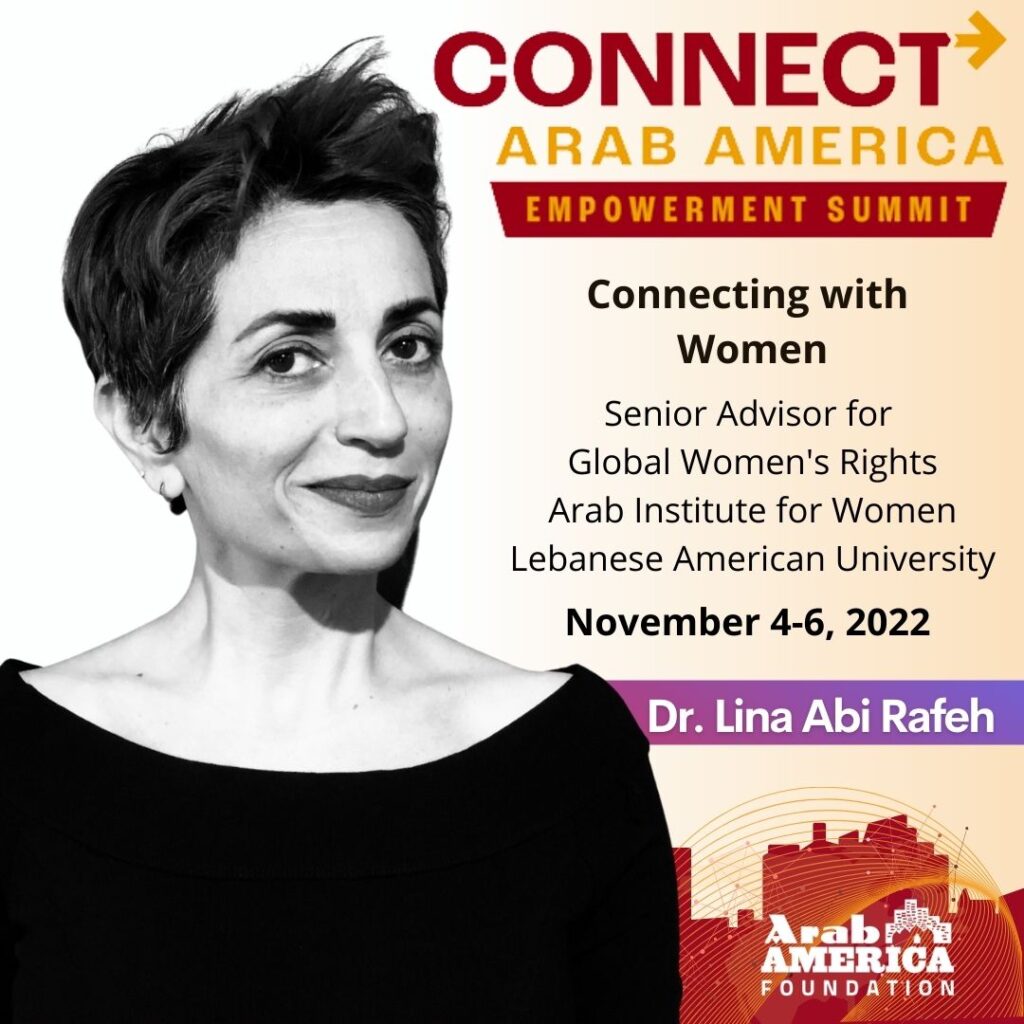 Lina AbiRafeh, Ph.D., is a global women's rights expert, author, speaker, and former humanitarian aid worker with 25 years of experience worldwide in over 20 countries. She creates innovative solutions to global women's rights challenges. Lina is also the Senior Advisor for Global Women's Rights, the Arab Institute for Women at the Lebanese American University, where she served as Executive Director for seven years. Lina speaks and frequently publishes, with appearances on global stages such as TEDx and in media such as CNN, France24, and Good Morning America, amongst others. Her second book, "Freedom on the Frontlines," was released in 2022. Her next book outlines fifty years of Arab feminism and will be published in spring 2023. Lina is also the founder of Yalla, Feminists! an online space and open platform dedicated to amplifying women's voices worldwide. Lina sits on the board of numerous global women's rights organizations. She has received awards and recognitions for her work, including the Gender Equality Top 100, a Vital Voices fellowship, and a Women inPower fellowship, amongst others.
Dr. Osama Abuirshaid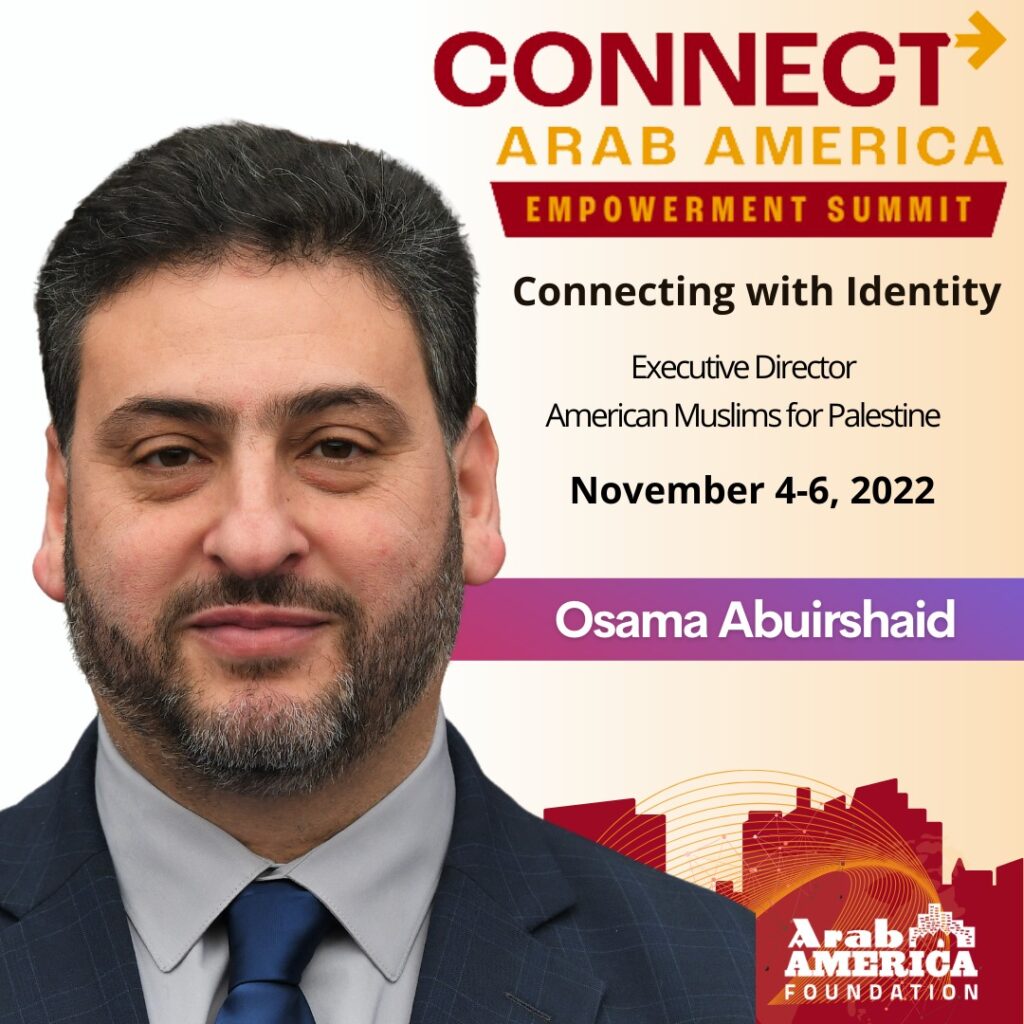 Osama Abuirshaid is the Executive Director and board member of American Muslims for Palestine (AMP). He is the Executive Director and an Americans for Justice in Palestine (AJP Action) board member. He is a board member of the U.S. Council of Muslim Organizations (USCMO), an umbrella organization of eight major national American Muslim organizations. He is a non-resident scholar at the Doha-based Arab Center for Research and Policy Studies (ACRPS). He frequently lectures on the Middle East and American politics. He is a regular commentator on Palestinian and Middle Eastern affairs and American domestic and foreign policy on various Arabic satellite T.V. channels. He authored or co-authored several books in Arabic and published dozens of studies and articles in Arabic and English on issues relevant to the Middle East and its political climate. He is a community activist and speaker. Abuirshaid completed his Ph.D. in Political Science at Loughborough University in the United Kingdom.
Sara Shouhayib Alawar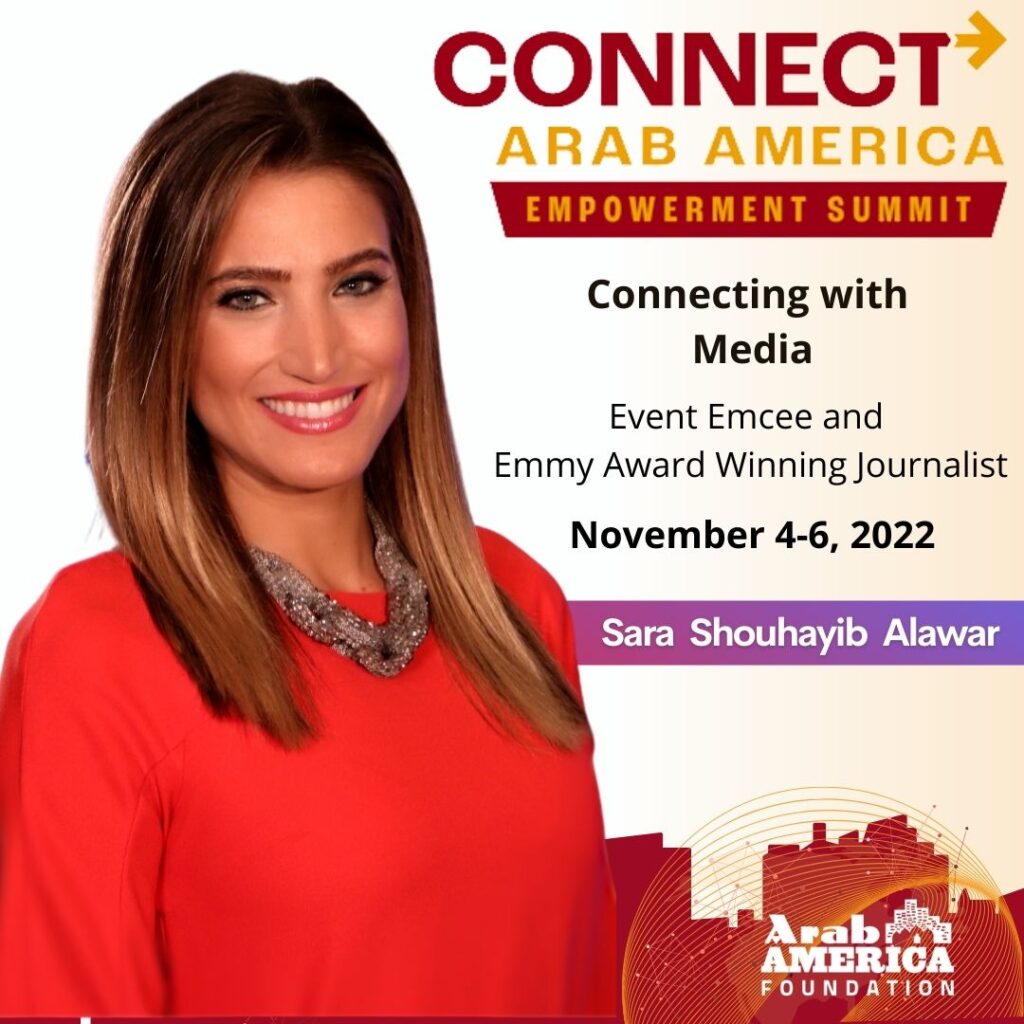 Sara Shouhayib Alawar is the founder and owner of Capital Emcee, specializing in emcee, voice-over, and on-camera services. Sara has emceed over 30 events across the United States, including in Michigan, Ohio, California, Texas, and Washington D.C. She's a former television news anchor and reporter and an Emmy and Golden Mic Award-winning journalist. She's currently based in Houston, TX but was born and raised in the metro-Detroit area of Michigan. She graduated from the University of Michigan in 2013, where she studied Communications and Spanish with a minor in Environmental Science. She also received an M.S from the Medill School of Journalism at Northwestern University in 2015. She's a proud daughter of Lebanese immigrants and is passionate about causes and initiatives that give back to Lebanon and the Arab world.
Dr. Debbie Almontaser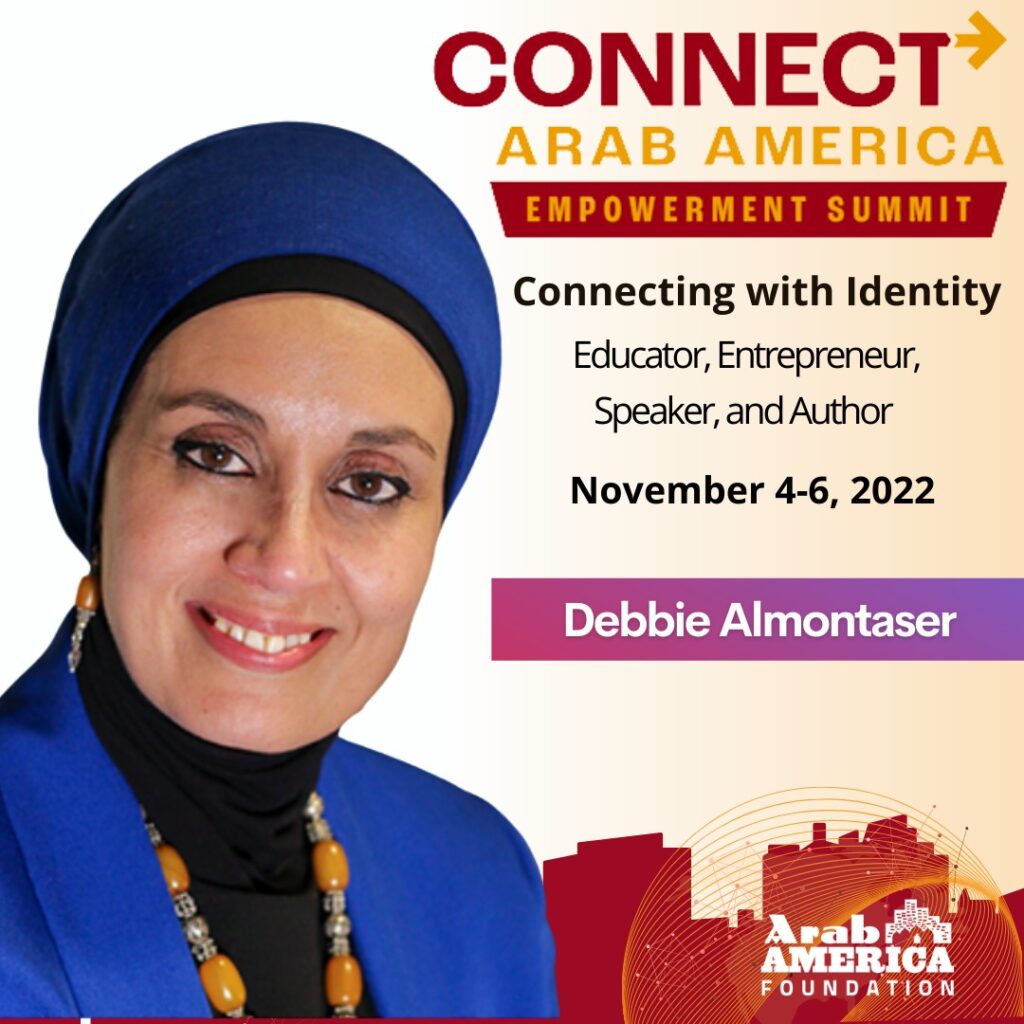 Dr. Debbie Almontaser is an authority on cross-cultural understanding and author. She is an internationally recognized Yemeni educator, entrepreneur, speaker, BA, a(n) MS from St. Francis College, Adelphia University, and an Ed.D. from Fordham University. She has published Leading While Muslim: The Experiences of American Muslim Principals After 9/1 1 . Almontaser is an influential community leader and Founder and CEO of Bridging Cultures Group, Inc., a for-profit business providing professional development and coaching for companies, nonprofits, K-12 educational institutions, and firms. She was the founding and former principal of the Khalil Gibran International Academy in Brooklyn, NY. She has over — 25 years of experience in the New York public school system as a teacher, teacher trainer, administrator, and diversity advisor. Almontaser currently serves as a Senior Advisor for Emgage NY Metro on cultural and religious diversity issues for New York City's elected officials and agencies. Finally, she currently serves as Board President of the Muslim Community Network.
Issam Andoni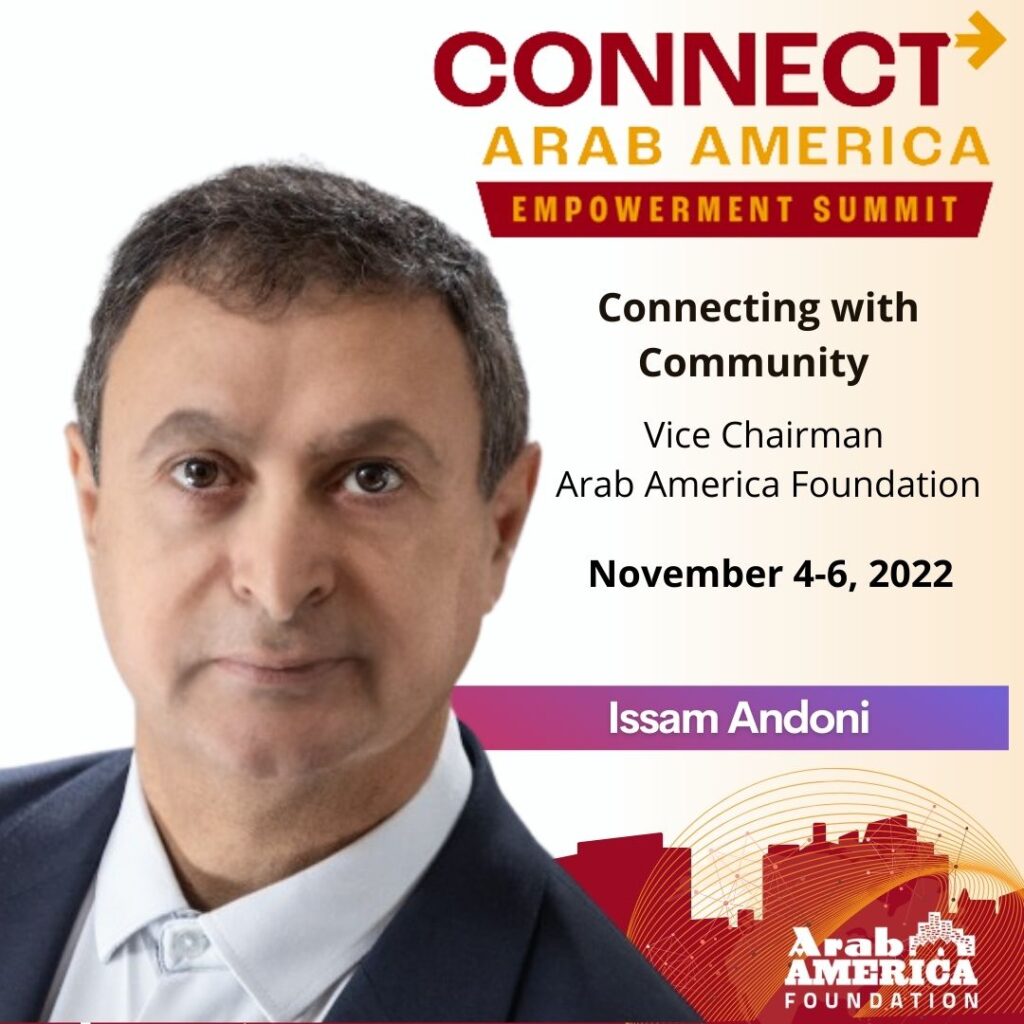 For the past 30 years, Issam Andoni has forged an illustrious career as an industry-leading technologist. He is an established thought leader, having obtained multiple U.S. patents, and is regularly published in major media outlets, including Forbes Magazine. Andoni's leadership and advanced technical skills have formed the backbone of Zeva Inc. and its ability to produce cutting-edge encryption technologies that solve previously unsolvable problems for its clients. Andoni is an industry-recognized expert in the fields of Security and Identity Management. This expertise proved instrumental for Andoni when he founded Zeva Inc. in 2005.
Jihan Andoni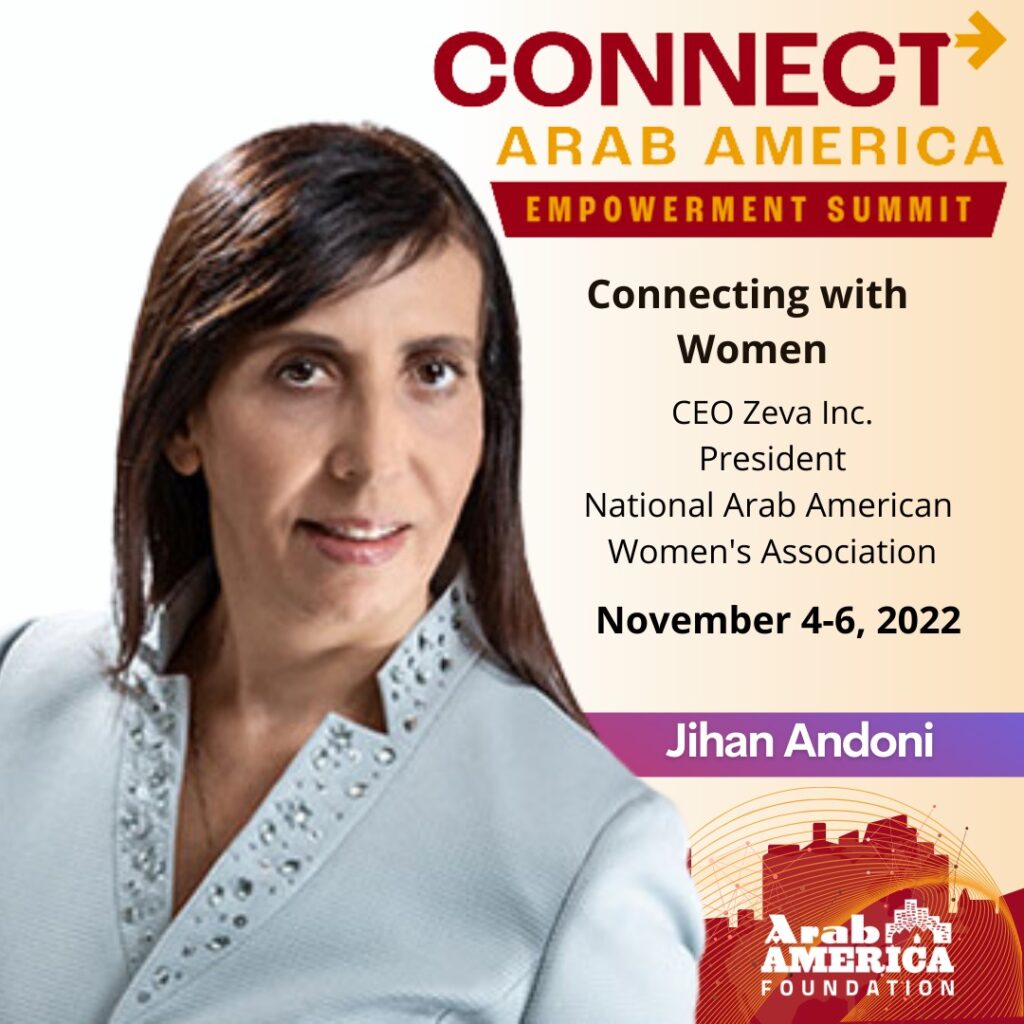 Jihan Andoni is the CEO of Zeva Inc. and the Executive Vice President of Zeva Holdings Group, and the current President of the National Arab America Women's Association (NAAWA). Zeva Inc. helps clients around the globe strengthen their security posture with tailored services. Andoni has worked in the cryptography field for decades, and she demonstrates a commitment to excellence within the industry. Before becoming the CEO of Zeva Inc., Andoni made a name for herself in the realm of data analytics in her most recent role as the Research Director for the Center for Responsible Politics, a data-centric and nonprofit organization in Washington, DC. She has a bachelor's degree in Mathematics from Bethlehem University and a master's degree in Information Systems from American University in Washington, DC. Andoni is a Co-Founder of the National Arab American Women's Association (NAAWA) and a member of the International Women's Forum in Washington, DC. Finally, she enjoys spending time with her husband and three children and participating in fundraising, humanitarian opportunities, and other events in the community.
Maya Berry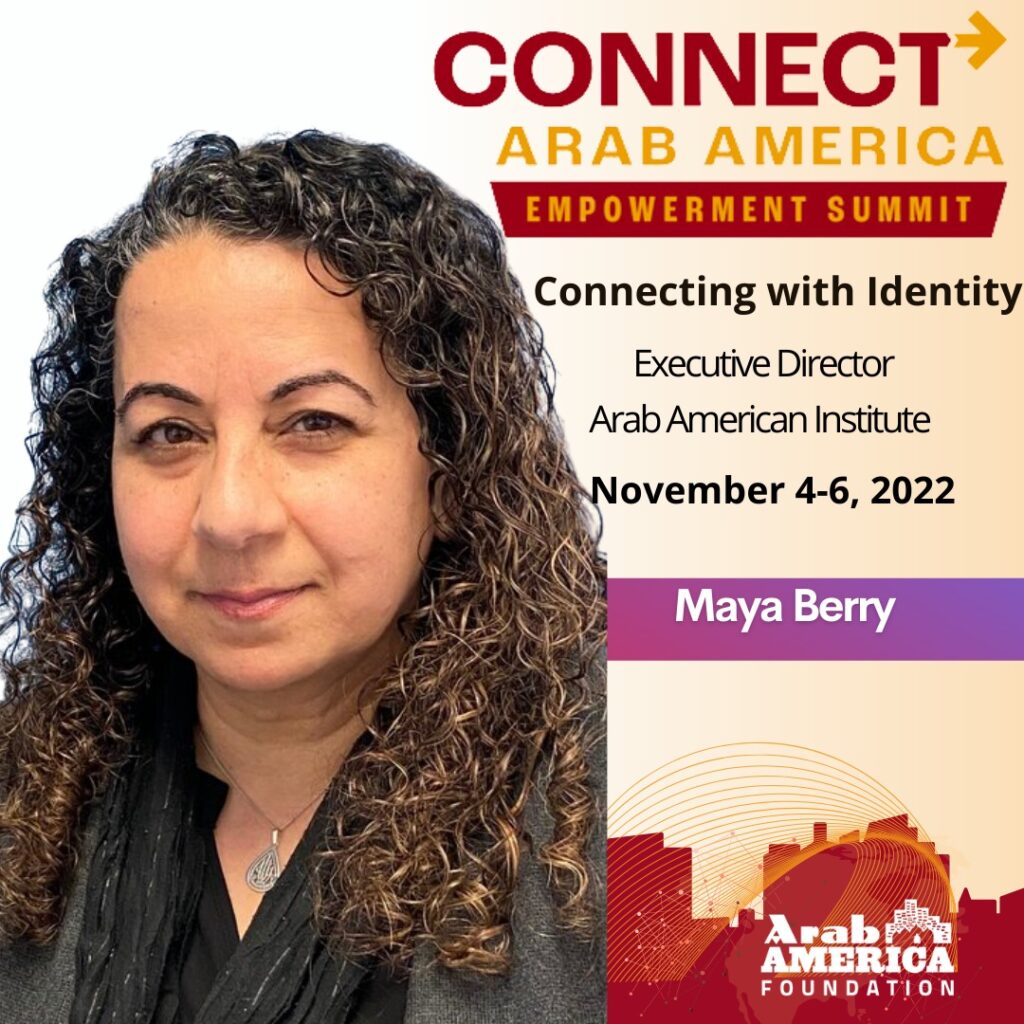 Maya Berry is the Arab American Institute (AAI) executive director. In 1996, she established AAI's first government relations department, which she led for five years before becoming a legislative director for U.S. House of Representatives Minority Whip David Bonior, where she managed the congressman's legislative strategy and developed policies on international relations, human rights, immigration, civil rights and liberties, and trade. With a deep knowledge of public policymaking, Maya has helped expand AAI's work on combatting hate crime, protecting the rights of securitized communities, and strengthening our democracy. In her personal capacity, Maya is a long-time Democratic Party activist. She served as a member of the 2016 Democratic National Convention's Platform Standing Committee and has attended all but one Democratic National Convention as a Delegate, Alternate, or Standing Committee Member since 1992.
Rama Chakaki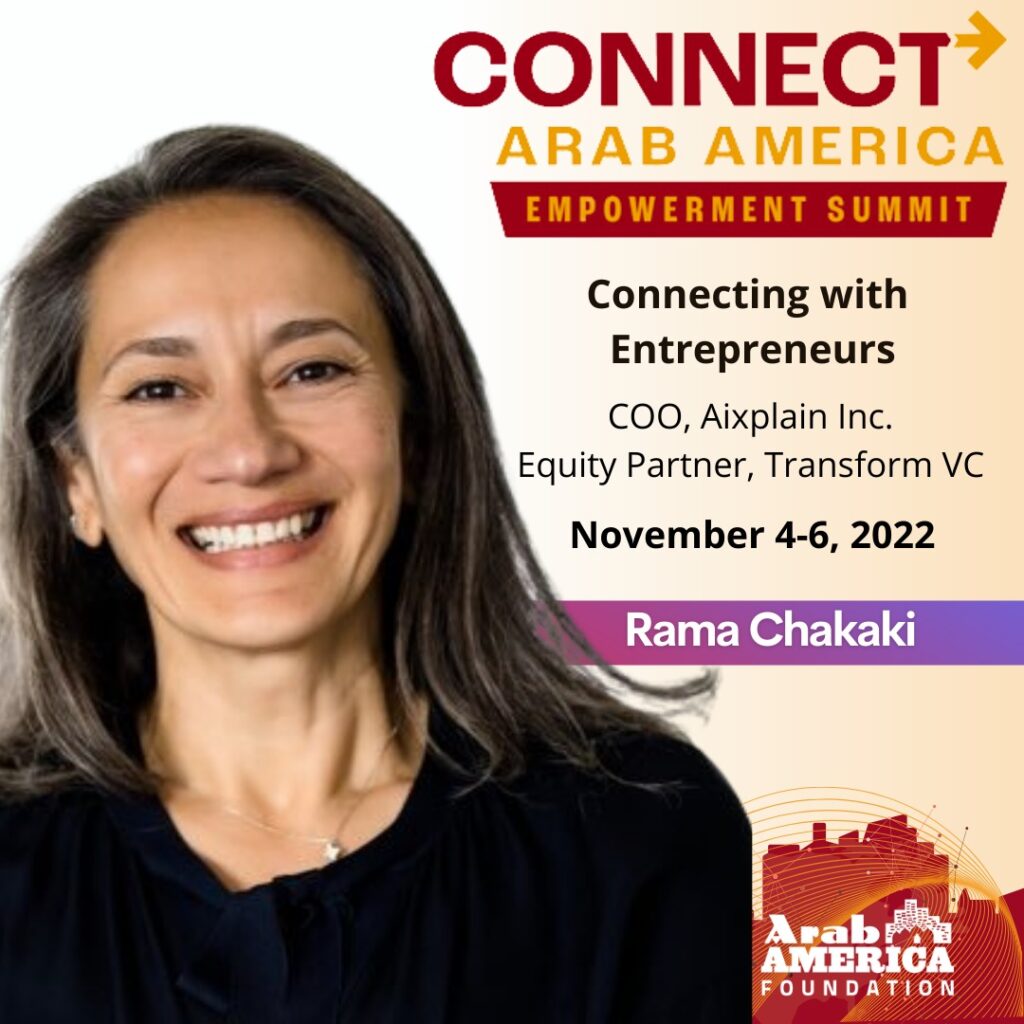 Rama Chakaki is a technology professional passionate about supporting education, mentorship, and economic empowerment for marginalized groups. She is currently the COO of aixplain, an AI company, and equity partner at Transform VC, a Silicon Valley-based venture capitalist firm. Rama is responsible for leading all media relations for Transform VC. Rama serves on the board of the Syrian International Business Association. She's a founding member of Arab Women in Computing and the first regional Women Angel Investment Network (WAIN). Rama was the first female featured by Fortune Middle East for social entrepreneurship in "Most Influential Arab Women in the MENA region." In addition to a certificate in Designing for Social Systems from Stanford University, Rama holds a bachelor's degree in Computer Engineering and a Master's in Engineering Management from George Washington University.
Najwa Dahdah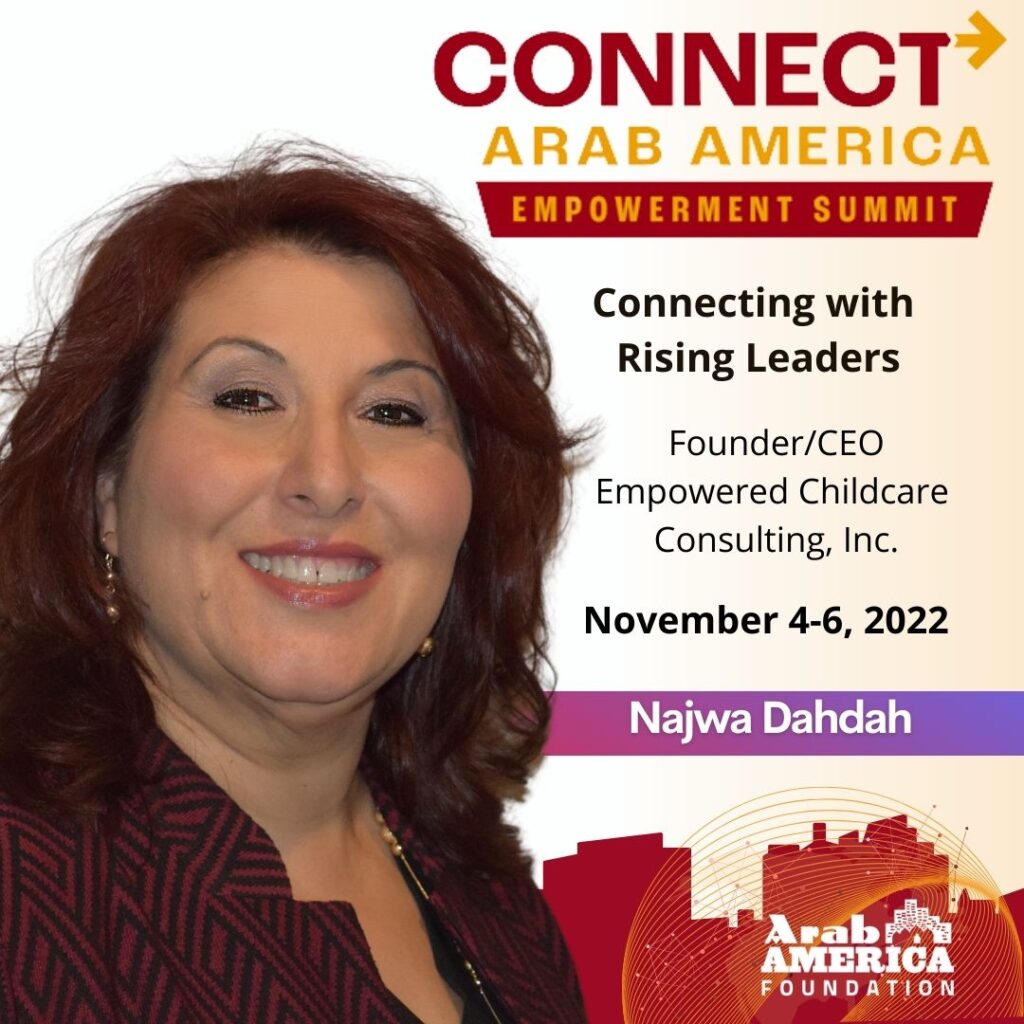 Mrs. Najwa Dahdah is an Early childhood Education (ECE) entrepreneur for over 22 years. She is a proud first Arab American who earned "Quadruple" scholarships from T.E.A.C.H Early childhood Michigan. As a Christian Arab American that has lived and worked in Dearborn, Michigan, for 18 years, she built trusting and respectful relationships with the Arab Muslim Community by training over 1,800 Muslim Women to earn their Child Development Associate Credential (CDA). She also established the FREE food program funded by MDE at two mosques in Dearborn to feed over 11,000 children a month. As an advocate for children, families, and programs, she believes in equitable opportunities to empower individuals regardless of their race, ethnicity, culture, and religion. With a master's degree in Early Childhood Education Leadership/Administration, she has evolved over the years and founded Empowered Community Outreach Services (ECOS) in 2019- a 501c3 non-profit organization. Today, ECOS owns a Bi-lingual Spanish ECE program in Southwest Detroit, a predominantly Spanish-speaking community, and serves FREE high-quality preschool programs. Most importantly, she is honored that her company is the first to translate three books for the Council for Professional Recognition into Arabic.
Rush Darwish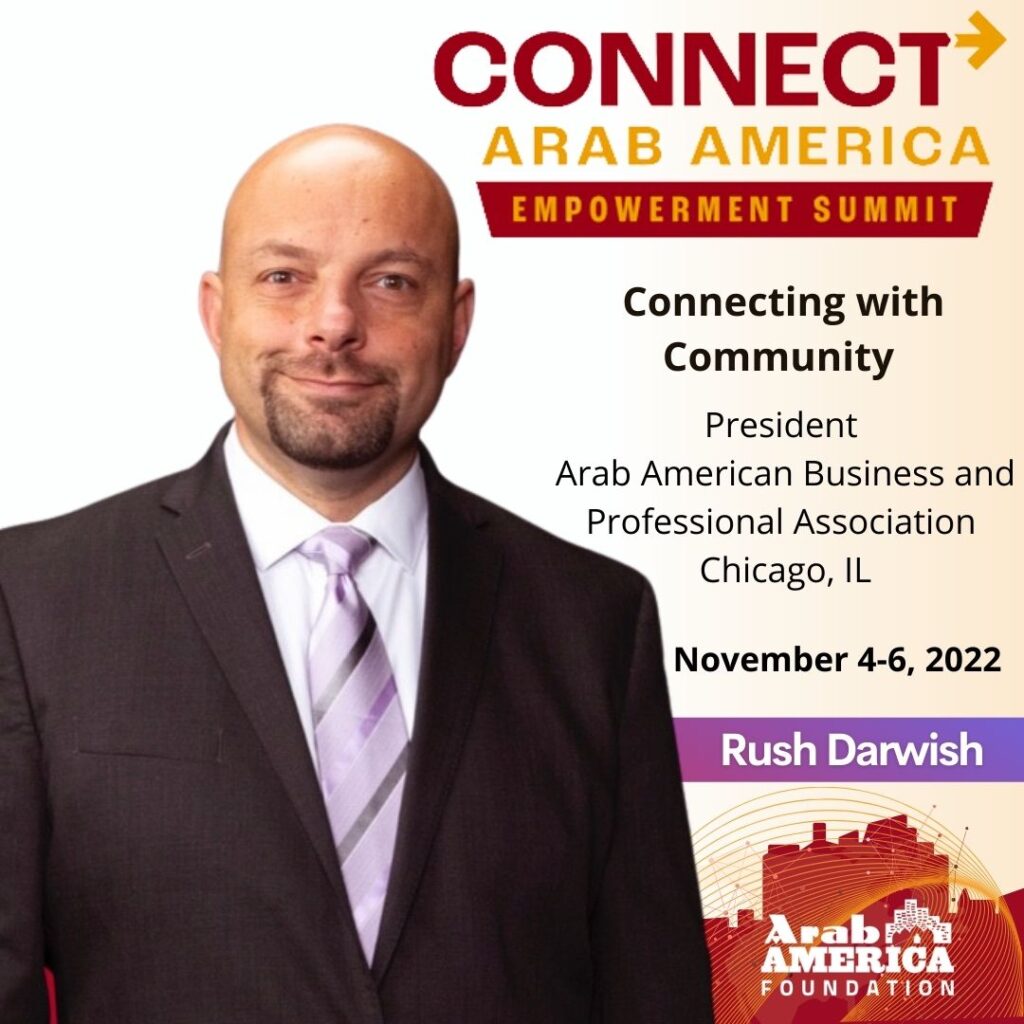 Rush Darwish is an award-winning, small business owner; Rush founded and operates Rush Productions, a top-rated multimedia production company in Chicago. Before launching his production company in 2006, Rush worked for ten years as a News Anchor/Sports Reporter for ABC and NBC affiliates in both Nebraska and Texas. He currently serves as the president of the Arab-American Business and Professional Association. And is also the Chairman for Refugee Life Foundation, an organization that runs various distances to raise awareness and funds for refugee causes both domestically and globally. He is a man who wears many hats, but the one Rush is most proud of is husband and father. Rush has been married for 21 years to the one and only Aziza Darwish. Together they have two sons, sixteen-year-old Adam and Amir, age six. As a devoted family man, Rush always manages to find the time to coach his eldest son Adam's basketball team.
Dr. Amal David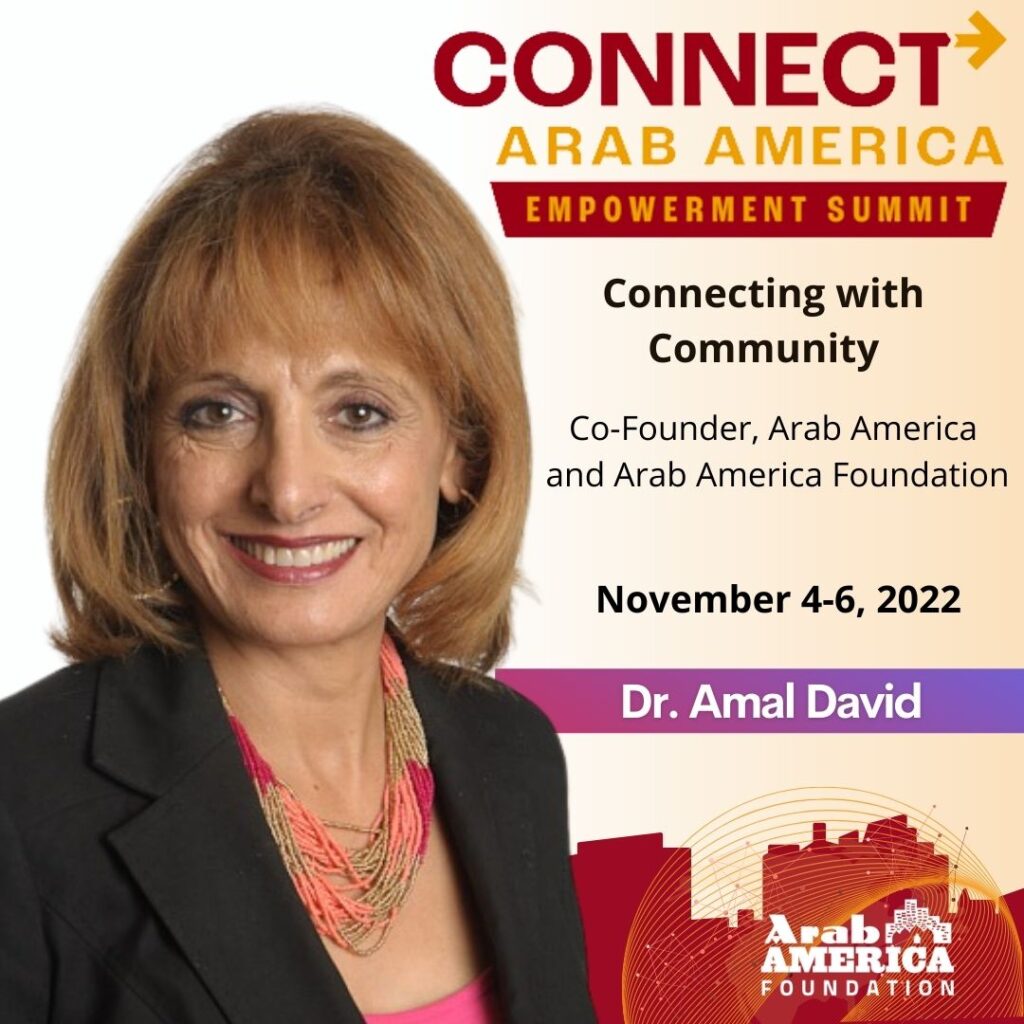 Dr. Amal Khalil David is Director of Operations and Outreach at Arab America (www.arabamerica.com) and co-founder and board member of the Arab America Foundation, where she currently leads a grass-roots network of Arab heritage teams across the country. A Palestinian born in Nazareth, she earned her Ph.D. in Communication with an emphasis in multicultural education. She has over 35 years of experience in bilingual education as an administrator in Detroit Public schools and as an adjunct professor teaching at college levels. Additionally, she was a producer and a host of several radio programs in Detroit. In Washington DC, she created and developed the largest grass-roots Arab American women's initiative in the U.S. Her participation as a community leader and advocate portrays a positive image of Arab American women.
Ameera David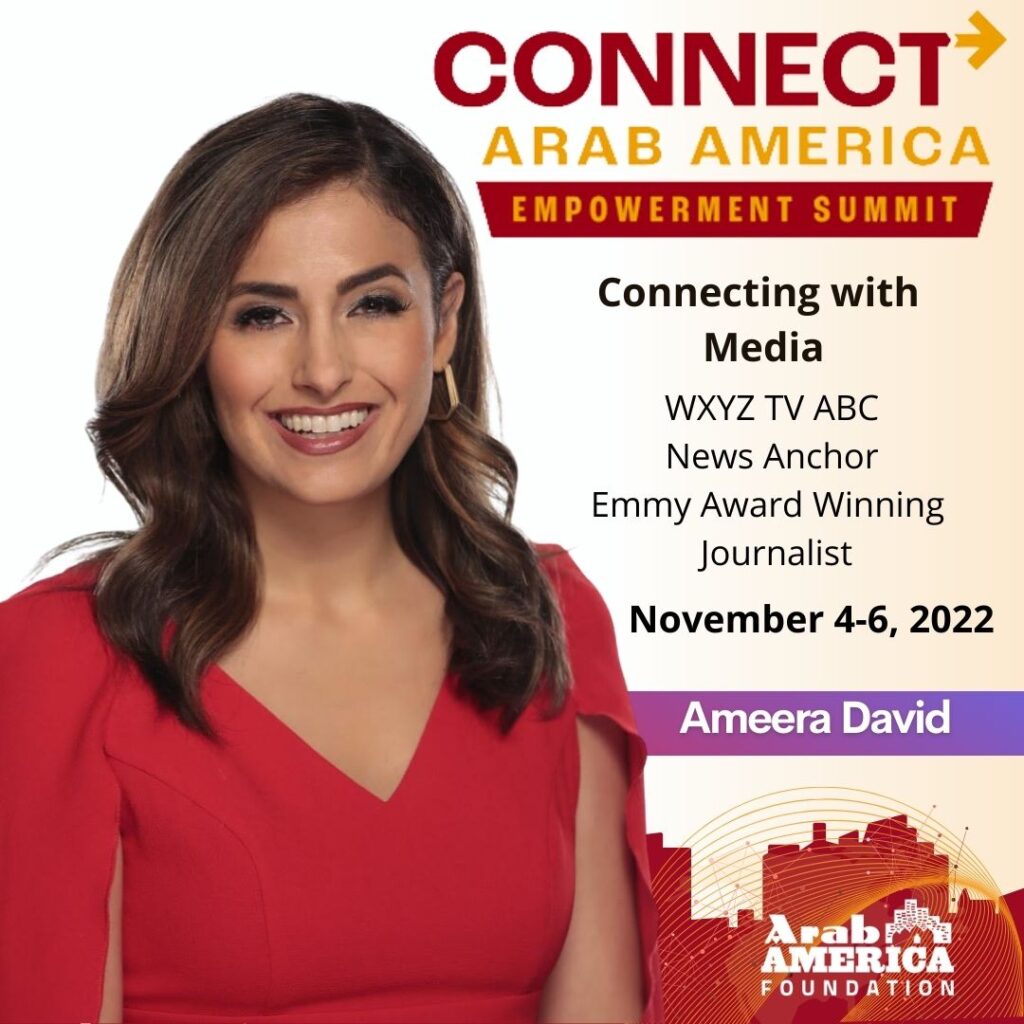 Ameera David is WXYZ's ABC 7 Detroit's weekend evening anchor and weekday reporter. She also leads flagship coverage of The Rebound Detroit Metro Detroiters, which covers the recovery from the damaging financial impacts of COVID. She brings resources and guidance for her career in TV journalism for NBC News's Washington, DC bureau. David took on numerous roles by working as a White House producer, assignment desk manager, and production assistant for Brian Williams and Chuck Todd. She is a native of Detroit, having grown up on the city's east side, attended Detroit Public Schools, and was deeply entrenched in the city's vibrant Arab American community as a young woman. Ameera is a graduate of the University of Michigan and has a Master's degree from Columbia University's Graduate School of Journalism in New York City. David was awarded in the 'Best Anchor' category by the New York Festivals World's Best TV & Films. When not reporting, she enjoys trying out new eateries in Metro Detroit, salsa dancing, traveling, and connecting with viewers via social media. Finally, she is the daughter of Warren and Dr. Amal David, the president and Co-Founders of Arab America and the Arab America Foundation.
Warren David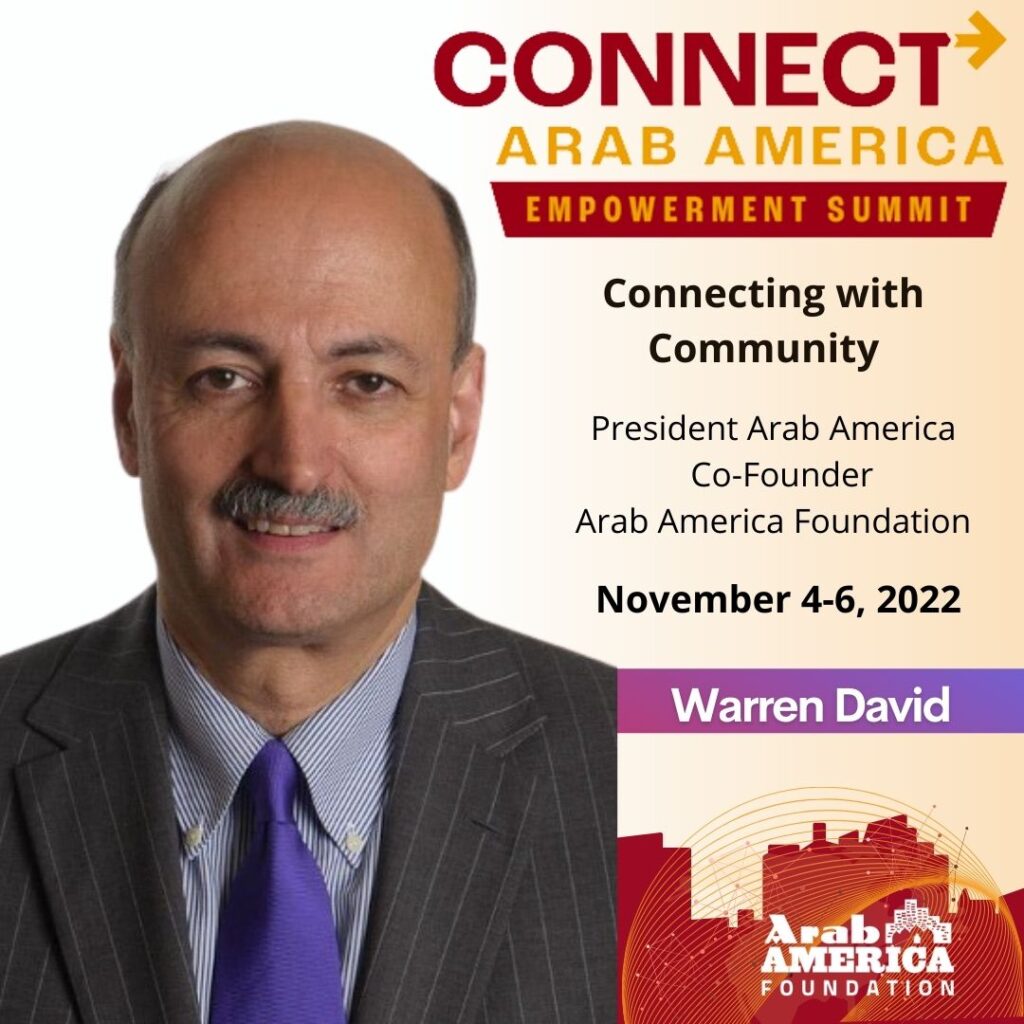 Warren David is the president of Arab America (www.arabamerica.com) a national media organization founded with the purpose of promoting an accurate image of the Arab American community and identity through several digital media platforms which include: an online website; Arab America E-News; and several social media platforms. He is a co-founder of the Arab America Foundation, a non-profit which promotes the Arab heritage and empowers Arab Americans in the U.S. He is the former national president of the American-Arab Anti-Discrimination Committee in Washington, D.C. and was executive producer of the nationally acclaimed public television series, "Arab American Stories." A third-generation Arab American of Syrian and Lebanese heritage, he has invested his time and personal resources to document and tell the story of the Arab American experience.
Dr. Manal Fakhoury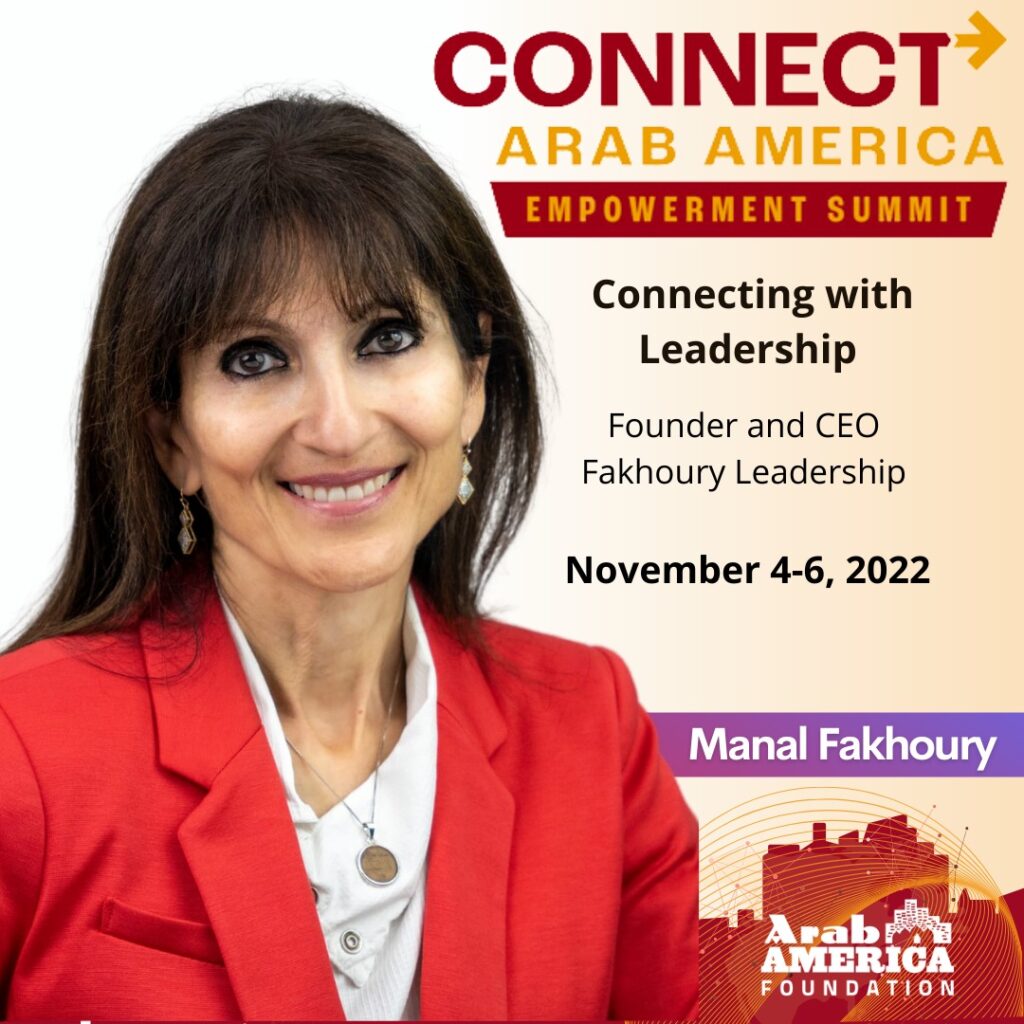 Dr. Manal Fakhoury calls herself a personal development addict. Her friends call her the opportunity maker. Her passion intersects leadership with service. Manal is the Founder and CEO of Fakhoury Leadership International, where she coaches executives, mentors youth, and assists inmates in resetting their lives. Manal is a graduate of Leadership Ocala, Leadership Florida, a Distinguished Toastmaster, a member of the National Speakers Association, and serves on local and multiple national boards. She and her husband, Riadh, also are passionate about helping the community create legacy wealth with their investment vehicle, Vestech Partners.
Abderrahim Foukara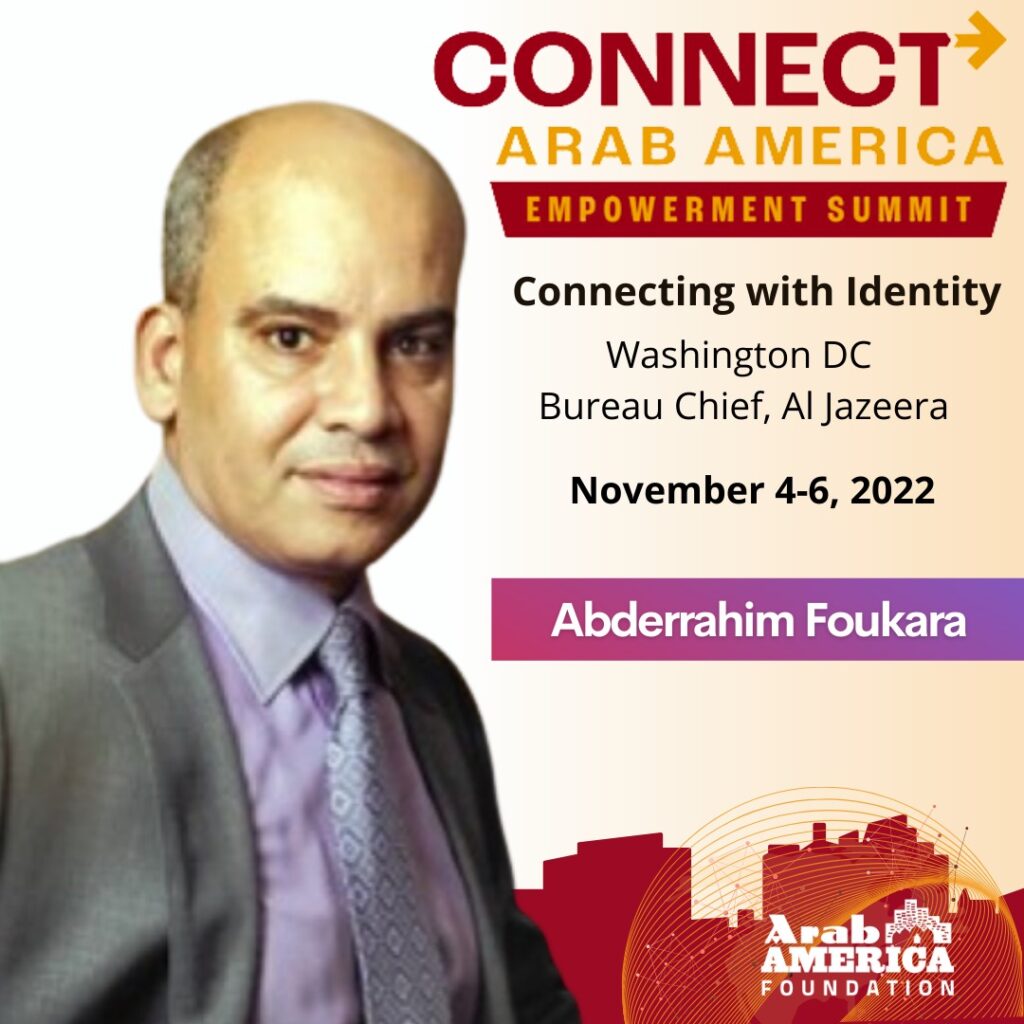 Abderrahim Foukara is currently Al Jazeera Network's Americas Bureau Chief and host of Min Washington, a flagship current affairs show on Al Jazeera Arabic. Foukara is a Morocco native and holds a Ph.D. in Apartheid studies from the United Kingdom. Abderrahim started his journalism career at the BBC World Service, where he worked as a producer, reporter, anchor, and journalism instructor. In 1999, he moved to the United States of America, where he joined The World, a co-production of the BBC, Public Radio, and WGBH Boston, then AllAfrica.com, one of the world's largest providers of African news and analysis. Foukara continues to be a frequent voice on US-Arab issues in US media.
Nabeleh Ghareeb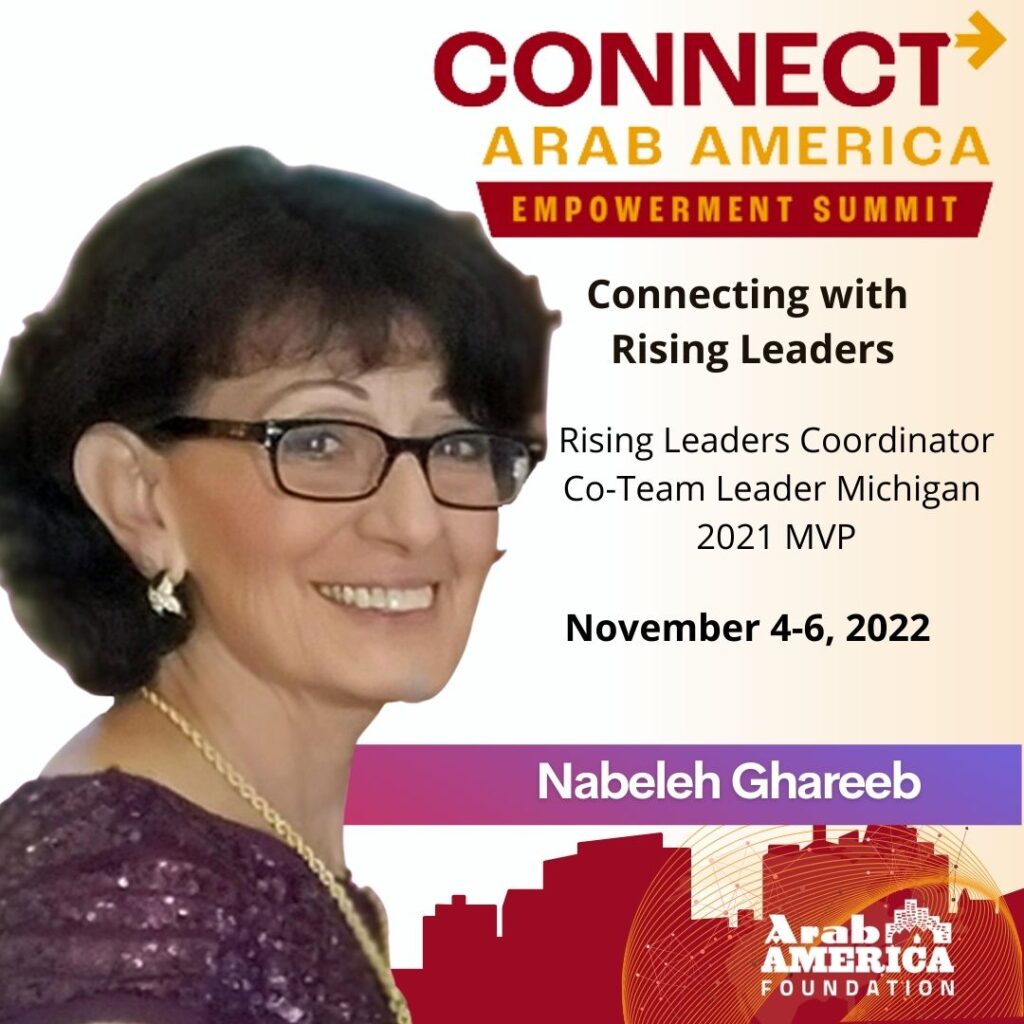 Nabeleh Kakish Ghareeb is a business consultant and project manager for multiple non-profit agencies in the city of Detroit. In her role, she leads and manages projects in a turnkey process, from strategic thoughts to creating state-of-the-art programs for non-profit agencies. Nabeleh served in various leadership roles in non-profit organizations and Higher education institutions. In her most recent roles as Chief Strategy and Administrative Officer at the Children Center of Wayne County and Associate Vice president of Business Operations at Wayne State University. In 2021 Nabeleh was appointed by Governor Gretchen Whitmer to the Commission on Middle Eastern American Affairs. Nabeleh volunteers with several organizations, such as the Arab America Foundation, where she co-coordinates a project that is dear to her heart, Recognizing Arab American Rising Leaders. Nabeleh is active with the Arab American Women Business Council, where she served two terms as President of the Council and is still involved with the Grant Committee. Nabeleh completed her undergraduate studies in Business Management at Wayne State University and her master's degree in education administration and Postgraduate at the University of Toledo. She is married to George Ghareeb.
Dr. Fahed Hakim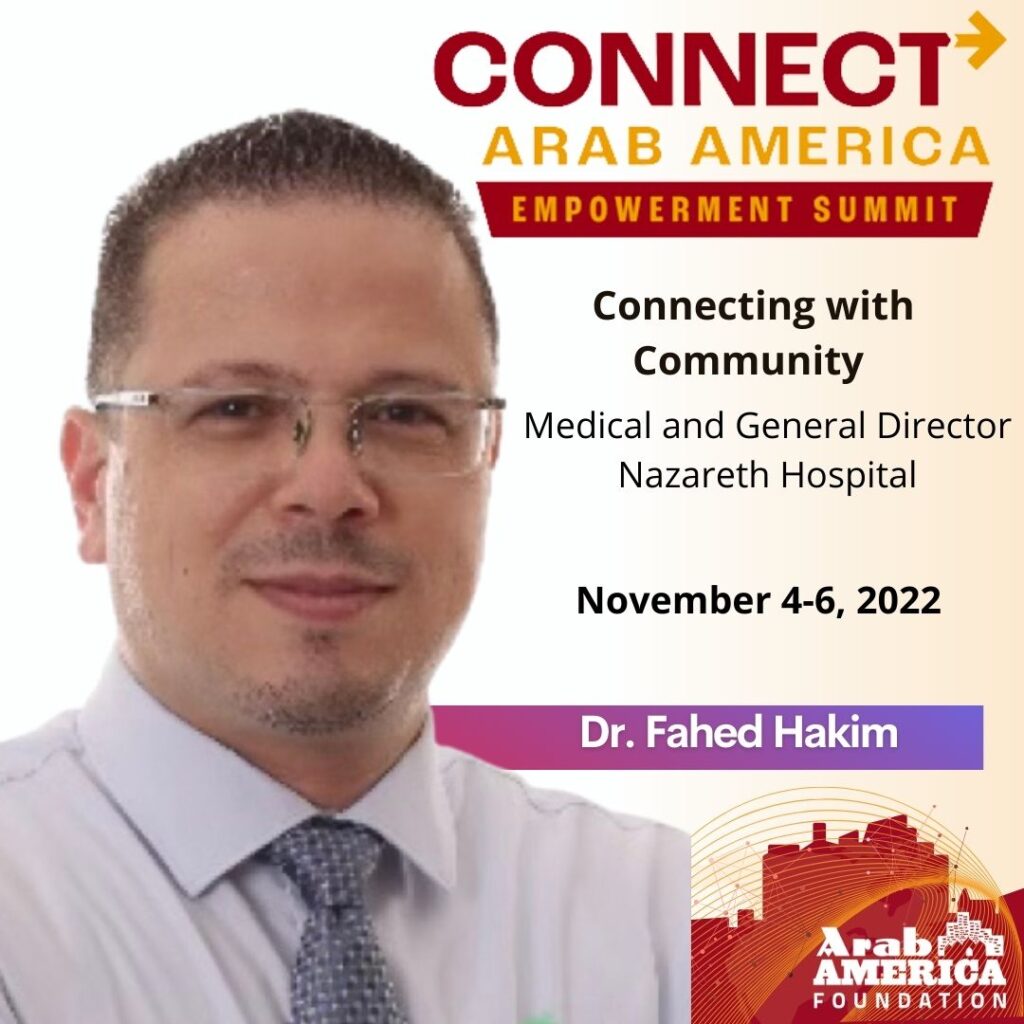 Dr. Fahed Hakim is the Medical Director of the Nazareth Hospital EMMS. He is a Clinical Associate Professor at the Faculty of Medicine at Bar Ilan University. He also serves as a Senior Physician in Paediatrics and the Paediatric Pulmonary Institute at the Rambam Health Care Campus in Haifa. He is a worldwide known researcher who has excelled during his career by receiving numerous honors and awards. Prof Hakim is a respected lecturer worldwide and has participated in dozens of international conferences. He has also been invited to lecture by different scientific societies worldwide.
Rania Hoteit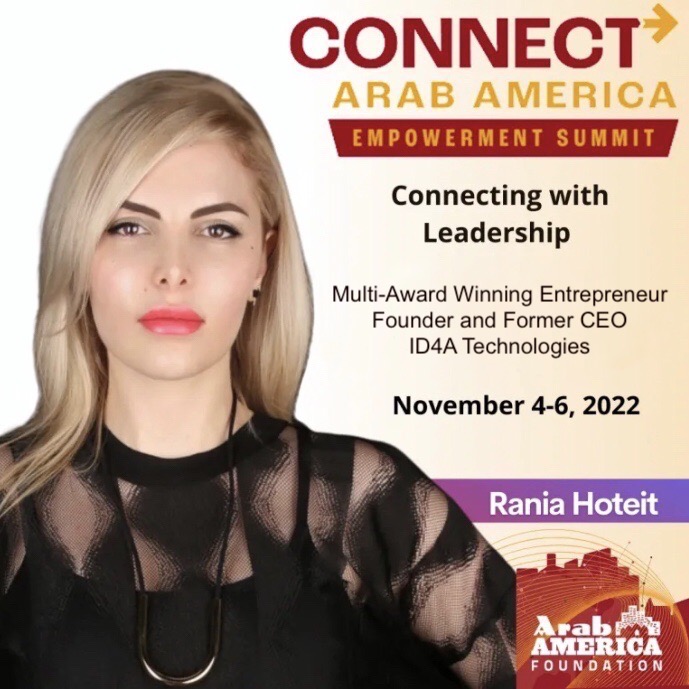 Rania Hoteit is a multi-award-winning serial entrepreneur, global impact leader, author, executive advisor, and public speaker with recognitions from the White House, United Nations, UK Parliament, The Global CEO Excellence Award, and other prestigious honors. As founder and former CEO of ID4A Technologies, Rania has built a global company whose developments are widely adopted, disrupting traditional supply chains, revolutionizing production processes, and creating significant environmental, economic, and social impacts worldwide. Under her leadership, ID4A Technologies has been recognized by the White House Office of Science and Technology for 'Fostering The Development of Advanced Manufacturing in the USA as The World'; named among the 2016 "Best Entrepreneurial Companies in America" by Entrepreneur magazine; honored on the Elite 2018 Inc. 5000 List of "America's Fastest Growing Private Companies"; awarded the 2019 Real Leaders "100 Top Impact Companies" Award and "World's Best Emerging Design Technology Company" Award by LUX Leading Designers Awards. She has won multiple awards, including recent recognition from the U.S. Chamber of Commerce, among many other prestigious honors.
Naheda Zayyad-Hussien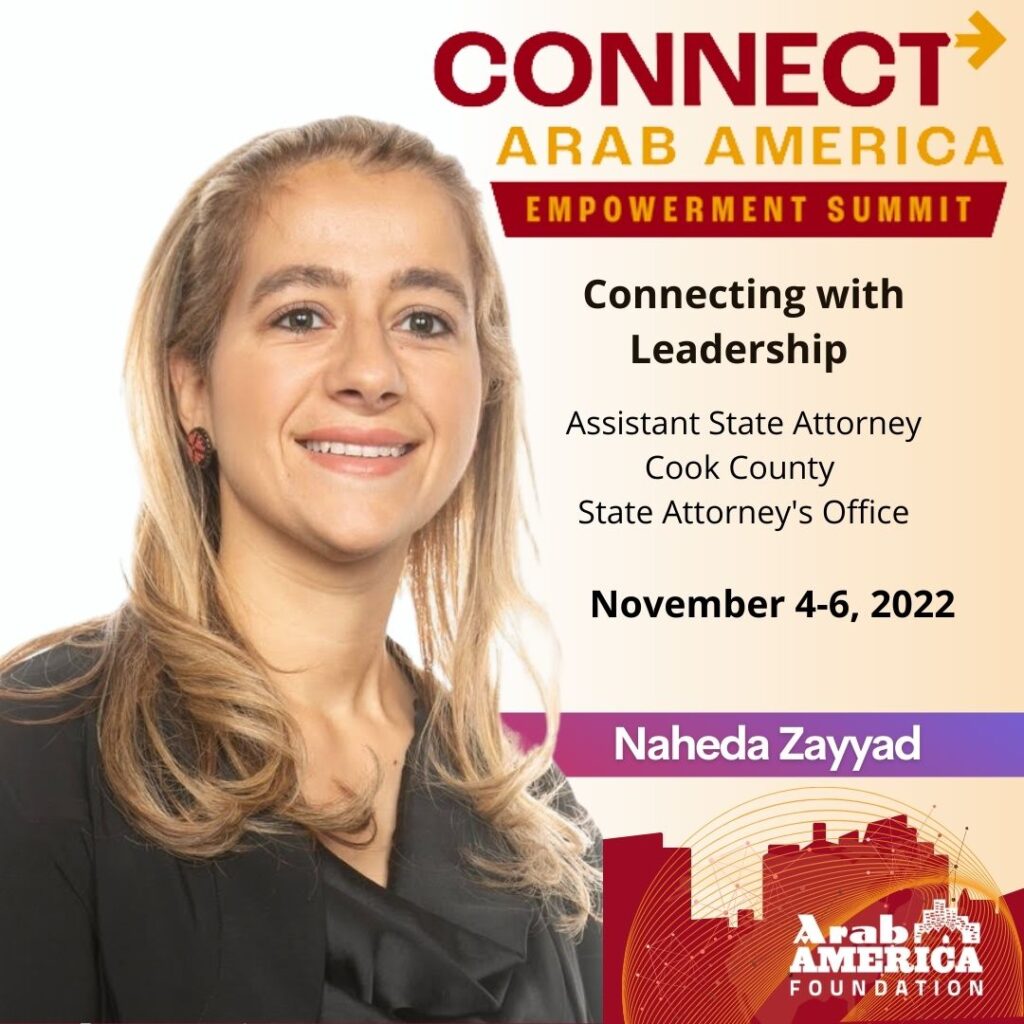 Naheda Zayyad-Hussien has been a prosecutor for over 16 years for the second-largest prosecuting office in the country. Zayyad-Hussien created the first-ever MENA Employee Resource Group for the Cook County State's Attorney's Office. She is the current President of the group. Naheda is also Vice President of the Office's Women's Employee Resource Group. Naheda leads the community outreach committees for each of these groups. Zayyad-Hussien is the highest-ranking prosecutor in a courtroom, with a caseload of 600+ cases and over 50 homicides. In her career at the Cook County State's Attorney's Office, she has tried over 70 jury trials and hundreds of bench trials. Previously, she was a liaison for the Department of Justice Community Relations Division in teaching cultural awareness to law enforcement agencies. Naheda is a Palestinian Arab American, wife, and mother of two beautiful children.
Dr. Adel Korkor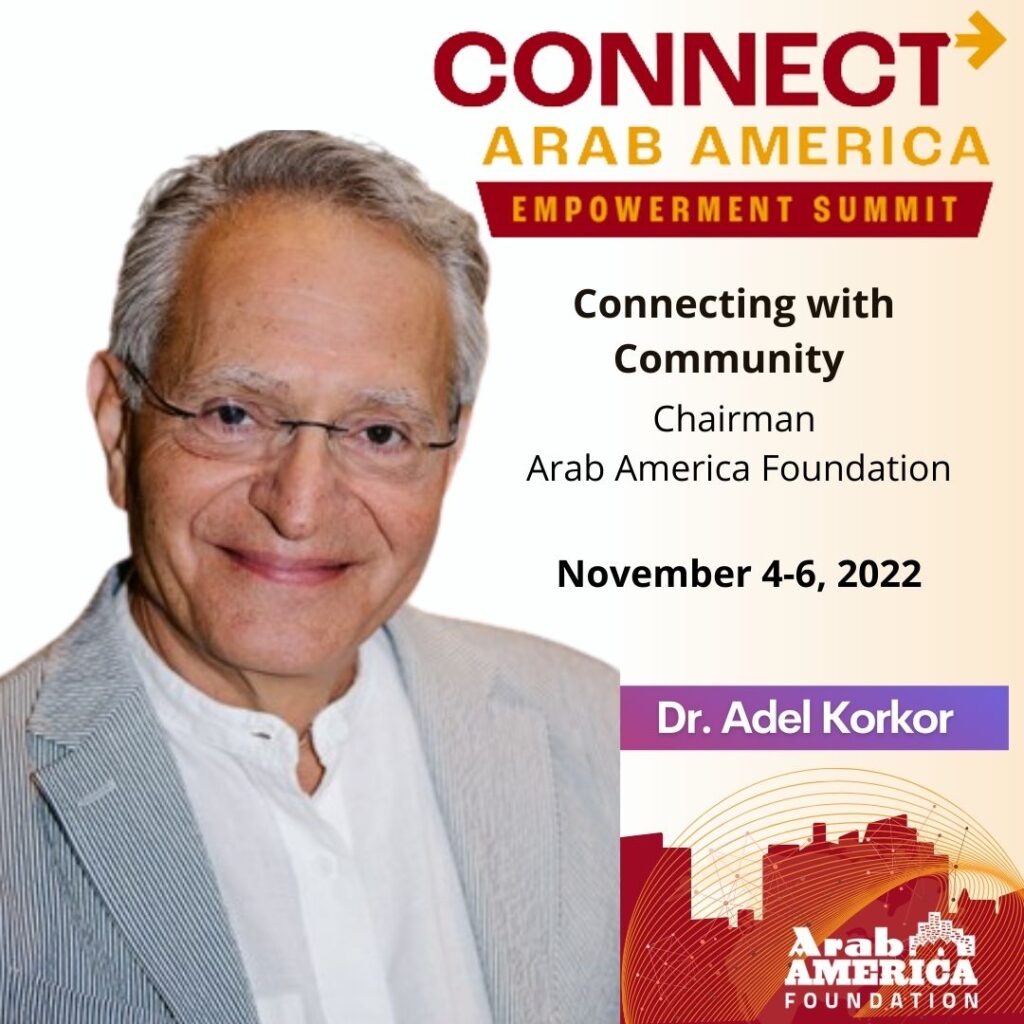 Adel B Korkor, M.D. is a physician, entrepreneur, inventor, and philanthropist. In 2017 he stepped down from his clinical practice to dedicate much of his time, energy, and resources to the needs of patients who are suffering from mental illness, establishing the Adel B. Korkor Foundation. Over the years, Dr. Korkor has remained actively engaged with the Arab American community.
Omar Kurdi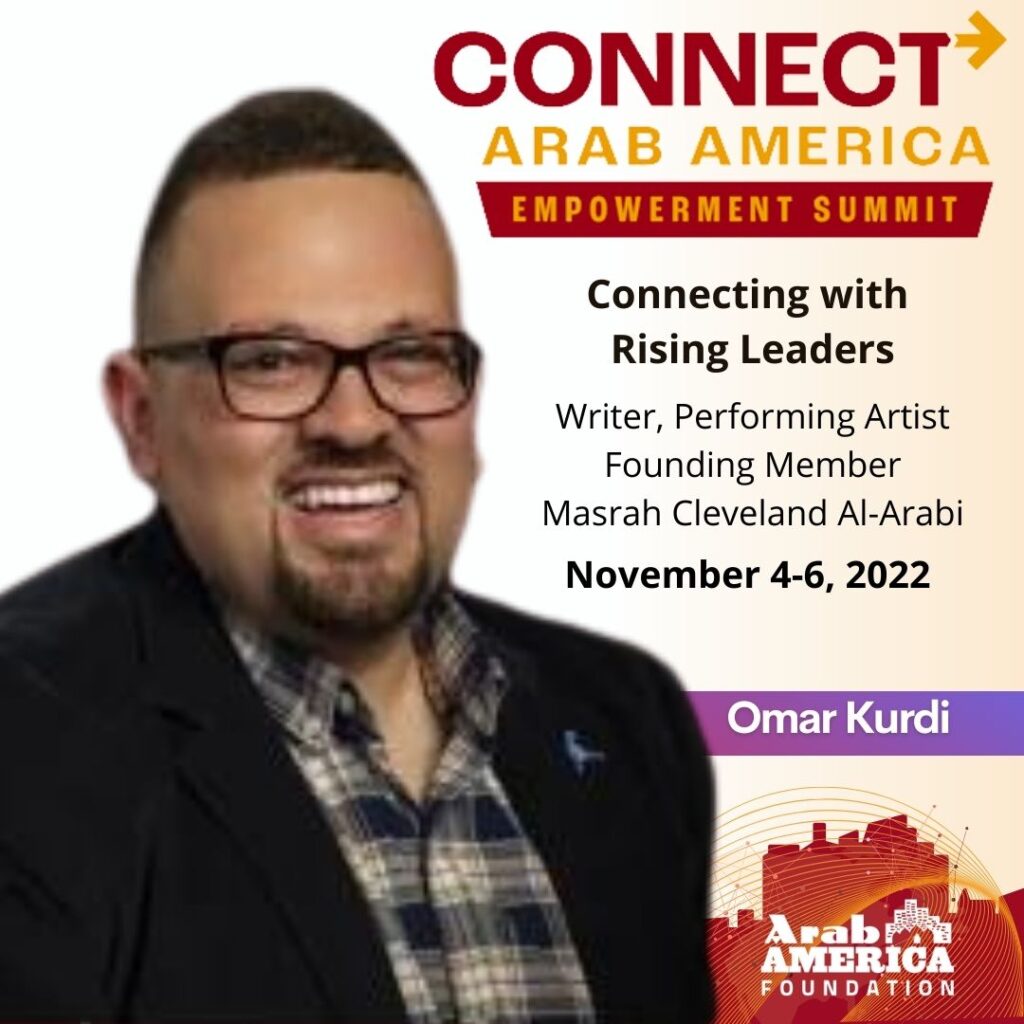 Omar Kurdi is Jordanian with a mixed background of Palestinian, Lebanese, and Kurdish. He lives and works in Cleveland, Ohio. He is the CEO of Friends for Life Rehabilitation Services, an agency that provides services to adults with developmental disabilities. Mr. Kurdi holds a Master's degree in Public Administration from Indiana Wesleyan University and a Bachelor's degree in International Relations from Cleveland State University. Outside of work, Mr. Kurdi is a writer and a performing arts enthusiast. He is a founding member of Masrah Cleveland Al-Arabi, a newly-developed theatre company within Cleveland Public Theatre that aims to connect with the Arabic-speaking communities in Cleveland. As of Spring 2019, he is a member of Cleveland Public Theatre's Board of Directors. In January 2020, Mr. Kurdi co-founded the Arab Americans of Cleveland – Young Professionals network. In June 2020, he was appointed to the Community Advisory Board in Ideastream, the NPR and PBS affiliate in Northeast Ohio. In August 2020, Crain's Cleveland Business Magazine selected him as a Notable Immigrant Leader.
Raed Masri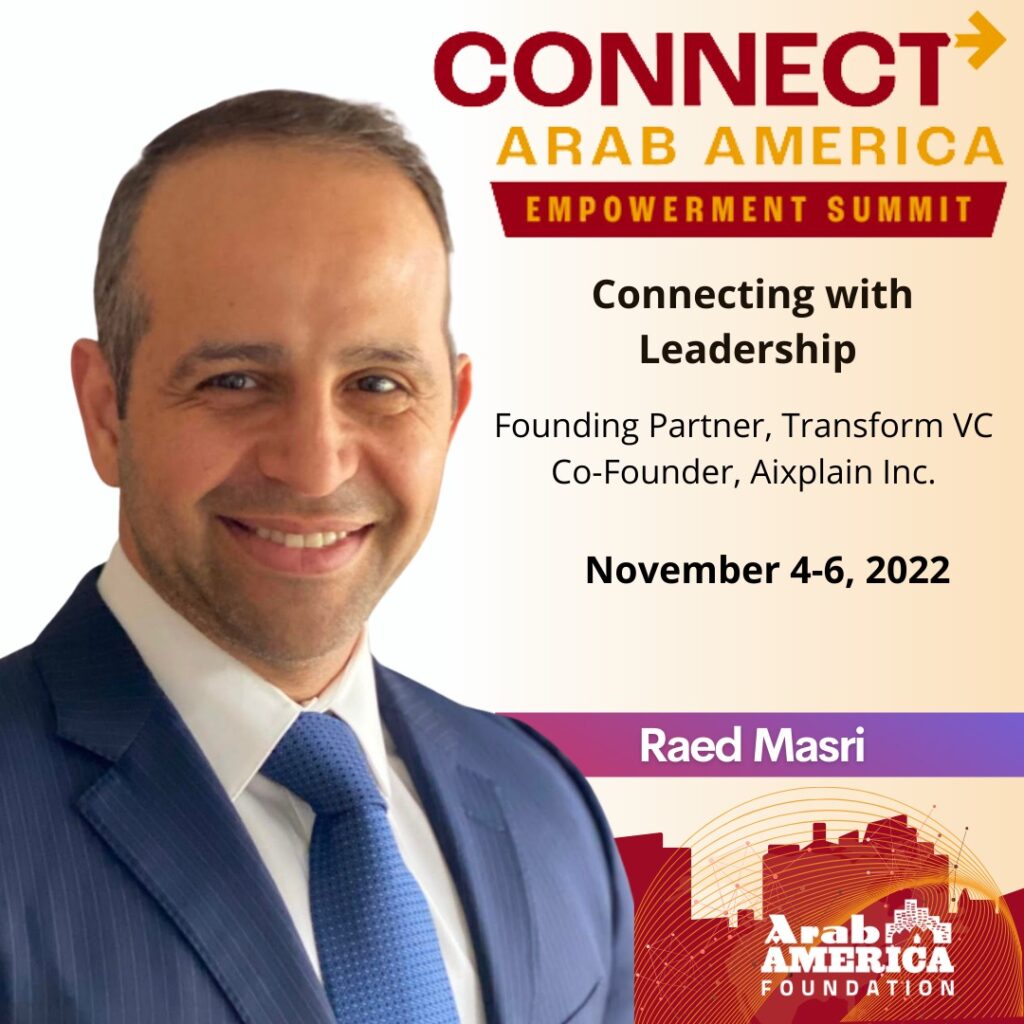 Raed A. Masri is a San Francisco-based, serial Canadian entrepreneur, Venture Capitalist, and institutional LP. He has a track record as an engineer, product manager, entrepreneur, executive, and allocator of VC funds, with his most recent venture being Transform VC. At Transform VC, Raed and his team help develop conviction early in founders that may have been dismissed by others where markets are perceived as difficult or too early. With deep roots in Silicon Valley, Canada, and the Middle East, Transform VC is able to identify and build conviction in opportunities in the earliest stages. Raed holds an Engineering degree from Carleton University in Ottawa, and MBAs from Cornell University in Ithaca, NY & Queen's University in Kingston, ON. Raed continues to build bridges between Silicon Valley, the Middle East, and Canada. A lifelong learner and developer of talent, Raed loves sharing wisdom among founders, and he speaks regularly at numerous industry conferences.
Nada Lena Nasserdeen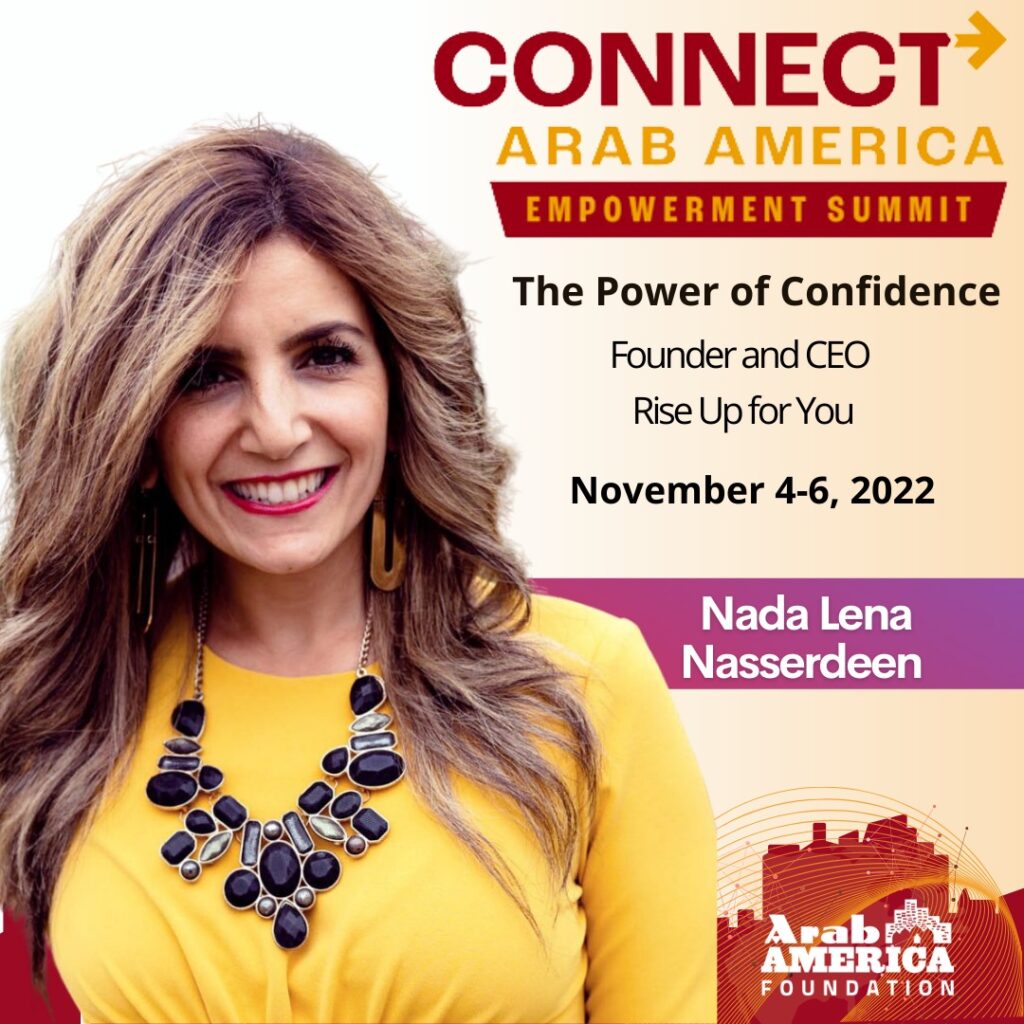 Nada is a 2x TEDx Speaker, Best-Selling Author, and CEO/Founder of Rise Up For You. She has been awarded 40 under 40 professionals in Orange County, California Women of Influence for Entrepreneurship in 2021, the Keynote Speaker Award from the Lebanese Collegiate Network, and the OC Sheriffs Award for her philanthropic work with at-risk youth. Her company, Rise Up For You, has been featured worldwide and worked with brands such as CBS, Google Next 19, and various Fortune 500 companies as well as small businesses and currently has reached in over 50 countries with their programming.
Abrar Omeish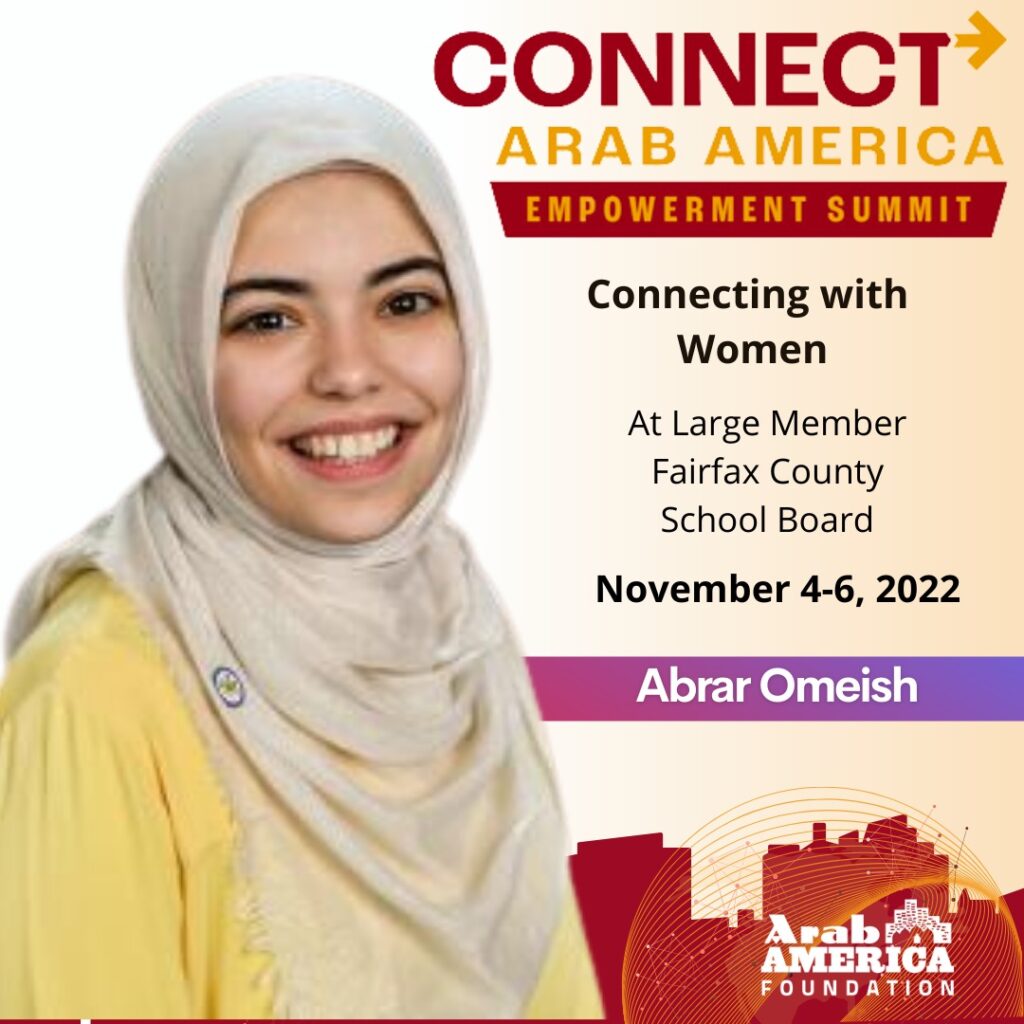 Abrar Omeish currently serves as a School Board Member At-Large in Fairfax County, right outside Washington, DC. She is the first Libyan ever elected in US history and the first Muslim and youngest ever elected in her role, earning over 161,000 votes. Abrar co-founded an organization providing thousands of underprivileged youth with free tutoring and mentorship in 20 locations over the past ten years. After serving in several appointed capacities locally and as a senior organizer at the DNC, Abrar served as a legal fellow at a human rights and immigration law firm in Northern Virginia and has been a spokeswoman for the #NoMuslimBanEver campaign. Abrar was most recently a Virginia. Co-Chair for the Bernie Sanders campaign and a Virginia PLEO and Rules Committee member to the Democratic National Convention. She holds a double bachelor's with honors from Yale University and is a current dual MPP/JD student and Blume fellow at Georgetown.
Roberto Ramirez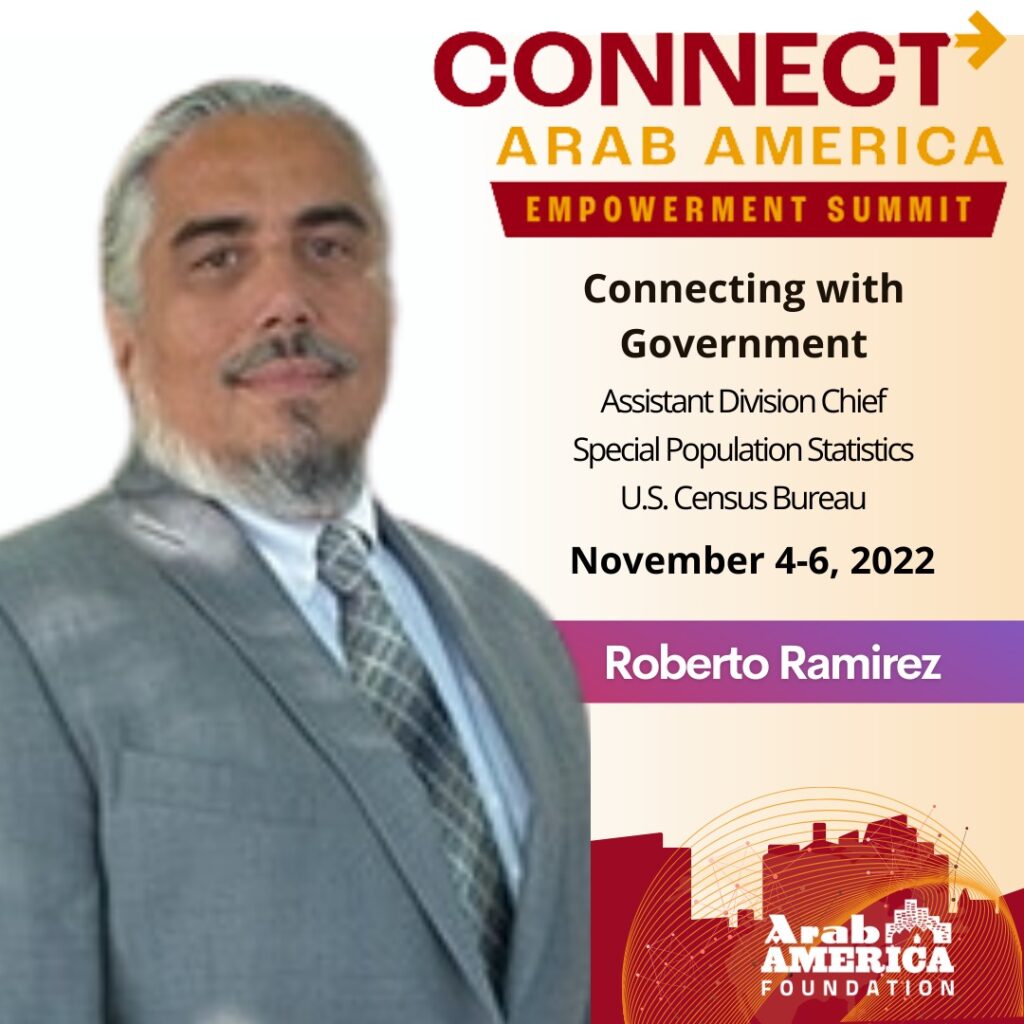 Roberto R. Ramirez is the Assistant Division Chief of Special Population Statistics in the Census Bureau's Population Division. During his 20 years at the Census Bureau, Ramirez has studied Hispanic and other minority ethnic and racial population groups and published reports based on related data from the Current Population Survey, the American Community Survey, and 2000, 2010, and 2020 Censuses. Ramirez has presented key Census Bureau findings about the Hispanic population to the Congressional Hispanic Caucus and during numerous radio, newspaper, and TV interviews, including C-SPAN's "America by the Numbers" weekly program. Ramirez received the coveted Census Bureau Bronze Medal Award for analyzing Hispanic data from the 2000 and 2010 Censuses. He was among key Census Bureau experts responsible for providing leadership and guidance for the 2015 National Content Test.
Shameem Rassam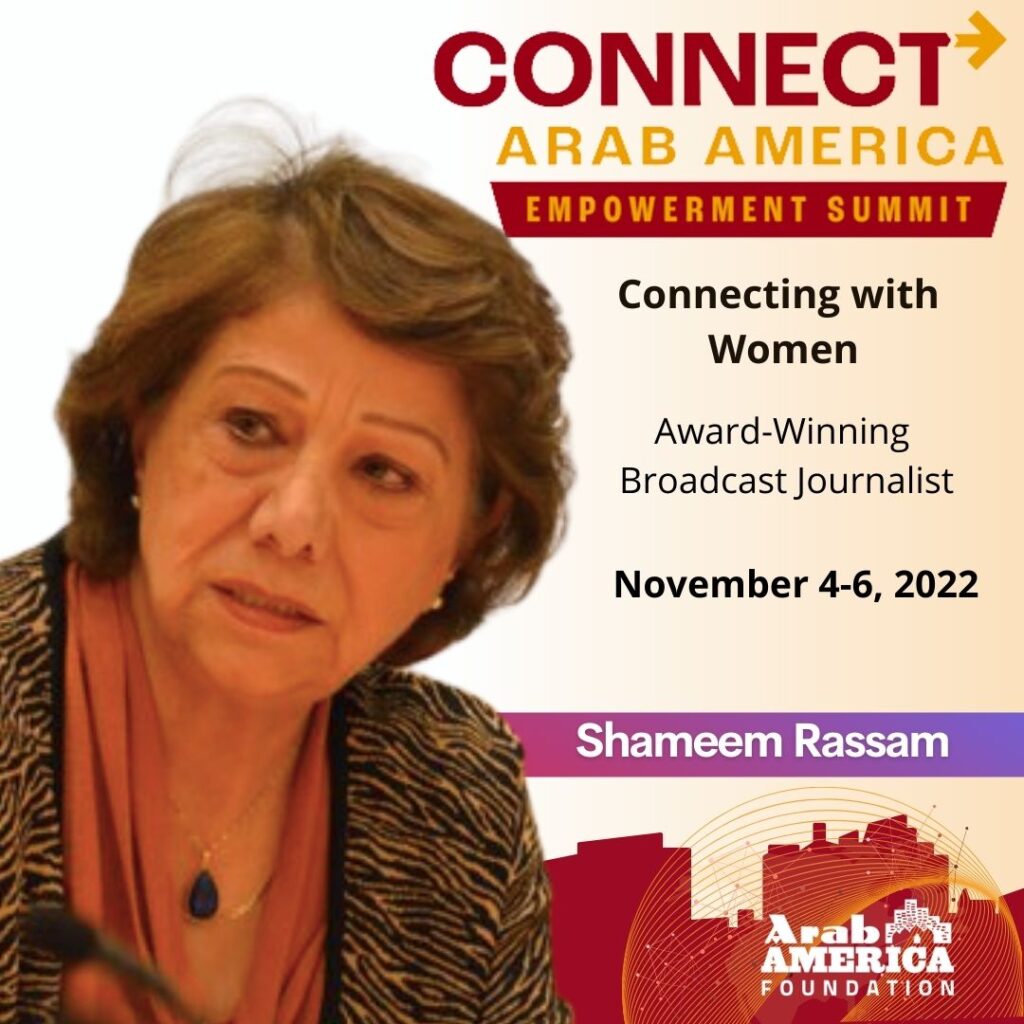 Shameem Rassam is a bilingual, award-winning broadcast journalist with decades of experience in media production, reporting, and management and an established communications strategist and consultant. She has worked for Al-Hurra, IBB WorldNet, the Arab Network of America, and the Voice of America after spending twenty years as a correspondent and anchor for the Iraqi Ministry of Information. Ms. Rassam has been a frequent advisor and instructor for the US Government and other private sector and NGO entities on issues pertaining to Arabic media, culture, and politics. She is also a passionate community activist on behalf of Iraqi civil society and breast cancer awareness. She received the UNICEF Award for her coverage and promotion of UNICEF programs in Iraq.
Fayrouz Saad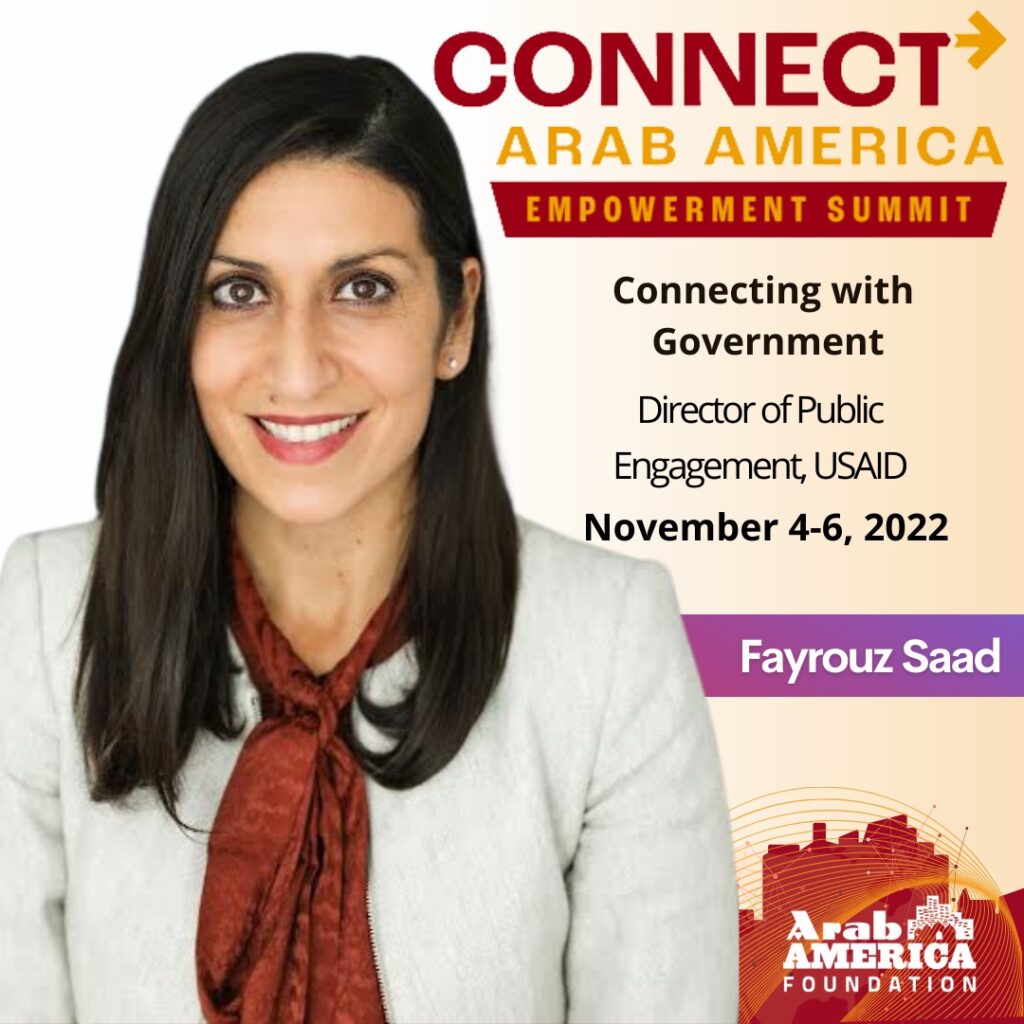 Fayrouz Saad currently serves in President Biden's Administration as the Director of Public Engagement at the US Agency for International Development (USAID). In this capacity, Fayrouz oversees the Agency's public events and activities while expanding engagement with US communities. Before joining USAID, she served on Michigan Governor Gretchen Whitmer's cabinet as the Executive Director of the Office of Global Michigan. She led economic inclusion programs for immigrant, refugee, limited English proficiency, and new American communities, including leading Covid response and vaccine distribution efforts. Fayrouz also served as Detroit's first Director of Immigrant Affairs under Mayor Mike Duggan. She led efforts to resettle refugees in Detroit, built the Detroit-ID program, and developed a strategy to engage and grow immigrant-owned small businesses. Fayrouz holds a Master's Degree from the Harvard Kennedy School and a bachelor's from the University of Michigan. She currently resides in Washington, DC, with her son and husband, Chris, who also serves in the Biden Administration as the Chief Information Security Officer and Deputy National Cyber Director.
Dr. Malek Ben Salem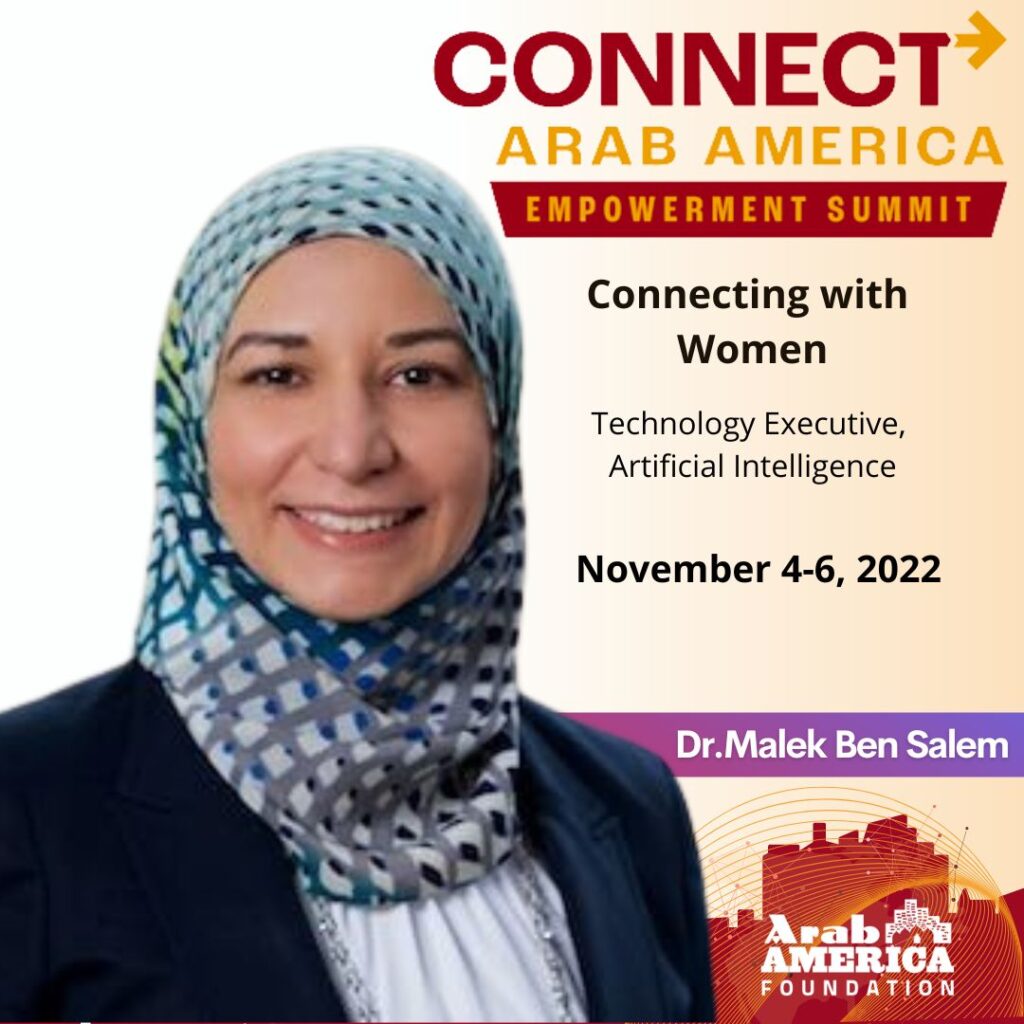 Dr. Malek Ben Salem is a Tunisian-American technology executive. She is focused on securing emerging technologies and advises clients on how to confidently reinvent their enterprises and embrace emerging technologies such as artificial intelligence, blockchain, and quantum technology. Before her current role, Dr. Ben Salem led Security R&D for Accenture in the Americas. She is passionate about advancing women in technology, cybersecurity, and business globally and in the Arab world. She serves on the advisory board of several emerging tech startups, most of which are women-led enterprises.
Dr. William Lafi Youmans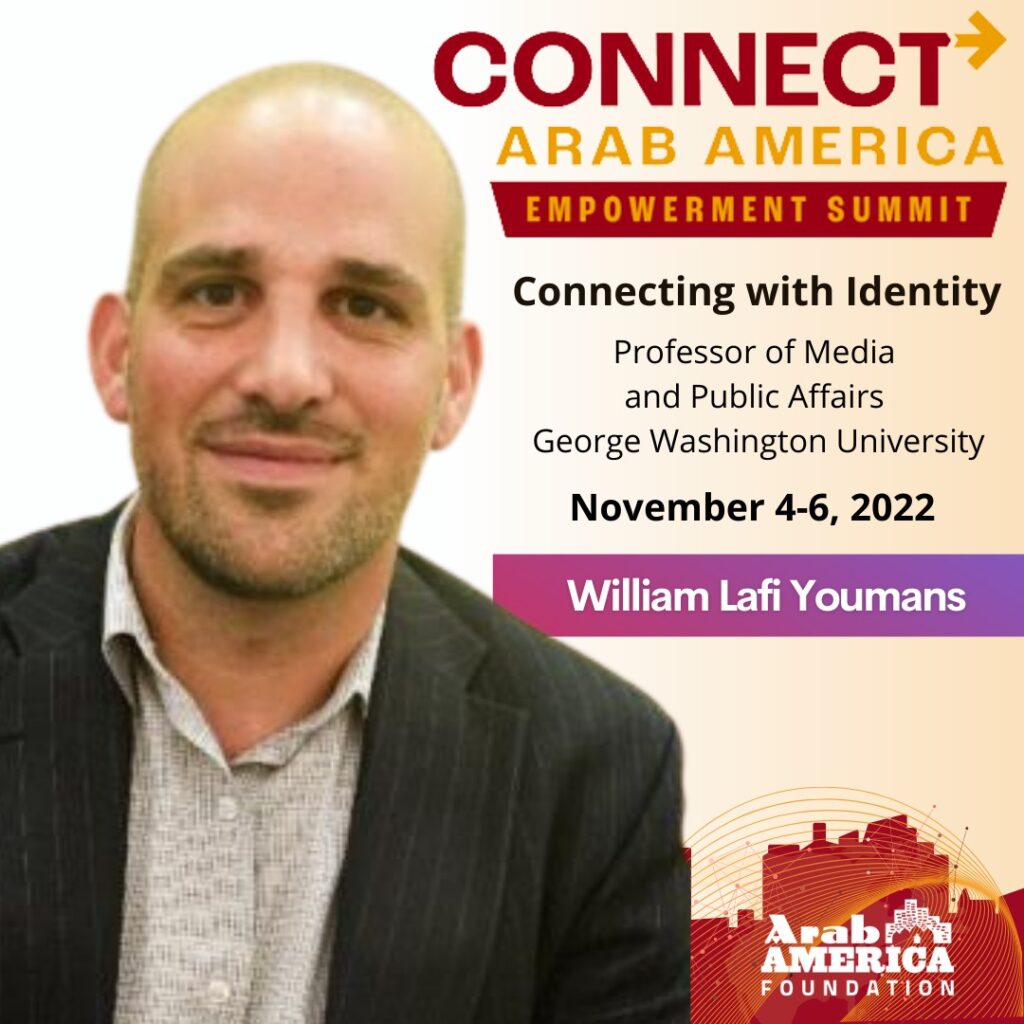 William Lafi Youmans is an Associate Professor at George Washington University's School of Media and Public Affairs. He also directs the Institute for Public Diplomacy and Global Communication (IPDGC) at GWU. Youmans wrote a book, Unlikely Audience: Al Jazeera's Struggle in America, about the Qatari news network's efforts to gain a share of the news market in the United States, 2006-2016. He is currently working on a film and book about the assassination of Alex Odeh, a Palestinian-American activist, in 1985. Youmans has been quoted in Salon, Washington Post, Newsweek, Variety, and The New York Times, among others.
Meet the Performers (more to be announced soon):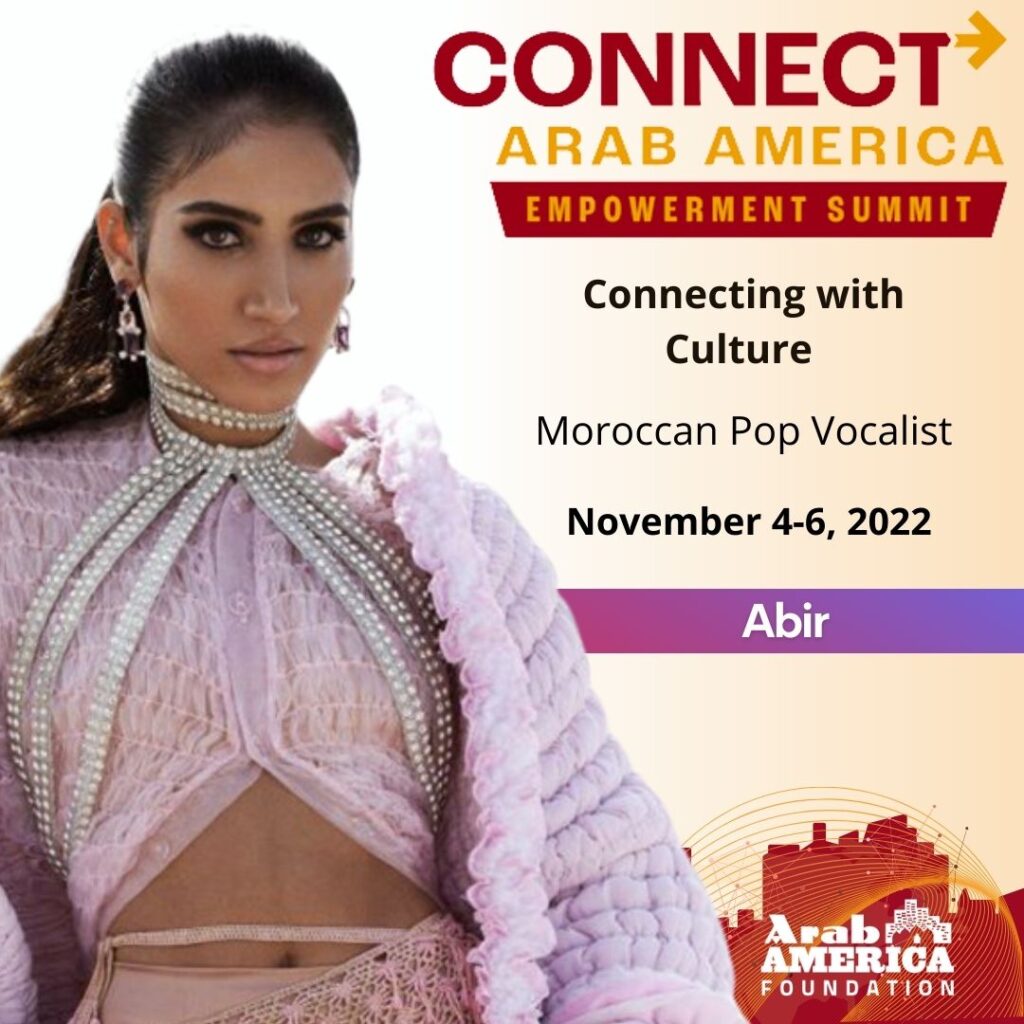 Born Abir Haronni in Fez, Morocco, she moved to the U.S. with her family when she was five. Raised in Arlington, Virginia, she started singing shortly after the family relocated. Abir is heavily influenced by Etta James, whose CDs she listened to while cruising with her limousine-driving father. In addition to James, Haronni also drew from her family's home continent, drawing inspiration from the revered Egyptian singer Umm Kulthum. As she grew up, formidable divas, including Celine Dion, Whitney Houston, Sarah Vaughan, and Beyonce, influenced her style and powerful vocals. From North Africa to New York City, singer/songwriter Abir buffers her joyful dance-pop with a strong, soulful voice, joining the ranks of contemporaries Dua Lipa, Jess Glynne, Alessia Cara, and Daya. After contributing guest vocals to a handful of tracks early in her career, she made her solo debut in 2016 with the Masego-assisted "Wave." She later represented Morocco in back-to-back Europa Song Contest competitions before issuing her debut EP, "Mint," in 2018. She further bridged the gap between East and West on 2020's "Heat" EP, incorporating sounds from her heritage into her style. Her hit songs include "Finest Hour," a collaboration with the American EDM group Cash Cash, and "Young & Rude." In the summer of 2020, she released her second EP, "Heat," which featured the hit single "Inferno."
Threa Almontaser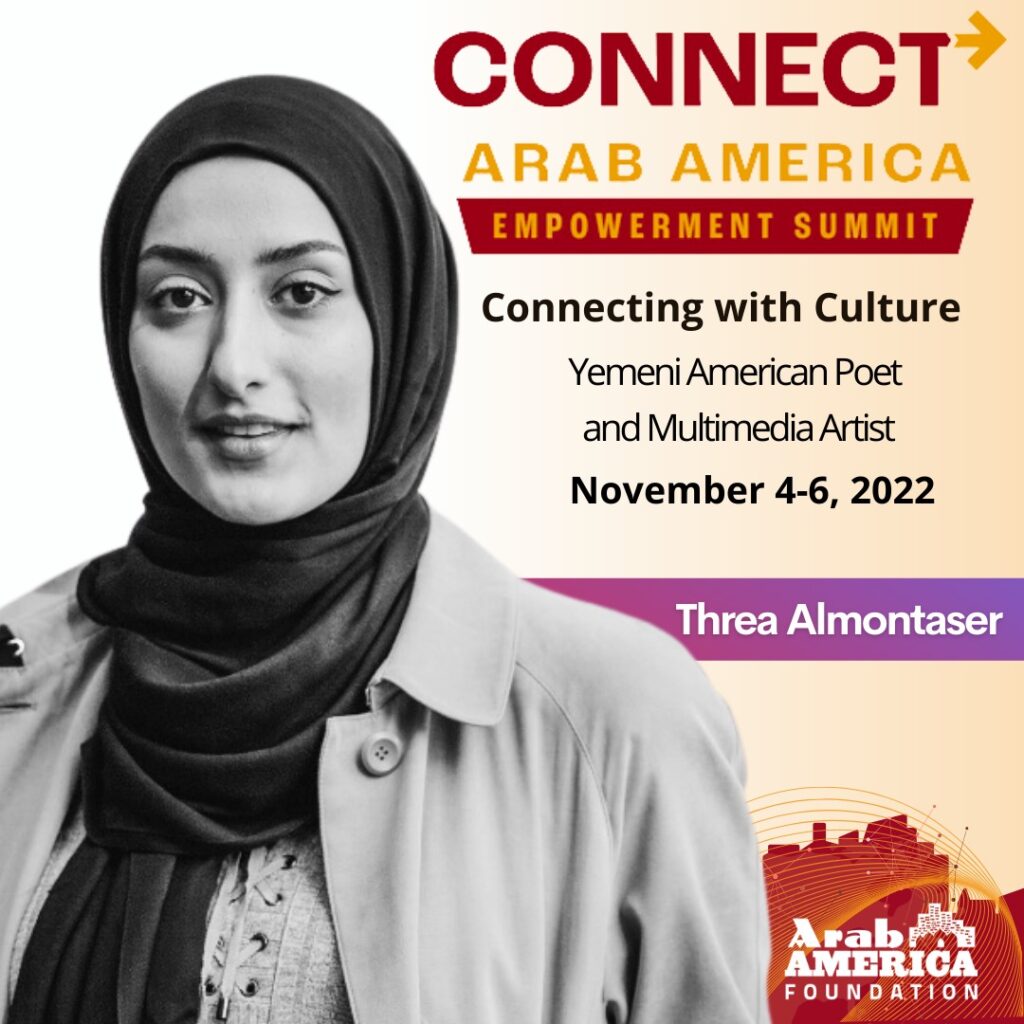 Threa Almontaser is the author of the award-winning poetry collection, The Wild Fox of Yemen (Graywolf Press 2021), winner of the Walt Whitman Award from the Academy of American poets, and nominated for the National Book Awards. She earned her MFA from North Carolina State University and is at work on her first novel.
Abe Diab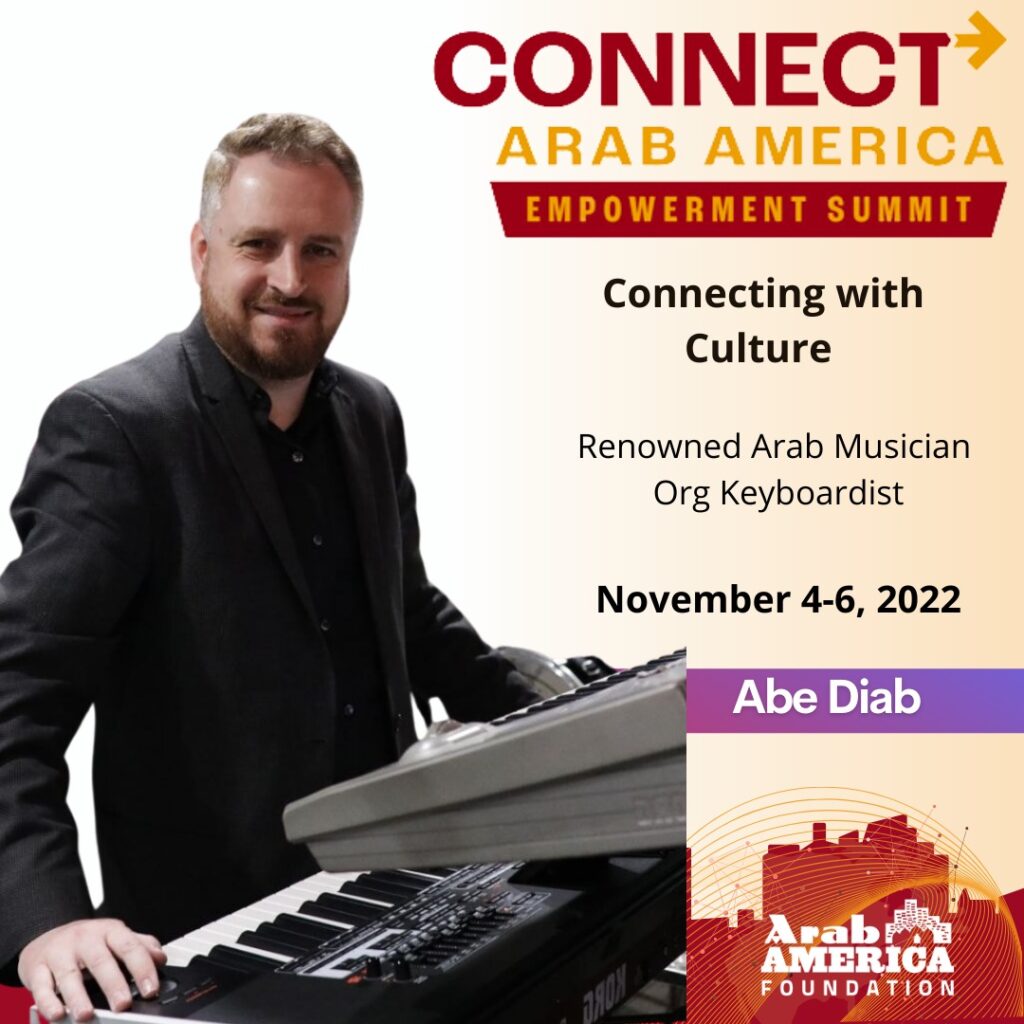 Abraham Diab was born on December 14th, 1974. He has been in music most of his life, since the age of 7. He was introduced to the Arab Org at the age of 13 by his late father, Abdallah Abass, who was his teacher and who inspired him to follow his dreams. Di ab performs with local Arab ensembles at private weddings and parties. Additionally, he plays the Arab Accordion, performing with various orchestras. A keyboardist for over 30 years, and a percussion for 42 years, Diab is a proud Arab American musician excited to perform at this year's third annual CONNECT Arab America: Empowerment Summit.
Muaz Edriss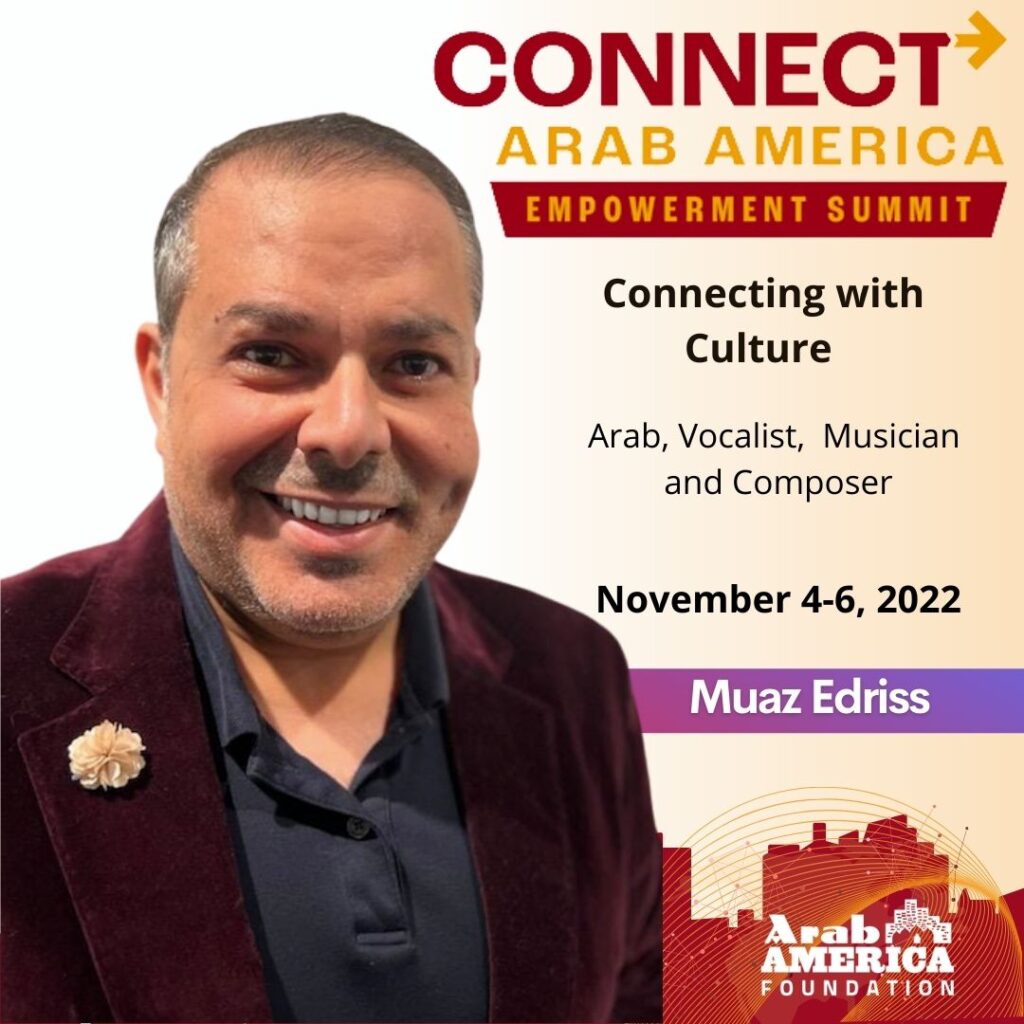 Muath Edriss is a professional Arabian Singer, Oud player, and DJ based in the DMV. He is a Best Voice®️winner and an Ambassador for Arab America. Muath Edriss composed/performed the National anthem of the United States of America in Arabic as part of his repertoire.
Karim Jaber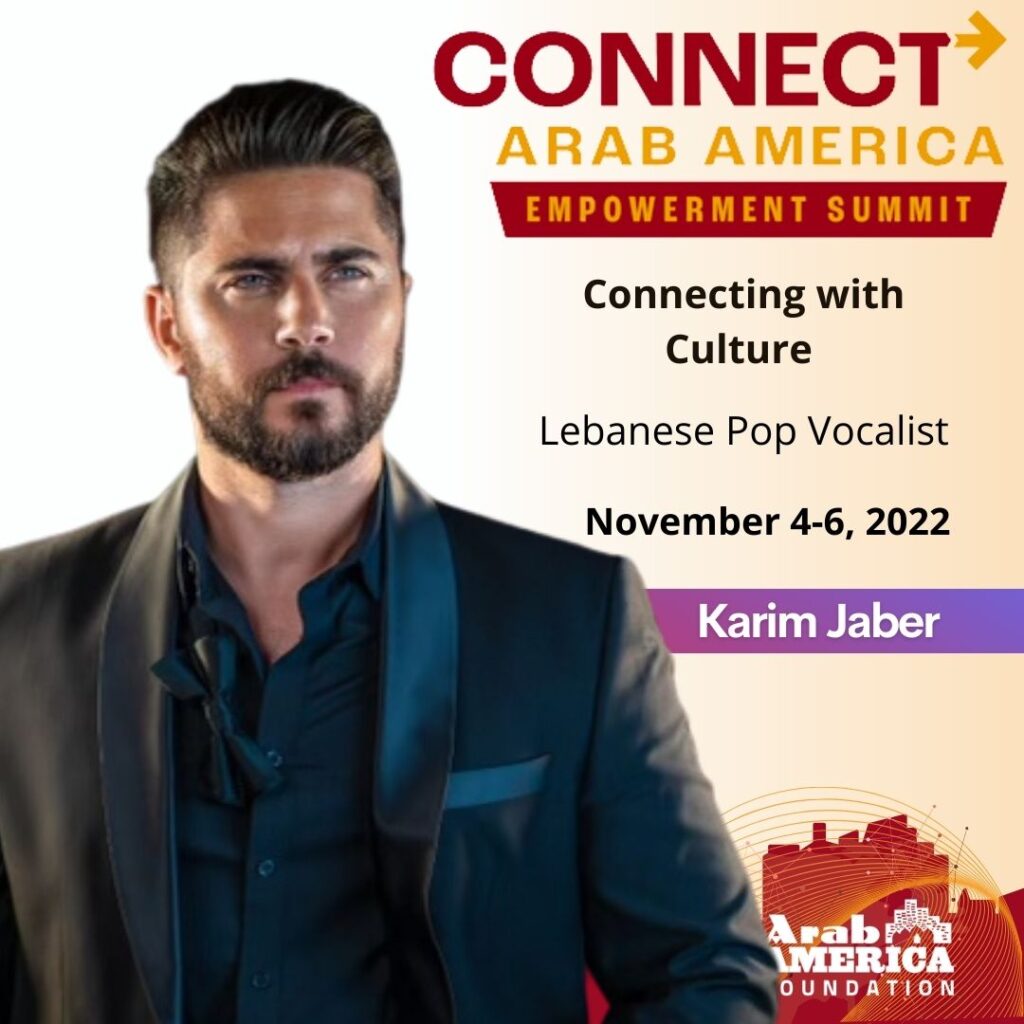 Karim Jaber is a Lebanese pop vocalist, singer, songwriter, and music composer. He is the winner of the Golden Medal in Studio El Fan 2002 (LBCI). Karim is an expert in singing at weddings, engagements, festivals, and all other occasions. Karim & his band are located in Detroit, Michigan. His hit songs include "El Bint El Lebnaneye," "Bnayya Flastiniya," and "Metl El Malak," among others.
Faris Al-Layl Folkloric Dance Troupe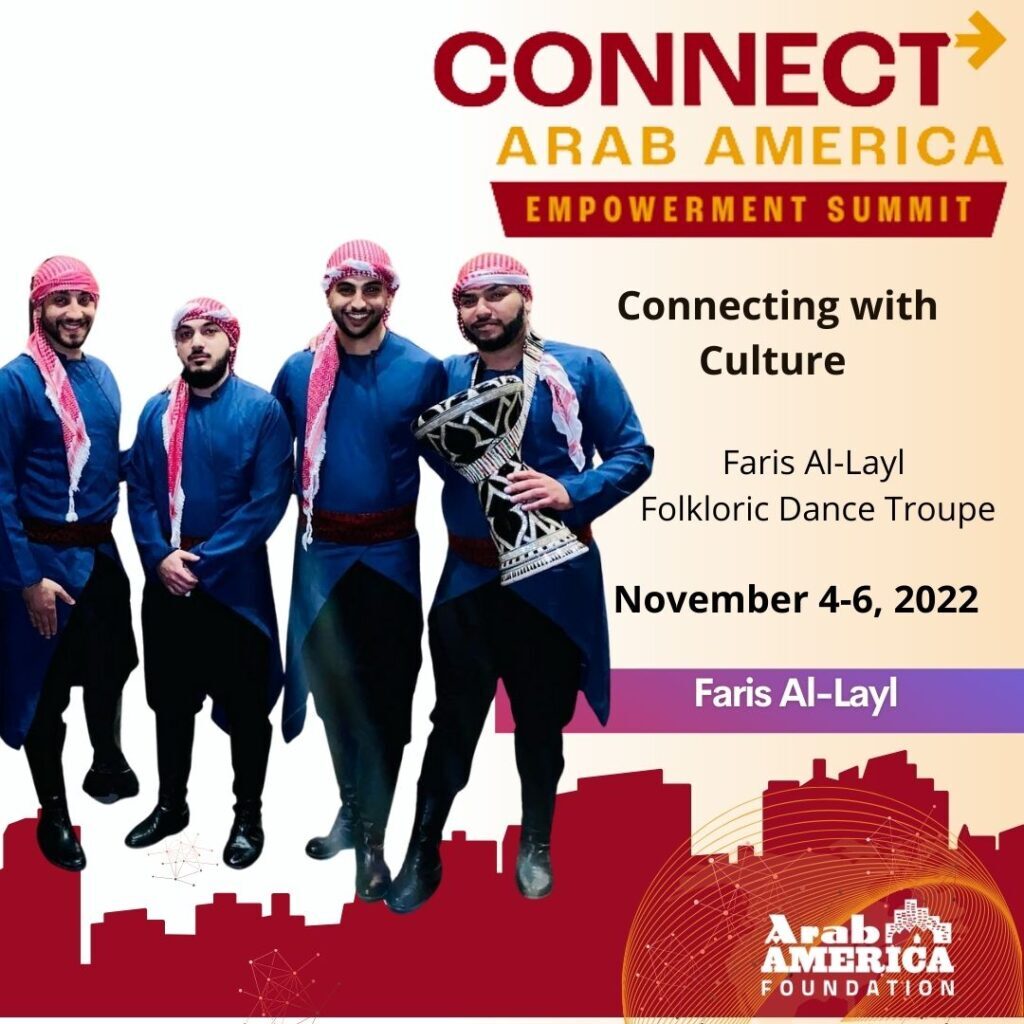 Faris El-Layl group is most known for its traditional Arab line dance that is situated in many Arab countries. It's typically performed at weddings and other festive occasions. Faris El-Layl group has been performing across the United States, but it's well renowned in Maryland, Virginia, and Washington, DC. The group brings a taste of Arab folklore and time-honored culture with each and every stomp in their performance. The mission of Faris El-Layl is to inform its audience that the Arab World is more than just twenty-two Arab countries in the Middle East. Still, also it's a culturally vibrant and art-enriched society that is proud of being united by its heritage, which includes: history, language, food, and of course, music and dance.
Nibal Malshi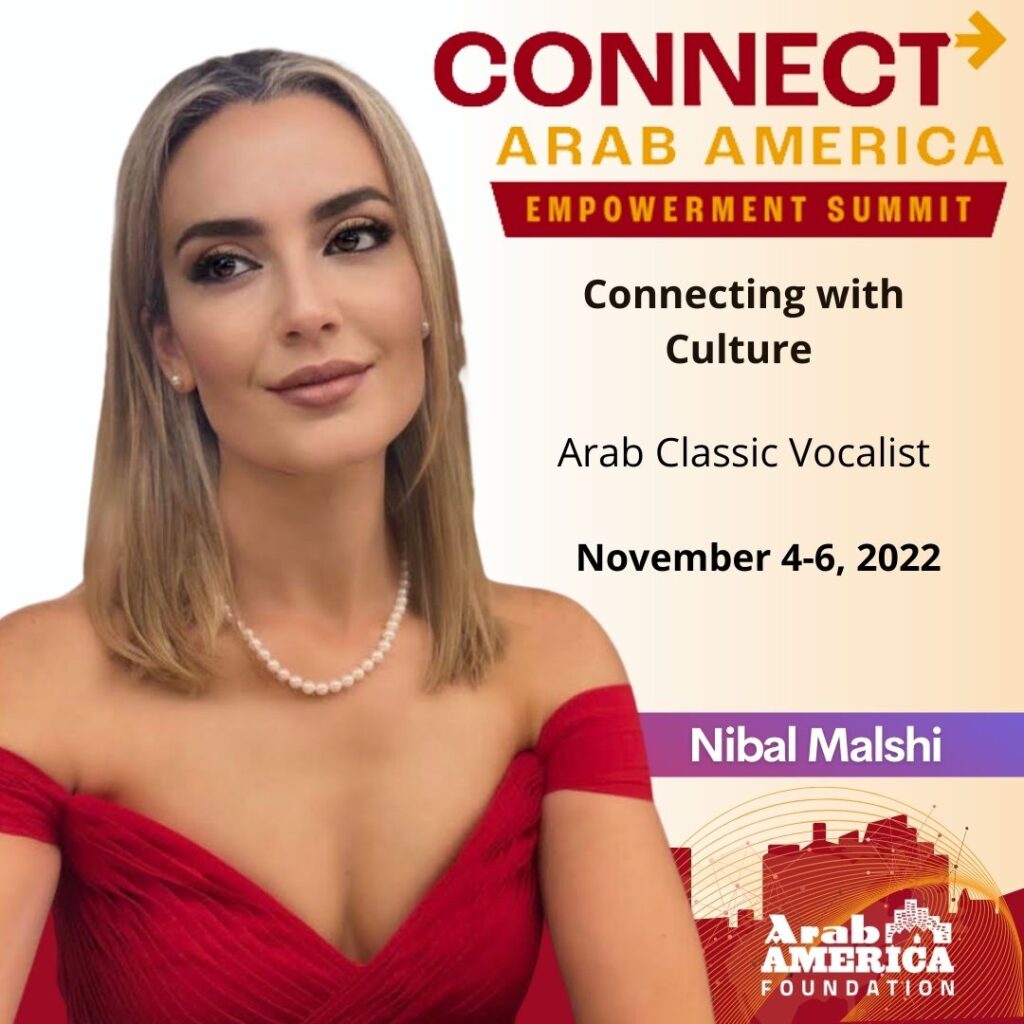 Nibal Malshi is a Middle Eastern artist, born in the city of Haifa & raised in Isfya Village, located on mount Carmel in Palestine. Nibal graduated from the Academy of Music and Dance in Jerusalem, where she was the first to major in Middle Eastern singing. She also majored in dance earning two bachelor's degrees in 6 years. She received the "Al-Qattan" foundation scholarship for performing arts. She was chosen to participate among other artists in a dance workshop partnered with KVS from Brussels for a month-long in Ramallah, a Voice for Peace project in Germany, and musicians' programs in London. In 2010, she released her first written and composed song, "Kilmatak," "Your Words," and was elected the singer of the year in her hometown Haifa. Nibal has worked on her own songs and continuously collaborates with master musicians and artists, including Simone Shaheen, and the National Arab Orchestra, under the direction of Maestro Michael Ibrahim. Malshi is based in Dallas, Texas, where she is a devoted full-time mother of three boys. Her future projects include three new songs written by her and some by Lebanese, Egyptian, and Palestinian artists.
Khalid Almawlawi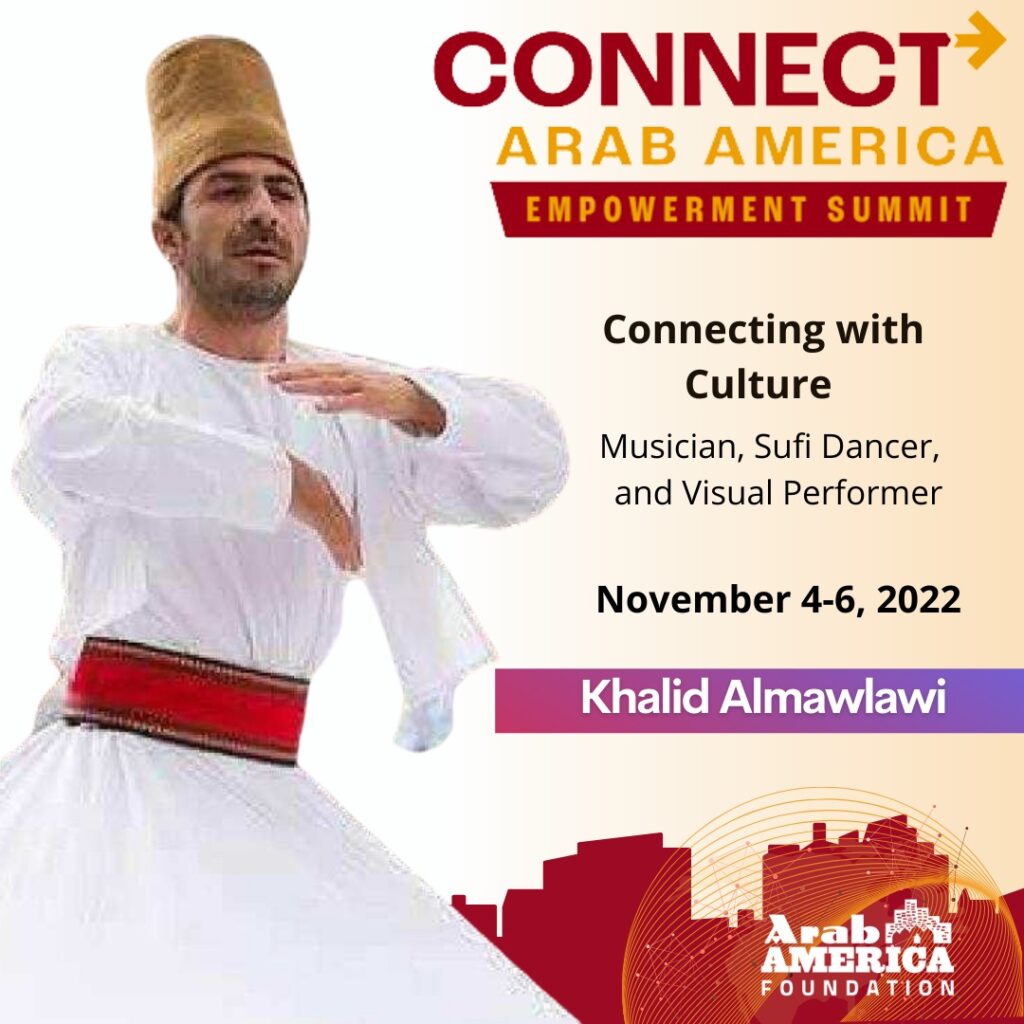 Khaled Almawlawi was born in Damascus. He studied Sufi music and rhythms, practiced Mawlawi rotation and Samah dance, and practiced it, playing all percussion instruments. Khalid participated in many international festivals, including the Paris Spring – Sufi Nights at the Arab World Institute, Saint Anton for Spiritual Music in Paris, A Mystical Journey Festival in cooperation with the Aga Khan Foundation in Europe, America, and Canada, World Music Foundation New York – Mercy for the Worlds Festival Iran, and many more. Almawlawi is the Director and founder of the Zina Krupp Foundation for Sufi and Andalusian Production and a Member of the Artists Syndicate in Syria.
Yemen's Heritage and Culture Group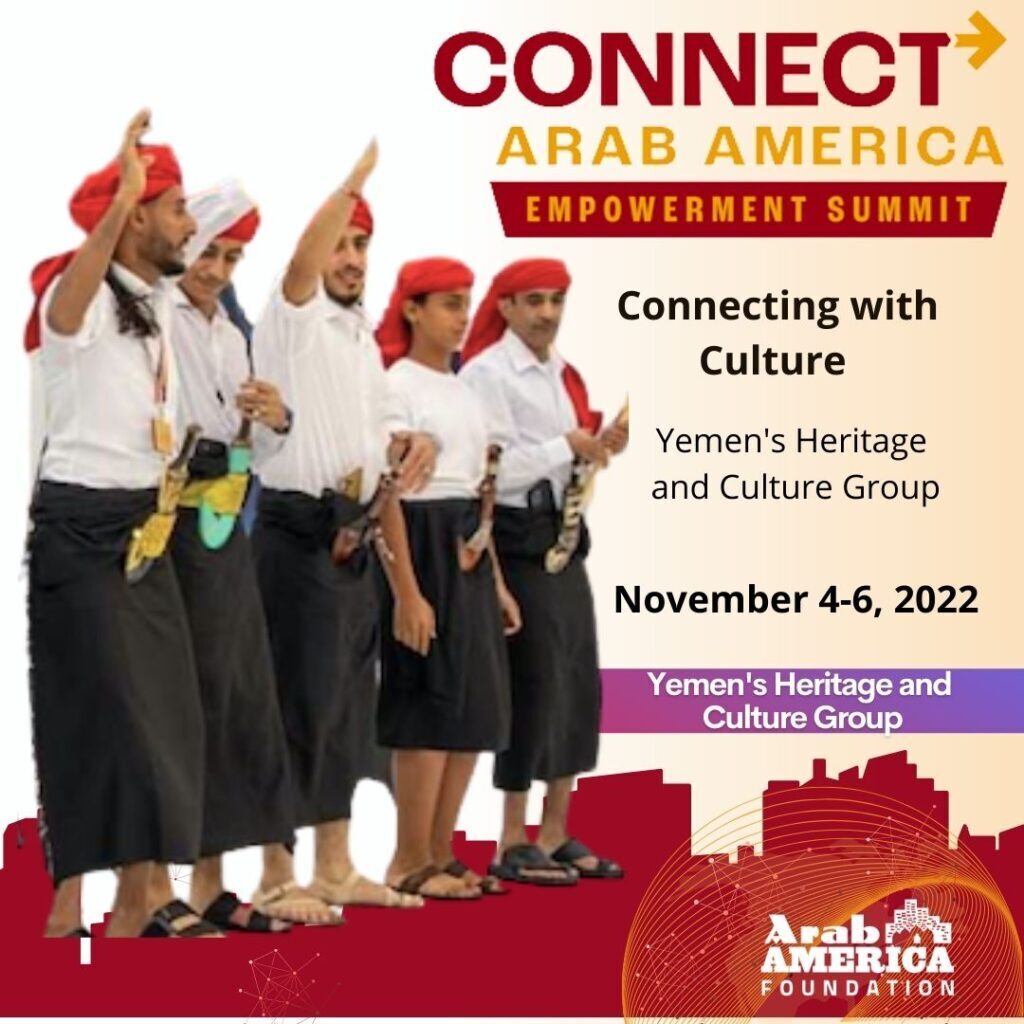 A group of Yemeni dancers called Yemen's Heritage, and Culture Group ( تراث اليمن) will be performing a mix of Yemeni dances, including Sanani, Bara3, and the oldest Yemeni dance, Mezmar. The group is from New York City, and it performs regularly in Yemeni celebrations and events across the country.
Rola Zaarour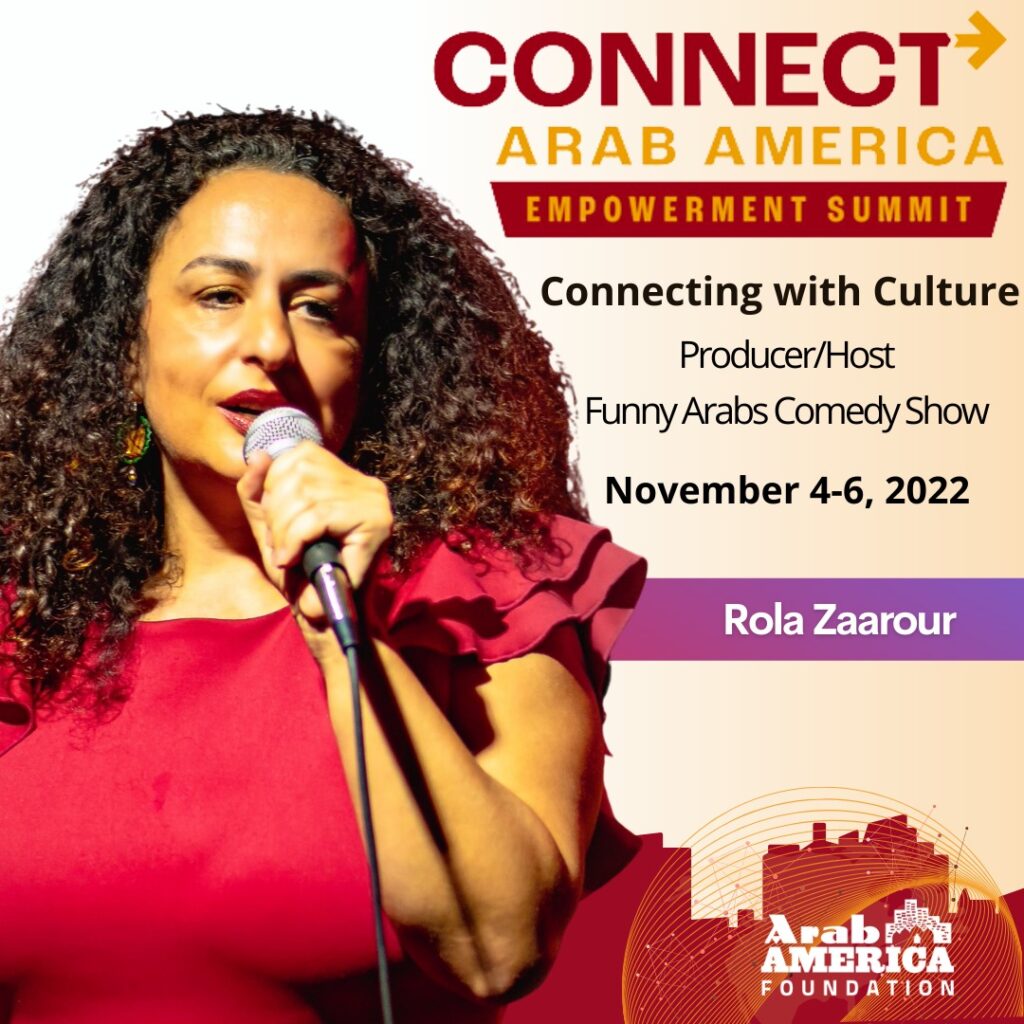 Rola Z is a comedian, Corporate MC, and niche comedy show producer based in DC. She has performed at the NY Arab-American Comedy Festival at the Gotham Comedy Club (and was invited back this year!), DC Improv 'Read the Room,' the Comedy Loft, and Montreal clubs. IG: ROLA DC COMEDY. Rola has created unique stand-up comedy shows, including Funny Arabs, Traumedy Show, My Big Fat Ethnic Comedy Show, Funny Africans, and more. She produces shows at different DC venues, including speakeasies, upscale clubs, and performance spaces, and is taking Funny Arabs to Montreal this year. Rola also runs comedian-led dating mixers and is launching 'A Comedy Dating Talk Show: 'Is Cupid Stupid or does he just have a dark sense of humor?' at a DC Speakeasy. Rola hosts all the shows she produces, as each is her baby. That's 27 babies… A corporate woman turned comedian – because it's more fun – Rola is of Lebanese origin and has lived in Greece, Dubai, Cairo, Montreal, and more. She uses humor to heal trauma, and curates shows with smart comedians who perform cerebral acts.
George Ziade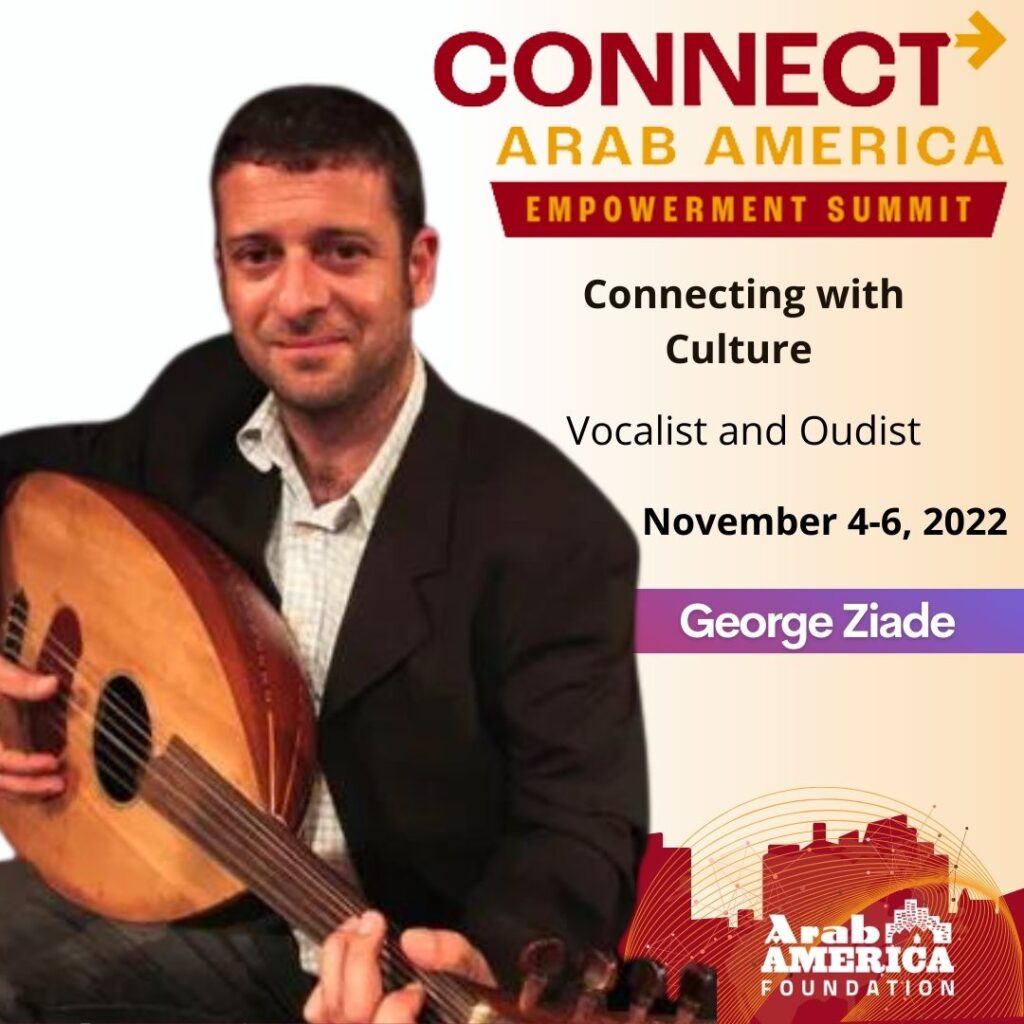 George Ziade was born and raised in Birzeit, Palestine, and pursued music from a young age. In 1986 he moved to the United States, where he studied 'oud with Simon Shaheen and classical singing and voice with Youssef Kassab, with whom he has toured extensively across the country. George has performed and lectured with such ensembles and institutions as the University of Chicago's Middle East Music Ensemble with Issa Boulos, the University of Colorado (Boulder), Alwan for the Arts, the United Nations (invited by Kofi Annan), and annually at the Columbia University Department of Ethnomusicology. In 2008, George was a featured solo and ensemble performer at the "Brooklyn Maqam" Festival of Arab Music. From 1995 to 1997, George taught at the Edward Said National Conservatory of Music in Ramallah and at Birzeit University. George is considered an authority in the maqam and Arab classical repertoire.
Firas Zreik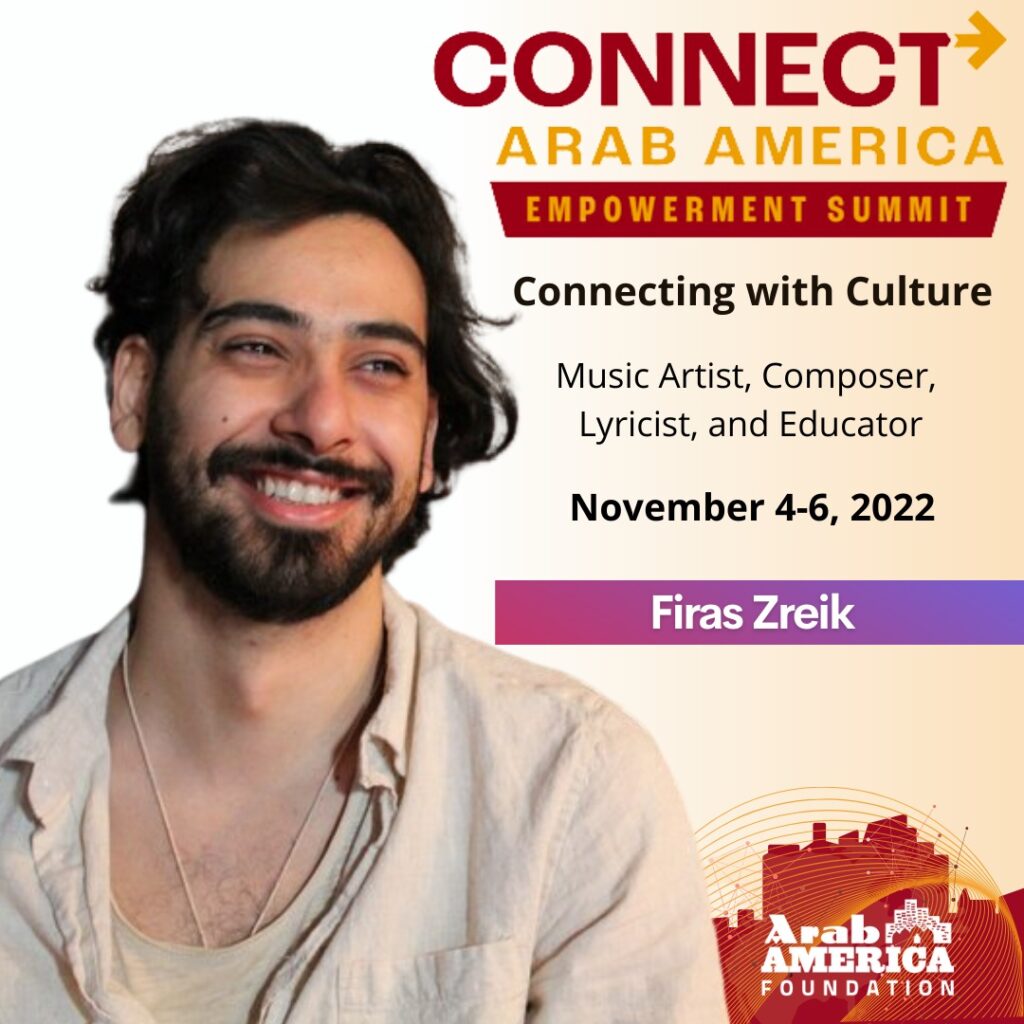 Palestinian Kanun player, composer, arranger & educator based in NYC. At 18, Firas received a full presidential scholarship from Berklee College of Music – their most prestigious award. He worked with international artists of the highest caliber, such as Roger Waters, Shankar Mahadevan, Shreya Goshal, Simon Shaheen, Bassam Saba, Amal Murkus, Amir Al-Saffar, Aynur Dogan, Marwan Khoury, Elias Karam, Abeer Nehmeh. Performed in the US, Europe & the Middle East, both as a Kanun player and as a musical director in some of the most prestigious venues and festivals such as BSO, Lincoln Center, Carthage International Festival, Savannah Music Festival, Institut de Mont Arabe, Teatro Mediterraneo, Festival d'Aix-en-Provence, Smithsonian Museum, Palais des Congrès, Berklee Performance Center, The Jazz Gallery, Nuoro Jazz Festival and more. Firas has so far released two singles and one EP, and he's currently releasing a full original album with his band. As an educator, Zreik has given workshops and masterclasses at Tufts University, NYU, Berklee College of Music, The Arabic Music Retreat, Circle for World Arts, and many more.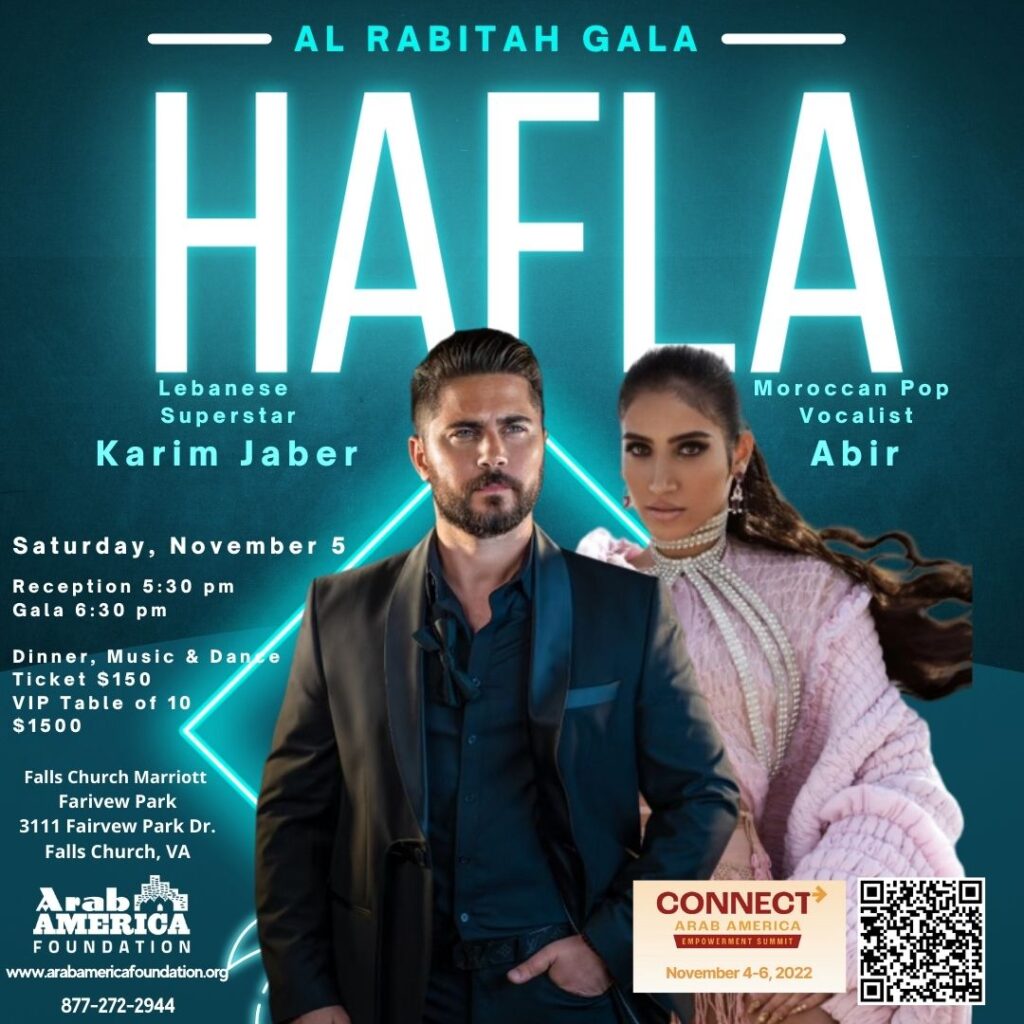 Arab America Foundation MVP (Most Valuable Person) 2022 Awardee: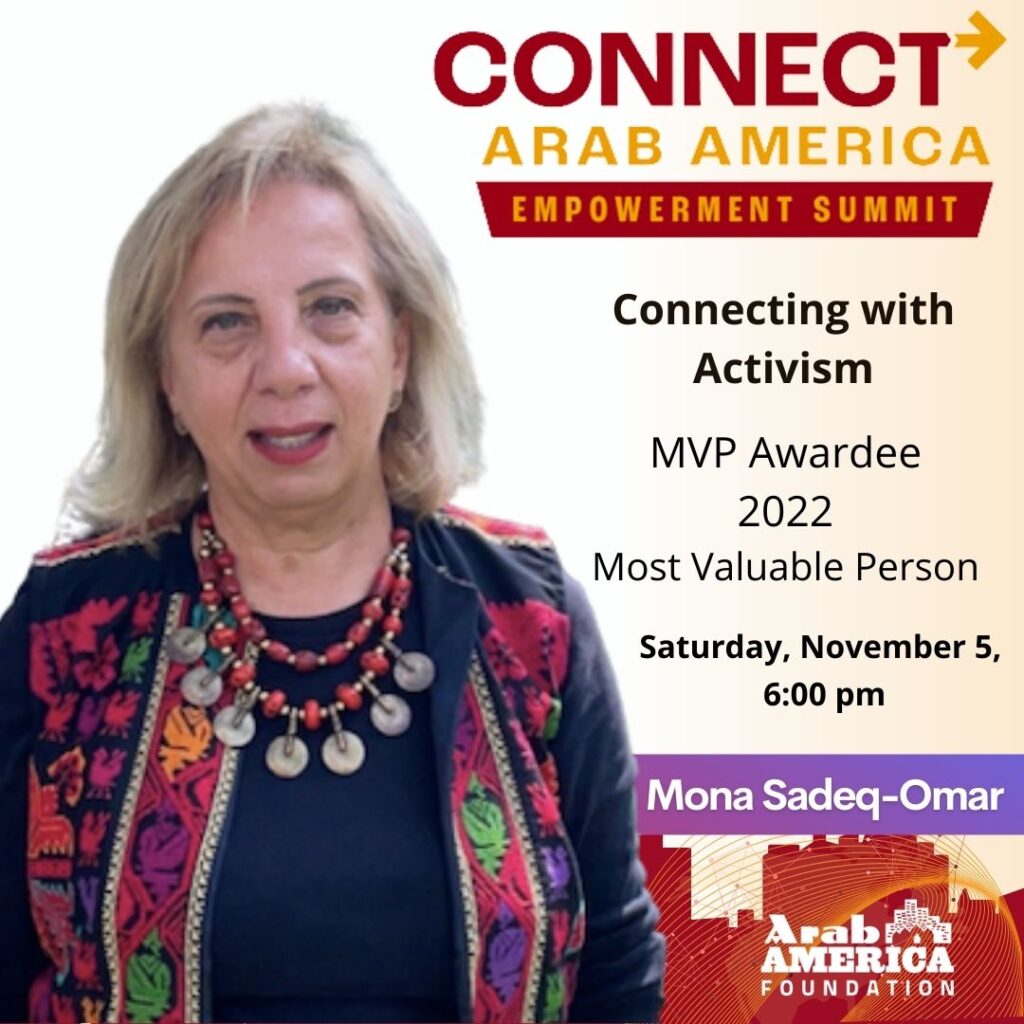 Mona got her B.A. from Lebanese American University (LAU) in 1980 and her MPA from George Mason University (GMU) in 2002. Mona has extensive experience working in finance and accounting for the private and public sectors. She has been actively involved and supportive of many nonprofit organizations. In 2015, Mona and some women co-founded the National Arab American Women's Association (NAAWA). She was the Treasurer and then became the President of NAAWA. In 2020, Mona joined APWA as an Executive Director. She describes herself as a Palestinian, Arab, American Muslim Woman. that is why she is so proud to be part of APWA, Arab America Foundation–Virginia Team Leader and a Treasurer / Board Member of the Muslim Women's Association (MWA).
For press inquiries: Claire Boyle: cboyle@arabamerica.com
To register for this event: REGISTER HERE
For sponsorship and exhibitor opportunities: Contact Warren David (313-999-6000) wdavid@arabamerica.com
For more information about the Arab America Foundation, please visit: Arab America Foundation
Check out Arab America's blog here!