Cooking with Coconut
By: Habeeb Salloum/Arab America Contributing Writer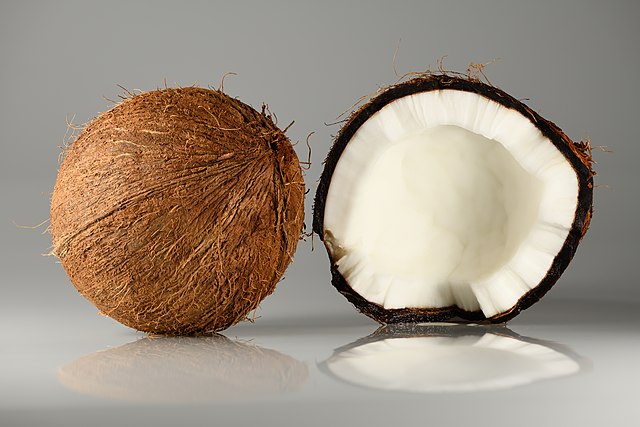 Coconuts conjure up images of palms and sand, beaches and sun, a picture of relaxation and enjoying life.  However, above all, coconuts are a the staple and a food ingredient much relished by millions around the world.
At times, the only food for the poor, it has saved many people on the edge of starvation. Its flesh is a versatile ingredient that can be used in many types of dishes, from the savory to the sweet.
Malaysia is believed to be the original homeland of the coconut palm which over the centuries has spread to most parts of the tropical world. Today, it is found in over 70 countries around the globe with the major producers being India, Indonesia, Sri Lanka, and the Philippines.
The coconut is best described as a large, oval brown fruit of the tropical palm tree and consists of a hard shell inside which the edible white flesh is attached, containing a clear liquid. The hard woody outer shell has three holes invoking similarity to a face causing the Portuguese in the 16th century to name it coco, 'grinning face'.
Though referred to as a 'nut', the coconut is actually, in botanical terminology, a 'drupe', meaning that it consists of three layers.
In addition to the coconuts' natural flesh and water, there are a variety of coconut by-products such as: coconut oil, commonly used in cooking, especially for frying; protein-rich coconut flour; coconut butter; dried or desiccated coconut flakes; and coconut milk and cream which are used in the kitchen. It should be noted that coconut water and coconut milk are not the same product: coconut milk is obtained by pressing grated coconut flesh or by pureeing together hot water with dried coconut flakes or chips. As for coconut cream, it will separate from the coconut milk by rising to the top while sitting in the refrigerator. An added spinoff to this versatile drupe is the fact that coconut water can be fermented to produce coconut vinegar.
Coconuts are a near-perfect food rich in calories, vitamins, and minerals. A standard-sized coconut can almost provide the daily requirement of essential minerals, vitamins, and energy. Although it has a high calorie count, and its flesh is high in saturated fats, this is alleviated somewhat by the fact that the many bio-active compounds that it contains are crucial for good health. Even its water is of benefit to the health, filled with its own natural sugar, electrolytes, minerals, and bioactive compounds. Lab studies have shown that coconut water has had a significant impact as an anti-ageing, anti-carcinogenic, and anti-thrombotic agent.
In the past, the health benefits of coconuts and their by-products were disputed but modern research is now claiming that coconut oil, for example, helps raise the good cholesterol level (HDL), and is beneficial in the treatment of cardiovascular disease, while a number of its users claim that it is beneficial to the skin and hair. Unlike cow's milk, coconut milk is lactose free therefore allowing it to be used as a milk substitute by those with lactose intolerance. In composition, coconut flour is naturally 75% fibre, thus helping to maintain a healthy digestive system and ease easing the elimination process. Even though it has many healthy attributes, it is in the kitchen where the coconut reigns supreme.
The natural white fleshy part of the coconut and its water are the most widely used popular parts used in cooking. Fresh or dried, they can be the main flavorful ingredients, in curries, fish dishes and savory stews, confections (such as chocolate bars filled with coconut), and desserts.
To enjoy a coconut at its best is to eat it fresh. This then means that the whole coconut has to be cracked open. To do this it is best to break it open over a bowl to catch any water that will come out. (Coconut water can also be removed by taking a hammer and hitting Phillips screwdriver into each of the three holes and then draining the water into a separate bowl.) Take a hammer or the blunt side of a knife or a hammer and hit the perimeter of the coconut all the way around until a hairline crack appears. It should break in half as you pull it open. Next, continue with each half to hit it until it breaks into pieces. Take a butter knife and pry the white flesh from the shell. For the tougher pieces where it is more difficult to part the flesh from the skin, continue to hit the shell. The brown skin that is left on the flesh can be removed with a vegetable peeler, or a sharp knife. There's nothing left to do after this except to enjoy.
As the following recipes show, coconut is popular throughout the globe from Colombia, to the Far East, and in-between. I have travelled the coconut route and along the way, learned more and more about the nutritious, creamy and subtle texture and taste of nature's gift to humanity.
Peanuts with Coconut – Serundeng
Serves about 6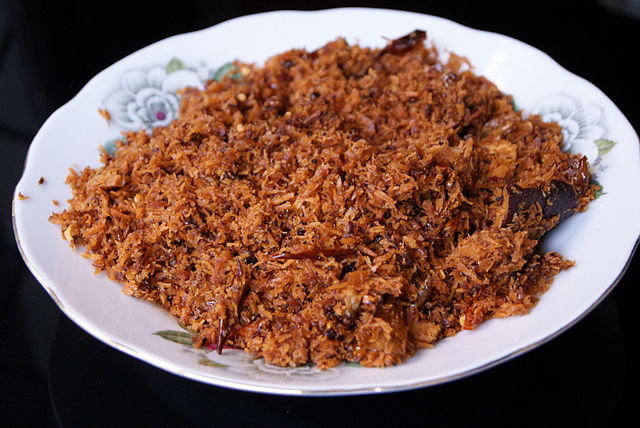 This is a crunchy side dish from Indonesia that accompanies rice or noodles. It is can also be enjoyed as a quick snack on which to nibble.
6 tablespoons vegetable oil
2 cups raw peanuts
2 cups chopped green onion
3 garlic cloves, crushed
1 tablespoon shrimp sauce
1 teaspoon ground coriander seeds
1/2 teaspoon salt
1/2 teaspoon ground cumin
1 cup shredded coconut
1 teaspoon firmly packed brown sugar
2 tablespoons lemon juice
1 cup water
Heat oil in a frying pan, then stir-fry (I ADDED STIR-TO THE FRY OR SHOULD THEY BE SAUTEED????) peanuts over medium heat until they begin to brown. Remove peanuts from pan with a slotted spoon then allow to cool. Reserve oil in frying pan.
Add to the reserved oil in frying pan remaining ingredients, except water, then stir-fry for a few minutes. Add water, then cover and simmer over low heat for 40 minutes or until water is completely absorbed, stirring frequently. Stir in peanuts then allow to cool before serving.
Colombian Ceviche 
Serves 4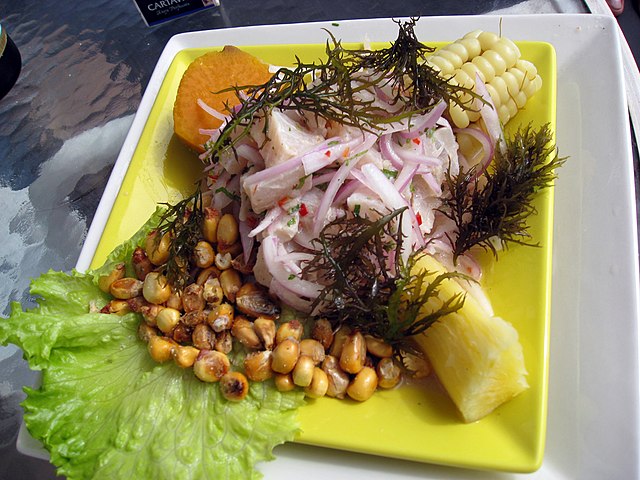 This type of ceviche, found in the Colombian Caribbean coastal towns, is quite healthy and easy to prepare.
1/2 pound fresh white fish or red snapper fillet, cut into 1/2 inch cubes
1 cup fresh lime juice or enough to cover the fish
1/2 teaspoon salt
1 teaspoon finely chopped seeded hot pepper or to taste
4 tablespoons finely chopped fresh coriander
1 cup very finely chopped onions
1 cup fresh corn
1 cup coconut milk
1/2 teaspoon ground black pepper
Place fish in a small bowl then pour lime juice or squeeze limes over the fish to completely cover. Stir in salt and hot pepper, cover and refrigerate to allow the fish to soak in the lime juice for 24 hours.
After 24 hours add the remaining ingredients and thoroughly mix. Chill then serve.
Steamed Coconut Rice – Nasi Lemak
Serves about 6
A flavorful Malaysian rice dish usually served with a hot sauce.
1 1/2 cups white rice, rinsed
1 1/2 cups coconut milk
1 1/2 cups water
1/2 teaspoon of salt
Place all ingredients in a saucepan then bring to boil. Cook over medium heat until all the liquid is absorbed, stirring a number of times, then cover. Turn off heat and allow cooking in own steam for another 30 minutes. Serve as side dish for all foods containing sauces.
Gluten-Free Crab Meat Fritters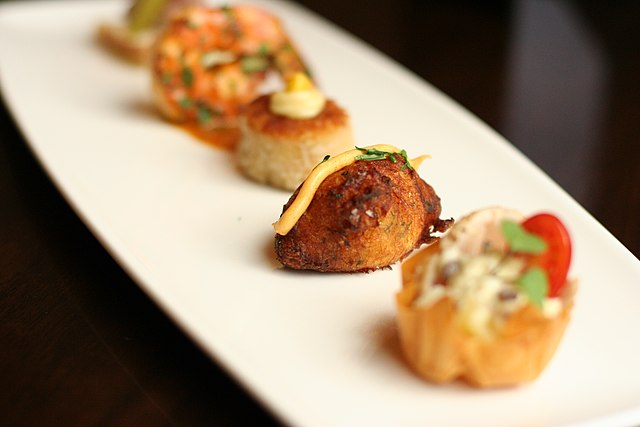 Makes 24 fritters
Gluten-free and tasty these fritters are excellent when served as appetizers.
1 cup gluten-free pancake mix
2 cups chopped crab meat
1/2 cup unsweetened shredded coconut
1/2 cup finely ground almonds
1 small finely chopped onion, finely chopped
4 garlic cloves, crushed
2 teaspoons baking powder
1 teaspoon salt
1 teaspoon garam masala
1 teaspoon ground black pepper
3 eggs
1/2 cup 10% cream
Oil for deep frying
In a mixing bowl, stir in together the pancake mix, crab meat, coconut, almonds, onion, garlic, baking powder, salt and the spices. Set aside.
In another mixing bowl, whisk together the eggs and cream.
Stir the egg-cream mixture into the first mixture to form a batter.
Place cooking oil in a saucepan to 2 inches deep then heat to medium.  Drop a level tablespoon of batter into hot oil then fry until golden, turning over once. Drain on paper towels then serve warm. 
Colombian Seafood Stew – Cazuela de Marisco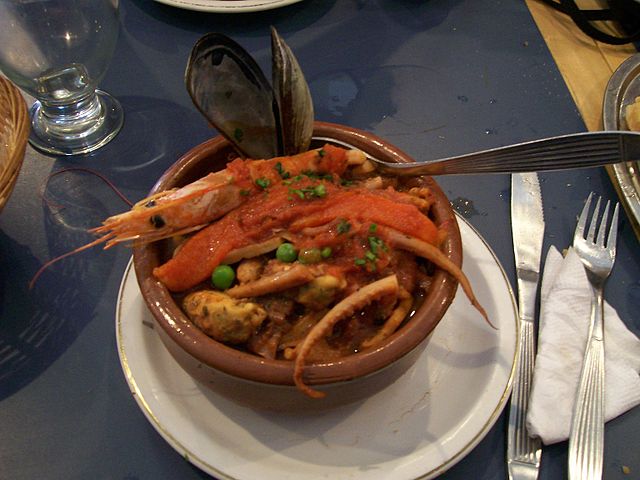 Serves 8
Quick to cook, this stew makes a perfect delicious meal for the whole family.
4 tablespoons butter
1 large red bell pepper, seeded and finely chopped
1 large onion, finely chopped
4 cloves garlic, crushed
1 small hot pepper, de-seeded and finely chopped
1 medium grated carrot
2 cups coconut milk
1 pound uncooked shrimp,
1 pound scallops, fresh or frozen
1 pound tuna or halibut fillet, cut into 1 inch pieces
1/4 cup white grape juice
2 tablespoons tomato paste, dissolved in 1 cup water
1 1/2 teaspoons salt
1 teaspoon ground black pepper
1 teaspoon paprika
2 tablespoons chopped fresh coriander
Melt the butter in a large saucepan then sauté over medium heat the red pepper, onion, garlic, hot pepper and carrot for 10 minutes, stirring occasionally. Add remaining ingredients, except the coriander leaves, and bring to boil. Cover and cook over medium-low heat for 20 minutes then garnish with the coriander leaves and serve hot along with cooked rice.
Fish Cooked in Coconut Milk Colombian Style – Pescado Guisado Con Coco
Serves 4
Any firm-fleshed fish can be used for this dish.
2 cups coconut milk
2 – 1 pound each whole red snapper, cleaned, scaled and washed then diagonally scored on each side
1 teaspoon salt
1 teaspoon ground black pepper
1/8 teaspoon cayenne
1/2 medium sweet red pepper, seeded and thinly sliced
1 medium tomato, thinly sliced
1/2 cup finely chopped cabbage
In a large frying pan bring the coconut milk to a boil. Add the fish and cook- baste often over medium heat for 4 minutes. Add the remaining ingredients and bring to a boil then continue to cook and baste for 5 minutes. Turn the heat to low and simmer uncovered for 10 minutes, turning the fish over once. Serve warm with cooked rice.
Coconut Lentils and Rice – Arroz con Lentejas y Coco
Serves from 6 to 8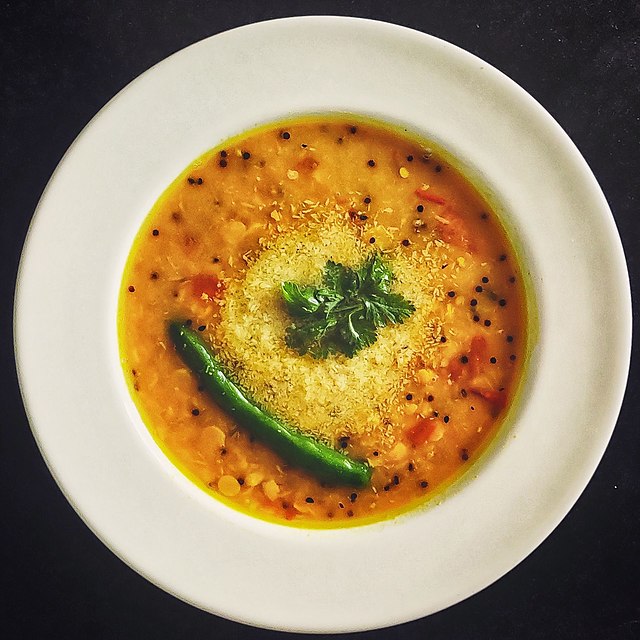 A lentil vegetarian dish made tasty by the addition of coconut milk, this is one of Colombia's national dishes.
4 tablespoons olive oil
1 large onion, finely chopped
1 cup red split lentils
1 cup rice
1 teaspoon salt
1 teaspoon cumin
1/2 teaspoon ground black pepper
1/2 teaspoon ground coriander seeds
1/8 teaspoon cayenne
2 cups coconut milk
3 cups water
Heat oil in a saucepan then fry the onion over medium heat for 10 minutes. Add the remaining ingredients and bring to boil. Cover and cook over medium-low heat for 30 minutes, stirring often to ensure that the lentils and rice do not stick to the bottom of the saucepan. Turn off the heat and allow to cook covered in its own steam for 30 minutes.
Colombian Custard Pudding – Natilla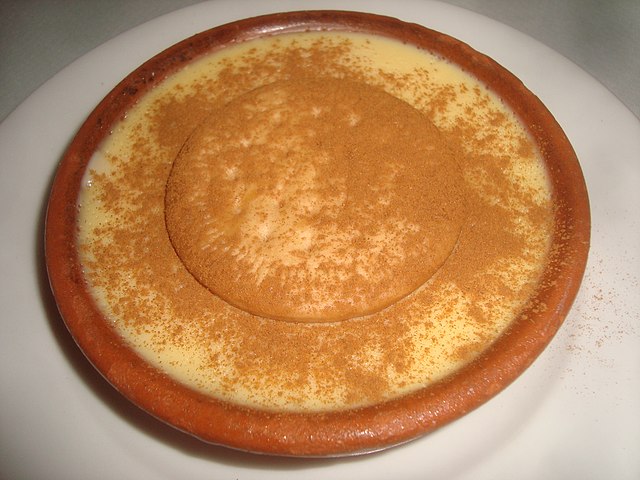 Makes from 16 to 20 squares
Natilla, coming in numerous variations, is a sweet Colombian custard pudding that is usually served at Christmas.
3/4 cup cornstarch
3 cups milk
1 cup coconut milk
1/2 cup half and half cream
1/2 cup brown sugar
1/2 teaspoon cinnamon
1/2 teaspoon salt
1/2 cup grated coconut
1/2 teaspoon almond extract
2 tablespoons butter
1/2 cup coarsely ground almonds
Dissolve the cornstarch in the milk. Stir this into a saucepan along with the coconut milk and cream and over low heat, bring to a low boil. Stir in sugar, cinnamon and salt. Stir until the mixture begins to thicken. Stir in coconut then cook at very low heat for 20 minutes or until mixture has thickened, stirring constantly. Stir constantly so that the mixture does not stick to the bottom of the saucepan or burn. When the mixture becomes very thick and hard to stir, stir in the remaining ingredients.
Pour into a greased casserole then allow to cool. Cut into pieces and serve.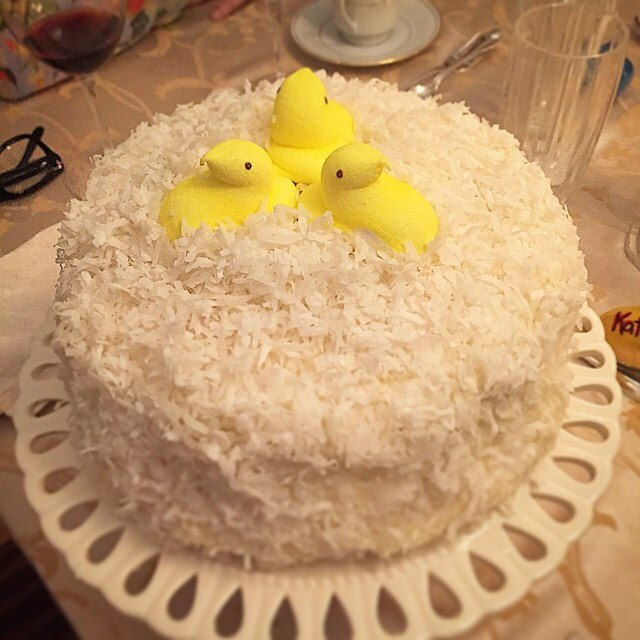 Coconut Cake – Baseema
Makes about 20 pieces
A tasty cake from Egypt and the Sudan, baseema is enhanced even further when served with ice cream.
4 eggs, beaten
1/2 cup butter, melted
1 cup plain yogurt
3 teaspoons baking powder
2 1/2 cups flour
2 teaspoons vanilla extract
1 cup shredded coconut
1/3 cup 10% cream
2 cups sugar
1/2 cup water
1 tablespoon lemon juice
1 teaspoon orange blossom water

Preheat oven to 325° F.
In a food processor place eggs, butter, yogurt, baking powder, flour, vanilla, coconut, cream and 1 cup of the sugar then process into a smooth batter. Place batter in a greased pan then bake for 1 hour.
In the meantime, in a saucepan, place remainder of sugar and water, and stirring a number of times bring to a boil. Stir in lemon juice and orange blossom water then boil for a few minutes and set aside
Remove cake from oven and immediately spoon syrup evenly over top. Serve warm.
Bananas in Coconut Milk – Klai Buad Chi – Bananas in Coconut Milk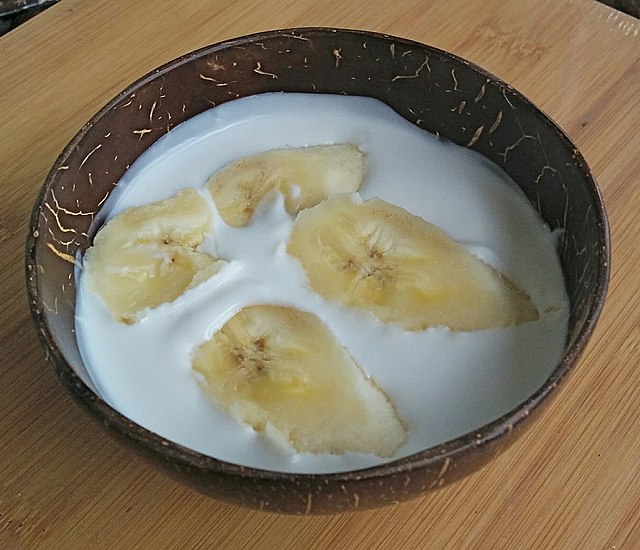 Serves 4
3 cups coconut milk
4 tablespoons sugar
1/4 teaspoon salt
4 large bananas, sliced in half lengthwise, then cut into 1-inch pieces
Cinnamon (optional)

Place coconut milk, sugar and salt in a saucepan, then heat over what temperature Baye??? and stir until sugar dissolves and milk begins to bubble.  Gently fold in bananas, then cover and cook over medium heat for 5 minutes without stirring.  Place saucepan contents in 6 serving plates, then sprinkle with cinnamon (optional) and serve.
Coconut Rolled Dates – Stuffed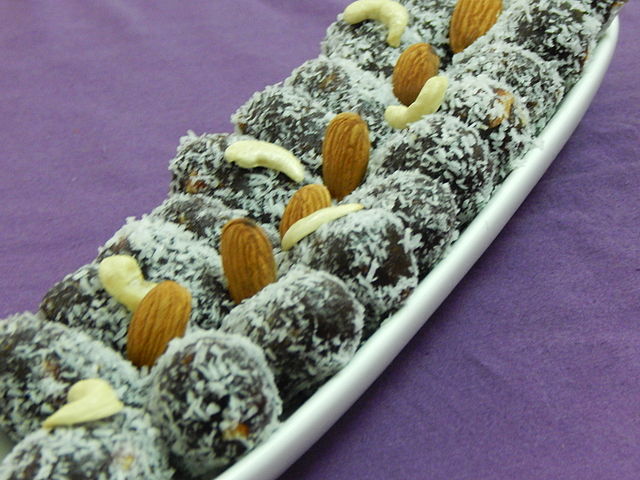 In the lands where civilization began, the date palm is believed to be the oldest food plant known to man. The fruit, which is exceedingly rich and nourishing, is ideal for the daily diet. If need be, a person can live a healthy life, for many months, with a menu of only dates and milk – eaten for centuries in the Arabian Peninsula. Versions of this dish are found in all the Arab Gulf countries.
1 pound soft-whole dried dates, pitted
1/2 cup coarsely chopped walnuts
3/4 cup half and half cream
2/3 cup sugar
1 tablespoon orange blossom water
4 tablespoons cocoa
1 cup shredded coconut, spread on a dish
Slit dates on one side, then stuff with walnuts. Press closed; then set aside.
Place cream in a small pot then bring to boil. Add sugar then stir over medium heat until it melts. Add orange blossom water and cocoa then, stirring constantly, cook over medium-low heat for 5 minutes, stirring often. Remove from heat and allow to cool.
Dip dates in the cocoa syrup, then roll them in coconut and place on a serving tray.