Supreme Court Upholds Trump's Travel Ban
By: Alena Khan/Arab America Contributing Writer
Throughout Trump's campaign and his presidency, his views on immigration have not only been clear but controversial. It has come to the point where our Supreme Court must decide whether or not the US Constitution allows the President to implement policies which are driven by bigotry, and unfortunately, our Supreme Court has ruled in favor of these policies—also known as the travel ban.
The decision to uphold Trump's travel ban comes from the case of Trump v. Hawaii, which challenges the constitutionality of the "Muslim Ban." It questions whether or not Trump's proclamation restricting travel and immigration to the US from certain countries violates the Establishment Clause of the US Const.
In this case, Trump claims that his three-time revised executive order (EO-3) concerning the Muslim ban is a lawful exercise of the executive's broad power to "suspend or restrict entry of aliens abroad." He points out that there have been similar orders issued in the past, and that this should also be considered. Hawaii, on the other hand, responds that EO-3 "gives the President a narrow power to exclude aliens who share a characteristic that threatens the United States' interests." They also note that "public statements from the President and members of his administration are sufficient to convince the reasonable observer that EO-3 was designed to bar Muslims from the United States."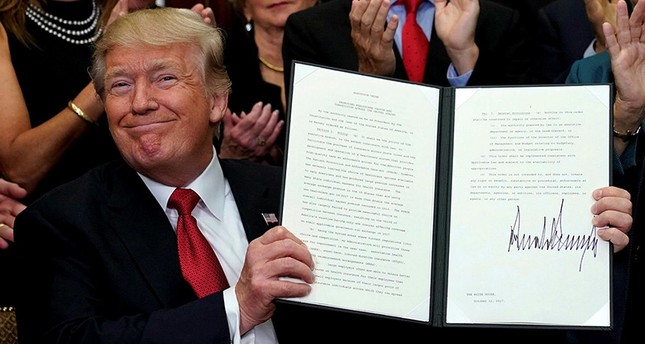 The Muslim ban was enforced by the actions of Trump through his anti-Muslim bigotry and contentious views on immigration. As the Supreme Court voted 5-4 to uphold the Trump administration's ban on immigration, they've impacted not only American-Muslims but those from Arab and Muslim-majority countries. This legislation prevents immigrants, refugees, and visa holders from Iran, Libya, North Korea, Somalia, Syria, Venezuela, and Yemen from entering the US. Specifically, Syria and North Korea were added because according to Trump, the two countries "fail to cooperate with the US." The current version of EO-3 while much narrower than the first two versions, however, is designed to be a permanent part of US immigration policy.
In an opinion written by Chief Justice John Roberts, the Supreme Court states that the travel ban was "not motivated by religious bias", despite the fact that the original version was targeting only Muslim-majority countries. The court's decision was based off of their opinion that indefinitely banning people from particular countries was a "lawful use of the president's power under the Immigration and Nationality Act," and that if the government feels as though the entry of any immigrants would be "detrimental to the interests of the United States," then it would be deemed as lawful.
The court also found that the travel ban didn't violate the First Amendment by denying any freedom of religion to Muslims, they concluded that the travel ban was not a Muslim ban. However, throughout his campaign, Trump called for a "total and complete shutdown" of Muslims entering the US, and prior to this decision, a federal court said that this legislation "drips with religious intolerance, animus, and discrimination."
Trump has consistently voiced his strong opinions on Muslims and Islam, he stated "I think Islam hates us…we can't allow people coming into this country who have this hatred of the US." Trump has justified his Muslim ban by stating that Roosevelt "did the same thing" in reference to the internment of Japanese Americans in WWII, however, is that any reason for a repetition of history by victimizing American Muslim and Arab American communities?
In a dissenting opinion, Justice Sonia Sotomayor said the court is wrong to ignore Trump's many comments and that simply setting aside such comments about Muslims, makes them seem irrelevant. "The holding erodes the foundational principles of religious tolerance that the court elsewhere has so emphatically protected, and it tells members of minority religions in our country 'that they are outsiders, not full members of the political community.'"
Keith Ellison, Minnesota's Democratic Rep and the first Muslim elected to Congress says that the court's decision "gives legitimacy to discrimination and Islamophobia," he adds, "as long as he puts a very thin veneer of national security on top of all that discrimination and racism, they will buy it. In other words, as long as a pig has some lipstick on it, it's fine."
In addition to some government officials, many civil rights groups are both saddened and outraged, as they have strongly condemned the court's ruling. The American Civil Liberties Union (ACLU) has released a statement from Omar Jadwat, the Immigrants' Rights Project director:
"This ruling will go down in history as one of the Supreme Court's great failures…It is ultimately the people of this country who will determine its character and future. The court failed today, and so the public is needed more than ever. We must make it crystal clear to our elected representatives: If you are not taking actions to rescind and dismantle Trump's Muslim ban, you are not upholding this country's most basic principles of freedom and equality."
Maya Berry, executive director at the Arab American Institute (AAI) also had many things to say about the Supreme Court's decision in the Muslim ban case. "The Muslim Ban was implemented among an unprecedented amount of evidence of a policy enacted to codify the religious animus of the Trump administration." Berry adds, "The majority bought President Trump's bigotry hook, line, and sinker…Today we need Congress, as a coequal branch of government, to act to affirm the equal dignity of all, regardless of religion or national origin. In spite of this decision, AAI will continue to work tirelessly…towards the goal of ensuring that all Americans, as well as guests in our country, are free from government-sponsored discrimination."
The Supreme Court's ruling has undermined not only the rest of the world's confidence in America but America's confidence in our highest, most powerful court. This decision has sent shock waves through Arab and Muslim American communities, along with their supporters across the country.  It's an alarming repeat of history which has shown that our government has once again subjected to discrimination.
Failing to safeguard our embedded right to the principle of religious neutrality, Tuesday's Supreme Court decision has given the government, our President, and future presidents a free pass to openly discriminate against others. Setting this legislation in place has shown that Islamophobia has a real place in this country. With this decision, our government has been given the power to implement policies that blatantly support discrimination and racism under a front of national security justifications.
It's a sad and unfortunate time in this country, and as we continue to fight, this 5-4 decision will go down as one of the most bigoted Supreme Court decisions in history.