15th Annual Atlanta Arab Festival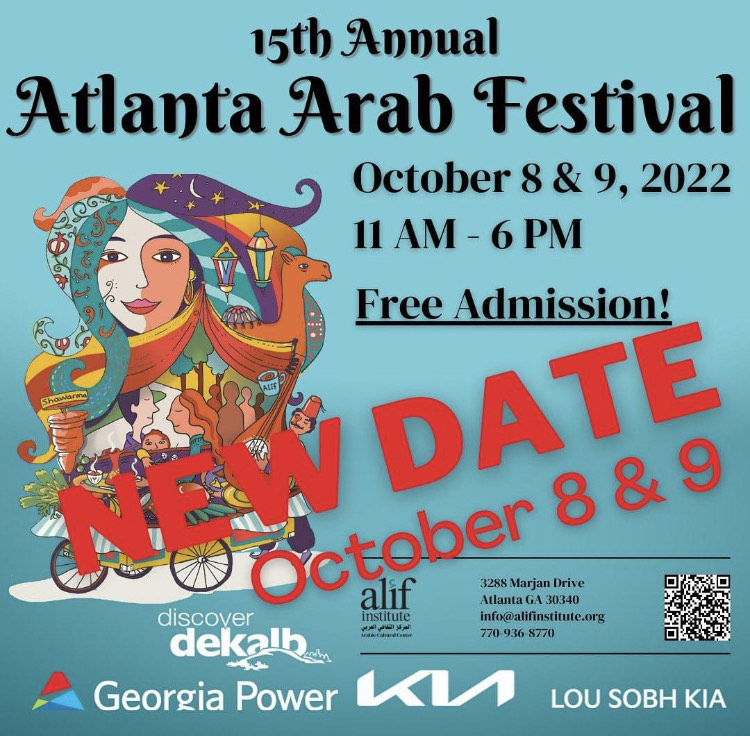 Date/Time
Date(s) - 10/08/2023 - 10/09/2023
11:00 am - 6:00 pm
Location
Alif Institute
Categories
Cost:
FREE USD
Contact Person:

Email:

Website:

Phone:

Organization:


The Atlanta Arab Festival is an annual fun and educational event that welcomes attendees to celebrate and learn about Arab and Arab American cultures. Festival guests are invited to:
Embark on a culinary tour at the Arab world food court. Our food court and vendors will feature some of the best Arabic restaurants and caterers for a flavorful culinary experience!
Enjoy live performances, demonstrations, and workshops. Featured performers include Omar Offendum, Karim Nagi, Al Fursan Dabka & Zaffah Group, and a traditional puppet show. Discover the richness and diversity of Arab and Arab American cultures through music, dance, fashion, and puppetry arts on the Alif stage. Throughout the festival, look for our live demonstrations and workshops on aspects of Arab cultures such as cuisine, dance, music, and more!
Shop for little treasures at the bustling Souq. Browse an assortment of paintings, jewelry, embroidery, artwork, decorative items, Arabic food, and so much more. Take home some treasures!
Connect with local nonprofits, community organizations, and businesses to learn more about these groups and services.
Meet local artists and artisans at the Bazaar, featuring local artists and artisans from around Atlanta with their handmade creations! Come out and show your support for the local talent!
Enjoy fun activities and games. Join activities and games for children and adults such as arts and crafts, henna, Arabic calligraphy, face painting, bouncy castles, backgammon, card games, and more!