Anera's DC Iftar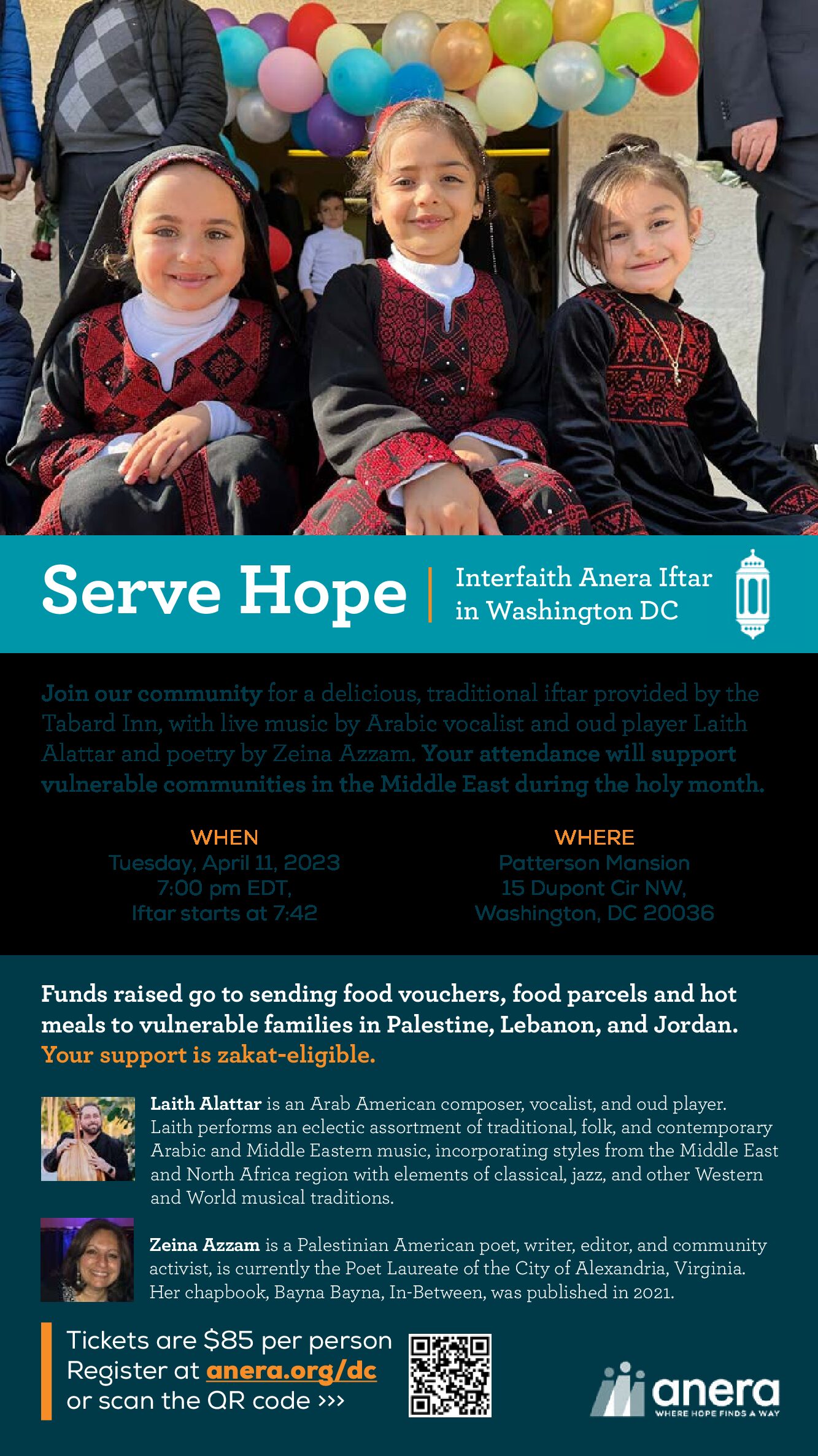 Date/Time
Date(s) - 04/11/2023
7:00 pm
Location
Patterson Mansion
Categories
Cost:
85 USD
Contact Person:

Email:

Website:
https://support.anera.org/a/dc_iftar
Phone:

Organization:
Anera

WASHINGTON, DC
Come together to #ServeHope this Ramadan.
In celebration of Anera's food package and voucher distributions in Palestine, Lebanon and Jordan, we invite you to join us for an iftar full of good food, good friends and good music.
This year, with your support, we are delivering aid in all three countries where Anera works. These food parcels and vouchers will allow families to gather for their evening iftar meals and enjoy a wonderful normal experience in these abnormal times.
Join our community for a delicious, traditional iftar provided by the
Tabard Inn, with live music by Arabic vocalist and oud player Laith
Alattar and poetry by Zeina Azzam. Your attendance will support
vulnerable communities in the Middle East during the holy month.
Funds raised go to sending food vouchers, food parcels and hot
meals to vulnerable families in Palestine, Lebanon, and Jordan.
Your support is zakat-eligible.
Laith Alattar is an Arab American composer, vocalist, and oud player.
Laith performs an eclectic assortment of traditional, folk, and contemporary
Arabic and Middle Eastern music, incorporating styles from the Middle East
and North Africa region with elements of classical, jazz, and other Western
and World musical traditions.
Zeina Azzam is a Palestinian American poet, writer, editor, and community
activist, is currently the Poet Laureate of the City of Alexandria, Virginia.
Her chapbook, Bayna Bayna, In-Between, was published in 2021.