Literature and Politics: Ahdaf Soueif in conversation with Hisham Matar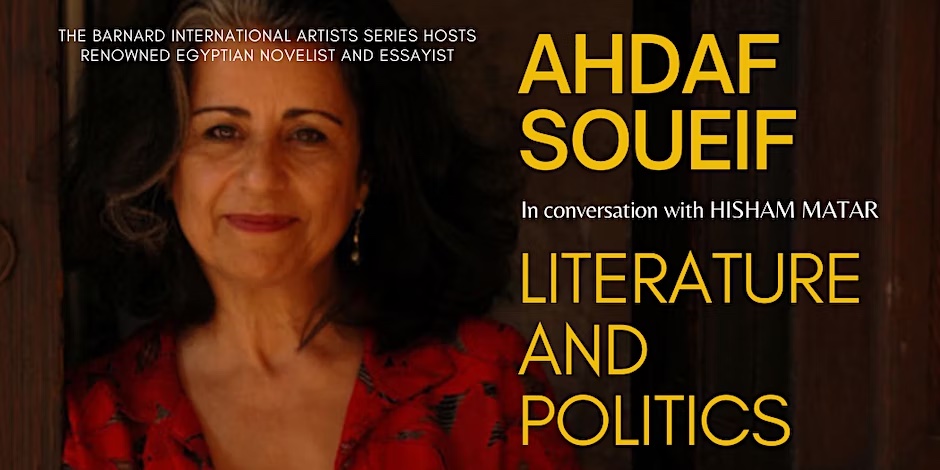 Date/Time
Date(s) - 04/19/2023
6:30 pm - 8:00 pm
Location
Sulzberger Parlor (Third Floor of Barnard Hall)
Categories
Cost:
USD
Contact Person:

Email:

Website:
https://www.eventbrite.com/e/literature-and-politics-ahdaf-soueif-in-conversation-with-hisham-matar-tickets-597981778597?aff=ebdssbdestsearch
Phone:

Organization:
The Barnard International Artists Series is honored to present the award-winning novelist, political commentator and activist, Ahdaf Soueif. Ms. Soueif's debut novel, In the Eye of the Sun (1992), hailed as "extraordinary" by Edward Said, was followed by The Map of Love (short-listed for the Man Booker Prize in 1999 and translated into more than 30 languages). Her short story collections include Aisha (1983), Sandpiper (1996) and I Think of You: Stories (2007). Ms. Soueif is also "a political analyst and commentator of the best kind" (London Review of Books). She advocates for feminism, democracy, environmental justice, human rights, and for Egyptian political prisoners. Her nephew, Alaa Abd el-Fattah, is a prisoner of conscience in Egypt. His collection of writings from prison, You Have Not Yet Been Defeated (2021), will be available at the event. Ms. Soueif has written an incisive and intimate account of the Egyptian revolution and resistance, Cairo, Memoir of a City Transformed (2014), and an influential collection of essays, Mezzaterra (2004), exploring Arab identity, art, and politics. She frequently writes for the Guardian and, from 2011 to 2015, wrote a weekly column for the Egyptian national daily, al-Shorouk. In 2007, Ms. Soueif founded the Palestine Festival of Literature, "PalFest," which takes place annually in the cities of occupied Palestine and Gaza and celebrates established writers, artists and publishers along with the next generation's rising stars. She co-edited This is Not A Border: Reportage and Reflections from the Palestine Festival of Literature (2017) and has also edited Reflections on Islamic Art (2011). Ms. Soueif has been awarded four honorary doctorates and was the first recipient of the Mahmoud Darwish Award (Palestine) in 2010. In 2019, she received the European Cultural Foundation's Princess Margriet Award. Ms. Soueif will be in conversation with Pulitzer Prize winning author and Barnard College professor Hisham Matar. www.ahdafsoueif.com www.palfest.org/bookshop Twitter: @asoueif FaceBook: Ahdaf Soueif The event is free and open to the public, and all are welcome from the Morningside Heights community. Light refreshments will be provided. If you were unable to get a ticket, we still encourage you arrive at the event on-time to secure any open seats. Date: Wednesday, April 19, 2023 Time: 6:30-8:00 PM Location: Sulzberger Parlor on the 3rd floor of Barnard Hall

The Barnard International Artists Series is honored to present the award-winning novelist, political commentator and activist, Ahdaf Soueif. Ms. Soueif's debut novel, In the Eye of the Sun (1992), hailed as "extraordinary" by Edward Said, was followed by The Map of Love (short-listed for the Man Booker Prize in 1999 and translated into more than 30 languages). Her short story collections include Aisha (1983), Sandpiper (1996) and I Think of You: Stories (2007).
Ms. Soueif is also "a political analyst and commentator of the best kind" (London Review of Books). She advocates for feminism, democracy, environmental justice, human rights, and for Egyptian political prisoners. Her nephew, Alaa Abd el-Fattah, is a prisoner of conscience in Egypt. His collection of writings from prison, You Have Not Yet Been Defeated (2021), will be available at the event. Ms. Soueif has written an incisive and intimate account of the Egyptian revolution and resistance, Cairo, Memoir of a City Transformed (2014), and an influential collection of essays, Mezzaterra (2004), exploring Arab identity, art, and politics. She frequently writes for the Guardian and, from 2011 to 2015, wrote a weekly column for the Egyptian national daily, al-Shorouk.
In 2007, Ms. Soueif founded the Palestine Festival of Literature, "PalFest," which takes place annually in the cities of occupied Palestine and Gaza and celebrates established writers, artists and publishers along with the next generation's rising stars. She co-edited This is Not A Border: Reportage and Reflections from the Palestine Festival of Literature (2017) and has also edited Reflections on Islamic Art (2011). Ms. Soueif has been awarded four honorary doctorates and was the first recipient of the Mahmoud Darwish Award (Palestine) in 2010. In 2019, she received the European Cultural Foundation's Princess Margriet Award.
Ms. Soueif will be in conversation with Pulitzer Prize winning author and Barnard College professor Hisham Matar.
www.ahdafsoueif.com
www.palfest.org/bookshop
Twitter: @asoueif
FaceBook: Ahdaf Soueif
The event is free and open to the public, and all are welcome from the Morningside Heights community. Light refreshments will be provided.
If you were unable to get a ticket, we still encourage you arrive at the event on-time to secure any open seats.
Date: Wednesday, April 19, 2023
Time: 6:30-8:00 PM
Location: Sulzberger Parlor on the 3rd floor of Barnard Hall