Morocco: Rhythms of Life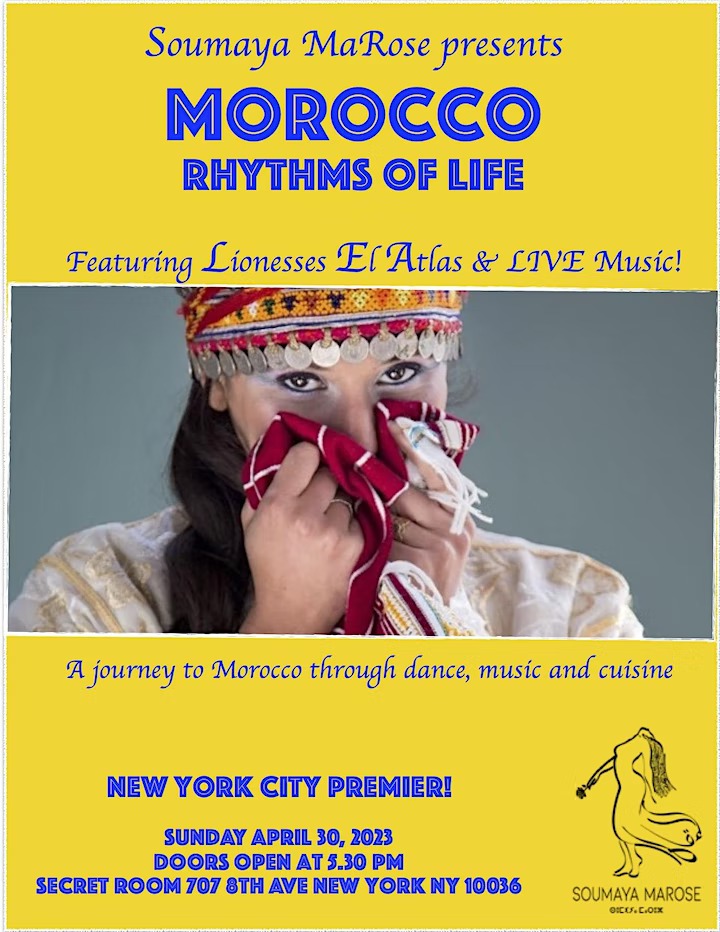 Date/Time
Date(s) - 04/30/2023
5:30 pm - 9:30 pm
Location
Secret Room New York
Categories
Cost:
26.95 USD
Contact Person:

Email:

Website:
https://www.eventbrite.com/e/morocco-rhythms-of-life-tickets-565686291927
Phone:

Organization:
Soumaya MaRose

Moroccan: Rhythms of life is coming first time in New York after being produced several time in Boston and Chicago. The show produced and directed by Soumaya MaRose, Moroccan artist and director of Lionesses El Atlas Troupe, has the willing to the audience to experienceMoroccan culture. She uses the concept of storytelling to bring her audience in different dance tableau to understand the root of the different traditional Moroccan dance is their cultural context. She also make sure that the audience is a part of the show with different interaction and by experience the dances. The show is accompanied by live music with the most influencer musicians of New York City .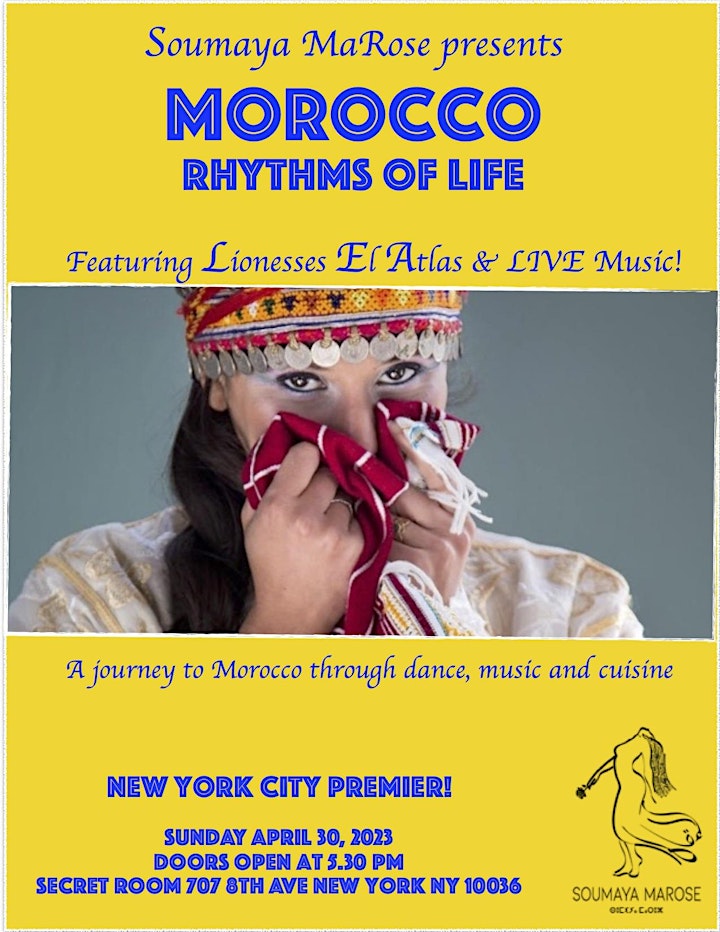 Soumaya MaRose is an award-winning international performer, teacher and cultural ambassador based in New York and Boston. A member of the International Dance Council of UNESCO. She is the only dance artist to have been repeatedly invited to perform at the Boston Global Music Festival "CrashFest" and has been honored to collaborate with Atlas Soul (North African music), Club Mediteranee (Arabic and Balkan music), Salma Dance Company, Walid Zairi and Talween, Boston Camerata, Moroccan Festival in Revere, and The Dance Complex. She was member of a music ensemble in Belgium "EL Housna", and is more recently the creator, producer and director of the live multimedia tableau "Morocco Nights" in collaboration with the Institute for Global Arab Media, Democracy and Culture in Chicago, artistic director of « Ya Msafer » in collaboration with Center of Arabic Culture (CAC), " Madarej El Naghem" featuring George Maalouf music composition and "Attaï Sharq – Thé à l'Oriental", a cultural exchange forum. Presently, she has expanded Boston-based Moroccan but also MENAT Region folk dance troupe, Lionesses El Atlas. As a teacher, Soumaya combines her academic training in Geography with her personal heritage and self- reflection to deepen her students' understanding of dances from the Arabic-speaking world and the Amazigh heritage.
Lionesses El Atlas is a dance group directed by Soumaya MaRose. Their musical dance productions strive to present the diversity of Moroccan culture trough dance and its associated music. Its repertoire also includes dances from the larger MENAT region (Middle East, North Africa and Turkish). Lionesses EL Atlas use theater and storytelling to engage with different communities, to preserve traditional dances, and to encourage people to see the connections between cultures. The members of The Lionesses are based in Boston and are dedicated dancers that have been involved and studying MENA dances for decades as Bri Adoara, Daniela Eusse, Chantalle Souffran and Santana Bartes.