Halawa, the Sesame "Fudge" of the Middle East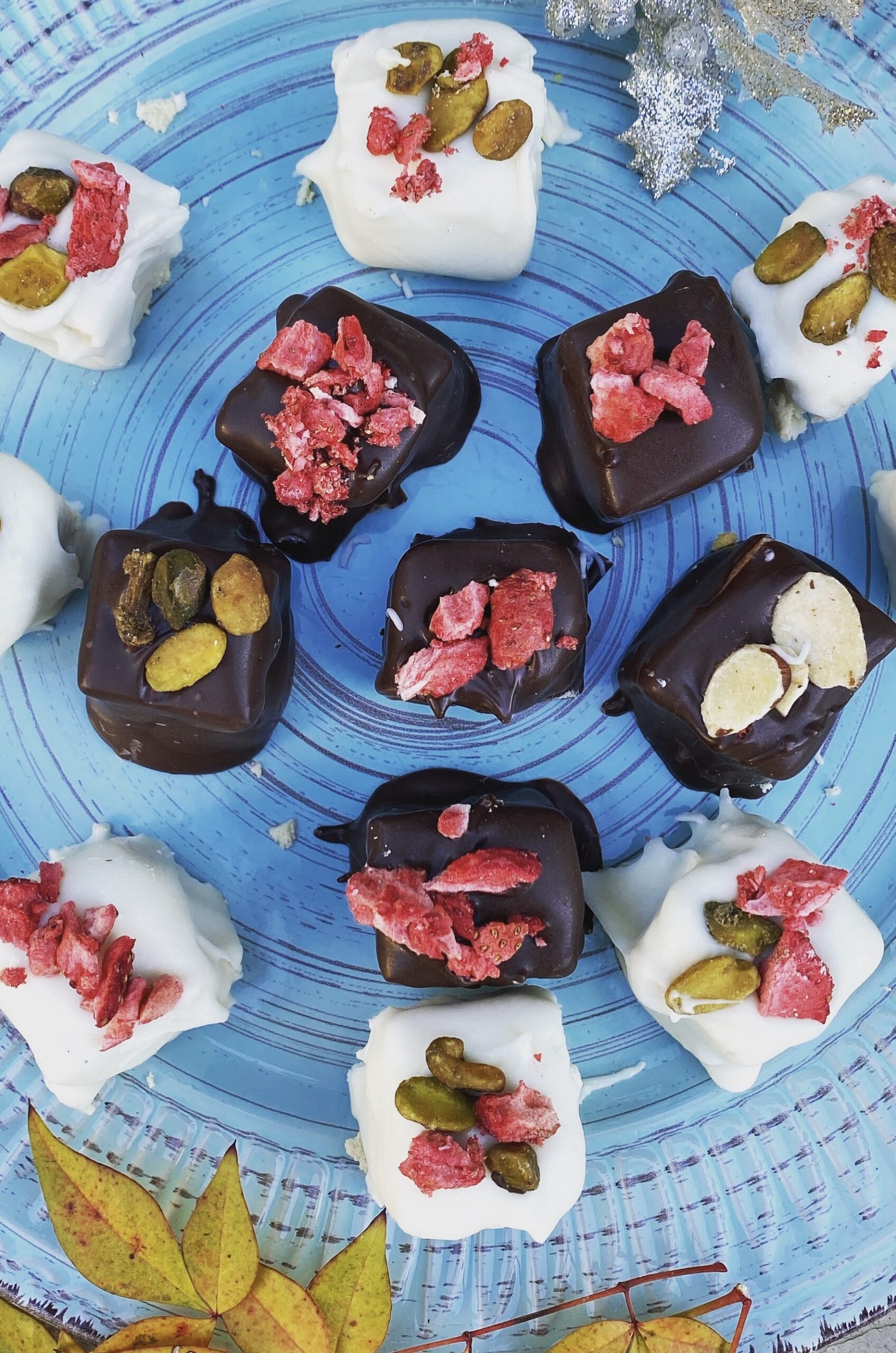 By: Blanche Shaheen/Arab America Contributing Writer
During inflationary times like these, homemade gifts are not only easier on the wallet, but are far more meaningful. Since popular chocolatiers across the country have increased prices by as much as 30%, do-it-yourself projects like truffle making with an ethnic twist make a unique substitution. 
Enter the Halawa Chocolate Truffle. Halawa means "sweet" in Arabic, and this confection is not only sweet, but packed with calcium, magnesium, fiber, and antioxidants. Halawa is a sweet sesame fudge-like confection that is prolific all over the Levant, from Palestine and Syria to Jordan and Lebanon. The first written halawa recipe was written in the 13th century in Arabic. This sweet then made quite the trip around the middle east, even to India where they shortened the name to "halva" and flavored it with regional ingredients like dates and coconut. 
Store bought halawa is made up of sesame paste and sugar and often contains pistachios, but there are also chocolate and even sugar free varieties. Cut into one inch cubes, halawa makes a perfect morsel for dipping into chocolate. The resulting flavor profile is similar to a peanut butter cup, though the sesame really shines through the chocolate exterior. As the chocolate sets, you can add vibrant toppings to add color, texture, and flavor, from chopped dried fruits and nuts to coconut, and even edible flowers.
Chocolate melting wafers give the glossiest result, though you can also melt chocolate chips combined with coconut oil for a smooth finish. You can use milk, dark, or white chocolate to customize your truffles, as they all are compatible with the nutty halawa within.
Lined in a box, these festive truffles look similar to petit fours. They make a rich and indulgent gift at a fraction of the cost of the finest chocolates, yet are just as delicious.
To see the easy technique, click on the video below:
2 Ingredient Halawa Chocolate Truffles
1 block of store bought halawa
1 package of chocolate melting wafers (white, milk, or dark)
Optional toppings, like dried cherries, sultanas, chopped dried apricots, coconut, chopped pistachios or almonds, candied orange peels or edible flowers
Cut the halawa gently into 1 inch cubes, then set aside. Line a cookie sheet with wax paper. Fill a saucepan halfway with water, and bring to a boil. Place the chocolate in a small glass bowl and place over the saucepan. Stir the chocolate until it melts. Remove the chocolate and immediately dip the halawa cubes into the chocolate, gently using a spoon to cover each cube with the chocolate.
Place on the wax paper and repeat until done. If using toppings, add them  to each truffle as soon as possible so they stick well. You can store them in the refrigerator, or in an airtight container for a month. 
Blanche Shaheen is the author of the cookbook called "Feast In the Middle East, a Journey of Family and Cuisine" which you can order here: https://secure.mybookorders.com/mbo_index.php?isbn=9781545675113 She is also a journalist, and host of the popular cooking show called Feast in the Middle East. She specializes in Arab cuisine of the Levant and beyond. You can check out her cooking video tutorials at https://www.youtube.com/user/blanchetv Her recipes can also be found at: https://feastinthemiddleeast.wordpress.com/