Kousa Mahshi- Summer Squash Stuffed with Lamb and Rice
Blanche Shaheen/Arab America Contributing Writer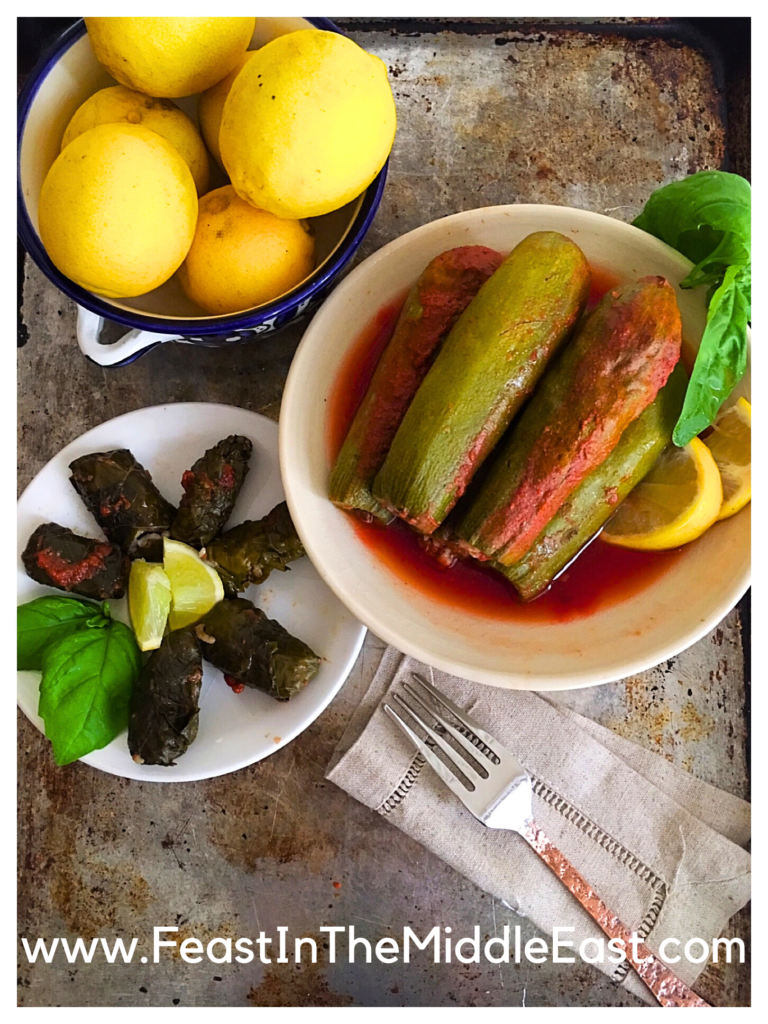 If you come from an Arab family in the Levant, whether Palestinian, Lebanese, Syrian, or Jordanian, you know the smell of Kousa Mahshi when it envelops the kitchen. That unmistakable smell of fresh summer squash stuffed with seasoned rice and lamb and boiled in an aromatic broth even permeates the front door. The scent invites you in to take that first savory bite, the dish lovingly prepared by that mom, auntie, or grandmother "teta" in your life.
Well now, you can enjoy this dish in your very own home and either reignite that fond memory, or create new memories of your own to pass on to the next generation. This dish can be prepared two ways, with the stuffed squash either boiled in a tomato broth, or cooked in a yogurt sauce. Today's recipe will focus on the tomato broth since tomatoes are in season and this preparation is lighter for warm summer days.
First, you want to start the Magna Hybrid squash, also known as Mexican squash, gray squash,  or Syrian squash. This light green speckled variety of squash is sweeter, more tender, and is perfect for coring. You can find this variety in farmer's markets, ethnic produce shops, and even in some mainstream supermarkets. Pick squash that are about four to five inches long. Japanese, or short grain rice, works well for the filling, which is seasoned with earthy spices like nutmeg and allspice.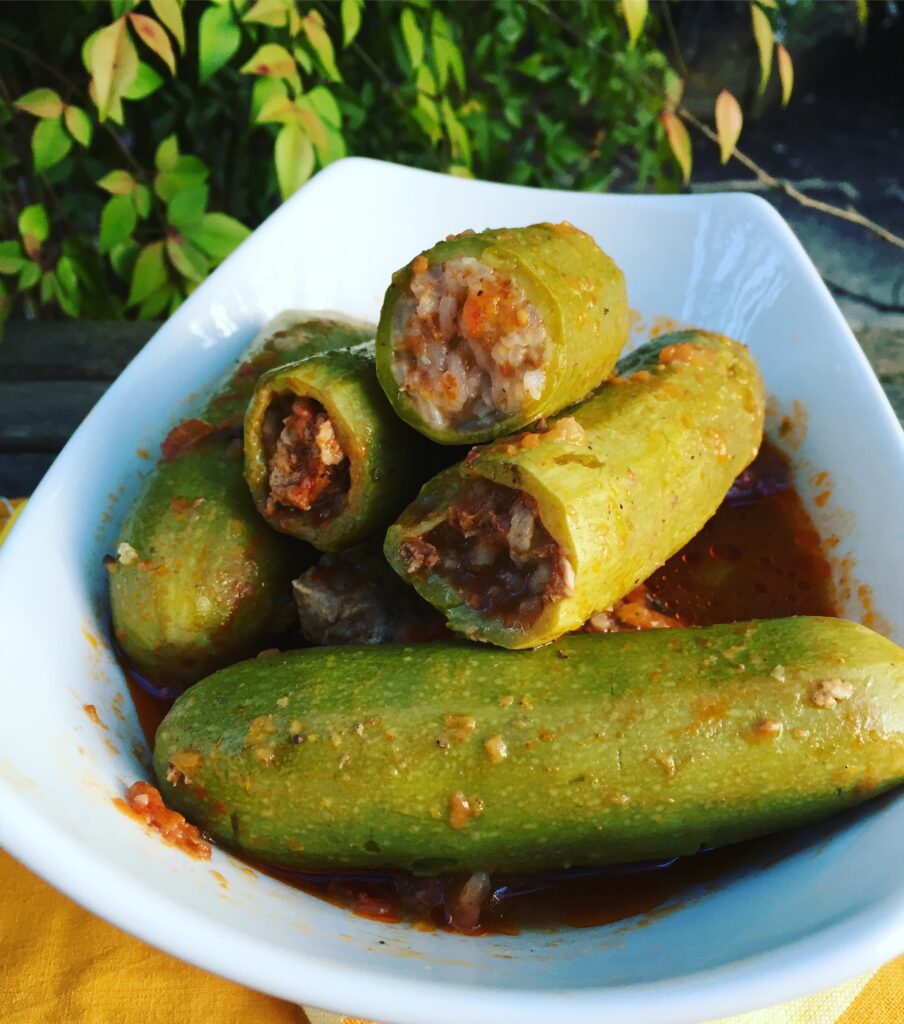 Having a long vegetable corer is essential to this recipe, and you can use the squash pulp to make zucchini bread, or zucchini fritters called Ijeh made with eggs, flour, and herbs. Lamb is traditionally used in the dish, but you can use chicken thigh meat for the stuffing if you have an aversion to lamb.
In my family we take pride in making this dish for the ones we love, my son's beaming smile everytime I make this for him is priceless. If you have never tried making this dish, give it a shot and you will be amazed at what you can do!
To see the easy technique of how to make this recipe, click on the video below:
KHOUSA MAHSHI RECIPE
15 squashes (about 4-5 inches long, Mexican Magda hybrid is best)
1 pound lamb shoulder or chops for the broth
1 1/2 cup of rice (short grain or Japanese rice is best)
1 ½ cup of chili cut or ground lamb
3 tsp salt divided
1 tbsp minced fresh mint
½ tsp allspice
¼ tsp lemon pepper (or regular pepper if you prefer)
¼ tsp nutmeg
1- 2 tbsp. of melted butter
3-4 large tomatoes, pureed
1/2 can of tomato sauce o 2 tbsp tomato paste
6 cloves of garlic, halved
After washing zucchini core out the inside, and put in a large bowl. To prepare the stuffing, mix the meat, rice, mint, nutmeg, 1 tsp of salt, allspice, lemon pepper, and butter (which will prevent rice from sticking while cooking). Puree the tomatoes and add ¼ cup of the puree to the rice. Mix well. Using your fingers, stuff each squash loosely with the rice and meat mixture, 3/4ths of the way full to allow for the rice to expand upon cooking. Season the lamb chops with salt and pepper and put on the bottom of a large pot. Arrange the stuffed zucchini on top of the lamb. Add the tomato puree, garlic cloves, and tomato sauce or paste. Sprinkle the last 2 tsp of salt over the top along with a dash of pepper and allspice. Fill the pot with water about 75% full, or enough to cover the squash. Heat until boiling, then reduce heat, cover and simmer for another 50 minutes. To serve, place the stuffed zucchinis in each bowl and pour a ladle of the tomato soup on top.
Blanche Shaheen is the author of the cookbook called "Feast In the Middle East, a Journey of Family and Cuisine" which you can order here: https://secure.mybookorders.com/mbo_index.php?isbn=9781545675113 She is also a journalist, and host of the popular cooking show called Feast in the Middle East. She specializes in Arab cuisine of the Levant and beyond. You can check out her cooking video tutorials at https://www.youtube.com/user/blanchetv Her recipes can also be found at https://feastinthemiddleeast.wordpress.com/