Pathbreakers of Arab America--Fourteenth in Series: Huda Kattan and Sisters Mona and Alya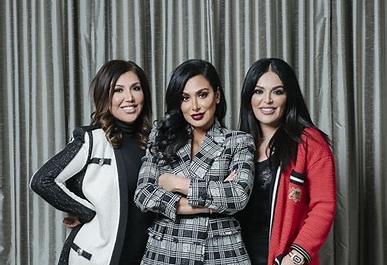 By: John Mason / Arab America Contributing Writer
This is the fourteenth in Arab America's series on American pathbreakers of Arab descent. The series includes personalities from entertainment, business, sports, science, academia, and politics, among other areas. Arab America contributing writer, John Mason, highlights our fourteenth pathbreaker, Huda Kattan, and her sisters, Mona and Alya, born and raised in the U.S. to Iraqi Muslim immigrants and now based in Dubai. These savvy entrepreneurs have built their billion-dollar beauty cosmetics empire from the ground up and Huda Beauty now ranks as one of the world's most in-demand makeup brands. The sisters are actively involved as philanthropists and activists, supporting oppressed people around the world, including in the U.S. and Palestine.
A happy merger of Arab American entrepreneurial spirit and American technical know-how blossoms into a cosmetics empire
The Kattan sisters were born in Oklahoma City to Iraqi immigrant parents, later moving to Tennessee, Massachusetts, and Michigan in pursuit of their parents' careers. Her Iraqi mother and father emigrated to the United States to teach Biology and study Mechanical Engineering, respectively. A work ethic was built into their lives at an early age and the sisters all attended university.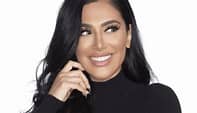 Huda obtained her bachelor's degree in finance from the University of Michigan-Dearborn, Mona received a finance degree from the American University of Sharjah in the Gulf, Alya earned her bachelor's degree in nutrition with a minor in business. According to Arab America's website, the family would later relocate to Dubai in 2006, where they would soon after begin building their beauty empire.
Huda Kattan was born on October 2, 1983, in Oklahoma City. After growing up in several different American locales, the family moved to Dubai, following their father who'd taken a teaching job in the Emirates. Huda later moved back to Los Angeles, however, to study cosmetics and makeup techniques. There, she developed a reputation as a top makeup artist for several celebrity clients. Family ties pulled her back to Dubai in 2010, where she took a job as a makeup artist for Revlon. In addition, Huda created a website, Huda Beauty, on which she posted makeup tutorials and tips.
In 2013, Kattan, in league with her sisters, founded her own cosmetics line, named after her website, Huda Beauty. Her first product was a series of false eyelashes, which were in short supply at that time. These were made famous in part by Kim Kardashian, who proudly displayed Huda's product. They were followed by other products, including eye shadow palettes, liquid lipsticks, lip liners, highlighter palettes, foundations, concealers, baking powders, and liquid eyeshadows.
Besides beauty products, Kattan has gained popularity on Instagram, where she has more than 47 million followers as of 2020. She is ranked #1 on the "2017 Influencer Instagram Rich List" and is depicted as "a Kim Kardashian of the beauty influencer economy." What is more, Huda was named by Forbes magazine as one of the "ten most powerful influencers in the world of beauty." Not done with titles, Kattan was ranked number one on Cosmetify's Beauty Influencer Rich List. According to the Arab America newsletter, "Huda Beauty is currently the #1 most followed beauty brand on Instagram beating out such heavyweights as Glossier, Kylie Cosmetics, and Colourpop with a grand total of 51.6 million followers."
Huda's characterization of her meteoric rise in the beauty world is: "We Don't Sell Products, We Sell Emotions."
Kattans' concept of beauty extends to a sense of balance and fairness in the World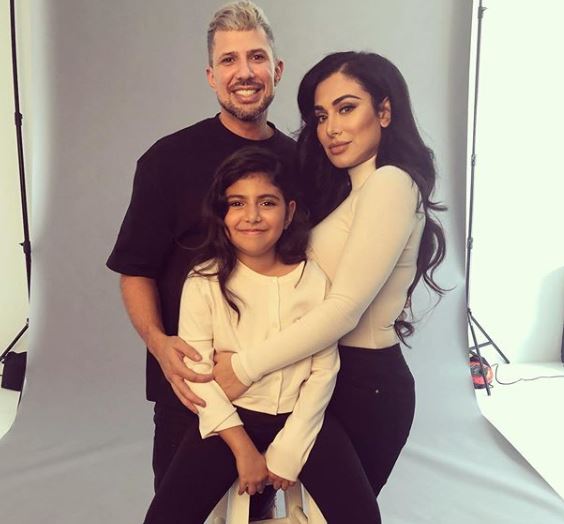 Huda Beauty has expanded the notion of beauty as only skin-deep, to a central idea, an esthetic, one based on philanthropy and activism, aimed at a better balance of world resources. The Kattan sisters have evolved this idea into a practical, operational practice, including donations of one million meals to the 100 Million Meals Mission in order to eradicate world hunger. They have also supported the NAACP Legal Defense fund, Doctors Without Borders, and help in championing young entrepreneurs in the Middle East.
Kattan has been described by Vogue Arabia as "The Dubai-based Entrepreneur Always Finds Ways to Give Back." Huda is depicted as someone who hosted the Global Gift Gala "in solidarity with women's empowerment and gender equality initiatives." Furthermore, she "uses her far-reaching platform to raise awareness and generously spreads her success to enact social justice." Huda told Vogue, "We know in order for things to change there needs to be disruption…We want to support everyone as much as we possibly can and make as much impact as we possibly can. We want to be change-makers."
Huda, according to Arab News, has actively condemned the "unjust situation in Palestine," following Israeli attacks on Gaza. A particular issue erupted over Instagram's deletion of posts on her site about Palestine. Another issue Kattan contested was Palestinian families facing eviction from their homes in the Jerusalem neighborhood of Sheikh Jarrah. She responded, "There have been very unjust things going on in Palestine right now. Hopefully, most of you have been able to experience the opportunity to buy your own home, and I just recently did. I can't imagine somebody coming into the home that I built and telling me I have to leave and taking it away from me."
Khatan spoke eloquently about her need to link esthetics and real politics: "I know I have a beauty brand and I am not supposed to talk about politics or whatever, but it is unjust, and I want to stand for what's right whether or not it makes me unpopular."
Sources:
–Wikipedia Bio's of Arab Americans, "Huda Kattan," 2023
–"The Kattans: Meet the Sisters Who Built a Billion Dollar Beauty Empire," (Nora Soufraji), Arab America, (12/14/2022
–"10 Things You Didn't Know About Huda Kattan," Vogue Arabia, 7/9/2020
–"Beauty mogul Huda Kattan condemns 'unjust' situation in Palestine," Arab News, 9/18/2023
John Mason, PhD., who focuses on Arab culture, society, and history, is the author of LEFT-HANDED IN AN ISLAMIC WORLD: An Anthropologist's Journey into the Middle East, New Academia Publishing, 2017. He has taught at the University of Libya, Benghazi, Rennselaer Polytechnic Institute in New York, and the American University in Cairo; John served with the United Nations in Tripoli, Libya, and consulted extensively on socioeconomic and political development for USAID and the World Bank in 65 countries.
Check out our Blog here!