Pathbreakers of Arab America: Maysoon Zayid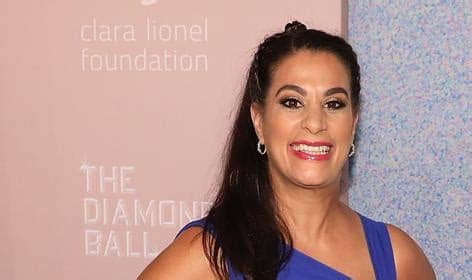 By: John Mason / Arab America Contributing Writer
This is the twenty-second in Arab America's series on American pathbreakers of Arab descent. The series includes personalities from entertainment, business, sports, science, academia, journalism, and politics, among other areas. Our twenty-second pathbreaker is Maysoon Zayid. Born in New Jersey with cerebral palsy in 1974 to immigrant Palestinian Muslim Arab parents, Maysoon is a comedian, actress, writer, and disability advocate. She has faced numerous obstacles from disability discrimination and distrust over her Palestinian Arab ethnicity. The New Arab news source describes her perfectly as "a shining example of Arab American excellence."
A beautiful example to all Americans, Maysoon Zayid is an Arab American for all seasons!
Zayid, born in 1974, depicts herself, according to Wikipedia Bios of Arab Americans, as "a Palestinian Muslim virgin with cerebral palsy, from New Jersey, who is an actress, comedian and activist." She lives a stones-throw from New York City in Cliffside Park, New Jersey. Following her achievement of a Bachelor of Fine Arts in acting from Arizona State University, Maysoon began her acting career appearing on the popular soap opera As the World Turns for two years, as well as guest appearances on Law & Order, NBC Nightly News and ABC's 20/20.
Early in her acting career, Zayid "found her disability and ethnicity repeatedly limiting to her advancement." However, once she turned to stand-up comedy, appearing at New York's top clubs, including Caroline's, Gotham, and Stand Up NY, she began to find her niche. Such a niche allowed her to address not only her disability, but also to take on other serious topics such as the Israel-Palestine conflict.
She co-founded the New York Arab-American Comedy Festival in 2003 with comedian Dean Obeidallah. It is held annually in New York City and showcases Arab-American comics, actors, playwrights and filmmakers. In late 2006, Zayid debuted her one-woman show at Los Angeles's Comedy Central stage, Little American Whore, produced and directed by Kathy Najimy. As a screenplay, it was chosen for the Sundance Screenwriters Lab.
Subsequently, Maysoon became the co-founder/co-executive producer of the New York Arab American Comedy Festival and The Muslim Funny Fest. She was a full-time On Air Contributor to Countdown with Keith Olbermann and a columnist for The Daily Beast. She has appeared on 60 Minutes, CNN, ABC News, and Oprah Winfrey Networks. Maysoon had the most viewed TED Talk of 2014 and was thrilled to collaborate with Huda Beauty.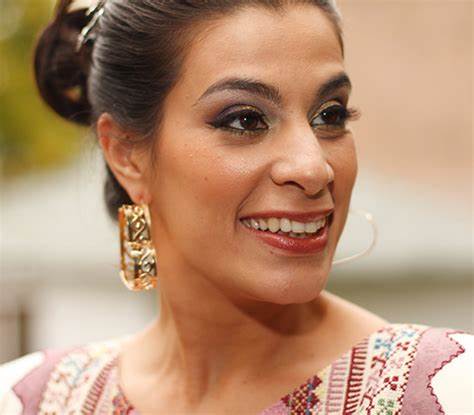 As a professional comedian, Maysoon has sold out top New York clubs and has toured extensively at home and abroad. She was a headliner on the Arabs Gone Wild Comedy Tour and The Together Live Tour. She appeared alongside Adam Sandler in You Don't Mess with the Zohan and has written for Glamour magazine. Zayid is the author of the best-selling memoir Find Another Dream and is collaborating with Scholastic on her debut comic book Shiny Misfits. She also co-hosts the radio show Fann Majnoon (Arabic: فن مجنون), Crazy Art, with comedian Dean Obeidallah.
Zayid can be seen in the 2013 documentary, The Muslims Are Coming! featuring a group of Muslim American stand-up comedians touring the United States in an effort to counter Islamophobia, as well as various celebrities including Jon Stewart, David Cross, Janeane Garofalo, and Rachel Maddow. Presently, Zayid is teaming with writer Lindsey Beer, author of Transformers 5 and Barbie, to write an anthology series based loosely on her own life. A screenplay, titled If I Can, each episode is themed around certain headlines like "If I Can Can: Dance" and "If I Can Can: Drive."
As a Palestinian and disabled person, Zayid uses her identities to address inequality across cultures and borders
Maysoon spends three months a year in the Palestinian territories, running an arts program for disabled and orphaned children in refugee camps. She helps the children use art to deal with trauma and bridge the gap between disabled and non-disabled children. She uses her own income from her comedy work to fund a large part of the camps. The New Arab depicts Zayid as "Having faced countless obstacles from disability discrimination to distrust over her ethnicity."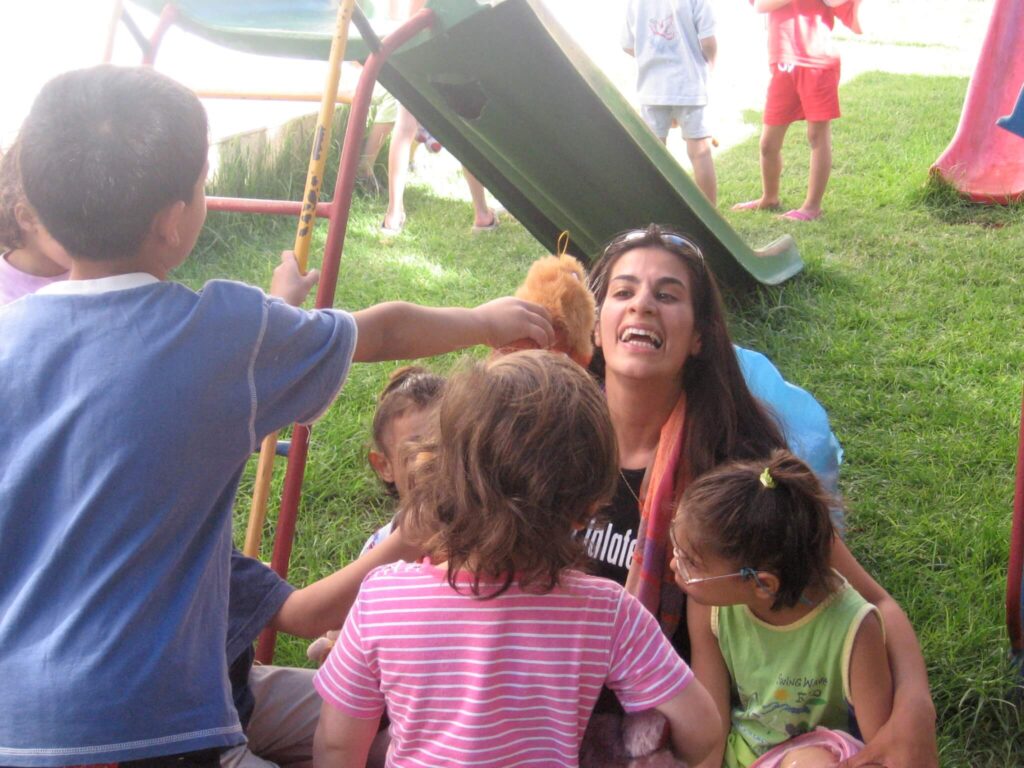 Furthermore, "In a world that is continuously growing and expanding, the disabled community is still underrepresented and misrepresented. But Maysoon Zayid did not wait for anyone to stand up for her community, she decided to be the leader she was waiting for." That could as well be said about her sympathies towards Palestinians. Humorously, Maysoon notes about her Palestinian family, "I have tons of family in Palestine. A third of Deir Debwan are my cousins and I managed to marry not a single one of them."
But Zayid's Palestinian experience is by no means all about comedy. She asserted, "When I went to Palestine as a child, there was no TV or internet, so I was immersed in the culture – whether it was the cross-stitching or the suffocating Israeli apartheid system. I was strip-searched by Israeli border control for the first time when I was five years old. Those are the types of things that change you as a child. I think the reason that I fight so hard for equality whether it's for women, disabled people, or Palestinians is because I grew up experiencing violent discrimination first-hand."
9/11 also had a huge impact on Zayid's impressions of some Americans' animosity towards Muslims and Arabs. In post-9/11 America, her advocacy began, in response to Arab-Americans being labeled terrorists and other derogatory terms. "That's when I decided to use my comedy to combat the negative images of Arabs and Muslims in media while teaching people the difference." When she addresses Arab and non-Arab American audiences alike, Zayid performs in both English and Arabic, "with the same wit, abounding sense of humour, and unwavering political engagement."
On her ability to be comedic in both English and Arabic, Zayid says, "I grew up bilingual, speaking English and Arabic. Having a second language has been extremely beneficial in my career as a comedian because I have the ability to perform in Arabic in the Arab world, I love doing comedy in Arabic. The language is much more vibrant than English. Also, I don't just speak Arabic – I speak Falahi, which in and of itself is funny. "Arab audiences are so shocked when they hear my dialect because it is extremely old fashioned and very specific to Palestine. People call me the haja's grandmother because my dialect is antique. I don't translate my English jokes into Arabic. In my head, those jokes are Arabic and come out that way. I think the funniest Arabic word is jaja. It's so fun to say and chickens are hilarious animals. I can speak faster in Arabic also, so I get more jokes in."
So, here we have an Arab American who embodies an ability of many Arab Americans, that is, an ability to be equally and fully Arab and American. Maysoon can be authentically American at one moment and, at another, completely Arab. And she can mix the two identities together in a manner that can be serious and hilarious almost at the same time. Disabled peoples of the world and Arabs and Palestinians around the globe can be proud that Zayid is here to fight for them. And, as noted earlier, "a shining example of Arab American excellence."
Sources:
–"Maysoon Zayid," Wikipedia Biography of Arab Americans," 2023
–"How Maysoon Zayid uses Palestinian sensibilities to fight inequality across cultures and borders," The New Arab, 2/11/2022
John Mason, Ph.D., focuses on Arab culture, society, and history, and is the author of LEFT-HANDED IN AN ISLAMIC WORLD: An Anthropologist's Journey into the Middle East, New Academia Publishing, 2017. He has taught at the University of Libya, Benghazi, Rennselaer Polytechnic Institute in New York, and the American University in Cairo; John served with the United Nations in Tripoli, Libya, and consulted extensively on socioeconomic and political development for USAID and the World Bank in 65 countries.
The views and opinions expressed in this article are those of the author and do not necessarily reflect the position of Arab America.
Check out our Blog here!