Pathbreakers of Arab America--Twelfth in Series: Hoda Kotb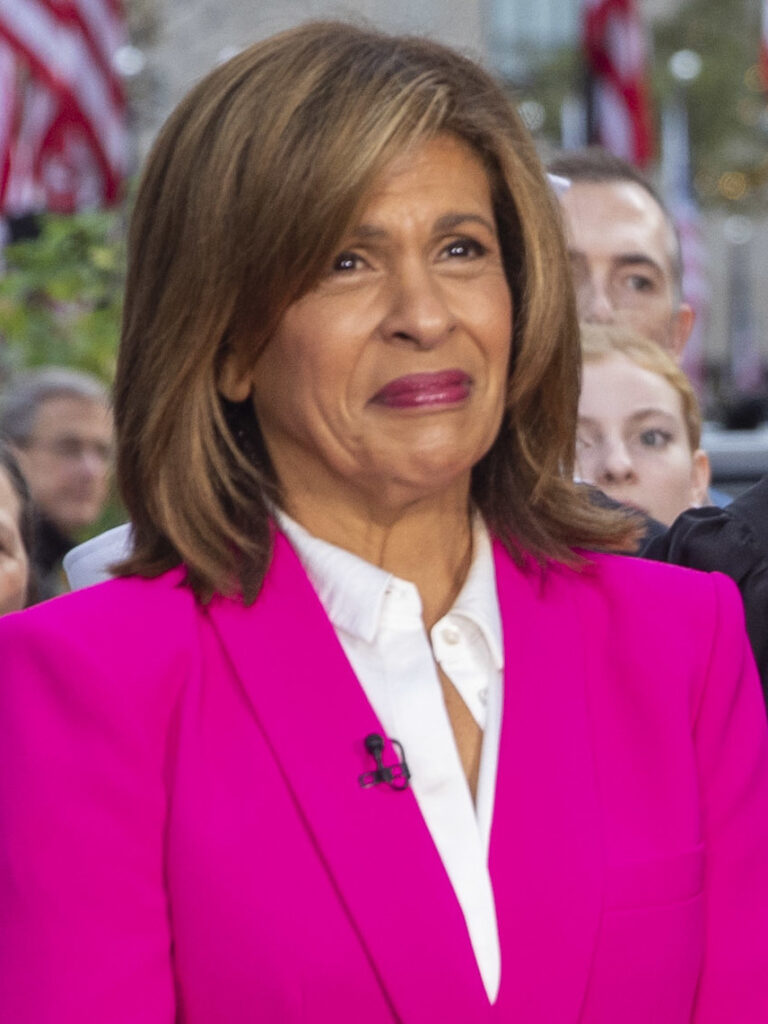 By: John Mason / Arab America Contributing Writer
This is the twelfth in Arab America's series on American pathbreakers of Arab descent. The series includes personalities from entertainment, business, sports, science, academia, and politics, among other areas. Arab America highlights our twelfth pathbreaker, Hoda Kotb, highly successful broadcast journalist, TV personality, main co-anchor of NBC News morning show Today and co-host of its entertainment-focused fourth hour, recipient of many awards, prolific author, and proud daughter of Muslim Egyptian parents, Samehi ("Sami") and Abdel Kader Kotb.
Hoda Kotb, a "natural," born-to-be prime-time TV personality
Hoda Kotb- هدى قطب -was born on August 9, 1964, in Norman, Oklahoma, where her father went to work as a fossil energy specialist. She grew up in Morgantown, West Virginia, later moving to Alexandria, Virginia and New Orleans Louisiana. Hoda also lived in Egypt for a year, as well as in Nigeria. Her father, Abdel Kader Kotb, who is in the Who's Who of Technology, died at the age of 52 in 1985. Her mother, Sami, worked at the U.S. Library of Congress. (Her family altered its name from the original Arabic to KotBEE for ease of pronunciation.)
Hoda graduated from Fort Hunt School near Alexandria, Virginia, where she was elected homecoming queen and selected to speak in 1982 at her graduating class's baccalaureate service. From there she went to Viginia Tech in Blacksburg, where she was a member of the Delta Delta Delta women's sorority, graduating with a Bachelor of Arts degree in broadcast journalism. Much later, Kotb was invited to be the keynote speaker at her alma mater for the 2008 graduation, and in 2010 she was elected to a three-year term to the Virginia Tech Alumni Association Board of Directors.
In the early part of her career, Kotb "paid her dues" professionally, serving in various TV positions with CBS and ABC in several parts of the country. In April of 1998, Hoda joined NBC News, as a correspondent for Dateline NBC and all NBC News venues. She was the first host of Today's first fourth-hour weekday morning broadcast at 10:00, later joined by Kathie Lee Gifford as a co-host in April 2008, who was then succeeded in April 2019 by Jenna Bush Hager. On January 2, 2018, Kotb was named co-anchor of Today with Savannah Guthrie after anchor Matt Lauer was terminated by NBC News. Together, they comprise the first female anchor duo to lead the show.
Besides Kotb's extraordinarily successful career with NBC, she is a prolific author. In 2010, she released her first book, the New York Times bestselling autobiography, Hoda: How I Survived War Zones, Bad Hair, Cancer, and Kathie Lee. In 2013, she released her second book, Ten Years Later: Six People Who Faced Adversity and Transformed Their Lives, in which she chronicles six stories by identifying a life-changing event in each subject's life and then revisiting each of those six people a decade later.
Then, in 2016, Kotb introduced her third book, Where They Belong: The Best Decisions People Almost Never Made, which features a selection of various stories of inspiring people who discovered themselves in completely unexpected moments or unforeseen circumstances. Besides two more books, Hoda has written books for children. Her reporting awards are numerous, including the prestigious Edward R. Murrow Award for her reporting, in addition to the Gracie Awards, the Peabody Award, the Daytime Emmy Award, and the Outstanding Morning Award. To that should be added Time magazine's 100 Most Influential People of 2018 recognition.
Kotb's family life, role as an advocate, and her religious outlook
Kotb wed Burzis Kanga, a former tennis instructor at the University of New Orleans, in 2005. In 2008, the couple got divorced. In 2013, Kotb started dating New York financier Joel Schiffman. She made the announcement that she was engaged to Schiffman live on Today on November 25, 2019. However, the couple called off their engagement early last year. Hoda announced that she and Schiffman would concentrate on co-parenting their adopted children and continue as friends going forward.
On a personal level, Kotb underwent a mastectomy and reconstructive surgery for breast cancer and has since become an advocate for breast cancer awareness. Kotb allowed Today cameras to follow her throughout her cancer battle. She was declared cancer-free and continued to document and use the story on the show to raise awareness for breast cancer.
Wikipedia reported that during a 92nd Street YMCA in New York City interview, "Kotb hinted at her Muslim roots when she recounted her memories of annual summer vacations in Egypt and her veiled cousins and how her parents' migration to the United States had spared her from having to do the same." Hoda continued, "We met our cousins who looked just like us. Some of them had the head cover on. I still remember going, 'Oh, my God. Like that could have been me.' You don't realize the gift your parents give you when you leave." *See editorial note below.
In her autobiography, Kotb alluded to her family's Muslim background. She described attempts at matchmaking by her relatives in Egypt in the following way: "During my visit, I'd be sitting on the couch and there'd come a knock-knock at the door. 'Hoda, someone's at the door for yooooouuuu … ' Oh, Lord. 'This is Mohamed. He's from Cairo. He's studying engineering … and he has a Mercedes.' Really? He also has on a long white man dress. Okay, call it a dishdash." That matchmaking attempt obviously did not work.
In a Twitter Celebrity news source, Hoda's fans are depicted as asking about her religion. That source incorrectly implies that she might be Jewish, for which there is no evidence. In fact, that same news source cites the YMCA interview noted earlier, that alluded to her Muslim heritage, in which "she talked of her veiled cousins and annual summer vacations in Egypt, as well as how her parents' immigration to the United States had prevented her from having to follow suit."
A touching moment from Kotb's recent past shows how strong her family ties are. It involves her mother's effort to run the Washington D.C. Marine Corps Marathon. It was her mom's 60th birthday and, as she told her NBC Today Show co-host Jenna Bush Hager, "I will never forget it as long as I live." Kotb said she and her siblings watched their mother, Sameha Kotb, run the iconic marathon. Though she didn't specify which marathon her mother was participating in, the Marine Corps Marathon ranges from 10 miles to 31 miles.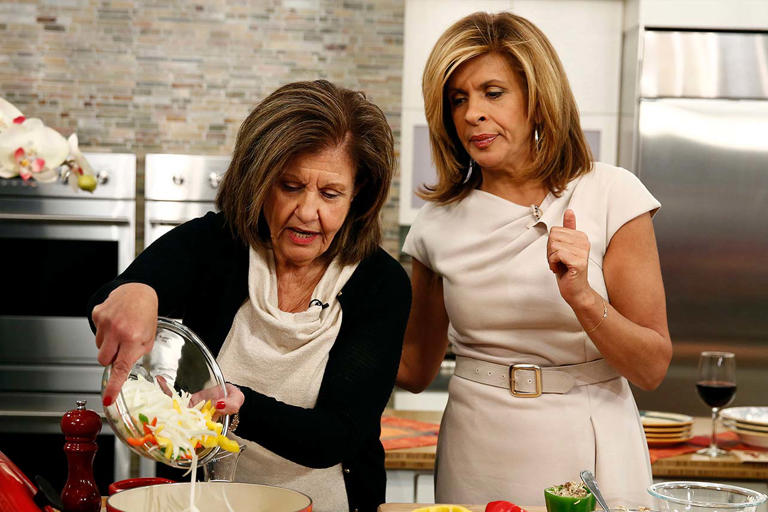 As Hoda recalls, "I will never forget standing there and watching this woman in November. It was hot as can be and she was running. Me, my brother and my sister were watching her, cheering her on, and I remember she was tired early on." Kotb recalled, according to the NBC record, "that her brother urged one of them to join their mother after they noticed how tired she was. I had sneakers on so I was the one getting in with Mom," Hoda said. "It was mile seven, so there was a lot to go." Bush Hager asked almost in disbelief, "You ran from mile seven to the end?"
Hoda Kotb is exceptional by any standard. Her family "melted" into the American social fabric, which when they immigrated was the norm. Hoda benefitted from her family's cultural background in building meaningful social networks. While her Muslim religion may not have been critical to her personal or professional growth, it seems her Arab family cultural background has been key to her success as an icon for a large audience of American network viewers.
Sources:
–"List of Arab Americans, Hoda Kutb," Wikipedia, 2023
–" What Religion Does Hoda Kotb Follow – Is She Jewish? Ethnicity & Parents," Twitter Celebrity, 8/22/2022
–"Today With Hoda & Jenna': Hoda Kotb Recalls the Touching Memory Of Her Mother That She Will "Never Forget," NBC Today Show, (no date)
*Editorial Note:
On September 6, 2023, in a Pathbreaker feature on Hoda Kotb, Arab American of Muslim Egyptian background, co-host of NBC's Today Show, quotations from Kotb on her attitude towards certain aspects of Muslim tradition drew criticism from a few readers. We need to point out that these quotations directly expressed Kotb's own indifference, even derision, specifically of Muslim traditions of veiling and arranged marriage. Since the quotes were directly attributable to Kotb, they were in no way an expression of Arab America's point of view. Arab America is a non-partisan organization and treats all Arabs everywhere equally. Furthermore, the views and opinions expressed in this article are those of the author and do not necessarily reflect the position of Arab America.
John Mason, PhD., who focuses on Arab culture, society, and history, is the author of LEFT-HANDED IN AN ISLAMIC WORLD: An Anthropologist's Journey into the Middle East, New Academia Publishing, 2017. He has taught at the University of Libya, Benghazi, Rennselaer Polytechnic Institute in New York, and the American University in Cairo; John served with the United Nations in Tripoli, Libya, and consulted extensively on socioeconomic and political development for USAID and the World Bank in 65 countries.
Check out our Blog here!