Recipe of the Day
Mechoui - Roasted Lamb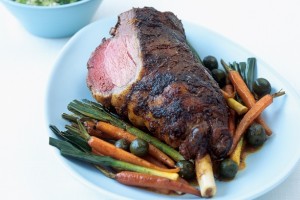 Mechoui, in Morocco', is made by roasting a whole lamb basted with herbs and spices over red-hot charcoal. Crisp on the outside and tender inside, it is a succulent dish fit for any feast. However, even when roasted in an oven, as in this recipe, mechoui is still a mouth-watering dish. Serves 10 to 12.
1 leg of lamb, about 6 to 8 pounds
1/2 head of garlic, peeled and crushed
2 teaspoons ground coriander seeds
2 teaspoons salt
2 teaspoons cumin
1 teaspoon pepper
1 teaspoon thyme
1 teaspoon ginger
1 teaspoon paprika
l/4 teaspoon cayenne
1/2 cup butter, melted
Trim excess fat off leg of lamb, then make half a dozen deep slots in meat and set aside.
Make paste with remaining ingredients then rub leg of lamb inside the slots and all over the exterior, utilizing all the paste. Place in a baking pan, then bake in a 350 degrees F preheated oven for 2 hours, basting every 20 minutes with the juices in the pan and turning over once after 1 hour. Place under the broiler for 5 minutes on each side, then serve hot.
Note: If a well-cooked leg is desired, increase the baking time by 30 minutes.