Rep. Tlaib Event Honoring Palestinian Nakba Underscores Usual Political Rhetoric: "If you're pro-Palestinian, you're antisemitic and anti-Israel"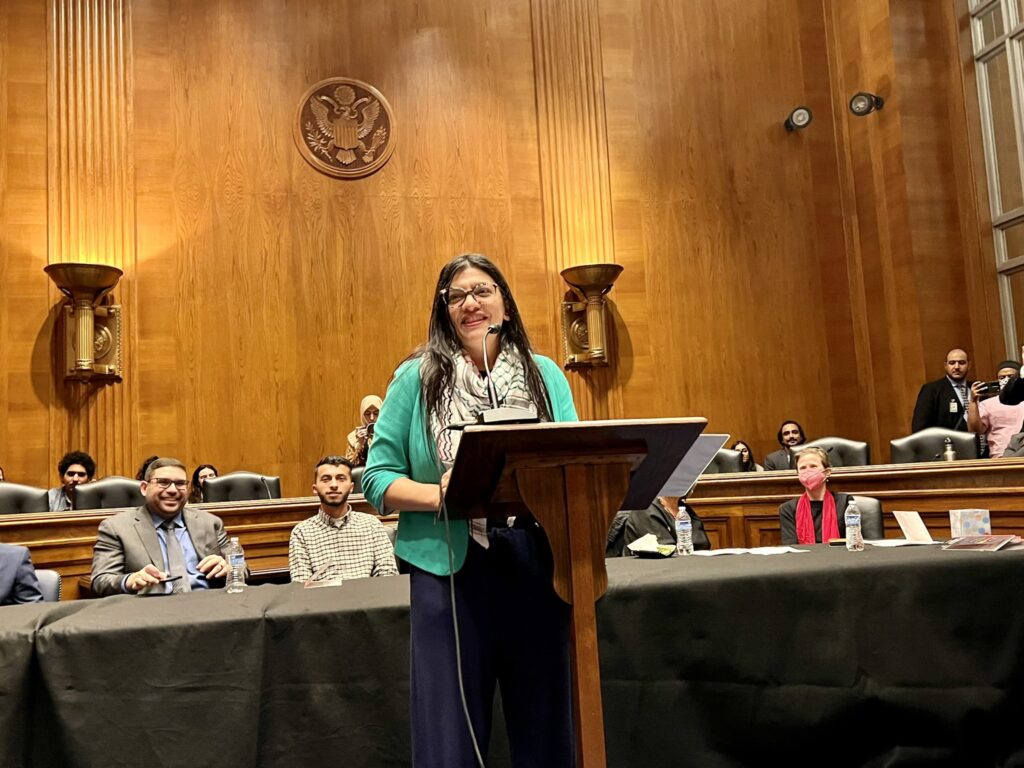 By: John Mason / Arab America Contributing Writer
Speaker McCarthy recently canceled Rep. Tlaib's registration of a reception in the House to commemorate Nakba. Senator Sanders then gave Tlaib space in the Senate for her event. Tlaib's comments there called for the U.S. government to address Israel's mistreatment of occupied Palestinians. Our report on that event is concluded with a brief observation on how American Democrats and Republicans both share in antisemitic sentiments, though unequally.
House leader McCarthy torpedoes Rep. Tlaib's Palestinian Nakba event
An educational event, 'Nakba 75 and the Palestinian People,' organized by several advocacy groups, featured special guest and speaker, Rep. Rashida Tlaib, the only Palestinian American member of Congress. The event, according to Mondoweiss, was aimed "To uplift the experiences of Palestinians who underwent the Nakba and educate Members of Congress and their staff about this history and the ongoing Nakba to which Israel continues to subject Palestinians."
No sooner was the event organized and announced than House Speaker Kevin McCarthy blocked it, "saying he will honor Israel instead." He simply turned down the request to use the auditorium of the Capitol Visitor Center for the event, noting "Instead, I will host a bipartisan discussion to honor the 75th anniversary of the US-Israel relationship." Sponsoring organizations critical of the cancellation of the event complained that U.S. resources continued to be used to displace and eliminate Palestinians in the West Bank and Gaza. Furthermore, they averred that members of Congress needed to be educated on how U.S. funding has been used in pursuit of that goal.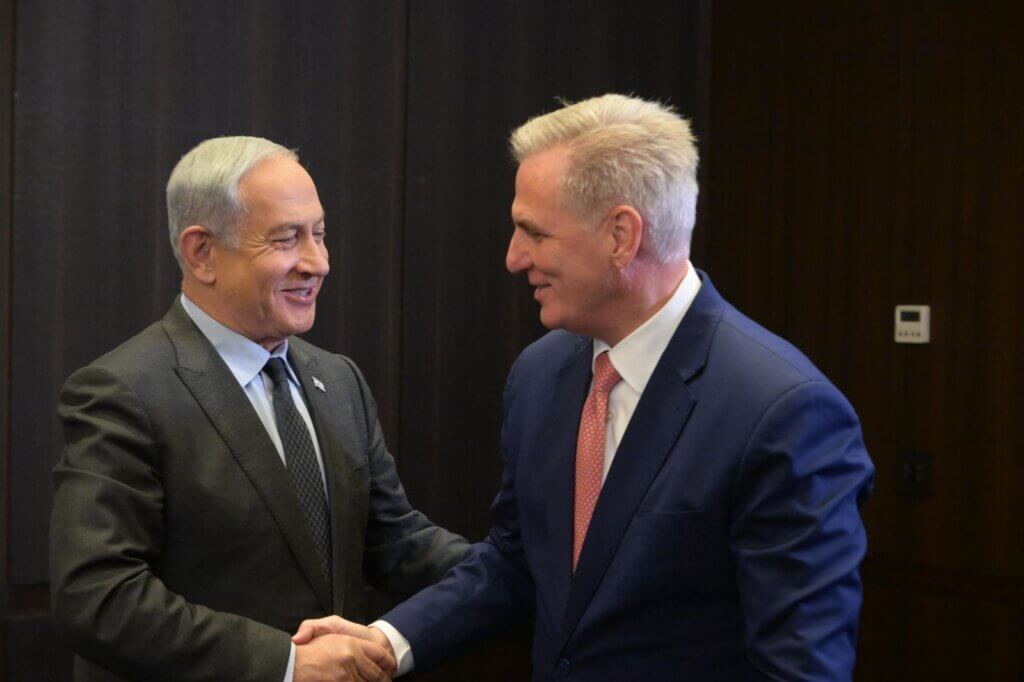 Just after McCarthy's cancellation of the event, Rep. Tlaib condemned McCarthy's move, saying the event would still take place. She noted, "Speaker McCarthy wants to rewrite history and erase the existence and truth of the Palestinian people, but he has failed to do so." Tlaib stated that she wanted to "create space for Palestinian Americans who experienced the Nakba firsthand to tell their stories of trauma and survival."
Tlaib has been the target of Republican lawmakers and even some members of her own party. Certain democratic reps agreed with McCarthy's actions, saying, according to Mondoweiss, "bipartisan support for the U.S.-Israel relationship has always been unbreakable and will remain strong for decades to come. Efforts to rewrite history and question the Jewish State's right to exist will never succeed in Congress."
McCarthy later reported, according to the New York Times, he "would use his power as speaker to scrap the gathering," saying, "It's wrong for members of Congress to traffic in antisemitic tropes about Israel." While much of Congress shows strong bipartisan support for Israel, some progressive Democrats have become more critical of Israeli policy. McCarthy himself has shown special support for Israel, attempting to "curry favor with pro-Israel groups and evangelical voters and to drive a wedge among Democrats by calling out liberal lawmakers in their ranks who are critical of Israel." He is also, no doubt, trying to align himself with the over-the-top Israeli stance of former president Trump.
Senator Bernie Sanders to the rescue—Senator offers help in hosting Nakba event
McCarthy's attempt to cancel the Nakba event failed. It took place on the evening of May 10th and was held in the Senate Health, Education, Labor, and Pensions Committee hearing room. Pleased with Sanders' support, as reported by the Jewish Telegraphic Agency, Rep. Tlaib proclaimed, "Let the headlines read 'McCarthy tries to erase Palestine but fails.'" Perhaps ironically, Senator Bernie Sanders is one of Congress' most powerful Jewish members.
Sanders and Tlaib are close, the Senator having campaigned for her. She even calls him 'amo,' or literally the Arabic word for uncle. Amo also can be used when calling older men but is also used as a term of respect for someone senior. As Tlaib said, "Everyone needs an amo in the Senate." Rep. Tlaib used the event to introduce a resolution marking the Nakba. She recognized the Jewish Voice for Peace, other anti-Zionist groups, and a number of Democratic reps who've endorsed some of her criticisms of Israel over its mistreatment of Palestinians.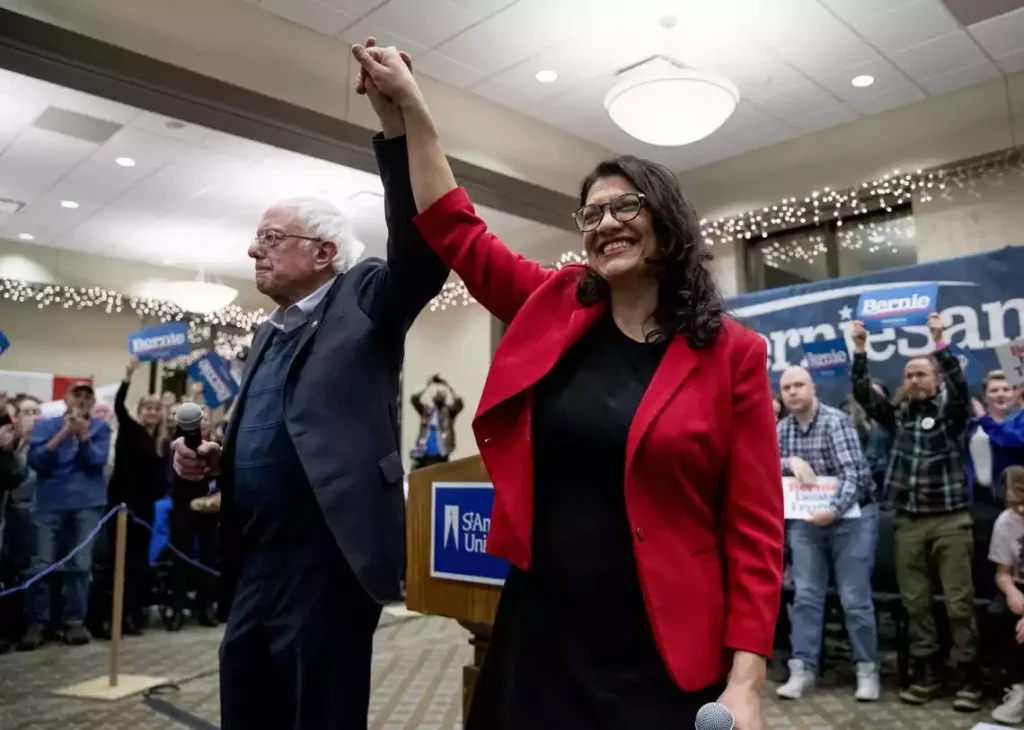 Certain pro-Israel groups chastised Sanders for creating a venue for Tlaib. Jonathan Greenblatt of the Anti-Defamation League took great umbrage against Senator Sanders for permitting the Nakba event to be held in the nation's Capitol. Calling anti-Zionism antisemitic, Greenblatt wrote on Twitter, "Real conversations are needed around a path to peace, but not with groups & individuals who espouse antisemitism. We call on the Senate to condemn this event."
Rep. Tlaib called on fellow Democrats for support, including Rep. Cori Bush of Missouri, Jamaal Bowman of New York, Betty McCollum of Minnesota, Alexandria Ocasio-Cortez of New York, and Ilhan Omar of Minnesota. Tlaib's resolution in general terms calls for the suspension of some forms of defense assistance to Israel. Specifically, it "calls on the United States to reject efforts to enlist, engage, or otherwise associate the United States Government with denial of the Nakba."
Furthermore, Tlaib's resolutions demand, as concerns Israel's mistreatment of Palestinians, that the U.S. "scrutinize Israel's actions according to the provisions of the Elie Wiesel Genocide and Atrocities Prevention Act of 2018, which is named after the famed late Holocaust survivor." Rep. Tlaib's event took place in the context of numerous congressional actions celebrating Israel's 75th birthday. The House, by a large margin, passed a bipartisan resolution congratulating Israel.
Observation: American Democrats and Republicans both share antisemitic sentiments, though unequally
In the U.S., where Jews make up about only two percent of the population, a large majority of hate crimes are directed against the Jewish faith. According to a Newsweek opinion, "No other religious group comes close." Furthermore, these attacks allegedly derive from "both ends of the political spectrum, including neo-Nazis and white supremacists on the far right and deluded members of the far left who regurgitate hateful lies about Israel."
Another source, the Jewish Telegraphic Agency, reports that American conservatives are "more likely than liberals to hold anti-Semitic views." Such a finding is based on a survey conducted by Tufts University under the title YouGov. Its questions were guided by how Jews should combat antisemitism. For example, "Should Jews concentrate their energy on combating the far right? Or should they focus on fighting anti-Israel bias on campus? How do questions of race relations in the United States play into anti-Jewish bigotry?"

As anti-Semitism has risen in the United States in recent years, these questions have preoccupied and divided Jewish leaders, activists and journalists, along with ordinary American Jews struggling to understand a country that may feel less safe than it once was. According to the survey, "Conservatives are more likely to hold anti-Semitic attitudes than liberals, with young conservatives being the most likely to believe stereotypes about Jews."

While Black and Latino respondents outpaced Whites in expressing anti-Semitic attitudes, the survey "found that young people on the far left were more likely to hold Jews responsible for Israel's actions than those in the center or right." But the survey's bottom line is clear: "The results convey an unambiguous message that antisemitic attitudes are far more prevalent on the right."

A general conclusion of the survey was that American politics is heavily involved in antisemitic sentiments. In one of the study's author's opinions, "bigotry emanating from the Donald Trump administration helped normalize anti-Semitism in the public sphere — even among people who did not support Trump." One compelling finding was attributable to both very liberal and very conservative younger respondents. That is, 40% of them agreed that "Jews need to denounce Israel's discrimination against non-Jews in order to participate in social justice activism."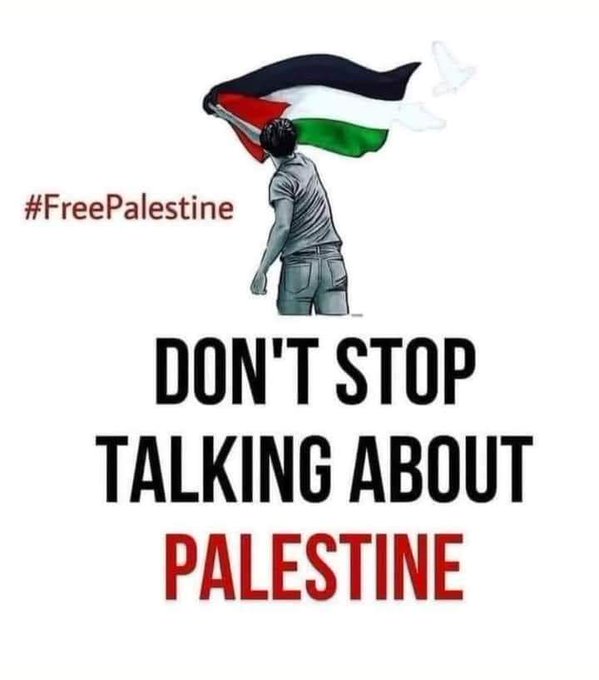 This survey points to the complexity and subtlety with which Americans approach the subjects of antisemitism and feelings based on pro- and anti-Israel and pro- and anti-Palestinian sentiments. It also undermines the lie that "if you're pro-Palestinian, you're antisemitic and anti-Israel."
Sources
–"Kevin McCarthy moves to block Nakba event from happening in the Capitol, says he will honor Israel instead," Mondoweiss, 5/10/2023
–"McCarthy Blocks Tlaib Event at Capitol Marking Palestinian Displacement," New York Times, 5/10/2023
–"After a 'Nakba' event is canceled by Kevin McCarthy, Rashida Tlaib hosts it with help from Bernie Sanders," Jewish Telegraphic Agency, 5/11/2023
–"Democrats and Republicans Must Take on Their Own Antisemitism," (Opinion), Newsweek, 10/21/2022
–"Conservatives are more likely than liberals to hold anti-Semitic views, survey finds," Jewish Telegraphic Agency, 4/22/2021
John Mason, PhD., who focuses on Arab culture, society, and history, is the author of LEFT-HANDED IN AN ISLAMIC WORLD: An Anthropologist's Journey into the Middle East, New Academia Publishing, 2017. He has taught at the University of Libya, Benghazi, Rennselaer Polytechnic Institute in New York, and the American University in Cairo; John served with the United Nations in Tripoli, Libya, and consulted extensively on socioeconomic and political development for USAID and the World Bank in 65 countries.
Check out our Blog here!