Amazon in Arab Countries
By: Arab America Contributing Writer/ Alana Rehman
On July 5, 1994, Jeff Bezos established Amazon from his garage in Bellevue, Washington. Amazon.com is an American multinational technology company concentrating on digital streaming, cloud computing, online advertising, e-commerce, and artificial intelligence. It is one of the most valuable brands in the world and has been called "one of the most influential economic and cultural forces in the world". It is one of the Big Five American information technology companies, along with Alphabet (Google), Apple, Meta (Facebook), and Microsoft.
Amazon Warehouses in Arab Countries:
Amazon Warehouses offers great prices for used, pre-owned, and open-box goods of high-quality products. We offer discounts on used items for customer favorites, all with the benefits of Amazon fulfillment, customer service, and returns rights: such as laptops, tablets, smartphones, appliances for the home and kitchen, and thousands more. There are 185 warehouses managed by Amazon all over the world, Arab world has more than 50 amazon warehouses.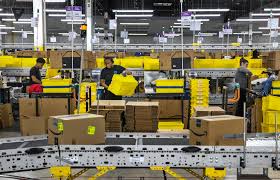 Arab Countries with Amazon Operations:
Amazon now operates in over 50 countries and has established itself as a dominant player in the e-commerce market. There are hundreds of Amazon warehouses all over the world where products are waiting to be shipped. Amazon is used by approximately 2.7 billion people to shop.
Inventory worth billions of dollars is housed in Amazon warehouses. When a customer buys something online, they usually get their goods the next day. Amazon saves money on inventory costs by working with everyday sellers. It has made life significantly easier during pandemics and improved the quality of life for billions of people worldwide.
These are the following Arab countries where amazon can be found:
Saudi Arabia
United Arab Emirates
Qatar
Egypt
Jordan
Kuwait
Morocco
Lebanon
Amazon Delivery Operations in Arab Countries:

Amazon's mission to be the most customer-centric company on Earth is centered on our award-winning Operations and Customer Service teams. Whether we're developing new technology internally, opening an Amazon fulfillment center, or delighting our customers by delivering packages directly to them, we create, build, and take ownership of what we do together. Amazon or a Marketplace seller sells the items and takes care of them. One shipment will contain all of the items that Amazon Fulfills. You will receive a different shipment when you purchase items from a Marketplace seller. We're continually making the thoughts, administrations, and items that make life more straightforward for a great many clients.
Saudi Arabia:
In Saudi Arabia, you order products from Amazon.sa website or also from the amazon shopping app. Amazon.sa offers free next-day delivery and in some areas of KSA, they also offer you same-day delivery for an additional charge. In some cities like; Riyadh, Jeddah, Makkah, Medina, and Dammam, Amazon will deliver the product to your address and in other cities, you have to select a pick up location for the delivery of your product. Amazon will send you a notification with your pick-up instructions. If your order is eligible, you can choose to pick up your package at a Pickup location if you think you won't be available to receive it.
United Arab Emirates:
In UAE, Amazon started its operation in 2005 by purchasing a local retailing company Souq.com which is now Amazon.ae. The  Customers still enjoy the low prices and good quality products as they do use the Souq app. Amazon sends you a notification email with the purchase information and delivers the product free to your door within the same day. If you are not a Prime user you have to pay 19 AED for the same day delivery.
Qatar:
In Qatar, you can order specific items through Amazon.com. If you are a prime member you can definitely order more items compared to the regular amazon account holder. You will need to have a physical address in the United States in order to use Amazon Prime to purchase items and have them shipped internationally. Your order will be shipped to this US address by Amazon Prime.
Egypt:
Amazon started operating in Egypt as Amazon.eg from 1st September 2021, before people used souq.com which redirects you to amazon.com. Customers will have a great shopping experience thanks to Amazon.eg's low prices, extensive selection, simple payment options, and prompt and dependable delivery. Amazon will drop off the purchased product at your door If you order eligible items for delivery within Egypt. Free shipping is available on orders that contain 350 EGP or more of eligible items that are fulfilled by Amazon.
Lebanon:
In Lebanon, you can order only restricted items through amazon.com. It will take 5-7 business days to Amazon to deliver your product. ColisExpat receives your purchase and then it will be delivered to your door, else you have to select a pick up location for your product delivery.
Jordan:
In Jordan, you have to use MyUs.com to purchase items from amazon. Amazon prime users can buy restricted items directly from Amazon.com. Amazon prime users set the nearest post office as the drop off location to pick up. Amazon.com does not perform door delivery in Jordan.
Kuwait:
If you want to shop and ship from Amazon to Kuwait, a package forwarding service like Planet express, or Global shopaholics should be used. Typically, direct delivery from the United States to another country costs a lot, but package forwarding companies deliver at low prices and in a safe manner. Amazon directly does not deliver to your home ColisExpat picks up your order and then delivers it to your house.
Morocco:
You can order anything from amazon.com in Morocco and it will be directly delivered to your address. The shipping can take a pretty long time with an additional cost of $30. ColisExapt will pick up your purchase and then it will deliver it to you if you are a non-prime amazon user.

Amazon has now started a global shipping program through which people in other countries have access to a shipping service that is both quick and effective. However, people who live in countries that do not have a warehouse may discover that the variety of products that are available varies. Additionally, shopping hours and prices can vary from country to country.
click here for the blogs!