The Cuisine of Tunisia
By: Habeeb Salloum/Arab America Contributing Writer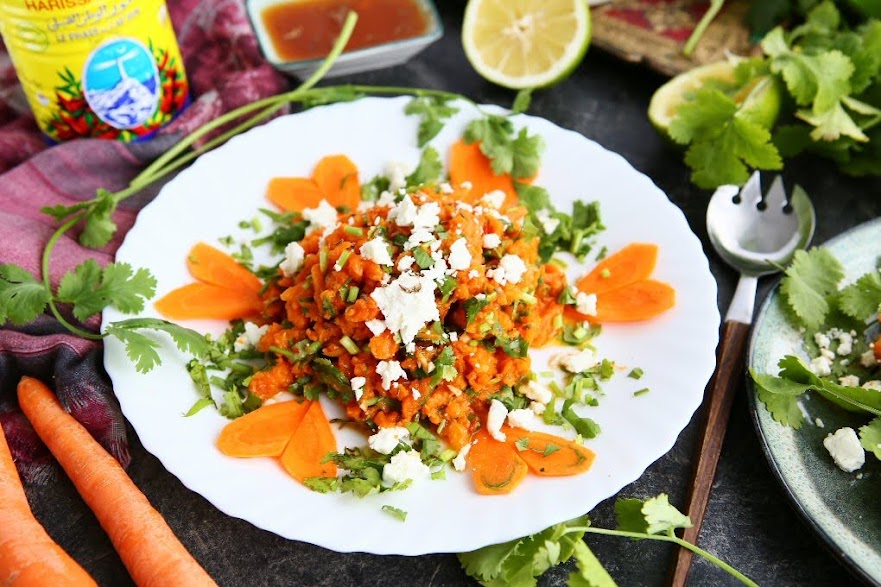 Many travelers who relish the taste of fine foods, and have visited Tunisia, praise in glowing terms it's delightful cuisine. This is especially true if they have had the good fortune to be invited for a meal in a Tunisian home. A delectable home-cooked repast lovingly prepared and served with elaborate ceremony is an experience not usually forgotten by a foreign guest. The food cooked with time honoured care is enticing even before it reaches the table. The kitchen aroma of herbs and spices mingled with the scent of olive oil arouses the taste buds and hypnotizes the hungry. 
These gourmet dishes which are savory and wholesome have borrowed much from the conquerors and civilizations which ebbed and flowed through that North African land. Phoenicians, Greeks, Romans, Arabs, Turks, Spaniards, French and native Berber, have all left their mark in the Tunisian kitchen.
However, the Arabs who were heirs to the ancient civilizations of the Near and Middle East are the ones most responsible for the culinary art of modern Tunisia. When in the 7th century their armies swept through North Africa, they not only brought with them their religion but also many new fruits, herbs, spices, and vegetables. Artichokes, caraway, coriander, cumin, eggplant, ginger, saffron and citrus fruits were some of the plants and spices introduced by these former desert men.
To produce these racy toothsome foods, the Tunisians developed a red-hot sauce called harissa. Made from cayenne or dried chillis, cumin, garlic, and salt, it is almost always served daily. With the skillful use of this sauce, the Tunisian cook transforms vegetables, meats, and fruit into a delicious mouth-watering cuisine. There is no doubt that this sauce is responsible for the appetizing, sensual and satisfying Tunisian dishes.
Whether eaten as a daily fare or cooked for an honoured guest, a Tunisian meal is a journey into the world of gourmet pleasure. Even if the dishes seem strange and baffling at first sight, they are always inviting, nutritious, yet simple to prepare. A little different than the cuisine of its neighbouring countries, these foods have a fascinating hold on the initiated. A traveler who was enamoured with the Tunisian kitchen once wrote:
"Tunisian dishes delight the senses and make a diner relaxed and content".
Any cook can sample North African cuisine by preparing a few of the following dishes. They have been adjusted to include easily available ingredients and the method of preparation has been greatly simplified.
Carrot Salad – Omok-Houria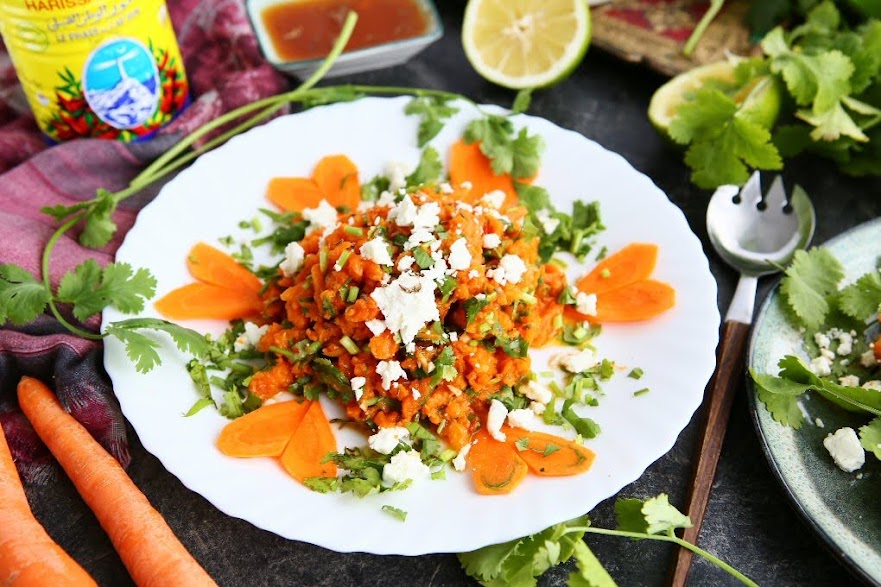 Serves 6 to 8
5 large carrots, peeled and washed, then cut into 1/4-inch-thick pieces
2 cloves garlic, crushed
4 tablespoons very finely chopped coriander (cilantro)
4 tablespoons lemon juice
4 tablespoons olive oil
1 1/2 teaspoons salt
1/2 teaspoons black pepper
1/8 teaspoon cayenne
2 hard-boiled eggs, sliced
12 black olives, pitted and cut in half
1 small tomato, thinly sliced
In a saucepan, cover the carrots with water and bring to boil, reduce heat to medium then cook for 5 minutes.
Drain and allow to cool, then place in a food processor and process until the carrots are coarsely ground.
Transfer to a mixing bowl, then add the garlic, coriander, lemon juice, oil, salt, pepper and cayenne and mix.
Place on a flat serving plate, then decorate with the eggs, olives and tomato and serve.
Crab Meat Pies – Briks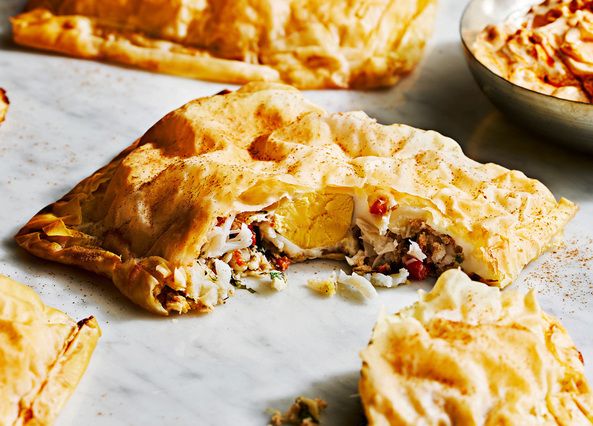 Makes 10 pies
4 tablespoons butter
2 medium onions, finely chopped
3 cloves garlic, crushed
1/4 cup finely chopped coriander (cilantro)
1 hot pepper, seeded and finely chopped
1 teaspoon salt
1/2 teaspoon black pepper
1 can crabmeat (4.5 oz. 127 g), drained
1/2 cup grated parmesan cheese
11 small eggs
10 sheets filo dough
oil for deep-frying
In a frying pan, melt the butter, then stir-fry over medium heat the onions, garlic, coriander, hot pepper, salt and pepper for 10 minutes.
Remove from heat and make a filling by stirring in the crab meat and cheese. Divide into 10 portions then set aside
Beat one of the eggs and set aside.
Take a sheet of the filo dough and fold over twice to make a square, then place 1 portion of the filling in the center and form into a well. Keep the filo dough soft by placing a slightly dampened towel over the sheets while making the pies.
Brush the edges of the square with some of the beaten egg, then break an egg into the well and fold over to form a triangle.
Press the edges together, then turn them in about 1/2-inch and brush again with some of the egg to make sure they are well sealed.
In a frying pan, add oil to 1-inch deep and heat over medium-high.
Gently slide in the pies and deep-fry for about 2 minutes on each side, or until both sides are golden.
Remove and place on paper towels to absorb any excess oil.
Transfer to a serving platter and serve immediately.
Almond & Sesame Seed Pies – Maqrud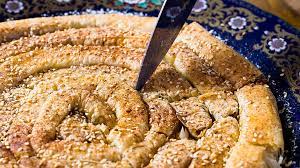 Makes about 24 pies
In Tunisia, maqrud are made in numerous ways. Some are stuffed with dates while others are filled with various types of nuts. Each region has its own specialty. The Tunisians say that the best maqrud are made in Kairouan, the first Muslim city established in North Africa. These are usually stuffed with dates and tend to be sweeter than those stuffed with nuts. All types are dipped in honey and served freshly made.
2 1/2 cups semolina flour
3 eggs
1 cup butter
1 teaspoon baking powder
1 teaspoon vanilla
1/4 cup pulverized almonds
1/4 cup pulverized sesame seeds
1/4 cup sugar
1 cup honey
1/2 cup water
2 teaspoons rosewater
oil for frying
icing sugar
Make a dough by thoroughly mixing the semolina, eggs, butter, baking powder and vanilla (add a few tablespoons of water if the dough is thick), then form into 2-inch-long rolls, about 3/4-inch diameter and set aside.
In a bowl, make a filling by mixing the almonds, sesame seeds and sugar.
In the palm of the hand, flatten each roll to about 1/4-inch thickness, then place 1 heaping teaspoon of the filling in the middle and pinch to close, in the process turning the ends in to form a rectangle pie.
Allow the maqrud to rest a few moments while preparing the syrup.
Make a syrup by placing the honey and water in a pot and, stirring constantly bring to a boil, then reduce heat to low and stir in the rosewater. Keep on low heat.
In a frying pan, add oil to about 1-inch deep and heat over medium. Fry maqrud until they are a deep golden colour, turning them over once.
Remove pies and place in the syrup letting them soak up the syrup for at least 2 minutes. Remove and allow to cool.
Sprinkle heavily with icing sugar and serve.
If coriander is not available, a mixture of half chives half parsley can be substituted. Also, Vegetable oil or olive oil can be used in the recipes.