Arab America Announces Spring 2024 Internship Opportunities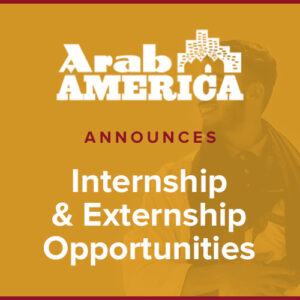 Arab America, the leading provider of digital media regarding the Arab and Arab American identity, announces Spring 2024 internship/externship opportunities.
Application Deadline: Open until all positions are filled.
Term: 4 Months–Beginning December (Flexible)
Responsibilities:
Interns selected will be asked to focus on four or more of the following areas:
Writing content on the identity and culture of Arab Americans and other major issues that impact them
Keeping social media sites up-to-date
Developing videos for various digital platforms*
Posting original and aggregated content to Arab America's digital platforms
Searching for events and information about Arab American communities
Representing and promoting Arab America at selected community/online events
Developing and managing the Arab America database
Updating the content of the website, E-News, and social media
Following up with sponsors for Arab America events
Developing marketing and promotional campaigns*
Assisting with the development and writing of grant applications
Assisting in developing and implementing special projects
*Applicants with marketing and digital communications experience are highly encouraged to apply
Requirements:
Applicants should:
Be enrolled in a post-secondary institution or have recently completed a degree
Have knowledge of Microsoft Office, including Excel and WordPress
Be committed, coachable, flexible, and value consistent attendance
Report to our Washington DC office or attend required Zoom meetings throughout the week
Applicants with, but not limited to the following academic backgrounds are welcome: English, Journalism, Arab/Middle Eastern/International Studies, Political Science, Media and Film Studies, Public Relations, Communications, and Marketing. Again, emphasis will be placed on writing skills and editing.
Compensation: Internships are unpaid, but credit hours are available. Full-time applicants are preferred; however, part-time applicants (minimum of 18-20 hours per week) are considered.
Learning Objectives:
Students will:
Improve online writing skills
Gain knowledge of world affairs–especially the Middle East region
Perfect digital marketing skills via social media
Enhance their understanding of the culture and heritage of the Arab World and Arab Americans
Engage in planning and executing events
Outcomes:
College credit can be earned through this program
All student content is published on Arab America's digital platforms
Upon completion, students are eligible to receive a recommendation letter when seeking employment
Students may be afforded an opportunity to meet Arab American leaders who are key decision-makers with government and non-government organizations
About Arab America
With close to four million Arab Americans in the U.S., Arab America's primary mission is to unify the diverse and growing Arab American community, to promote an accurate image, and to act as a "bridge" between the Arab and non-Arab American communities. This is accomplished through the dissemination of events, articles, celebrations, and various content via the website, e-mail, and social media.
To easily apply, please first submit your application through Linkedin.
Then, please email your resume, cover letter, and unofficial transcript titled Arab America Internship to:
Dr. Amal David, Director of Community Outreach
If you have questions, feel free to call 877-272-2944
Click here to visit our BLOG