Recipe of the Day
Chicken Tandoori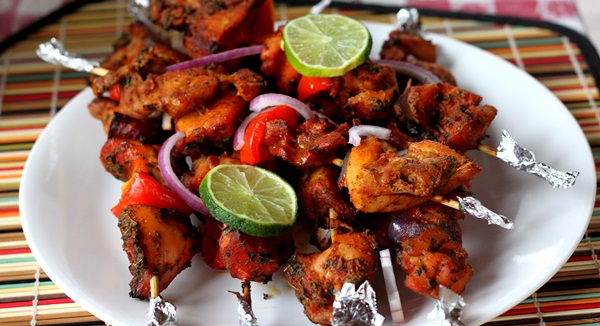 A tandoor after which this dish takes its name, has its origin in the Indian sub-continent. Today, tandoor ovens are found in the Indian sub-continent, Iran and all across the countries in the Middle East.
It is a clay oven pit that is filled with red-hot charcoal. Meat or, at times, other food are then marinated and lowered into the tandoor. The intense charcoal heat usually seals in the juices of the food, making it tasty and tender while at the same time the smoke permeates the food, giving it a unique flavour.
This dish from Oman obviously cannot be as succulent as the one originally cooked in a tandoor dish but it makes a good substitute. Serves 4 to 6.
2 pounds chicken breasts, de-boned and cut into serving pieces
1 cup plain yogurt
4 cloves garlic, crushed
3/4 teaspoons salt
1/2 teaspoon turmeric
1/2 teaspoon ground ginger
1/8 teaspoon nutmeg
1/8 teaspoon pepper
1/8 teaspoon cinnamon
1/8 teaspoon ground cardamom
1/8 teaspoon cumin
1/8 teaspoon cayenne
4 tablespoons cooking oil
2 tablespoons finely chopped fresh coriander
Place all ingredients, except coriander, in a casserole then mix well and allow to marinate for at least 4 hours, turning over a few times.
Sprinkle coriander over chicken then cover casserole and bake in a 350° F preheated oven for 1 hour. Un-cover then brown under broiler and serve.