Arab America Foundation Announces 30 Under 30 Awardees--Class of 2021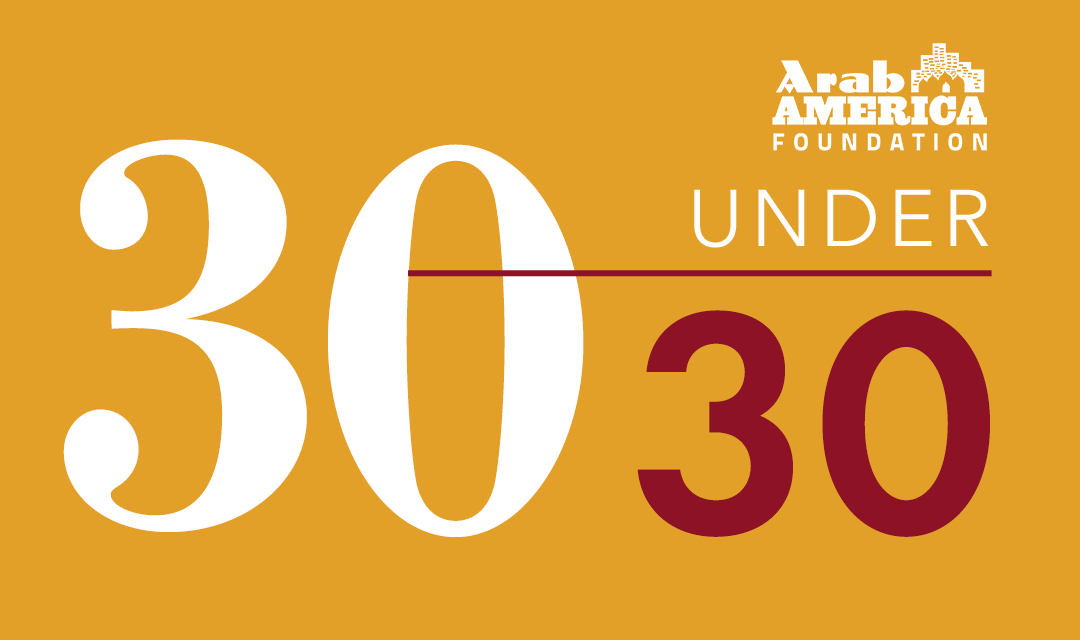 For Immediate Release
Washington DC (October 6, 2021): The Arab America Foundation announced today the awardees of their 30 Under 30 initiative–Class of 2021. Oustanding thirty Arab Americans were announced from a diverse group. A panel of seven judges from throughout the country reviewed the applicants.
The awardees are Suher Adi, Samar Marwan Aburahma, Ayyad Algabyali, Assma A. Ali, Badr Alsaidi, Devin Bathish, Omar Rayan Benallal, Kristina Biyad, Andrew Elkhoury, Khodr Farhat, Amina Gerrbi, Shreen Ghaleb, Colette Ghunim, Soujoud C. Hamade, Bilal Hammoud, Deeyar Itayem, Virginia Jreisat, Rund Khayyat, Zain Kamal Masri, Leila Milki, Dr. Sami Mubarak, Najat Nahshal, Summer Nasser, Miray Philips, Amir Qudaih, Wesam Shahed, Neda M. Shaheen, Zaki Shaheen, Basem Al-Shayeb, and Layth Sidiq.
30 Under 30 is a celebration of accomplished young Arab Americans. The program spotlights Arab American professionals in all fields and business sectors, including education, law, public service/politics, non-profit, business leaders, entrepreneurs, engineers, medical professionals, artists, entertainers, writers, and media representatives. These young professionals have great achievements both in the workplace and in their communities. 
"This is our inaugural class for the Arab America Foundation's 30 Under 30 initiative, and we are so proud of the diverse group of talented young professionals who are excellent representatives of the Arab American community, " said Warren David, co-founder of the Arab America Foundation and president of Arab America.
He went on to say: "We are ecstatic to recognize the 30 individuals that have worked hard to make their dreams come true and have contributed immensely to the Arab American Community. To truly succeed you must own your identity and strive towards goals that seem almost impossible. These awardees have remembered their heritage while making notable achievements and that is something that generations of Arab Americans before us would be proud to see." 
All awardees are under the age of 30, excel in their industry, and are engaged in promoting their heritage and culture to empower their communities and make a difference. The competition is open annually to all professionals who live and/or work in the United States and are of Arab descent. 
The Arab America Foundation and its board are grateful for the leadership of the initiative's coordinators, Nabelah Kakish Ghareeb and Samar Sakakini, as well as the prestigious panel of judges.
The 30 Under 30 awardees for the class of 2021 will be honored during a spectacular national summit that will take place on the weekend of November 12-14.
About the Arab America Foundation
The Arab America Foundation (AAF) is a non-profit (501c3) educational and cultural organization. The mission of AAF is to promote the Arab heritage, empower and educate others about the Arab identity, connect Arab Americans, and build coalitions with diverse organizations across the U.S.
The 30 Under 30 Awardees, Class of 2021
Suher Adi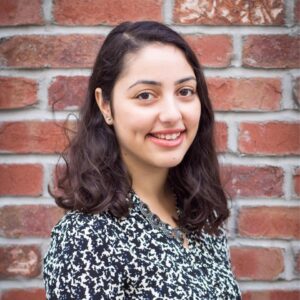 Suher Adi is a Palestinian American, born and raised in Los Angeles, California. A passionate community advocate, campaign and policy strategist, Suher has spent her career working on various issues impacting Arab Americans. Before joining the Media Democracy Fund where she currently spends her time working on issues at the intersection of technology and social justice, Suher was the Policy and Campaign Specialist at the Arab American Institute (AAI). It was at AAI where she launched and ran 'Yalla, Count Me In!', the first and only national, grassroots coalition-led movement to Get Out The Count of Arab Americans for the 2020 Census. Prior to her work at AAI, Suher served as the first-ever Arab American on the University of California Chancellor's advisory committee for Free Speech, advocating for the free speech rights of students and academics across the University of California system. Suher is a proud daughter of Palestinian immigrants from Taybeh and holds degrees in Political Science and Middle Eastern Studies from the University of California, Berkeley.
Samar Marwan Aburahma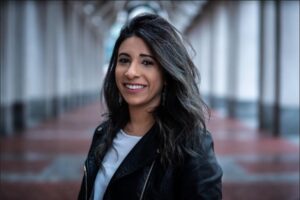 Raised in the liberal haven of San Francisco, Samar Marwan was inspired by her diverse environment to push her Arab community to become more progressive by writing about socially taboo topics at the height of the clickbait era. This journey led her to Cairo, Egypt, where she wrote about everything from LGBTQ+ issues to all-star Arab athletes. She returned stateside and joined Forbes as the assistant editor of tech, covering the biggest names in Silicon Valley and the newly legal cannabis industry. The daughter of Palestinian refugees launched her own cannabis-focused media company and podcast, Hella High, where she delves into the industry's science, business, and culture. A pacifist and philanthropist at heart, Samar has volunteered with the PCRF and BAYCAT as a way to help create a radically hopeful future for our youth. In 2020, Samar caused some controversy by calling out Forbes for their sexist and racist practices.
Ayyad Algabyali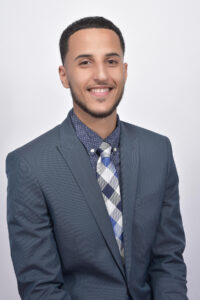 "Ayyad Algabyali is a first-generation Yemeni American raised in New York City. He will be serving as the next Deputy Director of Community Affairs with the NYC Department of Consumer and Worker Protection. Previously, he worked as a Neighborhood Organizer at the NYC Mayor's Office where he connected immigrant New Yorkers with resources and services and fought on their behalf at City Hall. Ayyad is passionate about seeking justice, promoting collaboration, and organizing communities to tackle unjust policies and programs. He served as the first Director of Advocacy at the Yemeni American Merchants Association where he advocated for Yemeni Americans at the city, state, and federal levels. He fought the Muslim Bans and organized the Arab American community around the NO BAN Act and the Boycott NY Post campaign. Ayyad holds a bachelor's degree in political science, international studies, and history from The City College of New York. Click here to connect with Ayyad."
Assma A. Ali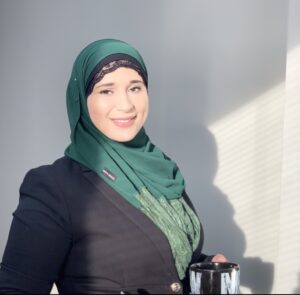 Assma Ali is the founding Immigration Attorney at the Law Offices of Ali & Associates, P.A. from Mississippi. Due to her zealous representation of her clients, she was recognized by the Association of Americas' Top Lawyers as being within the Top 40 Lawyers under the age of 40 within the field of Immigration Law in the United States. This recognition is given to less than 1% of attorneys in the United States. Ms. Ali has experience working for private immigration firms where she gained experience representing clients in various immigration matters. Before working in the private field of Immigration Law, Ms. Ali interned for a Chancery Court Judge, a Criminal Defense Firm, and the District Attorney's Office representing Juvenile in Youth Court. Ms. Ali is a child of Yemeni Immigrants. Her parents immigrated to the United States seeking a better future for themselves and their children. She understands that immigration can be a complicated and cumbersome process and her goal is to try to simplify and ease it for her clients.
Badr Alsaidi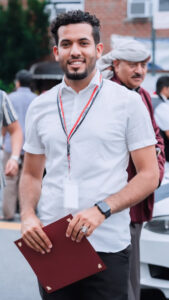 In New York City, Badr has advised and volunteered with a handful of organizations including Performing Arts Mosaic (PAM), Yemeni American Merchants Association, and the Yemeni American Association over the summer of 2019. He founded the Eiha Group with a group of peers to showcase the arts and culture of Yemen. Badr continues to serve as Eiha Group's Public Relations Director on a volunteer basis. Badr manages his family's business because he believes that Yemeni-owned businesses are essential to New York City communities. In February 2020, Badr joined the Mayor's Census Office as a Full-Time Cultural Liaison. He then joined YAMA as a Part-Time Director of Merchant Services in June 2020. In November 2020, Badr transitioned to the Mayor's Public Engagement Unit as a Full-Time Outreach Liaison. In July 2021, he accepted a position with YAMA as a full-time Director of Merchants Services. Badr Alsaidi holds an Associates Degree in Communication Studies from the Borough of Manhattan Community College and a Bachelor's Degree in Political Science and International Studies from Hunter College.
Devin Bathish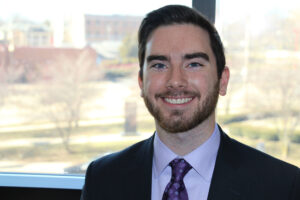 Devin Bathish is a Palestinian American and the Executive Director of the Arab American Heritage Council (AAHC), an Arab community nonprofit based in Flint, Michigan where he is originally from. Since being hired as the youngest Executive Director in the 40-year history of the AAHC, Devin has served as a community leader working to build bridges and fight for better representation of the Arab American community. Under his leadership, the AAHC has doubled the size of its immigration program, hosted numerous diversity training and educational workshops for local schools and community organizations, encouraged thousands to participate in the 2020 Census and General Elections, awarded thousands in scholarships to local Arab American students, and established a pipeline and mentorship program for young Arab American staff. A major advocate for Palestine and Arab representation and culture, Devin has led and organized protests, written and fought for university divestment resolutions, hosted community workshops and lectures on Palestine and the Arab world, in addition, he taught Arab culture through dance as a dabke choreographer. Devin Bathish earned his Bachelor's in Political Science from the University of Michigan in 2017 and is currently pursuing his Master's in Finance at the University of Notre Dame.
Omar Rayan Benallal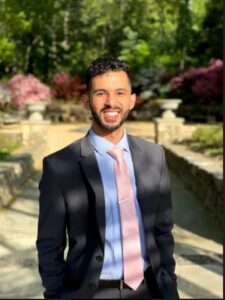 Omar Benallal, of Moroccan and Algerian descent, is the visionary and leader behind the American Alliance for Education; he passionately embodies dedication to humanity. He is currently the Outreach Coordinator for ICNA Relief. Additionally, he is a High Point Central graduate in North Carolina and Washington Duke Scholar at Duke University. At High Point Central, Omar not only excelled in the IB Program but also led a variety of service projects, including a very successful International Day. In 2015, Omar synthesized his leadership skills and true understanding of the power of education to form the American Alliance for Education. As president of AAFE, Omar has the vision to grow AAFE as a conduit for positive change in the education system in order to inspire and support students. With incredible dedication and drive to help others, Omar is an agent of change.
Kristina Biyad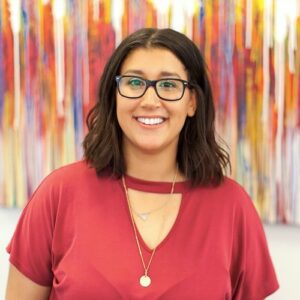 Kristina Biyad is a Moroccan-American based in Washington, DC. As the Outreach Manager at Foreign Policy for America (FP4A), Kristina manages a national base of members advocating for diplomacy-first foreign policy and principled American engagement in the world. She also leads political fundraising for FP4A's endorsed candidates. Kristina previously worked as the Program Specialist for the Bridging the Gap Project (BTG) supporting international relations scholars and the broader foreign policy community in developing policy-relevant academic research. Moreover, Kristina has also held positions with the International Association of Women Judges (IAWJ), focusing on issues of gender-based violence and Sextortion in North Africa, and the Foreign and Security Policy Group at the Foreign and Commonwealth Office of the British Embassy. Kristina is co-chair of the Women of Color Advancing Peace, Security, & Conflict Transformation (WCAPS) Southwest Asia & North Africa (SWANA) Working Group and a 2021 Political Partner with the Truman National Security Project. Kristina Biyad earned an M.A. in International Affairs at the American University School of International Service, where she was awarded the Dean's Award for Outstanding Service to the Campus Community.
Andrew Elkhoury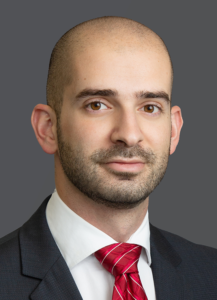 Andrew Elkhoury is a first-generation Lebanese American practicing law in Houston, Texas.  He represents clients throughout the energy, financial, and insurance industries in a variety of matters, including commercial, class action, construction, royalty, bankruptcy, and land disputes. Andrew has obtained successful rulings, orders, verdicts, and judgments, and has helped facilitate the successful resolution of countless other cases through settlements.  In addition, he's very active in the Lebanese and broader Arab community such as representing Arab and Middle Eastern attorneys in discussions with federal judges about judicial diversity. Andrew was also recently elected to the Board of Directors for the Arab American Culture & Community Center in Houston. What's additionally unique about Andrew is that he's also a musician, painter, and artist on Spotify; he does DJ live and virtual events, often for charity. Since 2020, he has raised nearly $10,000 for charity through DJing.
Khodr Farhat
Khodr Farhat is a self-employed immigrant from Lebanon who resides now in Dearborn, Michigan.  He's additionally a public speaker, advocate, and activist in the southeast Michigan area. Farhat was born blind in Lebanon back on June 8 of 1993. He attended a private school for the blind, deaf, autistic, and other differently-abled students. Farhat immigrated with his family to the United States on March 30 of 2009 without knowing one word of English. Despite the language barrier, blindness, and the new transition, Farhat did not give up, rather, his dedication, perseverance, and determination made everything easier. He graduated with honors from Lincoln Park High School and later on from the University of Michigan with a bachelor's degree in political science. Farhat received many awards for his advocacy and activism throughout the past eight years. He is a great fighter for equality, equity, and accessibility.
Amina Gerrbi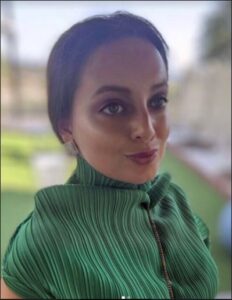 Amina Gerrbi, of Libyan descent, is a Social Impact Entrepreneur, Public Speaker, and Business & DEI Leader from California. She has founded www.muslimahsociety.com, an organization that empowers women through mentorship, storytelling, and social impact initiatives. The program has mentored +100 women and has +300 members. She is a Business Strategist at Google working with some of the largest brands in the world.  In addition, she's the co-founder of the Arab Googler Network, a global organization that supports Arabs around the world (+1000 members), and the Muslim Allyship and Education Lead, where she has facilitated training for +600 Googlers. She is also on the Sentencing Equity project task force and working on a 20% project with the Google Accessibility team. She fundraised +$15k for organizations supporting the Black community, spearheaded the first-ever Arab Googler Conference which +500 people attended, and is the Social Impact Lead for the Arab Googlers where she is running +4 projects that will creatively make an impact on countries across the Arab region, including Palestine, Libya, Egypt, Algeria, Lebanon. She has been featured on TEDx, The Brownie Point Podcast, Google's The Keyword Blog, The Association of Jesuit Colleges and Universities, and the On The Way There Podcast.  Amina Gerrbi's mission is to use her opportunities to 3x the opportunities of others.
Shreen Ghaleb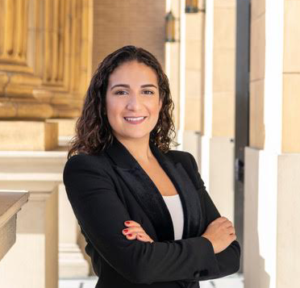 Shreen Ghaleb is a Californian of Moroccan, Egyptian, Lebanese, and Syrian descent who is an innovator and entrepreneur. Currently, she's the CEO and Cofounder at Collabful, Inc., Head of Finance at the World Economic Forum's Palo Alto Global Shaper Hub, Ambassador at the Global WomenTech Initiative, and mentor to incoming female entrepreneurs within the MENA diaspora. Shreen has an insatiable hunger for change within the intersection of education and business by cultivating strategic partnerships with local and global communities to highlight inequities within professional environments for gender identity, sexual orientation, and females on their journeys towards economic mobility.  She believes in taking varying perspectives to find better solutions to ubiquitous problems which is the direction our world is taking towards a commonplace.
Colette Ghunim
Colette Ghunim who is from Chicago of Palestinian and Mexican background has a passion for filmmaking and non-profit work.   Her passion lies in the cross-section of social impact and visual storytelling. Her first documentary, The People's Girls, received over 2 million views and was Best Short Documentary at the Arab Film Festival for its bold spotlight on street harassment in Egypt. As part of the Hulu/Kartemquin Accelerator Program and the 2020 BAVC MediaMaker Fellowship, she is directing Traces of Home, her first feature-length film documenting her journey back to Mexico and Palestine to locate her parents' original homes, which they were forced to leave decades ago. Colette's work has been highlighted in international outlets such as Huffington Post, Al Jazeera, Univision, and TEDx. She is also the co-founder of Mezcla Media Collective, a nonprofit organization that lifts up 650 women and non-binary filmmakers of color in Chicago.
Soujoud C. Hamade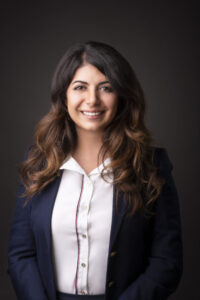 Soujoud C. Hamade is a first-generation Lebanese American attorney who serves as the President of the Michigan Chapter of the National Arab American Bar Association. She recently founded Hamade Legal Consultancy, a Michigan law firm with a focus on Business Law and Cannabis Licensing and Compliance, but she began her legal career as an associate member of the Government Policy Practice Group at Dykema Gossett, a leading national law firm. Ms. Hamade earned her Juris Doctor degree and her Bachelor of Philosophy from Michigan State University, where she received many honors and awards for her academic achievements. Ms. Hamade was and still is heavily involved in political work. During law school, she served as a policy fellow for the Gretchen Whitmer Gubernatorial Campaign, a legislative assistant for former State Senator David Knezek, and a congressional intern for Congresswoman Debbie Dingell.  She continues to volunteer her time and legal expertise on local and state campaigns, hoping to help pave the way for those in her community with political aspirations.
Bilal Hammoud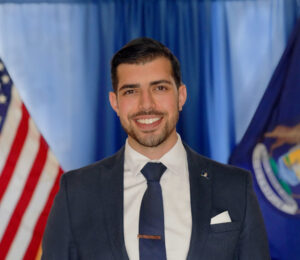 Bilal Hammoud is a lifelong resident of Michigan. Serving as the Public Engagement Associate for the Michigan Department of State, Hammoud was appointed by Secretary of State Jocelyn Benson as the first Arab American to work in the Executive Office. He is of Lebanese descent. His efforts are centered around policy reform, public education, and statewide ID and Election resource creation for marginalized communities, including housing insecure, returning citizens, and seniors. Additionally, Hammoud chairs the Secretary of State's Language Access Task Force, leading statewide accessibility initiatives for non-English speaking communities. Beginning his career in academia, Hammoud earned two degrees in Public Health and Neuropsychology from Wayne State University. Continuing to serve as a data-driven advocate in Southeast Michigan, Hammoud received the Contributor of the Year award from the Michigan League of Conservation Voters for his environmental and public education work.  In his previous roles, he served as the Project Manager for the City of Cheboygan, Community Engagement Liaison with Forgotten Harvest, and Community Relations Manager with Communities First, Inc. Hammoud currently serves on several nonprofit boards, including Reaching Our Children, United Humanitarian Foundation, and Dammeh for Humanity.
Deeyar Itayem

Deeyar Itayem comes from BBQ brisket and garlicky hummus in Tennessee. Growing up amongst two cultures – the southern Memphis area and her ethnic Palestinian heritage – has shaped her unique hybrid identity. Raised to be a citizen of the world, she is fueled by her desire to serve diverse patients as a Head and Neck surgeon. While training at Mayo Clinic, she was able to use her Arabic culture and language skills to effectively interact with the many Arab patients. She was recently featured in the documentary "The First Patient" which debuted at the Milwaukee Film Festival. She has volunteered at the Qalandia Refugee Camp Clinic in Palestine, and she yearns to one day serve with Doctors Without Borders in the Middle East where she can return with surgical skills to her Deeyar, the homeland. Deeyar believes that dancing is the best medicine and enjoys cooking, traveling, as well as rowing.
Virginia Jreisat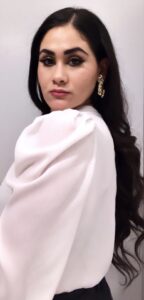 Virginia Jreisat earned her Bachelor of Sciences in Psychology and International Studies degree at Loyola University Chicago and her Master of Arts in Counseling degree from Northwestern University. Virginia's clinical training began at The Family Institute at Northwestern. Jreisat is from Chicago, and she is of Jordanian descent. She then went on to complete a clinical internship at Heartland Health Outreach's International Faces program where she provided community mental health services to refugees and asylum seekers across the Chicago-land area. From here she continued to work in the private practice realm, including working with the EDGE Learning and Wellness Collegiate Community, which specializes in young adults experiencing difficulty launching, past collegiate failures, and interpersonal struggles. Finally, Virginia also serves as the Chicago Advocate for Empower Her Network, an organization that works with ready survivors of human trafficking to help them pursue economic independence through education, employment, and housing opportunities.
Rund Khayyat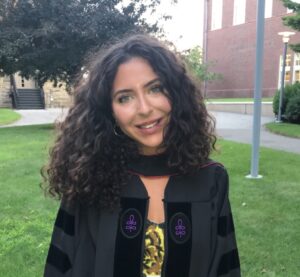 Rund is a proud Palestinian-American civil rights activist and graduate of Harvard Law School. She is from Texas. While at Harvard, she traveled to Bolivia following the 2019 political coup in order to document and interview the victims of the resulting human rights violations against indigenous communities. The ensuing report made international headlines and helped bring accountability to the interim government. Her other meaningful contributions include working with victims of discrimination through the Lawyers' Committee on Civil Rights, the Department of Justice, and the New York State Office of the Attorney General, and representing indigent individuals in Boston criminal courts. Rund is passionate about advocating for Arab and Palestinian communities: she previously worked on Palestinian family separation cases with the Al-Quds Human Rights Clinic, lobbied on behalf of Arab-American civil rights with the American-Arab Anti-Discrimination Committee, and helped organize Arab cultural festivals with the Arab-American Cultural Society in Texas. At Harvard, she helped organize the Palestine Trek, a program that teaches HLS students about life in the Occupied Territories, and she won a Dean's Scholar Prize for her paper comparing the American and Israeli incarceral regimes. Rund graduated from the Plan II Honors Program at UT Austin, during which time she also worked as an Education Policy Analyst at the Texas Senate. She is currently working as a Civil Rights Fellow in D.C. and then clerking on the Fourth Circuit Court of Appeals.
Zain Kamal Masri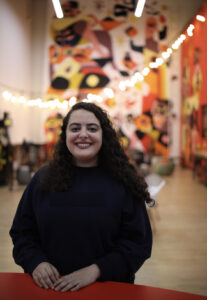 As the daughter of Arab American immigrants, Zain Masri, Google's Head of Brand & Reputation Marketing in MENA, is passionate about creating opportunities for women in the Arab world. She is of Jordanian and Palestinian descent. Her mission is to help equip Arab women with digital skills to overcome obstacles, forge their own paths, and inspire others to do the same. Zain led the launch of "Maharat min Google" a digital skills education program that helps youth, especially women, gain the skills they need to succeed in an increasingly digital economy. The program trained over 1,000,000 individuals, of which over 50% are women, and over 50% found a job or grew in their business/career as a result of the program. Zain also helps select the Google Doodles for the region; at least 50% of doodles in the Arab world have celebrated women. After graduating with a Bachelor's Degree in Mass Communication & Media (Advertising) and a minor in Psychology, Zain pursued a Master's Degree in Psychology and an Executive Master's Level Certificate in Marketing by The Wharton School of the University of Pennsylvania. She is passionate about Storytelling, Technology, and Arab culture.
Leila Milki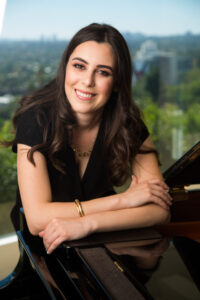 Leila Milki is a Lebanese-American singer, songwriter, and classical-pop pianist based in Los Angeles, California. She strives to translate her multilingual artistry into a healing platform for emotional and cultural empowerment while elevating visibility for fellow first-generation daughters of the Arab diaspora. Her Arabic/English fusion work has earned her a Grand Prize and Lennon Award in the John Lennon Songwriting Contest, along with a feature in Disney's Emmy-nominated series "The Rocketeer" (with her song "Enjoy Your Meal," a festive tribute to Lebanese cuisine and Arab women across generations). Leila regularly honors her roots by incorporating English, Arabic, French, and Spanish into her captivating, multi-genre concerts and Lebanese-relief fundraisers. Today, she is most passionate about showcasing vulnerability as strength, and finding beauty in the complex spaces between dualities – as explored in her latest cinematic ballad "Fall Asleep," and her new meditative solo-piano record "Moonlight Improvisations."
Dr. Sami Mubarak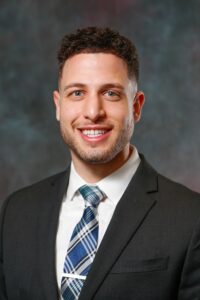 Dr. Sami Mubarak is a recent graduate from The Ohio State University (OSU), where he obtained his Bachelor of Science in Biology in 2016 and his Doctor of Dental Surgery in 2021, and he is from Ohio. He currently works as a full-time dentist in rural Ohio to help increase access to oral healthcare for an underserved population. Mubarak's upbringing as a grandson of Palestinian refugees drives him to direct his knowledge and resources into being an active global citizen. He balanced his academic studies with empowering Arab and other minority/marginalized communities through serving multiple leadership positions, including but not limited to, co-founding the Arab Student Union and Arab Dental Society at OSU. One of his biggest accomplishments is establishing an initiative called Refugee Smiles where he co-led two service trips to Al-Zaatari Refugee Camp and provided free dental care to those in need. Mubarak's strong commitment to serving underserved populations was awarded and recognized nationally by the Dental Trade Alliance Foundation in 2020 and by the International College of Dentists and the Delta Dental Foundation in 2021.
Najat Nahshal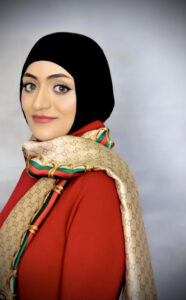 Her upbringing and family roots as a first-generation, Yemeni-American Muslim woman, have shaped her educational, professional, and social interests in more ways than she initially realized. Ironically, as a consequence of being raised in an Arab-American ethnic enclave characterized by racial, cultural, and gender segregation, she gained relatively minimal exposure to diversity. Her contacts were mainly Yemeni-American Muslim women – most of whom were family members or neighbors since childhood. Despite the benefits of such a close-knit support system, college exposed her to the countless benefits of interacting with (and learning from) individuals from diverse backgrounds. Her civic engagement left her acquainted with the struggle and resilience that characterizes our community of refugees and immigrants from Yemen, Syria, Palestine, Lebanon, and Iraq, among other diasporas. From the high-chair through higher education, she witnessed how psychosocial and health disparities manifested themselves across Metro Detroit. This awareness fueled her passion for investigating and developing culturally responsive intervention programs as a Ph.D. Candidate in Clinical Psychology, in order to promote mental health among minority groups. Finally, she is from Dearborn, Michigan.
Summer Nasser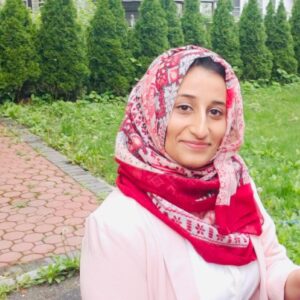 Summer Nasser, born in the Bronx borough and raised in New York City, is a speaker and analyst on Yemeni affairs and is the Chief Executive Officer of Yemen Aid, a 501(c)(3) humanitarian organization and an Internationally licensed NGO in Yemen that was recently established in late 2016 as a response to the humanitarian crisis in Yemen. Ms. Nasser has spoken alongside diplomats, officials, and experts at different institutions across the United States and the United Nations in New York and Geneva. Some of those who Ms. Nasser spoke alongside Senator Chris Murphy of Connecticut and Virginia Bennet, former Acting Assistant Secretary of State for Democracy, Human Rights and Labor. Ms. Nasser has appeared on media platforms such as BBC, Aljazeera, and PRI. Ms. Nasser has received multiple awards by organizations, congress members and was recently awarded a Citation of Merit by the Bronx Borough President, Ruben Diaz Jr. She holds a Bachelor degree in Sociology from Concordia College of New York and is currently pursuing a Master in Public Administration with a specialization in Public Management at Baruch College. Nasser is of Yemeni descent.
Miray Philips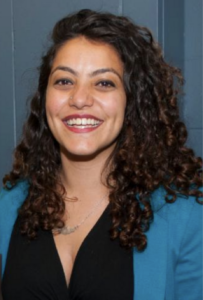 Miray Philips was born in Egypt, raised in Kuwait, and has since lived in the US between Michigan, Minnesota, and Washington, DC. She is from Philadelphia, Pennsylvania. Miray is currently a Ph.D. Candidate in Sociology at the University of Minnesota researching the contested politics behind US foreign policy towards Christians in the Middle East. Her research has been generously funded by the Center for Arab American Philanthropy, the Louisville Institute, the Global Religion Research Initiative, and several institutes at the University of Minnesota, including the Center for Holocaust and Genocide Studies and the Human Rights Program. Beyond the academy, Miray has held several positions to inform policy and advocacy, including the Tahrir Institute for Middle East Policy and Minority Rights Group International. She has also worked as an editor and community outreach coordinator with Egypt Migrations, where she was committed to amplifying the stories of migrants, especially those often omitted from official narratives.
Amir Qudaih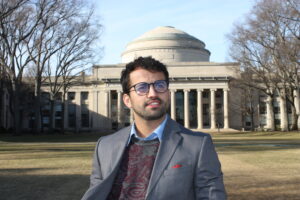 Amir Qudaih is an Associate Project Consultant working on Building Technologies at SGH, Boston. Amir came to Boston from Gaza in 2016 to pursue his Bachelor's in Civil Engineering at UMass Lowell, where he was a member of the national leadership honor society: Omicron Delta Kappa, and he received the Chancellor's Medal for Community Service. Amir also has recently received The Silver Lion award for the recognition of his work by the Jury of the Venice Architecture Biennale. During his time as an undergrad, Amir was elected Senator and Ambassador for the College of Engineering Student – class of 2020. He worked tirelessly to ensure the intellectual and technical development needs of the students were met by the Engineering Department. Amir was also the operation manager at MIT Hacking of Medicine for two years, where he was responsible for mentoring teams through the ideation, prototyping, and final pitch stages.
Wesam Shahed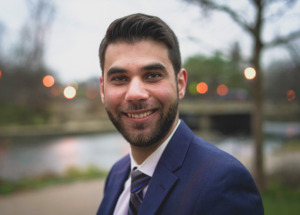 Wesam Shahed is a first-generation Palestinian-American from Chicago, Illinois. He serves as an Assistant State's Attorney at the Cook County State's Attorney's Office, the second-largest prosecutor's office in the US. After 9/11, Mr. Shahed's community faced constant discrimination, which created his passion to represent minority communities who share similar experiences. In pursuit of his passion, Mr. Shahed prosecutes misdemeanor crimes, while giving a voice to minority communities within Chicago. In law school, Mr. Shahed worked for judges ranging from the trial court to a Michigan Supreme Court Justice. Mr. Shahed earned his B.A. in Pre-Law: Business Management from Loyola University Chicago and his Juris Doctor (J.D.) from Michigan State University College of Law. Mr. Shahed is heavily involved with the Chicagoland Arab community with leadership positions in the Arab American Bar Association, the Illinois Muslim Civic Coalition, the Arab American Democratic Club, and the Chicago Palestinian Film Festival. Finally, he is "a Next Generation Board Member for the IL Muslim Civic Coalition."
Neda M. Shaheen

Neda M. Shaheen is an attorney in Washington, DC. She is an LLM Candidate in National Security Law at Georgetown University, where she is one of this year's National Security Scholars. Neda was the Policy and Programs Lead at Women of Color Advancing Peace, Security, and Conflict Transformation (WCAPS), where she founded and co-chaired the South West Asia and North Africa Working Group, advocating for women of color in peace and security, and elevating women in the region and the global diaspora. Neda is the Team DC Co-Lead at the Arab America Foundation and previously volunteered as the National Director of Arab American Engagement for the Biden Campaign. She moved to DC to advocate for the civil rights of Arab American communities at ADC, from the United Nations in New York, where she conducted legal compliance under international law. Neda is Syrian American and grew up in Ohio. She earned her JD and Certificate in International and Comparative Law at DePaul University, after graduating from Ohio State University with a BA in English and minor in Studio Art.
Zaki Shaheen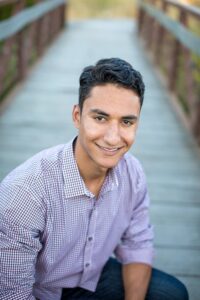 After graduating from UC Davis with a Public Policy degree in 2018, he began seeking opportunities to work in electoral politics. Shaheen wanted to fight to elect progressive candidates who ran for the right reasons, and who shared his community-based values. He first gained work on Nevada's 2018 gubernatorial race, and then a US Senate race in the same state. Both campaigns were successful and he was hooked. He went on to work as a field director and campaign manager on several local races in Virginia and Washington D.C., before getting the opportunity to come to San Francisco and pursue the work he loves at home. For the last two years, Zaki has worked as a political consultant and campaign manager in San Francisco, while becoming a community leader in his own right. He has had the privilege of managing campaigns for almost every elected position in the city. Finally, he is of Palestinian descent.
Basem Al-Shayeb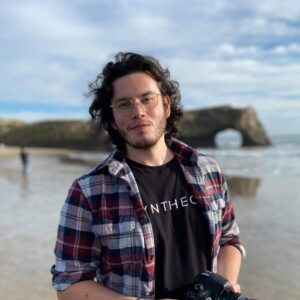 Basem Al-Shayeb is from California, and he is an Egyptian-American Predoctoral Fellow of the National Science Foundation at the University of California, Berkeley. Conducting research in the labs of Dr. Jillian Banfield and 2020 Nobel Laureate Dr. Jennifer Doudna, he has discovered multiple new groups of viruses with giant genomes including the record-holder for the largest bacterial virus, and novel giant DNA elements that may help with climate change mitigation. Some viruses were aptly named in Arabic as Kabirphage, Dakhmphage, and Jabbarphage. These discoveries have also yielded some of the most compact and versatile CRISPR gene-editing technologies to date, proven efficient in a range of biotechnological applications from human health to agriculture and diagnostics. As a contributing editor for the Maqal Elmy Social Initiative (مقال علمي – Home), he works to simplify and translate the latest scientific findings into Arabic to thousands of followers on social media, working to improve the accessibility of science and to inspire Arab youths to pursue careers in research.
Layth Sidiq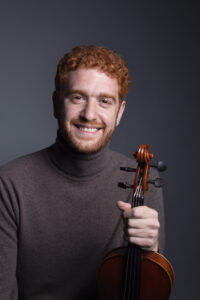 Layth Sidiq is an award-winning violinist, composer, educator, and the current artistic director of the New York Arabic Orchestra and the Center for Arabic Culture's Youth Orchestra Program of Jordanian descent. He is from Massachusetts. He has toured the world and shared the stage with major artists such as Simon Shaheen, Danilo Perez, Javier Limon, and Jack Dejohnette, as well as performing in prestigious venues like the London Jazz Festival, Boston Symphony Hall, WOMEX Expo, Panama Jazz Festival and more. He is featured on multiple award-winning albums and his first record Son of Tigris was premiered at the Montreal Jazz Festival in 2016. In 2018, Layth won 2nd place at the Seifert International Jazz Violin Competition as the first Arab to ever participate, and he was also recently awarded 'Best International Artist' at the 2020 Boston Music Awards. Layth was also recently nominated for the 'World Act of the Year' category at the New England music awards. He was the director of the Tufts Arab Music Ensemble for four years and a guest faculty member at Carnegie Hall's 'Music Educators Workshop'. Layth is an in-demand violinist, composer, and educator in the US and internationally.
For more information about the 30 Under 30 initiative click here.
For more information about the Arab America Foundation, click here.
For media inquiries, contact Claire Boyle here 
Official Sponsor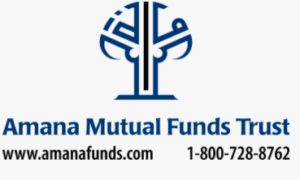 Compiled by Arab America
Check out Arab America's blog here!