Arab Americans
Lucie Salhany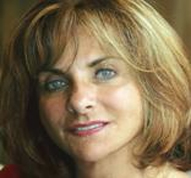 Television's glass ceiling was officially broken in 1993 when Lucie Salhany was appointed chairwoman of Fox Broadcasting, thus making history as the first woman to head a broadcast network. During her tenure with Fox—which included several years running its production and distribution arm, Twentieth Television—Salhany guided the expansion of the nation's newest network from four nights-a-week to seven, negotiated a landmark NFL deal, and brought such phenomenally popular shows as The X-Files to the air. Before joining Fox, she was head of Paramount's syndication division, where she demonstrated an uncanny understanding of what sells at the local level by overseeing a remarkable string of first-run hits like The Arsenio Hall Show,Hard Copy, and most especially, Star Trek: The Next Generation. Indeed, expanding the latter franchise proved to be her métier: later, when she left Fox to launch the upstart United Paramount Network (UPN), she positionedStar Trek: Voyager as its flagship series—acutely aware, as always, of the importance of meeting affiliate programming needs with name-brand entertainment. Having left Hollywood for Boston in 1997, Salhany is now managing partner of Echo Bridge Entertainment, an independent distributor of motion pictures for the global market. "Television has changed from what it was. I don't want to be one of those people who look back and say, 'Do you remember the good old days?' The Internet is like TV was when I started. I like start-up businesses and there aren't too many of those in TV anymore."
Born in Cleveland in 1946, and educated at Penn State University, Lucille (Lucie) Salhany began her broadcasting career as program director for local independent station WKBF-TV in 1967, shortly before it went on air. Owned by Kaiser Broadcasting, the station found early success in re-broadcasting episodes of NBC's ratings-challenged science fiction series Star Trek—a move that other stations around the country would soon mimic to lucrative results. By 1979, after a stint with WLVI-TV in Boston, Salhany had become vice president for programming for Taft Broadcasting Company, a Cincinnati-based media conglomerate that owned several high-profile content libraries and numerous radio and television stations. By the time she moved to Los Angeles in 1985, to become president of Paramount Domestic Television, Salhany had become well versed in the intricacies of the syndication market.
During the six years she spent with Paramount, Salhany parlayed her insider's knowledge of what local stations wanted into a string of syndicated hits—The Arsenio Hall Show, Hard Copy, The Maury Povich Show,Entertainment Tonight—that established the company as the most successful studio-affiliated television division in the business. "Paramount" to her achievement was the revival of the Star Trek franchise with Star Trek: The Next Generation, which became one of the most profitable syndicated programs in the history of broadcasting. Unsurprisingly, her track record drew the notice of the other studio heads, and in 1991 she was plucked away from Paramount by Fox Broadcasting CEO Barry Diller to manage Twentieth Television, the production and distribution arm of 20th Century Fox Film Corporation. Fox had launched its own eponymous network in 1986 and, by the time Salhany joined the team, it had become a formidable competitor to the traditional Big Three networks with shows like The Simpsons and Married… With Children.
Salhany's open management style was well received by Fox station affiliates, and in 1993 she was handpicked by Rupert Murdoch, chairman of Fox-parent News Corp., to succeed Diller as president and CEO. It was the first time in history that a woman had ever held the top post at a network. Among the first shows Salhany green-lighted was The X-Files, which went on to become an international cultural phenomenon. Later, when the show hit its one-hundredth episode, thus securing a spectacularly lucrative payout in off-network syndication sales, Salhany remarked that "there was never any question in my mind that I knew we had a winner." Along with the cult appeal of science-fiction, Salhany was also very savvy about sports, football in particular. In a deal that made headlines, Salhany, a life-long fan of both the Cleveland Browns and Pittsburgh Steelers, sacked CBS and ran off with its NFL package—a crown jewel of the Tiffany Network for more than thirty years—for a then-unheard of sum of $1.6 billion.
Despite overseeing the remarkable growth of Fox, and launching several popular and critical favorites, Salhany—as with any head of a network—faced relentless pressure to avoid any costly programming errors. Thus, when her attempt to challenge the late-night dominance of Jay Leno (NBC) and David Letterman (CBS) by introducingThe Chevy Chase Show proved to be a brief and expensive failure, her days at Fox became numbered. Complicating the situation was the fact that Murdoch had become increasingly hands-on in the management of his broadcast operations. When it was suggested that Salhany report to him through an intermediary, Salhany resigned—and promptly rebounded by becoming the head of another network.
A joint venture of Viacom Inc. and Chris-Craft Industries, UPN (short for United Paramount Television) was created as a competitive response to the new network that Time Warner and Tribune were planning, The WB. And Salhany, with her Rolodex of local station managers, was looked to as the ideal person to oversee its saturation as a national network. UPN hit the air in January 1995 with forty-one affiliate stations, four hours of original programming, and a target demo of eighteen to forty-nine year-old white males. Its debut program wasStar Trek: Voyager, the latest entry in the franchise that Salhany had revitalized. Positioned as the network's flagship show, it drew a respectable amount of viewers, but when other UPN shows failed to find a foothold, Salhany began commissioning comedies, like Moesha, with a broader, more urban, appeal. (UPN's primary competitor, The WB, attempted a similar strategy; faced with declining viewership, the two rivals eventually merged into The CW in 2006.)
After her departure from UPN in 1997, Salhany returned to Boston, where her family had long been based (indeed, the long commute had largely prompted her resignation) and formed her own consultancy and acquisition firm, J.H. Media, where she worked with clients like Macy's, NASA, and Chris-Craft Industries. In 1999 she joined LifeF/X, a publicly held venture that created and marketed digital human "stand-ins" for a variety of platforms, from interactive gameplay to smart appliances. "We're creating virtual people with artificial intelligence," Salhany, who became the company's chairman in 2002, explained to Variety. "It's a lot like what we've been watching on Star Trek." Immersed in new media, Salhany relished her time away from Hollywood and, when probed, has expressed little interest in returning to television.
In 2004 Salhany cofounded Echo Bridge Entertainment, a global film distribution company of which she is managing partner. She has received numerous accolades, including the HELP Humanitarian Award, the Silver Circle Award from the National Academy of Television Arts and Sciences (NATAS), and the Silver Satellite Award from American Women in Radio and Television. In addition she is a trustee of Emerson College, where she received an Honorary Doctor of Humane Letters in 1992.