Arayes, Middle Eastern Style Grilled Kefta and Pita Sandwiches
By: Blanche Shaheen/Arab America Contributing Writer
Just the word Arayes conjures up the most blissful and happy childhood memories for me. Imagine a large campground by a deep blue California lake. The sky is pink, yellow, and crimson red at sunset. My father fires up the grill, then retreats to a lawn chair, tabla in hand playing hypnotizing Arabic beats. My aunts and uncles bustle around, assembling tabbouli, hummus, sliced cheese, ears of corn, and watermelon slices as they speak loudly and excitedly in Arabic. Triangular arayes sandwiches are already assembled and ready to go, as my amo (which means uncle in Arabic) lines them up on the grill. The smell of kefta, or meat seasoned with onions, parsley, and garlic, permeates the air. The tabla intensifies along with the savory smell, and pretty soon campers we don't even know follow their ears and noses in our direction, wanting to be a part of the action.
This is the memory that I hold dear every time I make arayes for my children. Arayes in Arabic means "bride and groom." There are so many theories as to why they call this pita pocket sandwich arayes. Some say the seasoned kefta meat on the inside represents the tuxedo, and the white pita bread represents a bridal gown. Others say the sandwiches are an embrace between bread and meat, representing the embrace of a bride and groom. Regardless of the origin, the crispy bread enveloping the tender and juicy meat in the middle is downright addictive and delicious.
Unlike hamburgers,, where the meat is cooked separately and placed in a bun, for arayes you spread a thin layer of raw meat in the pita, and they get cooked together. During the cooking process, the juices from the meat season the bread, and the golden brown pita gets a crackly and crunchy texture from the olive oil brushed on top.
While this traditional recipe uses ground beef, you can use ground lamb, turkey, or chicken. Vegetarians can use mushrooms that have already been sauteed with salt and pepper to get rid of excess moisture, in combination with fresh mozzarella cheese. These pita sandwiches are made for dipping, whether you like hummus, tzatziki, or muhammara spreads.
These popular grilled sandwiches are ubiquitous in Palestinian, Lebanese, and Syrian street stalls, and now you can make them at home!
To see the technique of how to make this sandwich, click on the video below:
ARAYES RECIPE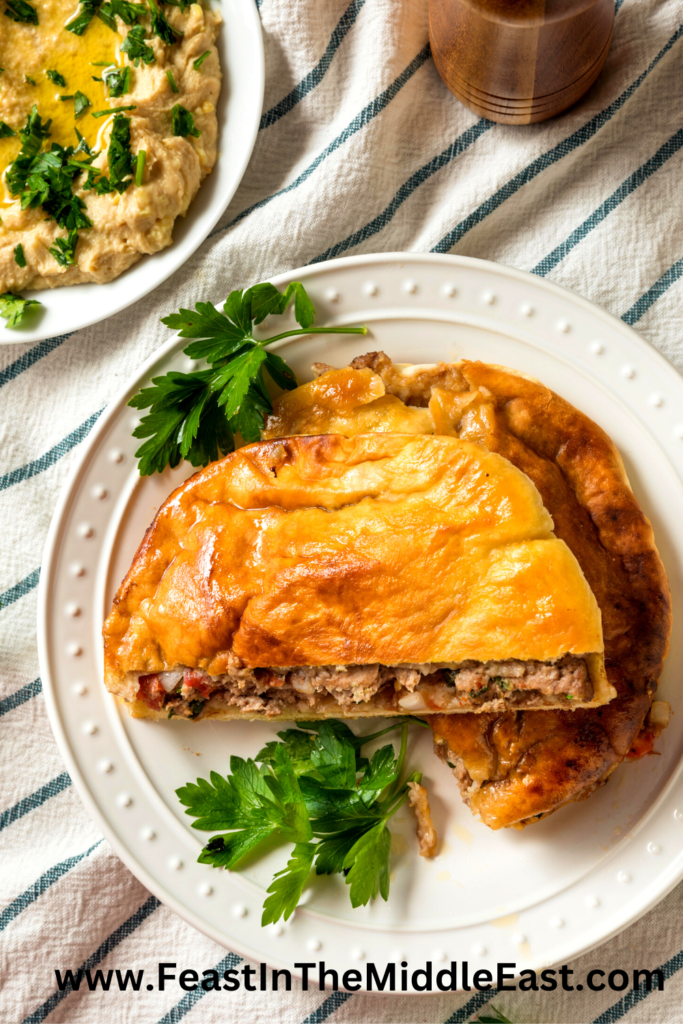 1 pound hamburger meat (ground lamb, beef, or a combination of both)
1/3 bunch finely chopped parsley
3-4 cloves garlic, minced
1/2 small onion, minced
Salt to taste
1/2 teaspoon lemon pepper
2 tbsp pomegranate molasses (optional if you want a sweeter flavor)
1 rounded teaspoon allspice
1 package pita bread, white or wheat, each cut in half
Olive oil for brushing
INSTRUCTIONS
Preheat the oven to 400 degrees
Combine the garlic, parsley and onion in a large bowl. By hand, gently incorporate the vegetable mix with the ground meat, salt, lemon pepper, allspice and optional pomegranate molasses until well combined.
Cut each pita in half, and open up each pocket so that they are ready for filling.
Take a golf-ball size of meat mixture and use your hands to flatten the meat to approximately 1/4-inch thick. Shape the meat to fit inside the pita pockets. When finished with the entire batch, brush both sides of the pitas with olive oil.
Bake in the oven for 5 minutes, then turn over and bake for another 5 minutes. You want the pita bread to be nice and golden brown on the outside, so that might take longer depending on the strength of your oven. You can also cook these sandwiches on a grill, just make sure to not skip the step of brushing olive oil on the bread so that the sandwiches won't stick to the grill. Grill for about 5 minutes each side.
Cut into triangles, and serve with hummus or any other condiment you prefer.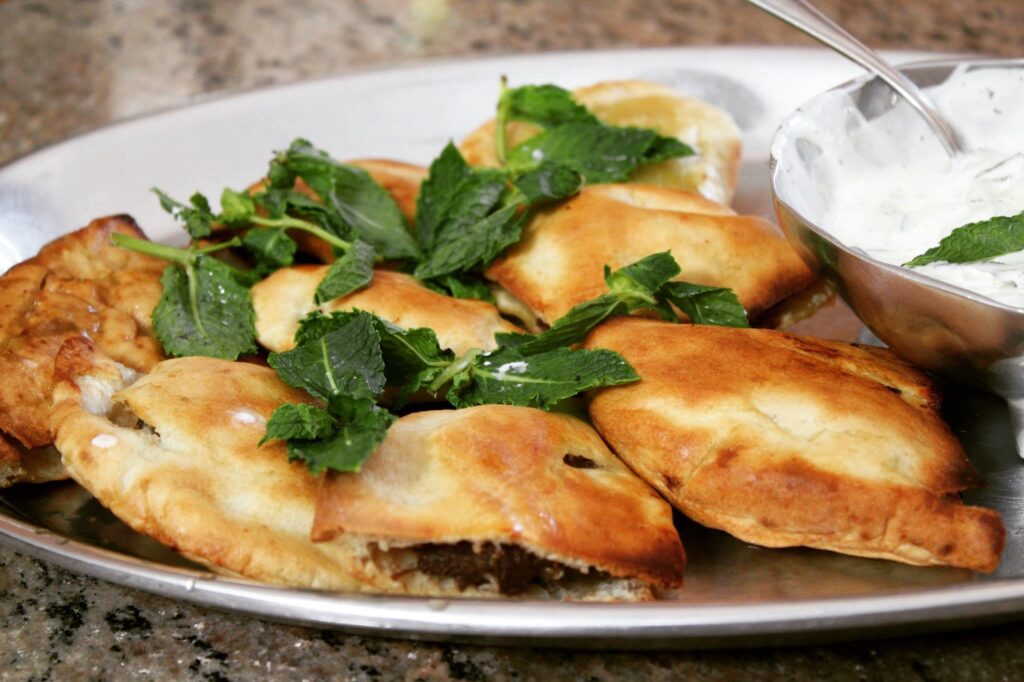 Blanche Shaheen is the author of the cookbook called "Feast In the Middle East, a Journey of Family and Cuisine"  which you can order here: https://secure.mybookorders.com/mbo_index.php?isbn=9781545675113   She is also a journalist, and host of the popular cooking show called Feast in the Middle East. She specializes in Arab cuisine of the Levant and beyond.  You can check out her cooking video tutorials at https://www.youtube.com/user/blanchetv    Her recipes can also be found at https://feastinthemiddleeast.wordpress.com/