ACC Community Center Annual Ramadan Iftar: A Arab Heritage Month Event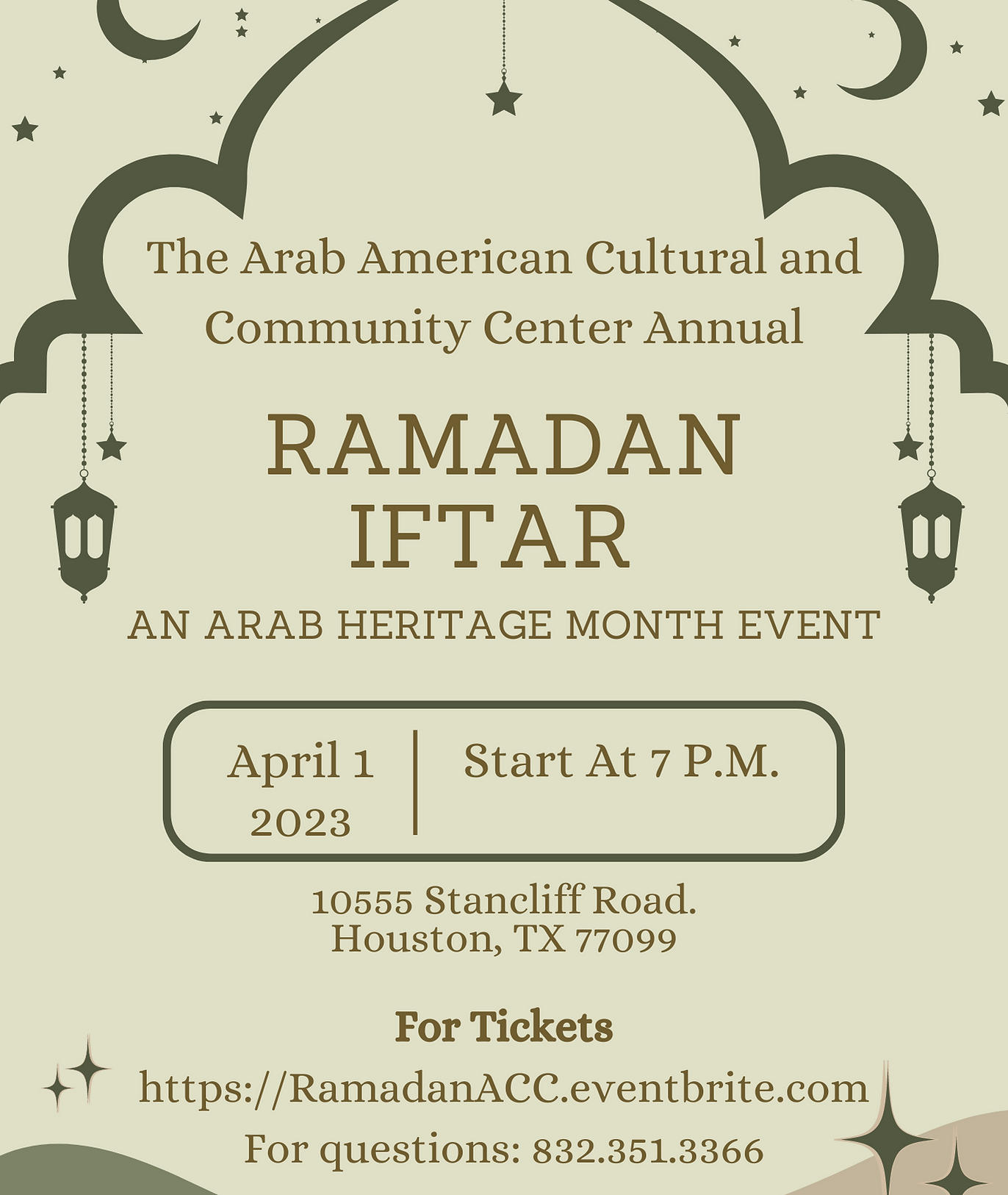 Date/Time
Date(s) - 04/01/2023
7:00 pm - 11:30 pm
Location
Arab American Cultural & Community Center
Categories
Cost:
15-30 USD
Contact Person:

Email:

Website:
https://www.eventbrite.com/e/ramadan-dinner-at-the-arab-american-center-tickets-579681311407
Phone:
832-351-3366
Organization:
Arab American Cultural and Community Center

HOUSTON, TX
Ramadan is observed by a large segment of Arabs (and non Arabs) around the Globe as a month-long of fasting from sunrise to sunset and also as a month of giving, self-reflection, and self-control. Join us at ACC for a wonderful immersion into Ramadan traditions and cultural rituals from the Arab World as part of the celebration of Arab Heritage Month . Bring your Non-Arab Friends for a night of cross cultural discovery experience.
Check-in starts at 7:00 p.m.
Dinner will be served at Sunset at the time of breaking the fast (around 7:40 p.m.)
Visit a makeshift traditional Arabian decor corner
Learn about Ramadan festivities from various Arab countries
Taste delicious traditional dishes and dessert from the Arab World
Enjoy the Ramadan evening entertainment program
Reminder that all tickets need to be booked online and purchased ahead of time prior to the event.
Places are limited to 250 seats, make sure to register early to guarantee a spot. Ticket sales will close by Tuesday, March 28 or when we reach capacity, whichever happens first.
TICKETS
Early Bird Adults and Kids 10 years and above: $25 – Discount ends Monday, March 20 at 6 p.m.
Regular Tickets: Adults and Youth 10 years and above: $30
Children Tickets: Kids between 4 and up to 9 years old: $15. This includes dinner, babysitter, and games. Kids will be in a separate room. Sibling's discount at $10 after first child. For discount, use code: sibling
No kid under 4 years old. Thank you for your cooperation
Tickets are non refundable
Vendors: There will be vendors Station at Separate cost.
We Look Forward to Seeing You!
For questions or inquiries, please call 832.351.3366
The Arab American Cultural and Community Center
10555 Stancliff Rd. Houston Texas, 77099