Palestine Writes Literature Festival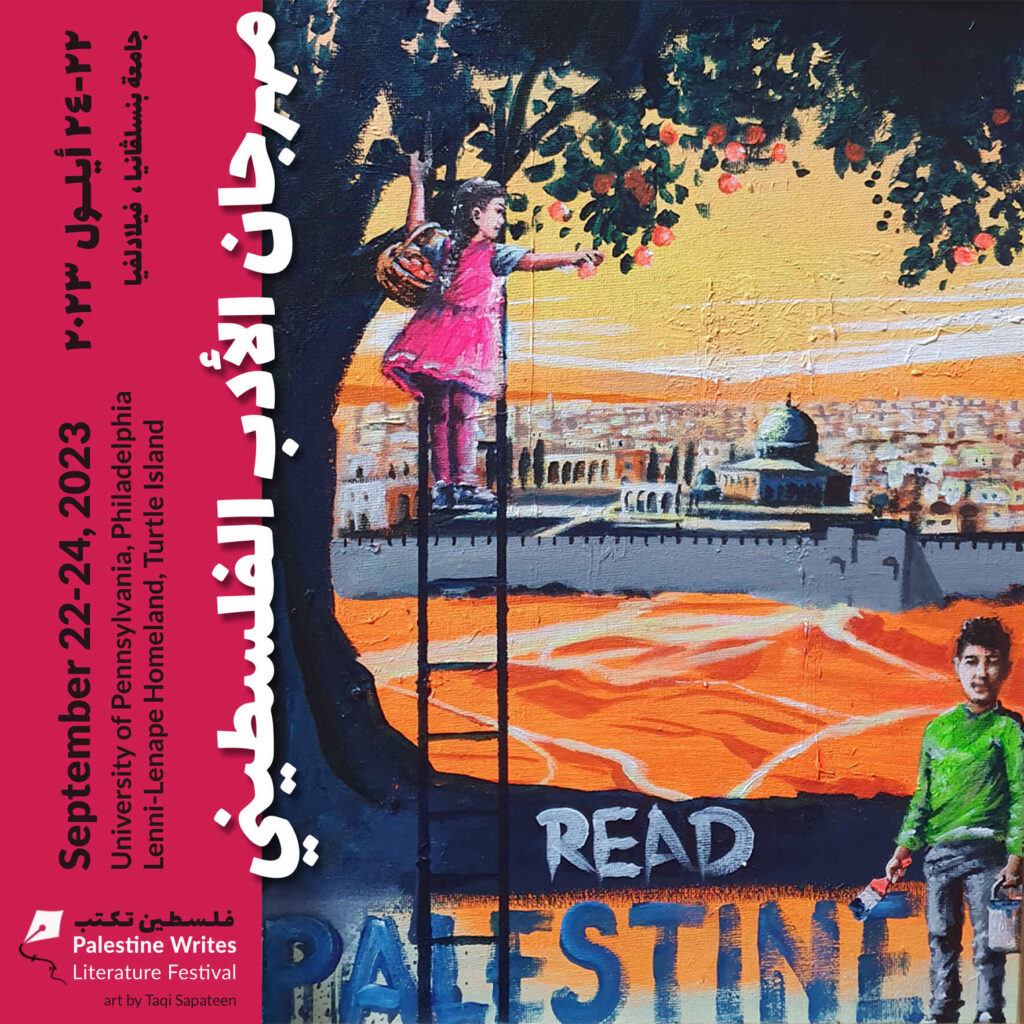 Date/Time
Date(s) - 09/22/2023 - 09/24/2023
1:00 pm - 8:00 pm
Location
University of Pennsylvania
Categories
Cost:
Adult General Admission (Early Bird) Discounted early registration tickets available until March 2023. In-person. $50 Children General Admission Discounted tickets for 12 years and under. In-person. $20 Free Access (requires approval) If you wish to attend but cannot afford a ticket. We will send instructions. $0 USD
Contact Person:

Email:

Website:
https://pfp.networkforgood.com/events/52172-palestine-writes-2023?utm_campaign=dms_email_blast_2658277
Phone:

Organization:


Palestine Writes Literature Festival is back!
Palestine Writes is the only North American literature festival dedicated to celebrating and promoting cultural productions of Palestinian writers and artists. Born from the pervasive exclusion or tokenization of Palestinian voices in mainstream literary institutions, Palestine Writes brings Palestinian cultural workers from all parts of Historic Palestine and our exiled Diaspora together with peers from other marginalized groups in the United States. Crossing multiple borders—geographic, linguistic, and cultural boundaries—writers, artists, publishers, booksellers, scholars, musicians, and thinkers will hold conversations about art, literature, and the intersections between culture and power, struggle, politics, climate change, sexuality, human rights, animal rights, food sovereignty, and more. The festival boasts panel discussions, workshops, music, children's programming, networking, food, readings, dance, theatre, and oral storytelling.
<p "="">By purchasing a ticket or registering to attend the festival, you agree to the following TERMS OF AGREEMENT:Palestine Writes is a celebration of Palestinian culture, an ancient, rich, and multi-layered indigenous heritage. The Palestine Writes board and staff endeavor to ensure that the Palestine Writes Literature Festival ("Festival") is a safe, respectful, and enriching experience for all. By registering for the Festival you are agreeing to the following terms, which form a legal contract between Palestine Writes and the registered attendee and/or participant ("you"). If you are registering on behalf of another, it is your responsibility to ensure that the person attending is aware of these terms and accepts them, and by completing the registration you are warranting that you have made the attendee aware of these terms and that they have accepted these terms.
All registrants and attendees of the Festival agree to refrain from disrupting, heckling, or otherwise sabotaging any feature of the Festival. You further agree not to bring any weapon, alcohol, or any illegal substance to the Festival, and to abide by all venue rules and regulations.
<p "="">By registering, you acknowledge that Palestine Writes reserves the right to request your removal from the Festival if Palestine Writes considers your behavior as creating a disruption or hindering the Festival and/or the enjoyment of the Festival by other attendees or speakers. In such an event, you will not be entitled to receive a refund of any money paid to Palestine Writes to attend the Festival, nor of any other expenses incurred to attend the Festival.By registering, you further acknowledge that the Festival will be photographed and/or videotaped for promotional purposes and that you may appear in a photograph or video that is used by Palestine Writes for such purposes. By voluntarily attending the Festival, you grant Palestine Writes and/or one or more of its affiliates the right to take, edit, alter, copy, exhibit, publish, distribute, and make use of any and all photos or videos taken to be used in and/or for promotional and/or any other lawful purpose.
<p "="">All intellectual property rights in and to the Festival, the Festival content, and all materials distributed at or in connection with the Festival, including names, trademarks and logos, are owned by Palestine Writes and/or the Festival partners, sponsors, or speakers presenting at the Festival.
A big thank you to our sponsors!
Silver Sponsorship
Alix Gerz
Ahmet Tekelioglu
Bronze Sponsorship
Al-Awda, Palestine Right to Return Coalition
Anera
Mobilization4Mumia
Mondoweiss
Judith Butler
Manal Fakhoury
Noor Tamimi