Vegan Cooking & Wine Pairing Class: A Taste of Morocco on Your Plate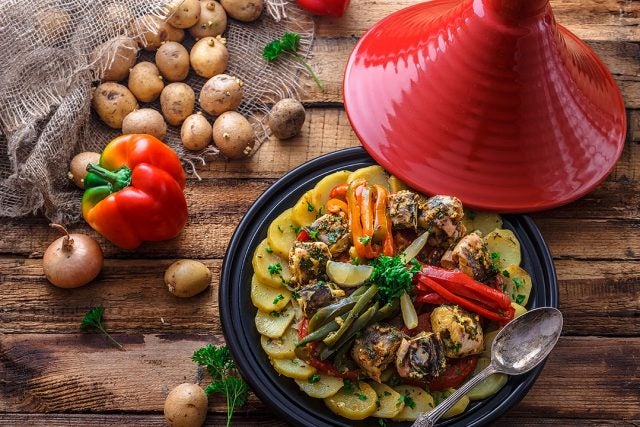 Date/Time
Date(s) - 10/01/2023
1:00 pm - 5:00 pm
Location
FlipJack Ranch – Farm to Table Bed & Breakfast
Categories
Cost:
$175 USD
Contact Person:

Email:

Website:
https://www.eventbrite.com/e/vegan-cooking-wine-pairing-class-a-taste-of-morocco-on-your-plate-tickets-479437890637?aff=ebdssbdestsearch
Phone:

Organization:


Location
FlipJack Ranch – Farm to Table Bed & Breakfast 4600 Smith Grade Santa Cruz, CA 95060
Greetings Foodies & Wine Lovers!
In celebration of Autumn's bounty of wonderful vegetables, herbs and fruits, please join me for a lovely afternoon of Vegan Moroccan Cooking and Wine Pairing at the beautiful FlipJack Ranch in Bonny Doon nestled amongst a red wood forest in the magical Santa Cruz mountains.
In this fun class we'll be going on a delicious culinary journey to different regions of Morocco making a 4 course meal:
Delectable Appetizer – Za'atar-Spiced fried chickpeas with preserved Meyer lemons, sliced radishes and crushed salted pistachios
Delightful Salad – Rainbow Carrot Salad with fresh lemon thyme, toasted almond slivers, golden raisins and a delightful citrus dressing composed of extra virgin olive oil, orange juice and crushed cardamom pods.
Magnificent Entree – Sweet & Savory Couscous made with zucchini, yellow squash, red and orange bell peppers, roasted artichoke hearts, shallots, garlic, fresh herbs, Moroccan pitted oil-cured black olives, almonds and dried apricots.
Decadent Dessert – Orange and almond cake with candied orange & crushed salted pistachios, which you'll enjoy with cardamom-infused dark roast coffee.
A highlight of the class is always when we sit down and enjoy our culinary creations with a delicious French red wine. This year the featured wine is the 2018 Château Cleyrac Bordeaux. This classic garnet colored Bordeaux has a lovely nose of ripe fruits, subtle spicy notes and subtle tannins, which beautifully complements vegan Moroccan cuisine!
What To Expect: Great cooking isn't just about recipes, it's also about passion. In this class you'll work together with other students in a fun, hands-on environment learning fundamental skills for a lifetime of great cooking, baking and wine pairing! Additionally, you'll learn that just like other types of cuisines, pairing vegan Mediterranean foods with wine involves identifying the dominant flavors in the dish and finding a wine that complements those flavors.
Class runs for 4 hours and limited to 10 students to ensure the most spectacular experience for all. Since, seats are limited, early registration is highly encouraged.
Class fee is $175 (nonrefundable) and includes a bottle of 2018 Château Cleyrac Bordeaux.
I will provide a name badge and an apron for each student, cardamom-infuced dark roast coffee, red vanilla herbal tea and some delicious vegan refreshments before the start of class! It's an experience you'll savor from beginning to end. This wonderful class makes a beautiful gift to yourself and your loved ones for birthdays and anniversaries too.
I look forward to seeing you in the class! Please feel free to contact me if you have any questions.
Chef Ellie Lavender
Vegan Mediterranean Personal Chef
Culinary & Wine Pairing Instructor
Copyright © 2022 Lavender Design + Cuisine. All Rights Reserved.