Knafeh Hits the Road in California and Beyond
By: Blanche Shaheen/Arab America Contributing Writer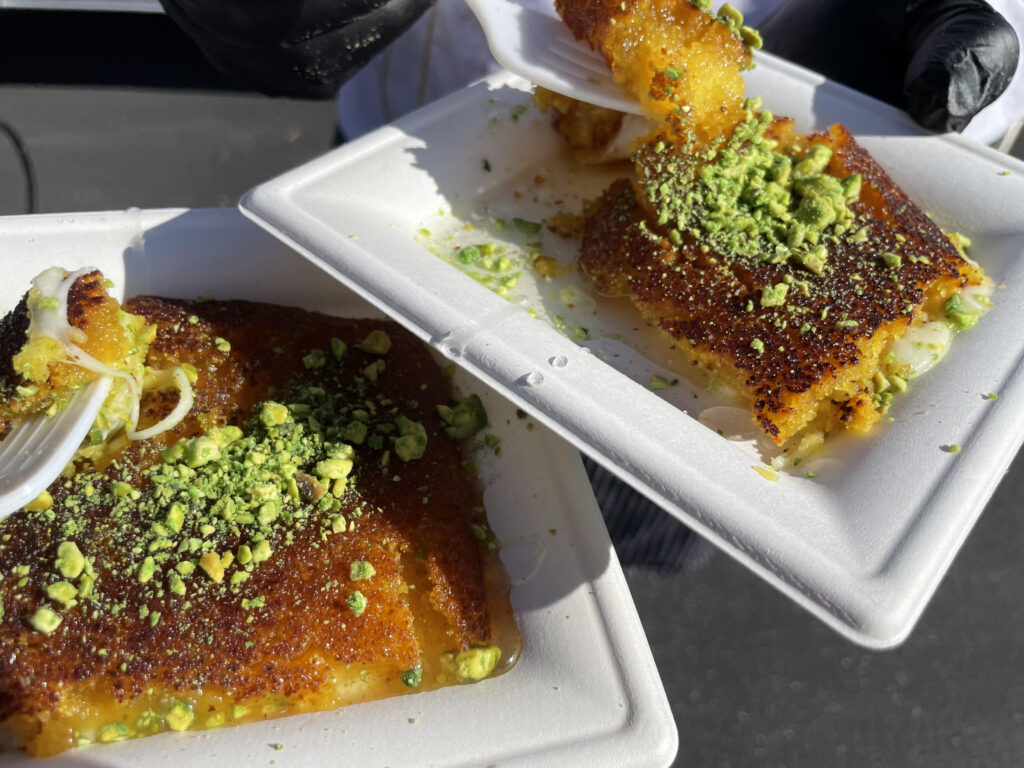 Ask any Arab from any continent what their favorite dessert is, and they will most likely respond: Kanafeh. This iconic pastry, spelled a myriad of ways, from knafeh to kanafa to kanafeh, is undoubtedly the most popular dessert among Arabs the world over. This dessert truly went mainstream when it hit the Trader Joes Frozen aisle, turning a once-in-a-while treat to an accessible grocery staple.
This layered confection consists of shredded phyllo dough called "kataife" doused with ghee or melted butter, covering a layer of  sweet and melted cheese. The whole pastry is then drizzled with a sweet syrup accented with lemon, or even rose water depending on preference.  Chopped pistachios crown the top with extra crunch and contrasting color. Eaten together, the rich layers are sweet, creamy, buttery, and crunchy. 
The dough is usually dyed a bright range, so most people can spot the massive disks of melted buttery goodness in bakeries from a block away. 
While there are several theories on the origins of this legendary dessert, most historical roads lead to the town of Nablus in Palestine. The knafeh bakers from Nablus are renowned, often passing on family recipes handed down to them from hundreds of years ago. Nablus certainly is the most plausible area of origin, as the town is famous for their Nabulsi cheese, the foundation of this dessert. 
While the uninitiated might welcome this novel and niche treat in a conventional supermarket like Trader Joes, the frozen version does not even come close to the ones made at home or found in Arab bakeries. 
For many, visiting Nablus to eat this authentic confection is not practical, so one man did something about this quandary.  Palestinian American Arafat, otherwise known as @TheKunafaGuy,  decided to pioneer this confection on wheels. Arafat longed for the knafeh he enjoyed on his travels to visit his family in Palestine. So he kept working to recreate the most authentic and mouth watering recipe possible, and served it fresh from his traveling truck. His take on this dessert has been wildly popular, so look out for a knafeh truck near you.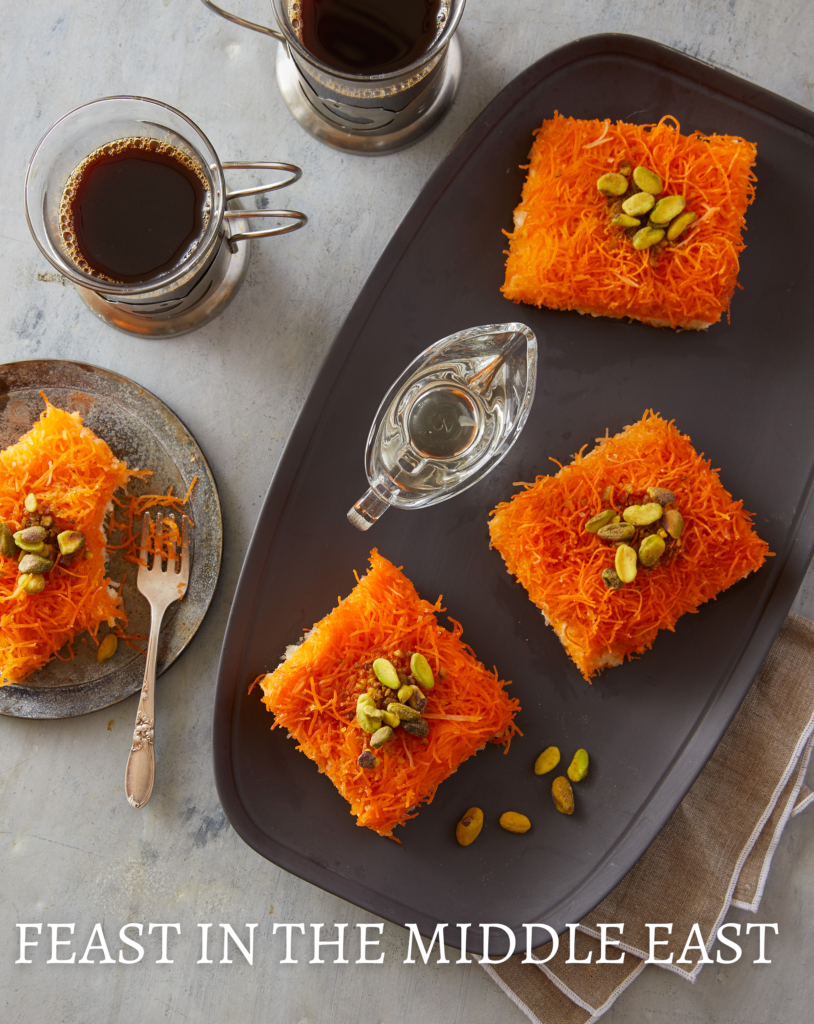 Of course if you are too impatient to wait for a truck to show up at your doorstep, making this confection at home is the next best choice. With just a few ingredients you can make a superior version of knafeh in your own home. Many middle eastern markets sell everything you need, from the dough and the cheese to the orange dye and ghee. 
To see how Arafat has mastered this confection from his truck, click on the video below:
Knafeh
1 1/2  pounds Akawi sweet cheese, or farmer's cheese (Mexican queso blanco)
(You can also use a mix of Akawi, ricotta, and mozzarella cheese depending on your preference) 
1   pound thawed, shredded phyllo (kataifi) dough 
1 ½ cups ghee (or melted butter)
1/4   teaspoon knafeh orange coloring I personally love Ziyad brand
1/2   cup ground pistachios  
1 Recipe for Attar
2 cups water
1 cup sugar
1 tbsp lemon juice
A few drops of rose water (optional) 
Preheat the oven to 350 degrees.  If using salted farmer's cheese, place the cheese in a bowl of water and let soak overnight. This will extract the salt, resulting in a sweet cheese. Drain the cheese, and pat dry with paper towels. If using Akawi cheese you can skip this step.  Place the cheese in a food processor and process until cottage cheese consistency is achieved. Set aside. 
Chop the phyllo dough into slices, then shred with your fingers. Put the dough in a  large round pizza pan on low heat on a stovetop burner, and add the ghee and orange coloring. Work with your hands (preferably gloved) to incorporate the ghee with the dough. Remove ⅓  of the dough and set aside in another bowl. Spread the remaining ⅔ dough evenly in the pizza pan, and press down firmly as you will invert the knafeh and you want this layer to hold together. Spread the cheese over the dough evenly. Top with the remaining shredded phyllo and pat down evenly as well. Cover with foil and bake on the  lower rack for 15 minutes. Uncover and bake another 15 minutes.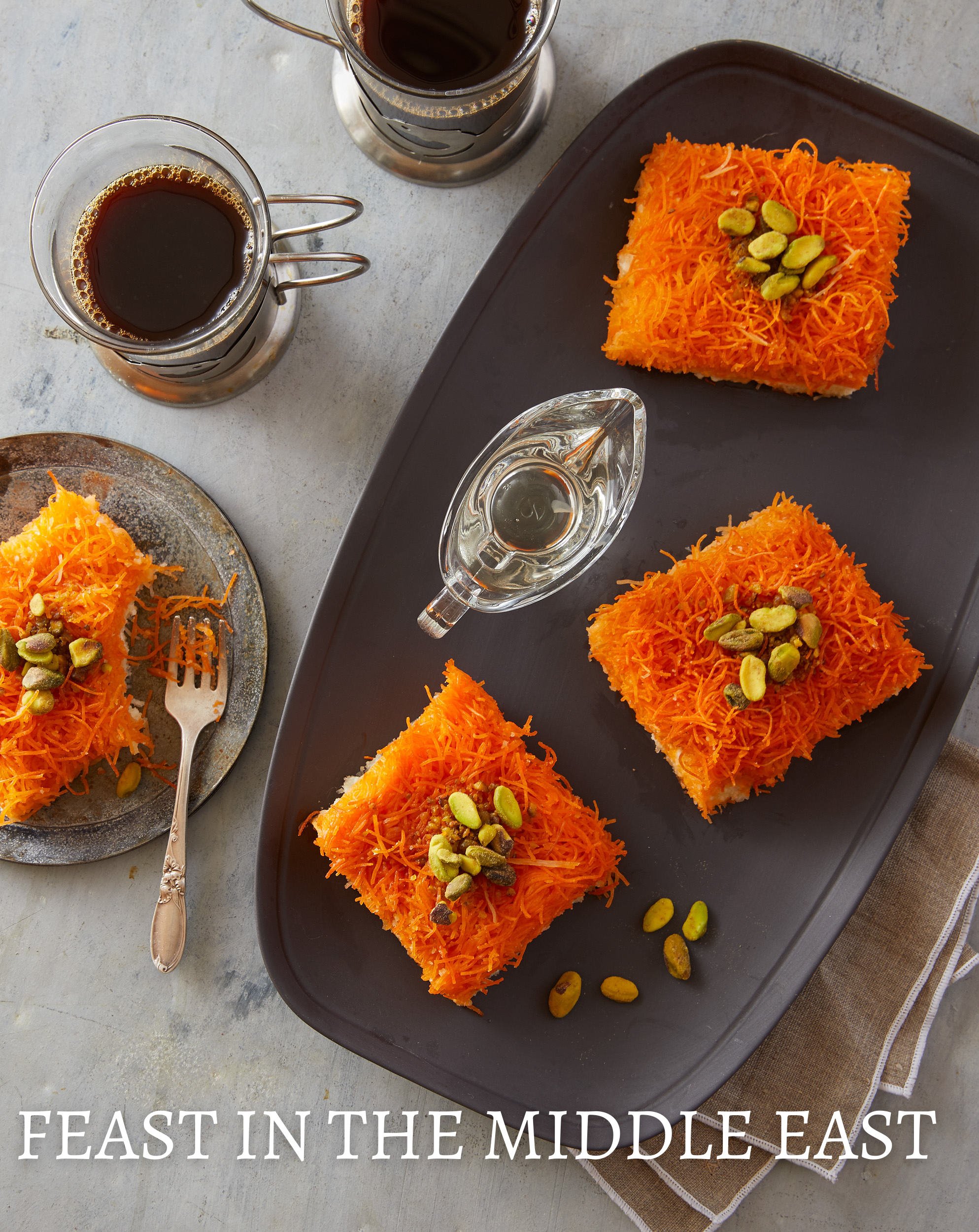 In the meantime, make the Attar recipe or sugar syrup. Add  2 cups water and 2 cups sugar to a saucepan, and boil. Then reduce the heat to a simmer, and simmer for about 15 minutes. Add 1 tbsp lemon juice, and optional rose water. Set the syrup aside. Remove the knafeh from the oven, and invert upside down using another pizza pan. Drizzle with sugar syrup to taste. Any remaining sugar syrup can be served on the side for guests to add more if they wish. Sprinkle ground pistachios over the knafeh and serve immediately.

Blanche Shaheen is the author of the cookbook called "Feast In the Middle East, a Journey of Family and Cuisine"  which you can order here: https://secure.mybookorders.com/mbo_index.php?isbn=9781545675113   She is also a journalist, and host of the popular cooking show called Feast in the Middle East. She specializes in Arab cuisine of the Levant and beyond.  You can check out her cooking video tutorials at https://www.youtube.com/user/blanchetv    Her recipes can also be found at https://feastinthemiddleeast.wordpress.com/