Little Arabia: A Vibrant Community in the Heart of Anaheim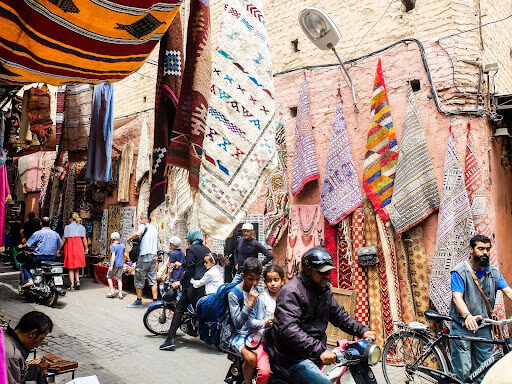 Are you looking for the best neighborhoods in Los Angeles for renters from the Middle East? Discover the top LA neighborhoods for Arab renters, from upscale to culturally diverse and everything in between. Read on to find out more.
Cultured LA
Los Angeles is synonymous with all sorts of film-related things while celebrating diverse cultures. Well-known community enclaves include Chinatown: famous in and of itself and, for food enthusiasts, a must-visit destination.
The same holds for Koreatown, Little Tokyo, Thai Town, Historic Filipinotown, and Little Armenia. Still, up until now, there has been no dedicated destination for Arabs or Arabic-speaking Americans and visitors. In fact, that statement is not entirely true. Arabs began migrating in numbers to California, specifically Garden Grove City, in the 1980s.
Since the 80s, Arabic speakers have graduated from Los Angeles. They began working and creating businesses around Garden Grove City, Platinum Triangle, to Anaheim, focusing on Altayebat Market as a meeting point. If you're looking for homes for rent in Los Angeles, these districts might be for you.
The community thrives, so what's changed? Recognition has changed the focus of Anaheim and turned Altayebat Market into a tourist area for visitors to enjoy Arab cuisine and famous Arabic hospitality — not to mention a go-to place for rugs, antiques, and smoking a hookah pipe.
Why Visit Little Arabia In LA?
Traditionally migrants moving to a new country will settle together, which makes sense. Where there are people from home, migrants find familiar people, food, religion, and culture necessary in a new place. A sense of belonging is vital for everyone. America is a unique melting pot that doesn't require total integration, just a sense of what it's like to be an Arab-American, and that is clear when you visit Little Arabia.
For Arabs and Arabophiles alike, Anaheim is a vibrant place to live and work. Located 26.17 mi (42.11 km) from central LA and a 30-minute drive from Huntington City Beach, Anaheim offers residents the best of both worlds at a fraction of the price of inner-city living.
America Recognises Little Arabia
While Arabs have lived in the areas surrounding Anaheim and Garden Grove City for decades, it's only recently that officials have formally recognized Little Arabia by erecting a sign on Interstate 5.
Recognition like this means more to the residents than simply having navigational signposting — it means representation and inclusion. You don't have to be Arab to live there, but it's a true home away from home for those who do. Orange County offers this to Arabic speakers, and the recognition is long overdue.
Photo by Aaron Burden on Unsplash
What to Expect in Anaheim and Little Arabia
Knowing that California State has the most prominent Arab-American residential community outside San Diego and San Francisco is helpful. Arab-Americans are a diverse bunch within their community, with settlers from the 22 Arab League Nations.
The nations include representatives from Iraq, Jordan, Lebanon, Syria, Egypt, Tunisia, and Kuwait. You can expect to meet people from Morocco, Bahrain, Qatar, and Saudi. The mix of Arab cultures makes Little Arabia an exciting place to live.
The largest Palestinian population in America resides in California, so expect a diverse selection of people. Not all Arabs are Muslim — you can practice Christianity in Anaheim or no religion at all — and being secular is okay.
What not to expect is a stereotypical community. Yes, you will hear the call to prayer, but you will also hear hip-hop and offerings from Nancy Ajram, the actress from the Coca-Cola commercials. Headscarves and abayas are optional — you will see both, along with Gucci and Armani. 'Expect the unexpected' is good advice in Little Arabia.
When to Visit Little Arabia
You can visit anytime — the Altayebat Market is always open. But if you're a practicing Muslim, Ramadan is an obvious choice, or visiting at the end of Ramadan to enjoy the celebration of Eid al-Adha (greater Eid) is a clear winner. No more fasting, just celebrating.
If you're a night owl, the areas around the Altayebat Market keep late hours. Traditionally, people from the Middle East stay up late. Cafes and hookah lounges cater to those who don't want to rush home. Expect fantastic food, like manakeesh flavored with za'atar, fatayer, and meat and vegetable tagines to get your taste buds tingling.
Sweet treats are a must. Baklava is the most famous, but you will find shalab, katayef, and halva, a sesame seed-based dessert or snack, all served with sweet rose water flavored mint tea or spicy cardamom and saffron coffee.
Just as this diverse population celebrates Ramadan, they also celebrate Christmas and Thanksgiving. You're in the right place if you like your Thanksgiving turkey jazzed up, with less founding fathers vibe and more Salt Bae.
Photo by Mai Truong on Unsplash
Living in Anaheim and Surrounding Areas
With Disneyland Resort just up the road and a thriving citrus industry, living, working, or studying in Anaheim Hills, Platinum Triangle, West, South East, and South West Anaheim are great residential options. 
Tourism is vast, and Disneyland brings great wealth to the area. Traveling in and out of the district is easy, with four freeways and regular bus, train, and taxi services. You can travel back and forth from central LA in no time.
Final thoughts
According to housing market research, house prices are falling, but no matter the state of the market, the best neighborhoods for Arab renters are in and around the Altayebat Market. A home away from home, safe, vibrant, cultured, and sunny — what's not to love?
Please note that this post was written by a third-party and does not necessarily reflect the views of Arab America or its employees. These posts help allow Arab America to produce our wonderful original content, thanks for your understanding.

Don't forget to check out Arab America's blog!